What Does A.J. McCarron Being Named POY Mean for Heisman Announcement?
Use your ← → (arrow) keys to browse more stories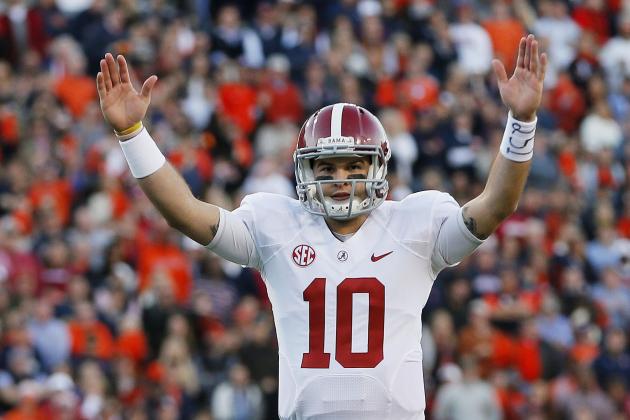 Kevin C. Cox/Getty Images

The college football awards show played out like a high school movie on Thursday night, with the popular girl putting on her biggest smile as prom queen is announced only to be passed up for another girl.
Florida State's Jameis Winston, the chalk favorite to win the Heisman Trophy, had to feel something like that spurned prom queen hopeful when the Maxwell Award—given to college football's player of the year—was given to Alabama's AJ McCarron.
Even McCarron was left shocked when his name was called.
"Super surprised," he told ESPN.com. "I don't think I'm the best player out of the other two guys that were mentioned (Manziel, Winston), but I can't thank them enough. It's an honor to be here."
With the Heisman announcement looming on Saturday night, where does that leave Winston and the rest of the field?
While it seems unlikely that McCarron will sneak up and snag another honor out from under Winston, the Maxwell incident could instead be a sign of more bad news to come for the FSU signal-caller.
However, in all likelihood, it is probably just a false alarm.
In fact, looking back in history, the award night could be a positive sign for Winston. Only one of the last five Maxwell winners—Auburn's Cam Newton—went on to win the Heisman.
AJ McCarron & Jameis Winston at the @HomeDepot #CFBAwards Party pic.twitter.com/SiErOmyx8I

— ESPN CollegeFootball (@ESPNCFB) December 12, 2013
Meanwhile, Winston claimed the Davey O'Brien Award, given to the nation's best quarterback. Six of the last seven O'Brien winners also hoisted the Heisman.
History aside, Winston will remain the Heisman favorite, but it is always tough to tell just how the voting will actually turn out. This year, the CV of the redshirt freshman is one of the most polarizing in recent Heisman history.
On the field, there is little question that he has the best resume in the race.
He has led his team to become Atlantic Coast Conference champions at 13-0. The Seminoles stand as the only undefeated squad left in college football.
Streeter Lecka/Getty Images
In the process, the Bessemer, Ala., native has set FBS freshman-best marks with 3,820 passing yards and 38 touchdowns. His passer rating is through the roof as well, leading the nation at 190.06.
The only questions for Winston come outside of the playing field.
Any small incident off the field will result in a negative mark in a Heisman campaign, but what Winston faced is about as ugly as off-the-field issues come.
Although Yahoo! Sports' Dan Wetzel noted that authorities decided not to pursue charges, the sexual assault investigation reported by Brendan Sonnone and Iliana Limon Romero of the Orlando Sentinel placed a conspicuous smudge on his Heisman resume.
As McCarron's Maxwell triumph showed, voters are having second thoughts about Winston as the nation's most outstanding player. The Heisman Trophy Trust lists integrity as one of its chief components and now voters are having to decide whether he meets the criteria:
The Heisman Memorial Trophy annually recognizes the outstanding college football player whose performance best exhibits the pursuit of excellence with integrity. Winners epitomize great ability combined with diligence, perseverance, and hard work. The Heisman Trophy Trust ensures the continuation and integrity of this award.
Bleacher Report recently caught up with a sampling of voters and surveyed them on the issue. Of the seven voters polled, five admitted that Winston's legal case impacted their vote.
A recent straw poll from Heisman Pundit did tab Winston as the winner. While several other candidates received strong consideration in that poll, it seemed to point to the one trump card Winston still has left in the race: the competition.
Even with his legal issues, he is such an overwhelming favorite with his exploits on the field that he'll likely still win.
Stiff Arm Trophy even projected that Winston won't just win, but that he'll garner around 87 percent of the maximum points, making him one of the biggest winners in history.
We're making it math-official: Jameis Winston will win the Heisman, and prob 3rd all-time biggest win. http://t.co/IFwPSEfz0W

— StiffArmTrophy.com (@stiffarmtrophy) December 12, 2013
Several other candidates could've taken control of the race, but none took advantage of the opportunity. McCarron fell to Auburn, Northern Illinois' Jordan Lynch fell flat in the MAC title game, Marcus Mariota choked against Stanford and again against Arizona, and reigning winner Johnny Manziel fizzled out at season's end.
If any of those results had gone the opposite way—or perhaps if Teddy Bridgewater had just beaten UCF—the Heisman race would be entirely different.
However, where those hopefuls failed, Winston succeeded, leading his team to an undefeated record and national title berth.
So even with his issues off the field, Winston will be your 2013 Heisman Trophy winner—and McCarron will be left to enjoy his consolation prize.