1st Quarter Report Card Grades for Each Member of the Houston Rockets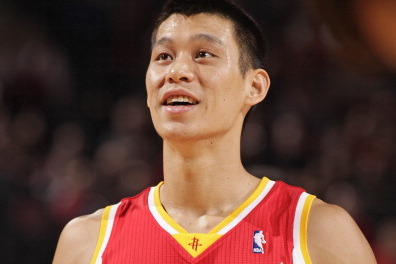 Cameron Browne/Getty Images

The first quarter of the Houston Rockets' 2013-14 season is in the books. After 23 games, the time has come to evaluate each member of the team and see how the Rockets have stacked up so far.
At 15-8 (as of Dec. 12), Houston is still a work in progress. The Rockets lead the NBA in scoring with an average of 107.3 points per game. They've benefited from having five players who average double digits in scoring, including four who contribute more than 14 points per contest.
Houston also holds the top spot in rebounding, grabbing 47.3 boards a night. Center Dwight Howard leads the way with 13.4 rebounds per game, which is a close second to Minnesota's Kevin Love for the league lead.
Still, despite the addition of the three-time Defensive Player of the Year, the team has had its struggles stopping opponents from scoring. The Rockets are giving up 101.6 points per game, which is good for 23rd in the league.
Turnovers continue to be another issue, as Houston is second-to-last in total turnovers (410) and turnovers per game (17.8).
On the bright side, the team has proved to have incredible depth, and there is still enough time left in the season to work out the kinks.
Each player has already received report cards for the first and second week of the season. While this is the first evaluation since Week 2, this latest round of grades represent the entire quarter. Here are the first-quarter grades for every member of the Houston Rockets.
Stats courtesy of ESPN.com.
Begin Slideshow

»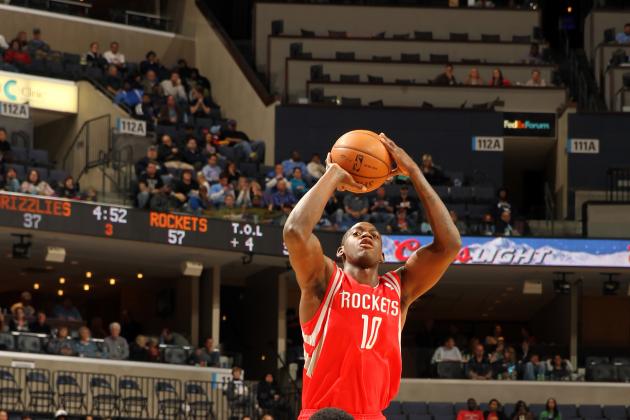 Kent Smith/Getty Images

Despite the fact that the Rockets have been hit hard by the injury bug, some players haven't been able to muster up enough minutes to earn a grade.
Ronnie Brewer was signed in the offseason to provide some depth and give an ailing defense a boost. Instead, he has tallied less minutes (42) than an episode of Mob Wives.
Even with Chandler Parsons dealing with back spasms and James Harden nursing a foot injury, Brewer has played double-digit minutes just once this season (14 minutes against Brooklyn on Nov. 29). With Parsons and Harden getting closer to 100 percent, Brewer can continue to make himself comfortable at the end of the bench.
Fortunately for Brewer, he will have company. The team's depth in the frontcourt has relegated big man Greg Smith to mop-up duty. Smith has also battled his own injuries, with the most recent one being troubles with his knee.
As a result, he has logged less playing time this season than the Lakers' Kobe Bryant, who made his season debut on Dec. 8. For the year, Smith has seen the floor for a total of 17 minutes.
The duo of Brewer and Smith has combined for an average of nine minutes a night. For those keeping score at home, Smith has been the more productive player (in terms of averages) with a contribution of three points and a little more than two rebounds per game.
Until Brewer and Smith can find meaningful minutes or a new team, they will continue to hold down the "Incomplete" section of these articles.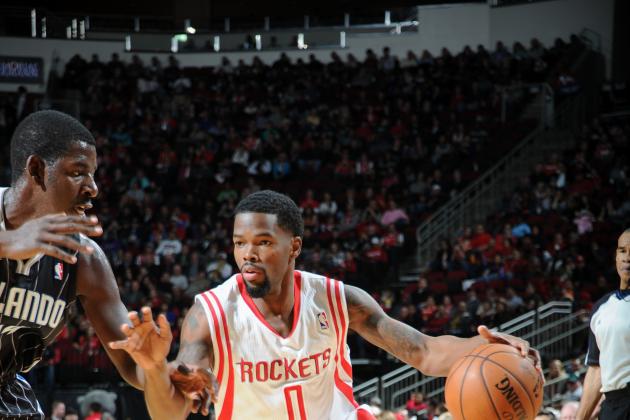 Bill Baptist/Getty Images

When the third point guard is averaging more than seven points per game, that's a testament to the depth on the roster. Veteran Aaron Brooks has been solid in his role as the team's emergency point man.
With Jeremy Lin and Patrick Beverley both dealing with injuries at different points of the season, Brooks has been productive when his number has been called. He dropped 26 points on the Minnesota Timberwolves on Nov. 23.
He followed up that performance with a 21-point outing against Atlanta four nights later. The diminutive Brooks has been remarkable from behind the arc, shooting close to 46 percent from three.
However, all good things must end eventually. With Lin making his return in the team's recent loss to Portland, Brooks never saw the floor.
Still, his work in relief this season gives the team confidence that injuries in the backcourt won't hurt the offensive momentum as long as Brooks is ready to go. We haven't seen the last of the little guy's contributions this season.
Grade: C+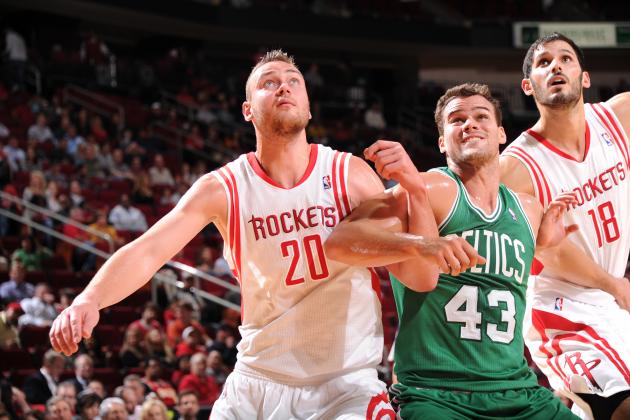 Bill Baptist/Getty Images

One of my few Christmas wishes is that Donatas Motiejunas finds a team that will give him quality minutes. With Terrence Jones and Omri Casspi ahead of him in the pecking order, Houston doesn't seem to be that place for D-Mo.
In fact, if Omer Asik wasn't dealing with a thigh injury, Motiejunas would probably be joining Ronnie Brewer and Greg Smith on the "Incomplete" list.
Even with Asik out, the talented Lithuanian prospect has managed just 23 minutes combined in the last five games. He didn't see any action in the Dec. 12 showdown with the Portland Trail Blazers.
The problem with D-Mo isn't a lack of skills. It's that he's a raw talent on a team that doesn't have much room for him to grow. The Rockets want to win now. They don't have the time to watch him take his baby steps.
With so many forwards ahead of him on the depth chart, Motiejunas' best chance of salvaging this season would be if he were included in an inevitable Asik deal.
However, since he's been decent in the few games where he's seen the floor, he's earned himself a grade.
Grade: D+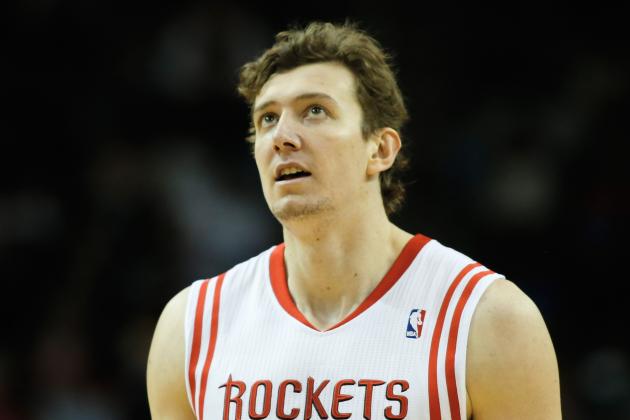 Scott Halleran/Getty Images

Omer Asik has experienced a nightmarish last few months. It all started this past summer when the team signed Dwight Howard to either partner with Asik or replace him, depending on who you believe.
After training camp injuries prevented the duo from spending much time together in the preseason, the team opted to scrap the Asik-Howard tandem just a couple of weeks into the season. Asik, already miffed by Howard's presence, once again reiterated his demands for a ticket out of town, according to the Houston Chronicle's Jonathan Feigen.
With progress on a trade being slow, CBSSports' Ken Berger reported that Asik switched agents, opting for Arn Tellum. ESPN's Marc Stein wrote last week that the Rockets have contacted suitors and told them that they plan to trade Asik "between Dec. 15 and Dec. 19".
On the court, he has been a shell of the man who put up career numbers last season. Whether it is due to injuries or the addition of Howard affecting his mood, the Turkish big man is averaging 4.4 points and 6.8 rebounds per game.
The numbers aren't the biggest disappointment, though. After being replaced by Terrence Jones, Asik moped his way out of playing time in mid-November games against the New York Knicks and Denver Nuggets.
Regardless of how frustrated he is with his current role, he still has to show up for work. The uncharacteristic behavior, while understandable, is unacceptable.
As teammate Chandler Parsons told Jenny Dial Creech of the Houston Chronicle, "It is part of the business and you have to be a professional about it and come to work every day. He is on the Rockets so he has to act like that and come to play and come to win."
On the bright side, Asik should have a new home sooner rather than later. It's a shame that his greatest contributions this season will come in the form of whomever the team gets back in a deal. On and off the court, this should have been a better start for Asik.
Grade: D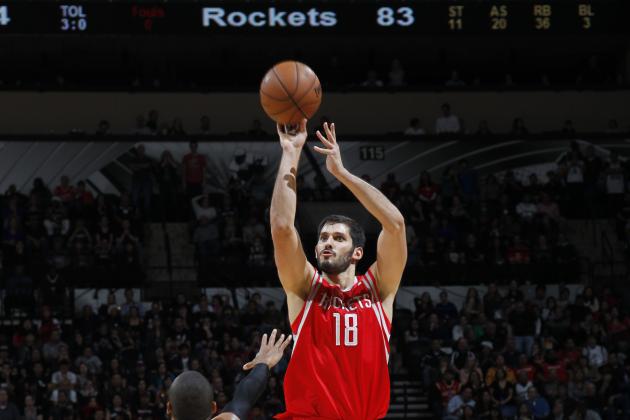 Chris Covatta/Getty Images

Omri Casspi has been one of the sneakiest free-agent signings of the year. He has provided quality minutes for the Rockets, both as a reserve guard/forward and as an occasional stretch 4.
The key to his success has been his outside shooting. He's converting 39 percent of his three-point attempts this season. He's also shooting 46 percent from the field en route to a scoring average of 8.8 points per game.
Defensively, he still struggles with guarding opposing power forwards, but he holds his own on the glass every now and then. His 4.2 rebounds per game don't look like much, but he can be a factor on the boards if teams don't put a body on him.
He and Terrence Jones give Houston a nice complement of forwards who can get things done on the inside and outside. For a guy that toiled in obscurity for the last few years in Sacramento, this season has been a revelation for the 25-year-old.
As he continues to become more comfortable in Carlos Delfino's old role, he'll become an even bigger factor in spacing the floor as the season progresses.
Grade: C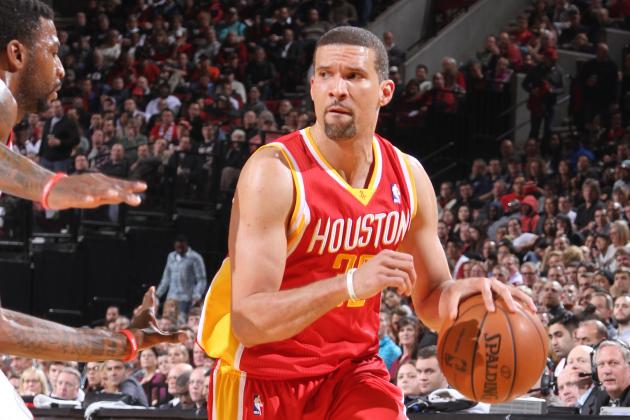 Sam Forencich/Getty Images

Francisco Garcia has had his moments this season but has struggled with inconsistency. Like Omri Casspi, Garcia's greatest attribute is his ability to nail the long ball. This season, he is shooting 34 percent from the three-point line.
He will have stretches where he'll get hot for a couple of games and then disappears. For instance, after scoring in double figures in three of his first four games, Garcia didn't score more than eight points for more than three weeks.
After scoring 21 points against the Hawks on Nov. 27, Garcia followed with outings of 15, eight and 13 points. Since then, he's scored 11 points in his last four games.
The Rockets don't lack for scorers, so the team can survive without his offense. But here's the problem: With Garcia not being much of a defender, he isn't doing much to help the team win if he's not putting up points.
The hope is that he finds his groove and helps provide a spark on the second unit. He's been respectable so far this season, but he's capable of doing a lot more.
Grade: C-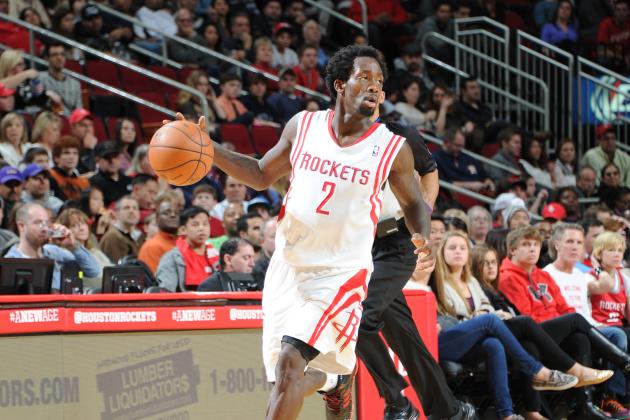 Bill Baptist/Getty Images

Patrick Beverley was tabbed as the team's starting point guard to give the team a more defensive-minded presence. It also allows Jeremy Lin to focus on doing what he does best, which is being aggressive and making plays.
So far, the roles have worked out. Lin is off to his best season as a pro while making a strong case for Sixth Man of the Year. Meanwhile, Beverley has shown flashes of being a capable lockdown defender. His 1.4 steals per game are just a shade behind James Harden for the team lead.
Offensively, he has been as ho-hum as expected. He's averaged 9.3 points a night on a slightly more than eight shots per game. He's shooting 39 percent from the floor and 33 percent from behind the arc.
Those are respectable numbers for a guy who isn't asked to provide much offense. The assist numbers could be better for a guy playing point guard in a rotation loaded with scorers. Beverley's 2.3 dishes per game leave much to be desired.
Overall, he's been an adequate starter and above-average defender. For what he allows others to do, you'll take that if you're the Houston Rockets.
Grade: C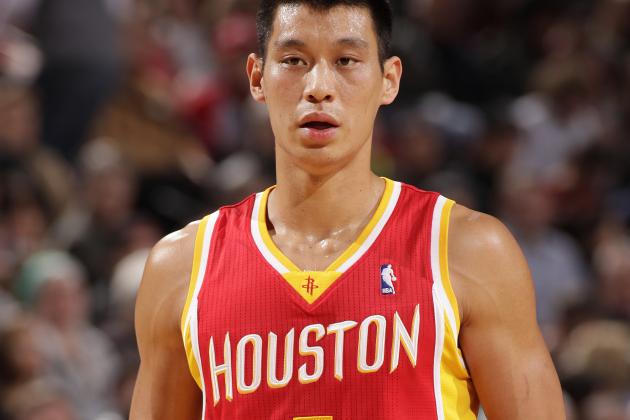 Cameron Browne/Getty Images

This season has been a testament to Jeremy Lin's superb work ethic. He spent the offseason working on his jumper and getting into the mentality of being more aggressive in attacking the basket.
As a result, he's shooting nearly 38 percent from three-point range and is fourth on the team in scoring with an average of 14.7 points per game.
Lin has excelled as the team's offensive spark plug off the bench. He didn't let losing the starting job to Patrick Beverley hurt his morale (take notes, Omer Asik) and is in the midst of the best season of his career.
Before going down with a knee injury at the tail end of November, he was on an offensive tear. That included back-to-back games of 30-plus points against the Toronto Raptors and Philadelphia 76ers.
Defensively, he comes up with an occasional steal and has made strides in that department. While he's clearly played like the best point guard on the team, he seems at ease with his role as the team's sixth man.
He was a little rusty in his return, scoring just five points on 1-of-4 shooting against Portland, but he should be back to his old self as his knee continues to heal.
Grade: B+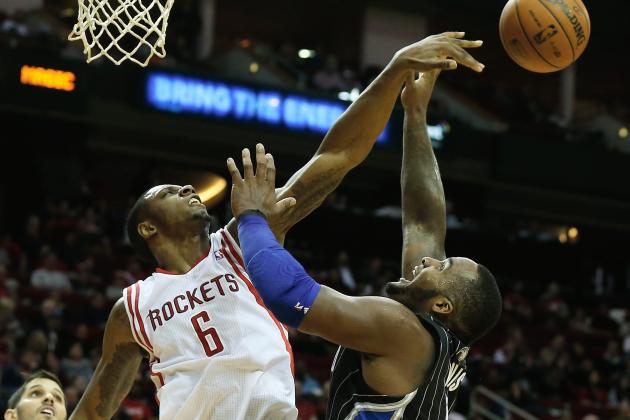 Scott Halleran/Getty Images

Terrence Jones may be the most overlooked player in the league. He's averaging roughly 10 points and seven rebounds a night. He's shooting nearly 51 percent from the field, including 39 percent from the three-point line.
Defensively, his 1.5 blocks per game are just slightly below Dwight Howard's 1.8 swats for the best on the team.
Jones put in the work this past summer to turn himself into Howard's ideal sidekick. His shooting prowess from the outside has opened up the floor, while his efforts on defense and the boards have made him the complement that Omer Asik was supposed to be.
Still, in a lineup this stacked, Jones is the fifth-most recognizable name in the starting rotation. There aren't many guys who are 6'9" and 252 pounds and can do what he does. He's a classic power forward who moves like he should be playing on the wing.
As he continues to mold himself into a complete player, it won't be long before everyone starts to notice one of the league's best young forwards.
Grade: B
Bill Baptist/Getty Images

You have to give Chandler Parsons credit. The fact that he's averaging 16.7 points per game and shooting a little more than 50 percent from the field (including 40 percent from three) while dealing with back spasms is impressive.
After struggling with his outside shot early in the season, he has come on strong in recent weeks. However, back pain has continued to hamper the Florida product. After missing a couple of games earlier this month, he has had numerous acupuncture shots to help relieve the pain.
The soreness in his back is worth monitoring going forward. Parsons is a versatile weapon who can play either forward spot and be effective from nearly any spot on the floor. The team needs him to space the floor as well as take pressure off James Harden and Dwight Howard.
For now, he's done just that, but if his back continues to be an issue, the team could be in trouble. With Jeremy Lin playing at a high level, Parsons is the team's newest X-factor.
Grade: B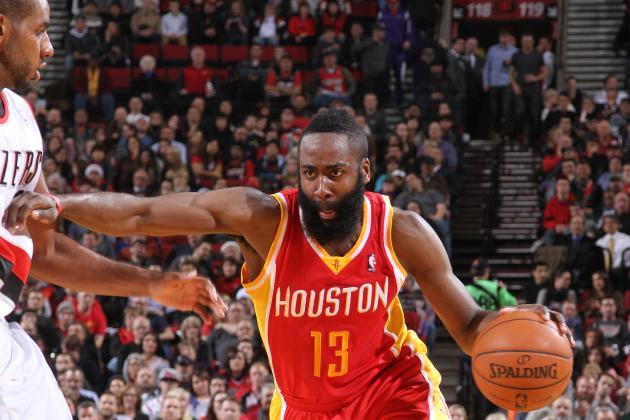 Sam Forencich/Getty Images

James Harden has picked up right where he left off last season on the offensive end, establishing himself as one of the game's elite scorers. He's fifth in the NBA in scoring with an average of 24.6 points per game.
After dealing with a foot injury in late November, he has bounced back strong this month. He's posting a nightly clip of 27.4 points, 6.2 assists and 5.6 rebounds in December.
That's the good news. Here's the bad news.
Harden's scoring has come despite the fact he's been abysmal from behind the arc. Even with his strong December numbers, "The Beard" is shooting 26.5 percent from three in five games this month. For the season, he's converting 30 percent of his three-point attempts.
Then there are the turnovers. A man who dominates the ball as much as Harden is going to turn the ball over more than a bit player who plays hot potato with the orange. That's a given.
He is averaging 3.9 turnovers per game and has committed 75 total thus far this season. In his defense, he has some notable company. LeBron James and Stephen Curry also find themselves atop the turnover leaderboard.
Speaking of defense, Harden's D has been spotty at best. It has been so bad that someone went through the trouble of making this video to highlight his defensive lapses.
The Arizona State product spent the summer working on conditioning so that he could handle his business on both ends of the court. As the video shows, he still has a way to go before he's taking the best all-around guard title from Kobe Bryant.
Still, offense is the biggest feather in Harden's cap, and he's the biggest reason why the Rockets lead the league in scoring. One can only imagine what his numbers would look like if he were shooting a little better from deep.
Harden is well on his way to being a superstar, but this season has shown more negatives than positives thus far.
Grade: B-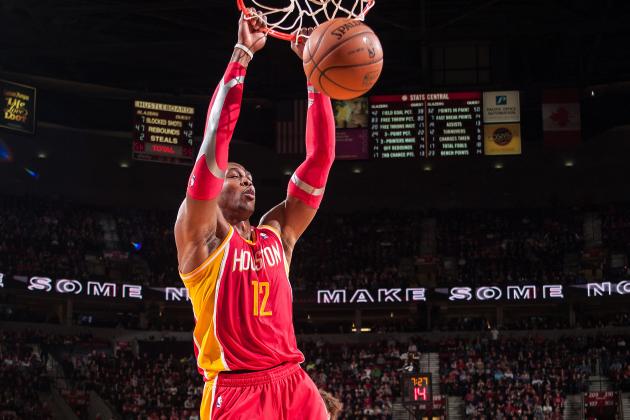 Sam Forencich/Getty Images

In his last three games, Dwight Howard has looked liked the man that the Rockets hoped he would be when they gave him an $88 million contract over the summer. Here are the numbers:
22 points, 18 rebounds, three steals and a block vs. Golden State (Dec. 6)
20 points, 22 rebounds, three blocks, three assists and two steals vs. Orlando (Dec. 8)
32 points, 17 rebounds, three blocks and two steals vs. Portland (Dec. 12)
The most remarkable part about that stretch? D12 was 24-of-40 (60 percent) from the free-throw line during that span.
As has been the case his entire career, free throws have been Howard's Achilles' heel this season. Teams have resorted to mauling the big man whenever possible to force him to beat them at the charity stripe. That's why he leads the league in free-throw attempts (228) and is second to Kevin Durant in free-throw attempts per game (9.9).
In the aforementioned game against the Warriors, he had 20 free-throw attempts. He's shooting just less than 56 percent from the line 23 games into the season, which is bad even for his standards. For his career, Howard shoots closer to 58 percent.
Defensively, he is starting to show his old form, although the big man couldn't get his hands on a blocked shot in stretches. His skills on the boards haven't diminished though. He's second in the NBA in rebounds per game and trails the Los Angeles Clippers' DeAndre Jordan in total rebounds by one.
If this latest string of games is any indication, the best is yet to come for Howard in Houston. As he gets better acclimated to his new role and surroundings, he should regain his dominant form. Surprisingly, he's been the healthiest of all the Rockets, which is a great sign given last season's injury woes.
Overall, he's been the team's best all-around player. He just needs to work on hitting those freebies.
Grade: B+