According to the Daily Star's Alex Crook, Mauricio Pochettino has left an unmistakable "hands-off" tag on in-demand full-back Luke Shaw, telling a list of pursuers led by Chelsea that the youngster isn't for sale.
Crook reports the Southampton manager is only interested in ensuring that Shaw's progress continues along the right route at St. Mary's.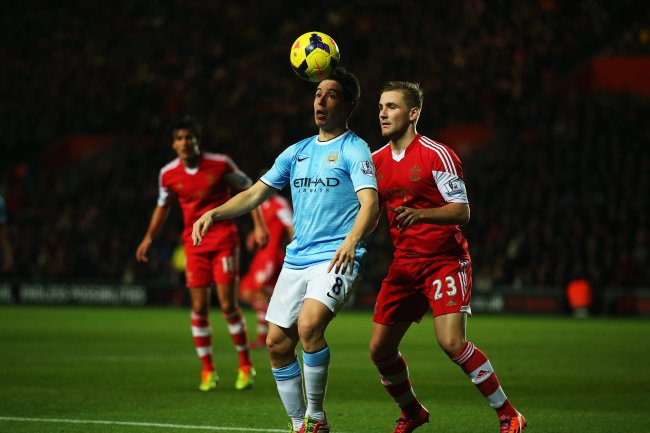 Bryn Lennon/Getty Images
According to Crook's report, Pochettino noted:
Clubs can show their interest - that is not something we can control. In this case, Luke Shaw is not a player we want to sell. He is not for sale.

He is in the middle of that process of growing and adapting to this league.

The goal he scored against City puts him on the right path, but he still has to learn, has to improve and he has to mature.
The 18-year-old's stock has risen alongside the Saints' incredible leap in standards over recent seasons, rapidly rising from Championship football to a secure-looking spot in the Premier League's top half this term.
The Sunday Mirror's Andy Dunn happens to rank the starlet as being one of England's finest options at left-back, despite his age:
Hugely impressed by Southampton today. Luke Shaw is a player. If there was a World Cup for left-backs only, England would be favourite.

— Andy Dunn (@AndyDunn_SM) September 21, 2013
The speculation comes as Ashley Cole once again nears the end of his Chelsea contract. The 32-year-old penned a one-year extension last summer and will likely receive another offer from Jose Mourinho.
However, Cole has lost his place in Chelsea's first team to a natural right-footer in Cesar Azpilicueta. It is for that reason that Matt Barlow of the Daily Mail predicts a January swoop for Shaw.
Shaw is one of several young English talents currently impressing at Southampton, who have a long and well-chronicled history of producing academy stars. Gareth Bale, Theo Walcott and Alex Oxlade-Chamberlain are just a few examples of those who have graduated from the Saints academy before earning big moves away from the South Coast club.
Pochettino is coming upon his one-year anniversary at the club (Jan. 18) and has so far managed to keep hold of his squad's biggest stars while making big-money moves of his own for Victor Wanyama, Dejan Lovren and Dani Osvaldo.
Shaw may look at what the likes of Bale, Walcott and Oxlade-Chamberlain have gone on to do since departing St. Mary's and be tempted by a switch, but Southampton's official matchday magazine (h/t Sky Sports) quoted the defender earlier in November saying he's happy in his current setting:
I don't really take notice of things that are written about me - it is frustrating at times, but I just laugh it off. They (the media) don't know anything because they aren't around the training ground and in the dressing room with me.

They should know that I've signed a contract at Southampton and I'm not even thinking about moving. I am happy at Southampton because I'm playing football, which is exactly what I want to be doing.
Should Shaw move in 2014?
The teenager signed a new five-year deal with Southampton upon turning 18 in July, meaning the club are in no rush to sell as long as both parties at happy; this would certainly seem to be the case.
Shaw is correct about one thing, in that he's getting regular game time down south, something that couldn't be guaranteed should he move to one of the Premier League's big guns.
Things are only on the rise at Southampton right now, it seems, and lest they derail their current trajectory up the English ranks, the club's manager appears confident in keeping hold of arguably his most promising asset.