After an extended winter holiday that comes packed with college bowl games galore, the college bowl season comes to its conclusion with five epic BCS Bowl games, featuring some of the most powerful teams in the nation.
Interestingly enough, after all the hubbub about the faulty BCS system—which will be abandoned at the end of the 2014 VIZIO BCS National Championship—there were no controversies to be found after the craziness of Week 15.
Here's a look at when and where you can catch all five BCS bowl games, along with television information and predictions:
BCS Bowl Game Schedule

| | | | | | | |
| --- | --- | --- | --- | --- | --- | --- |
| Bowl | Teams | Date | Time (ET) | TV | Live Stream | Predicted Winner |
| VIZIO BCS National Championship | Florida St. vs. Auburn | Jan. 6 | 8:30 p.m. | ESPN | WatchESPN | Seminoles |
| Discover Orange Bowl | Clemson vs. Ohio St. | Jan. 3 | TBD | ESPN | WatchESPN | Buckeyes |
| Allstate Sugar Bowl | Alabama vs. Oklahoma | Jan. 2 | 8:30 p.m. | ESPN | WatchESPN | Crimson Tide |
| Tostitos Fiesta Bowl | Baylor vs. UCF | Jan. 1 | 8:30 p.m. | ESPN | WatchESPN | Bears |
| Rose Bowl Game presented by VIZIO | Michigan St. vs. Stanford | Jan. 1 | 5 p.m. | ESPN | WatchESPN | Spartans |
ESPN
2014 VIZIO BCS National Championship: Florida State Seminoles vs. Auburn Tigers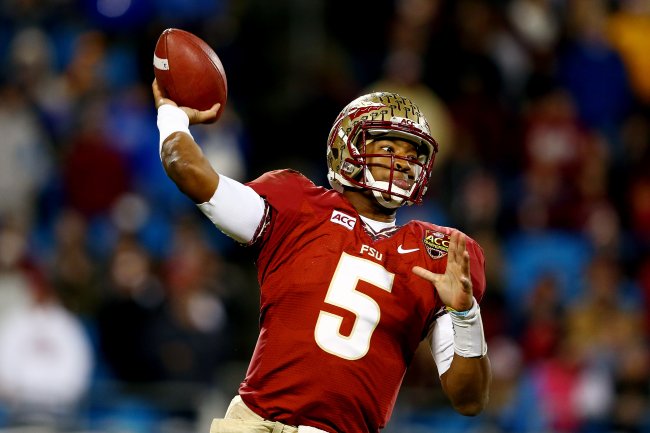 Streeter Lecka/Getty Images
To no one's surprise, undefeated Florida State will battle Auburn in the national championship game, capping off a phenomenal season for both proud schools. With two of the hottest young quarterbacks in the nation squaring-off in this contest, anticipation is cresting for this stellar matchup.
Florida State freshman quarterback Jameis Winston is the favorite to win the 2013 Heisman Trophy. He leads an incredibly balanced team that comes into the title game ranked No. 2 in the nation in scoring offense and No. 1 in scoring defense.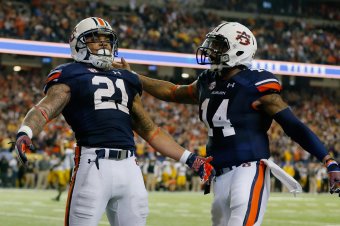 Kevin C. Cox/Getty Images
On the other side, Nick Marshall and running back Tre Mason lead one of the most exciting offenses in the nation at Auburn. Using the triple-option to perfection, this dynamic duo combined for 405 rushing yards and five rushing touchdowns against Missouri in the SEC championship game.
However, given the dynamic nature of Florida State's offense, it's unlikely that Auburn will be able to match scores while going up against such a tight defensive unit.
Florida State will win by at least 10 points.
Discover Orange Bowl: Clemson Tigers vs. Ohio State Buckeyes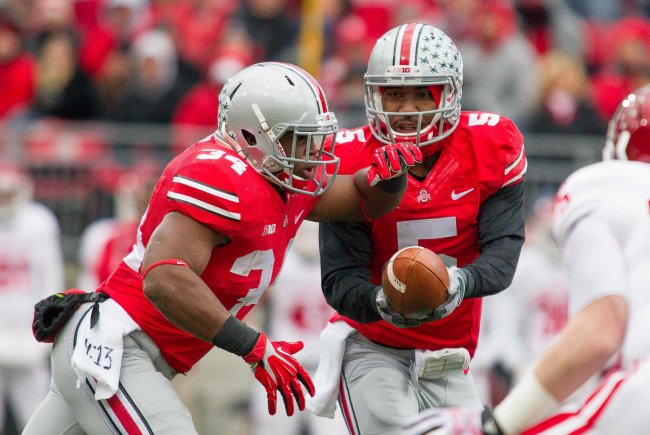 Trevor Ruszkowksi-USA TODAY Spor
After losing to Michigan State in the Big Ten championship game, Ohio State received a nice consolation prize in the form of an Orange Bowl berth. The Buckeyes will face Clemson in this contest, which should feature plenty of offensive fireworks.
Ohio State, led by quarterback Braxton Miller, features the nation's No. 4-ranked rushing offense and its No. 4-ranked scoring offense. Running back Carlos Hyde is extremely difficult to tackle, and Miller can run like a Gazelle when flushed out of the pocket.
Clemson, led by quarterback Tajh Boyd and receiver Sammy Watkins, is much more inclined to pass the ball. With the nation's No. 12-ranked passing offense, the Tigers can torch opposing secondaries, and you'll likely see Watkins abuse Buckeyes cornerback Bradley Roby, who was atrocious against Michigan State.
Clemson's defense won't be able to shut down the Buckeyes, but neither will Ohio State shut down Boyd and Watkins. This will be a shootout to remember, but in the end, the Buckeyes will triumph.
Allstate Sugar Bowl: Oklahoma Sooners vs. Alabama Crimson Tide
Oklahoma would love to believe it has a shot to take down Alabama.
But it doesn't.
AJ McCarron has had an exemplary career with the Crimson Tide, and he's not going to go out with a whimper in his final appearance as the starting quarterback. His leadership will keep Alabama focused on taking down the Sooners with vicious efficiency.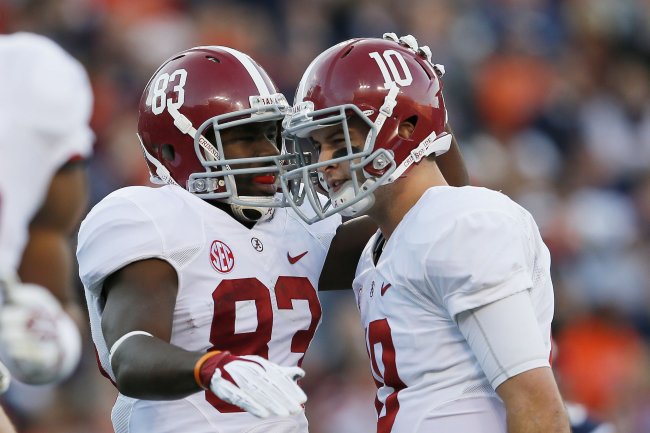 Kevin C. Cox/Getty Images
Will the Sooners shock 'Bama?
The strength of Oklahoma's offense is its rushing attack, but Alabama will quickly shut down any semblance of a running game, forcing either Blake Bell or Trevor Knight to win the game with through the air. Neither quarterback is skilled enough to carry the Sooners to victory in such a fashion, however.
Alabama's offense won't have any trouble picking up first downs and scoring points, and by the end of the game, the Sooners will wish they could erase the memory of the beating they just took.
Tostitos Fiesta Bowl: Baylor Bears vs. University of Central Florida Knights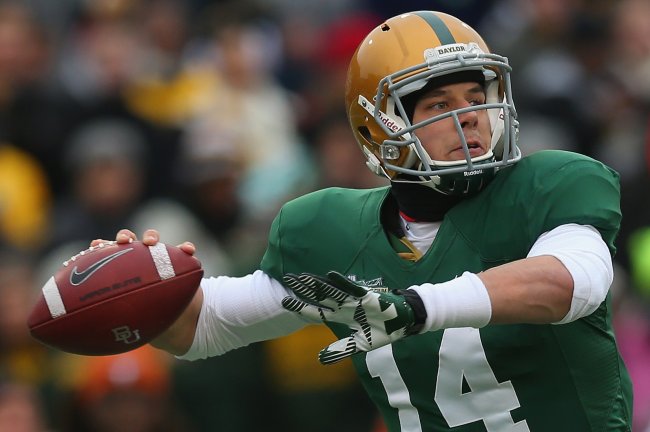 Ronald Martinez/Getty Images
This is a great opportunity to watch a couple of fantastic college quarterbacks in action.
Bryce Petty of Baylor leads the nation's top-ranked scoring offense, averaging 53.3 points per game. The Bears are extremely balanced, ranking in the top 12 in both rushing and passing offense.
UCF's Blake Bortles has become a hot topic in NFL draft circles. Bleacher Report's Matt Miller recently compared him favorably to Andrew Luck, ranking him No. 10 on his Big Board.
Bortles isn't as flashy as Petty, but he runs a tight ship, and he's led his team to a phenomenal season. The only team that beat the Knights in 2013 was South Carolina, and that was back in late-September. The Gamecocks barely won, 28-25, and since that time, UCF has rattled off eight wins in a row.
UCF's Cinderella story is about to come to a sudden and bitter end, however, as Baylor will explode with its biggest offensive total since mid-November.
Rose Bowl Game presented by VIZIO: Stanford Cardinal vs. Michigan State Spartans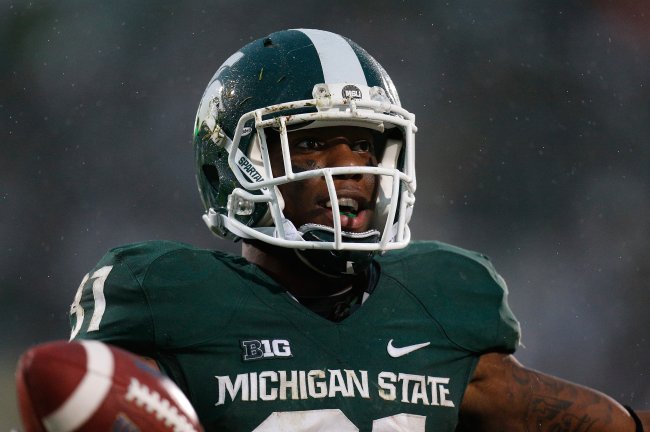 Gregory Shamus/Getty Images
Looking at these two teams, it's not hard to imagine Stanford and Michigan State could finish the Rose Bowl with a score of 3-2.
Both teams feature stifling defenses and punishing running games on offense. It's going to be a knock-em-down, drag-em-out barroom brawl.
In the battle of "Who's the strongest?," Michigan State stands well above Stanford, however.
The Spartans feature the nation's top-ranked run defense, allowing just 80.8 yards per game. Stanford's Tyler Gaffney hasn't faced a brick wall like the one Sparty brings, and he's going to be stymied all game long.
That means Cardinal quarterback Kevin Hogan will need to win the game with his arm. He's not particularly brilliant as a passer, however, and Michigan State's pass defense, led by cornerback Darqueze Dennard, will force him into mistakes.
Follow me on Twitter @JesseReed78