Orlando Magic Would Be a Scary-Good Team with Jabari Parker
December 13, 2013

Streeter Lecka/Getty Images
When it comes down to it, there are basically two steps to assembling a championship-caliber NBA roster.
First, somehow acquire a franchise-changing superstar or two. And second, surround him/them with a good supporting cast. That's obviously a very, very simplified version of the process, but it's more or less how most of the best teams in the league are assembled.
And it's a tough road to success. True superstars come around only every so often, and even when a team has one, it's often difficult to surround them with competent help—just look at what's going on with the New York Knicks and Minnesota Timberwolves right now.
So when a team like the Orlando Magic has a real shot to land a superstar to go along with its already exciting young core, it's worth keeping an eye on.
The Magic are 7-15, good for just the sixth-worst record in the NBA, but they've lost 13 of their last 17 and look ready to fight (or not fight, I guess) their way to the bottom of the league standings. And if they get the ping pong balls to bounce their way and end up drafting a player like, say, Jabari Parker…they could be a scary-good team sooner rather than later.
Overview
Before the college hoops season began, Andrew Wiggins was the near-consensus choice as 2014's No. 1 overall pick, but Parker has played so well to this point that he's supplanted Wiggins in many mock drafts.
Parker's averaging 22 points, eight rebounds and two assists per game for the Duke Blue Devils and doing it very efficiently, hitting 55 percent from the floor and a whopping 47 percent from deep. Parker doesn't have the raw physical tools that players like Wiggins or Joel Embiid do, but he's quite possibly the most complete offensive player in the country.
Parker can do virtually everything offensively and do it very well. He's a good athlete, and he's got the size and strength to switch between the 3 and 4 in the NBA a la Carmelo Anthony (to whom Parker has drawn a number of comparisons).
Parker's weapon of choice is his jumper, and he can hit it pulling up off the dribble or when spotting up from the wing—he was shooting 58 percent on catch-and-shoot opportunities as of Dec. 2, per DraftExpress.
While he's not the most explosive player in the world, Parker still gets to the basket regularly, thanks to a remarkably polished handle and a dose of Paul Pierce-like craftiness off the dribble. He's also a much better slash-and-kick guy than his numbers would indicate, regularly drawing crowds and kicking the ball out for easy perimeter shots.
Courtesy of Instagiffer.
He's perhaps drawn the most attention for his post game, though, and for good reason—as of December 2nd he was shooting an unheard of 71 percent on post touches, per DraftExpress. 
Parker's got a lot of different moves in the post, and he uses them to equal effect. Quick spins, turnarounds over either shoulder, face-up drives…he's a tough one to handle on the low block, especially since he's an able passer from there.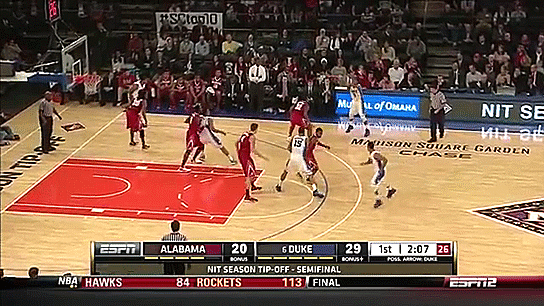 Courtesy of Instagiffer.
With all that being said, Parker's not perfect, particularly defensively. He's only so-so at moving his feet, and he's often inattentive or just plain slow on that end. He also hasn't yet shown the ability to stick with guards off of switches in the pick-and-roll, something he'll be required to do quite a bit in the NBA.
Still, few freshmen are lockdown defenders, and Parker has the ability to be at least solid on that end—he's already a competent rim-protector. Add all of that up, and you're looking at a player with serious star potential as well as a great fit for the Magic.
How Parker Fits In
There are still a lot of questions about the Magic roster: Can Victor Oladipo play the point? What's going to happen with Jameer Nelson and Arron Afflalo? Will Tobias Harris pick up where he left off last season? But the frontcourt situation in Orlando is pretty great.
Nikola Vucevic is one of the best young centers in the league, and he's found himself a nice partner in Andrew Nicholson, who has excelled as a stretch 4 for Orlando this season (and who should definitely be getting more minutes). Well over half of Nicholson's attempts have come from beyond 15 feet, and he's been very accurate from just about everywhere, including from three, per NBA.com.
What makes the Orlando frontcourt so interesting though is Nicholson and Vucevic's ability on the low block. As Grantland's Zach Lowe recently pointed out, post-ups in half-court sets are used as a vehicle to generate better shots for others.
That's why a player like Dwight Howard is allowed to post up so much despite being inefficient down low—he bends defenses and creates open shots for teammates.
But the Magic are the rare exception to the rule in the sense that both Nicholson and Vucevic are very efficient in post-up situations, and post-ups make up a big chunk of each player's offense. Nicholson is shooting 52 percent in post-up sets, and Vucevic is right behind him at 49 percent, per Synergy Sports Technology (membership required).
That in a nutshell is what would make Parker such an intriguing and potentially terrifying addition to the Magic. What kind of offense could Orlando put together with Vucevic, Nicholson and Parker in the frontcourt? All three guys can post up with elite or near-elite efficiency (or so we're assuming with Parker), all can step back and hit jumpers, and Nicholson and Parker are more than capable of hitting from three as well (though Parker will have to adjust to the longer NBA three-pointer.)
That's a whole lot of offensive versatility for one team to have, especially considering the number of mismatches the trio could generate off of switches and smart ball movement—both Vucevic and Parker are dangerous interior passers. There's also reason to believe that the three would fare decently on the defensive end as well.
Courtesy of Instagiffer.
Lineups featuring both Vucevic and Nicholson have been among Orlando's best this season and have been absolutely stingy on the defensive end. According to NBA.com, the Magic are allowing just 94 points per 100 possessions with the two on the court together, a mark surprisingly close to the Indiana Pacers' league-best defense.
That rating's probably a bit inflated, but Orlando would almost certainly be good enough defensively to survive the presence of what is now a questionable defender in Parker in the lineup, especially since he'd likely provide a big offensive boost.
And considering how solid Afflalo and particularly Oladipo are on the defensive end, Orlando could even hide Parker on its opponent's worst offensive wing, negating a big part of his man-to-man defensive liability altogether.
Parker would give the Magic something they haven't had in quite a while—a potentially elite shot-creator. The Magic have relied heavily on Afflalo and Oladipo to create shots this season, which isn't exactly ideal. Oladipo is promising, but he's extremely turnover prone, and while Afflalo's been great this season, he's playing a bit over his head and simply is not a legitimate No. 1 option on a good team.
Given time, Parker could and should be a No. 1 option. As was mentioned earlier, he can score from just about anywhere, and his combination of quickness and strength means he can take advantage of a lot of mismatches either off the dribble or on the low block. He's also a monster in transition and could generate a lot of easy points in uptempo systems like Orlando's.
In that same vein, Parker could act as a devastating 4 anytime head coach Jacque Vaughn chose to run with a smaller lineup. Not only is he much quicker than most NBA 4s, but Vucevic would benefit hugely from the attention he'd attract and vice-versa.
Adding Parker over other wing prospects would also give the Magic more time to decide what position Oladipo will ultimately play (assuming they need to beyond this season, and they very well may).
Oladipo hasn't been great at the point this year, but it's far too early to give up on the idea—his numbers line up pretty well with Russell Westbrook's rookie season, and we all know how that worked out for the Oklahoma City Thunder. And Oladipo looked pretty dang Westbrook-like when he dropped a triple-double on the Philadelphia 76ers earlier in the year.
Still, penciling him in as the team's future point guard wouldn't be wise just yet, and adding a combo 3-4 like Parker would give the Magic ample time to keep trying him out. Afflalo can play both the 2 and 3 effectively, so if Oladipo ended up taking to the point, great, and if not, Orlando could slide him to the off-guard and draft a point guard or deal for one using its many assets (Afflalo, Harris, draft picks, etc.,).
The Magic are basically guaranteed to get a nice pick in the 2014 draft, and considering how young and talented they already are, they could take just about anyone and be dangerous in the years ahead. But if they somehow end up getting Parker, the NBA had better prepare itself.
All stats accurate as of 12/12/13 and courtesy of Basketball-Reference unless specifically stated otherwise.