The rumors surrounding Saint-Etienne man-child Kurt Zouma have been swirling for quite some time.
Despite the continued advances from Premier League teams, ASSE has been able to keep the talented defender in the fold. That task may soon prove too difficult if current rumors are true.
With Chelsea and Arsenal reportedly (per the Mirror) in hot pursuit, Zouma may be on his way to England as early as January.
Interest in Zouma is not surprising. The young star has the skill set to develop into a top notch centerback. His combination of size, strength and technical ability has seen him draw favorable comparisons to former French great Marcel Dessailly.
The ability he has shown at a young age has reportedly caught the eye of Jose Mourhino and Arsene Wenger. When coaches the level of those two have serious interest, then the chances of Zouma continuing for Les Verts begin to diminish.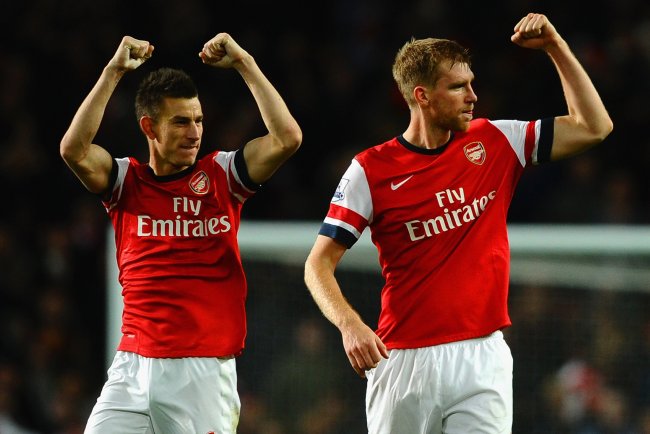 Laurence Griffiths/Getty Images
Both Chelsea and Arsenal would have a place for Zouma to develop behind experienced defenders who are among some of the best in the game.
While young players need game time to continue developing, spending a season or two providing depth and learning behind the likes of John Terry, David Luiz, Per Mertesacker and Laurent Koscielny should benefit Zouma's career.
With Zouma currently serving a 10-game suspension (per FourFourTwo) for his tackle on Sochaux's Thomas Guerbert that broke Guerbert's leg, interested parties may try and use this opening as a way to pry him away from ASSE at a discounted price. Do not expect Saint-Etienne to give in.
While some feel ASSE management may be disenchanted with Zouma following the suspension, it is unlikely they would give up their prized asset so freely. The tackle that induced the suspension was a poor decision by a young player still gaining experience.
ASSE signed Zouma to an extension (per Ligue1.com) earlier this season in an effort to keep him around longer and yield a bigger return for the homegrown player. With Zouma firmly in the fold for the foreseeable future, any interested club will have to meet ASSE's asking price.
Saint-Etienne's current game is based on a solid defense providing service to an open attack. Zouma fits the mold of excellent man marker with the technical ability to help start the attack. Allowing him to leave in January would weaken the strongest part of the team heading into the second half of the season.
Weakening the strength and the depth of the defense could severely hinder Saint-Etienne's chances of qualifying for Europe for the second straight season.
While the temptation to cash in on Zouma in January will be presented to ASSE, management will be unlikely to make their second major selling decision in a six month period.
While losing Pierre-Emerick Aubameyang was known heading into the summer transfer season, ASSE had time to make the moves required to try and replace him. The January window is much tighter and the same opportunity to adjust is often times not available.
In the end, Zouma to Chelsea or Arsenal talk will more than likely remain in rumors only through the January window.
Saint-Etienne fans should enjoy him in green this season though as it is most likely his change in residence will come this summer.