How Phoenix Suns Are Getting Eric Bledsoe-Goran Dragic Backcourt to Thrive
Use your ← → (arrow) keys to browse more stories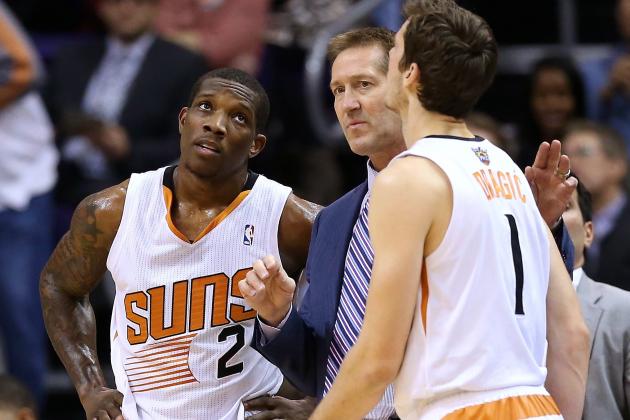 Getty Images

When the Phoenix Suns traded for Eric Bledsoe this summer, the prevailing wisdom was that Goran Dragic was on his way out.
Dragic is an above-average NBA point guard who is creative offensively and has a supremely reasonable contract. But even with those notches in his belt, he's nowhere near Bledsoe's level when it comes to raw talent, physical potential and upside.
Bledsoe was clearly the Suns' future, and Dragic's future was suddenly murky.
After the trade, general manager Ryan McDonough said all the right things about the Suns' intentions for playing the two point guards together in this interview with Arizona Sports 620:
I'd say generally that the NBA is becoming more position-less. You see a lot of teams, the Knicks are a good example, who play multiple ball-handlers, they run pick-and-rolls from both sides of the floor.
But if you put the pieces together, as Tom Ziller did in this Suns preview for SBNation, it was hard to see the point in keeping Dragic: "And that's exactly what new Phoenix GM Ryan McDonough will be faced with at this trade deadline, next summer, and on and on: why waste Dragic's prime on a 25-win team?"
That was the crux of the issue. For a team on the rise that was looking to test its limits in the playoffs, the ability to build a roster around two starting-quality point guards is an incredible asset.
But this summer, the Suns appeared to be headed full steam ahead in the opposite direction, letting go of some expensive assets like Caron Butler and Marcin Gortat in order to open up minutes for the development of younger players. A top lottery pick would have been a happy byproduct of that process.
To everyone's surprise, somewhere in the beginning of November, the Suns blew past the tanking phase of their rebuild and set themselves up to make a playoff push in the crowded Western Conference. Miles Plumlee has turned out to be an actual NBA player, the Morris twins took a giant leap forward and what looked like a redundant accumulation of talent at the point guard position has proved to be an enormous asset in this new context.
The biggest advantage for the Suns has been exactly what you'd expect: depth.
At least one of Bledsoe or Dragic has been in the game for all but 132 of the Suns' 1,109 minutes this season, which means a starting-caliber point guard has been on the floor almost all the time. When Bledsoe missed six games with a left shin injury, the Suns were able to push ahead with Dragic, who handled the point guard duties by himself without missing a beat.
But Bledsoe and Dragic have also played 310 minutes together. When you eliminate the six games that Bledsoe missed, that represents nearly 40 percent of the Suns' season.
They have been surprisingly successful as a unit. When they're on the floor together, Phoenix outscores its opponents by an average of 4.7 points per 100 possessions, which is about the same as the Los Angeles Clippers' season-long point differential.
This backcourt combination is beneficial not just for the team, but each player's individual performance as well. Both point guards are averaging career highs in usage rate and true shooting percentage.
The combined upswing of those numbers is more than a little surprising. Both Dragic and Bledsoe are used to having the ball in their hands, and they've been able to find success without having to compromise much.
According to mySynergySports (subscription required), 51.2 percent of Dragic's possessions this season have been used in isolation or as the ball-handler in the pick-and-roll. For Bledsoe, that percentage stands at 52.5.
What's really amazing is that the Suns have built a successful offense around the two point guards without scratching the surface of how their talents can be used to make things easier for each other.
In the half court, many of their possessions are still devolving into my-turn, your-turn sequences. Here are two examples where Dragic runs a high pick-and-roll while Bledsoe stands in the corner, inspecting the hem of his shorts:
There's nothing wrong with this pattern as long as it continues to work. Both Bledsoe and Dragic are shot creators off the dribble, and so far, their ball domination hasn't harmed efficiency.
At this point in the season, Bledsoe has been the most efficient player in the league on isolation possessions, averaging 1.27 points per possession. Dragic isn't far behind, ranking 22nd in the league with an average of 0.94 points per possession.
We see the same pattern on pick-and-roll possessions finished by ball-handlers, where Bledsoe ranks 42nd in the league on an average of 0.82 points per possessions. Dragic ranks 10th with an average of 0.92 points per possession.
Asking them to do what they do best individually has worked well so far, and leaving one of the pair stationed in the corner while the other runs pick-and-rolls is not necessarily a bad thing.
Here, the threat of a drive by Bledsoe sucks in Dragic's defender, which allows an open corner three:
The fact that they are potent threats to create off the dribble means they can also manufacture quality scoring opportunities by attacking aggressive closeouts when the ball gets swung to them after penetration by the other.
In this clip, Bledsoe is able to fly past the defender who is closing out, and he draws a foul at the rim:
But as impressive as those last two possessions look as an overlapping combination of their dribbling and shooting talents, those types of plays could be happening a lot more. Again, there is nothing wrong with letting a great off-the-dribble player work his magic, but the lack of movement and counter actions are often wasting the talents of the other point guard.
In particular, more off-ball cuts on the weak side of pick-and-rolls would lead to even more destructive combinations.
Dragic and Bledsoe have only finished 10 possessions as cutters this season combined. As dangerous as each player is at spotting up in the corner, they are even more dangerous on the move where they can create pressure and stress on the defense.
Here is a perfect example of a missed opportunity.
The Suns are running a high pick-and-roll with Dragic, and as he turns the corner, Bledsoe's man cheats into the lane. Bledsoe has an open lane to backcut his way to the rim, either for a pocket bounce pass or a lob. Even if the corner defender drops down, a passing lane should be available for Dragic to kick the ball to P.J. Tucker in the corner.
But instead of a layup or corner three-pointer, the Suns get a contested mid-range jumper from Dragic.
The Suns offense has been singing, in large part because of the individual shot-creation talents of Dragic and Bledsoe. But what has to be scary for the rest of the league is that they're still figuring out how to play together.
When off-ball movement, backcuts and pick-and-rolls running into more pick-and-rolls become the norm, we will see the pair achieve a whole new level of efficiency.
Statistical support for this story from NBA.com/stats and mySynergySports.com