1st Quarter Report Card Grades for Each Member of the NY Knicks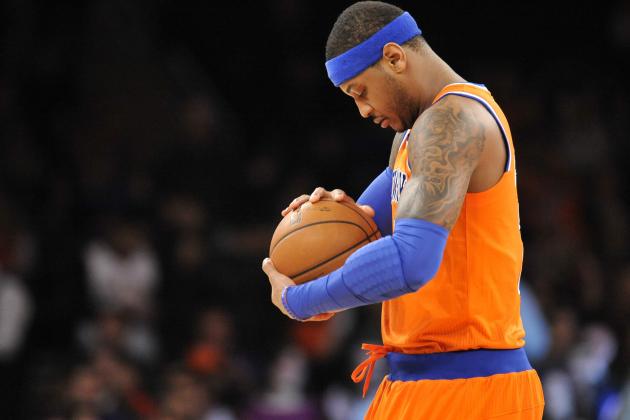 Joe Camporeale-USA TODAY Sports
Carmelo Anthony is a rare Knick enjoying individual success this season.
With roughly 25 percent of the 2013-14 campaign in the books, the New York Knicks look every bit the disaster that fans feared heading in. At 6-15, they stand as the NBA's third-worst team, despite shelling out the second-most bloated payroll in the league.
After winning three of its last five game, Mike Woodson's team has begun to correct some of the bad habits that were at the heart of a 3-13 beginning. Although some still remain, the more glaring weakness is fairly simple: The purported leaders of the team have been pitiful. Compounded by a slew of injuries, it's hard to imagine New York's season getting any worse that it is right now.
"It's just been tough to actually see what our Knick team is really about," Woodson said, according to Peter Botte of the New York Daily News. "But I think if we're healthy, I think we're a good team. I think we can compete at that level. But we got to get back to that."

Right now, the Knicks aren't at that level. If we don't see improvements from the team's core, it'll mean Woodson's job, now that a mere playoff berth is no longer a given.

Here are the first-quarter grades for every Knicks contributor.
Begin Slideshow

»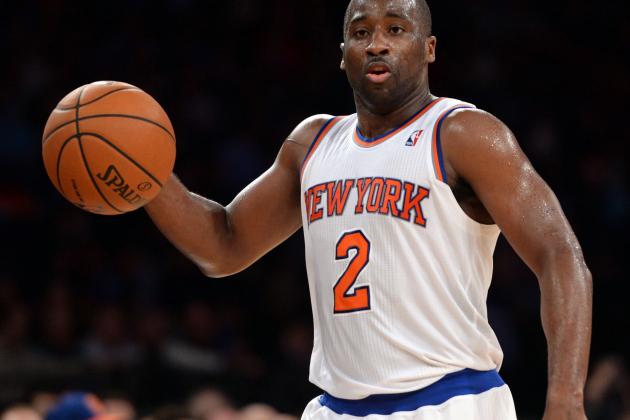 Joe Camporeale-USA TODAY Sports

Player Grade: F
Playing through a hip/hamstring ailment sporadically through the young season, Raymond Felton has possibly been the worst starting point guard in the NBA to this point.
He's averaged more shots than points over 16 games, logging 32 minutes per. He's shot 39 percent from the field and 28 percent from the arc and is currently sitting at a career-low player efficiency rating of 11.8. His defense on opposing point men has been has porous as ever to boot.
Considering his futility, it should come as no surprise that the Knicks are looking elsewhere for help at the point. According to Yahoo! Sports, New York is yet again in talks with the Toronto Raptors—this time for Kyle Lowry. Lowry is now expendable after the Raps' acquisition of Greivis Vasquez.
The Knicks offense, ranked 19th in offensive efficiency, is three points per 100 possessions better with Felton off the floor, according to NBA.com. That's generally a bad stat to apply to a starting point guard.
After beginning the season hobbled, Felton continued to play through pain, doing nothing but hurting the Knicks' chances of victory. After sitting out a few games, the 29-year-old returned for a seven-game stint of mediocrity before pulling himself from a game against the Cleveland Cavaliers. He's now slated to miss another three weeks.
It would behoove Felton to put off this return until he's fully healed. Whether he's still a Knick at that point, though, is uncertain.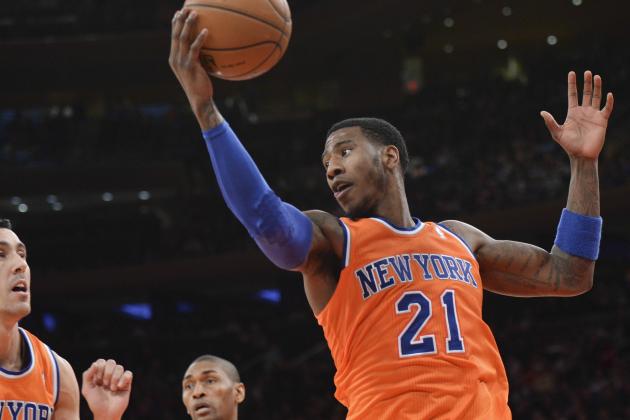 Joe Camporeale-USA TODAY Sports

Player Grade: D+
Third-year swingman Iman Shumpert's confidence has been shaken after hearing his name in trade rumors numerous times through the young season, but he's been one of the most disappointing Knicks to date.
In his first healthy 82-game season, he has shot the ball worse than he did last year when he was playing himself back into basketball shape. His 40-percent three-point mark from a year ago has regressed back to 33 percent this season over 21 games.
His trademark defense—the lynchpin of Shumpert's skill set over his first two NBA seasons—has been discouraging so far in 2013-14. His overly aggressive play has been picked apart, as he has often plowed through picks he never saw coming and picked up careless fouls. Per 82games.com, Shump's shooting guard opponents have posted a PER of 16. Furthermore, his assignments at the 3 have scored 22 points per 48 minutes, put up a 22 PER and shot at an effective field-goal percentage of more than 72.
Trading him would still be a questionable move, seeing that he's New York's lone player who is useful on both ends of the floor. He's just 23 and on an affordable contract. But if Shumpert's play doesn't pick up, this may be an irrelevant conversation.
He's slowly picked up his shooting over the last seven games, nailing an improved 35 percent of his threes in that time. He even threw down a monster jam while attacking a close-out against the Orlando Magic.
The Knicks will need a steady improvement from Shumpert, who was suspected to make a leap this season after an impressive run in last year's postseason.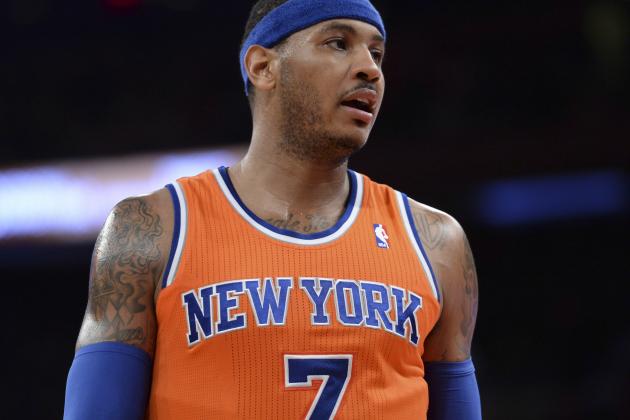 Joe Camporeale-USA TODAY Sports

Player Grade: A-
In Tyson Chandler's absence, Carmelo Anthony has added another notch in his belt: elite rebounding.
Anthony has posted 25.6 points and 9.6 rebounds this season. He's 11th in the league in boards per game and second in scoring.
After a rough start to the season in terms of shooting, he has worked his field-goal percentage back to a respectable 44 percent. He's struggled with his long-range shooting all season, but his line of .500/.419/.897 in December has been fantastic. He's put up 25 points, nine boards and 3.5 dimes this month as well.
On the defensive end, the Knicks have often struggled through 'Melo's too-frequent lapses and inability to rotate. Per 82games, he's given up more than 30 points per 48 minutes to his opposition at the 3 and 4 positions.
Despite his expected struggles on the defensive end, the fact remains that without Anthony, these Knicks would be in an even worse position than the one they're in now. New York has quite a few goats on this roster, but 'Melo isn't the man to point fingers at.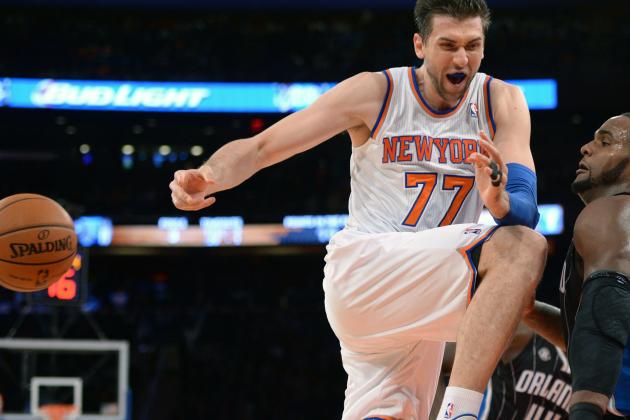 Joe Camporeale-USA TODAY Sports

Player Grade: D+
Don't let Andrea Bargnani's points per game fool you. Please don't be that naive.
Yes, he's the Knicks' second-leading scorer at 14 points per contest. But there is essentially no other possible trace of Bargnani being a positive for the Knicks this season.
Since November 20, he's shot an inadequate 39 percent from the field and 24 percent from beyond the arc. He's managed to reach new lows in career rebounding at 3.1 per game, despite playing most of the season as the starting center.
He's the most frequent culprit of the Knicks' ball-movement woes. He's created just 4.9 points per 48 minutes through assists, according to NBA.com, which ranks 161st of 198 players who have averaged at least 20 minutes per game over at least 12 games.
Carmelo Anthony, for all the flak he receives in this regard, has posted nearly double this figure.
There are times when Bargnani can trick the lazy basketball eye. His jumper can occasionally rip nylon—which is amusing to see from a 7-footer—and he can put a move on a defender with a swoop to the tin every so often.
But there's a reason he's been a net-negative player over his eight-year career. He shows no ability whatsoever to contribute to team defending.
This isn't a shot at his one-on-one post defense. He's actually held his own when stationed against skilled centers like Dwight Howard and Roy Hibbert. Bargnani and team defense, though—especially sophisticated D systems like Mike Woodson's—have not and will never be able to coexist.
Bargnani has posted the second-worst net rating on the Knicks, better than only Amar'e Stoudemire—note that Bargnani has played nearly 400 minutes more than STAT. The Knicks defense is roughly nine points per 100 possessions better with Bargs off the floor.
In those minutes with him off the floor, the Knicks are a net-positive. He's the only such example on the team, per NBA.com (registration required).
It's not entirely fair to say the Bargnani experiment has failed. Rather, it was doomed from the start.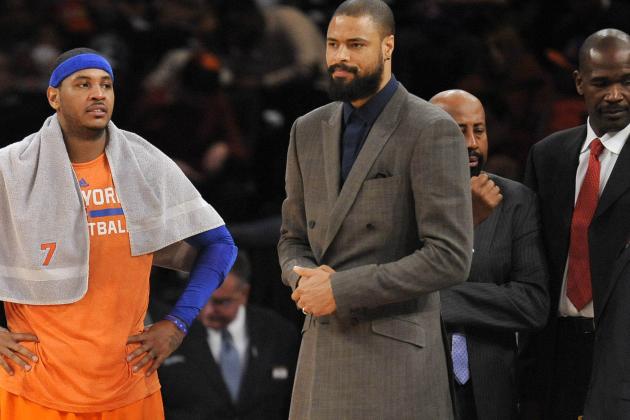 Joe Camporeale-USA TODAY Sports

Player Grade: Incomplete
It's pretty simple: If Tyson Chandler doesn't break his leg in the fourth game of the year, the Knicks aren't a 6-15 team.
After being embarrassed last postseason while playing banged up, Chandler was finally healthy to start the season. It was an extremely small sample, but he seemed destined to resolidify his name as a top-flight defensive presence in the league.
Over four games, the Knicks held opponents to just 92 points per 100 possessions with Chandler on the floor—by far the best mark of any Knick. Kenyon Martin is second at 101 points per 100 possessions.
According to NBA.com player tracking data, Chandler bailed the Knicks out of several possessions on defense when healthy in ways that Andrea Bargnani just can't. Data show that Chandler was contesting an average of 9.3 shots at the rim per game, which tells that Knicks perimeter defenders were letting ball-handlers drive the lane at will. Tyson held those shooters to just a 40.5 percent clip, though, which ranks sixth among all players who face at least five rim attempts on average.
He did all this while being the primary communicator and shot-caller of the defense.
We've barely seen Chandler suit up this season, but what we saw from him over three full games was encouraging. His return will do wonders for the Knicks' poor defense, which is currently 27th in efficiency.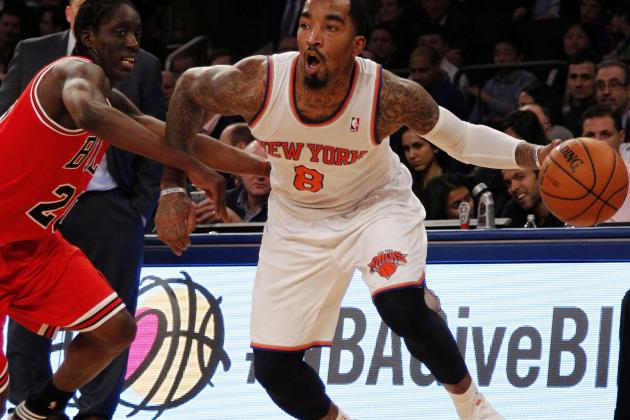 Noah K. Murray-USA TODAY Sports

Player Grade: F
J.R. Smith has fallen from Sixth Man of the Year to potentially the worst player in the NBA. That's according to Rob Mahoney of SI.com, who named Smith the "Least Valuable Player" to open the season.
An albatross in orange and blue. The league is stocked with players who haven't contributed much this season, but none have been as actively destructive as Smith. Of all the players to average at least 10 shots per game, Smith's 34.4 percent shooting is the lowest. His ambition off the dribble also makes for brilliant slapstick; only a precious few are so committed to driving and spinning into traffic, which in Smith's case so often ends with arms flailed toward the rafters as the ball skitters away.

As a result, Smith's turnover rate has returned to its most problematic levels, all while his shot falls errant and his interest in exerting effort on defense wanes. Smith, at his best, is still essentially a specialist. He helps create offense when actions jam up, offering some slice of redemption to an uneven offense. New York made the most of that ability a season ago, but this season it's gone to the same well only to draw blood. Take a gander at Smith's shot chart: His Red Death has devastated Knicks Country. No pestilence had ever been so fatal, or so hideous.
He may statistically be the worst player in the NBA this season. He's rocking a true-shooting percentage of 45 and a player efficiency rating of nine. Per NBA.com, of the 12 players to have logged at least 450 minutes this season in 16 games or less, Smith has the worst field-goal percentage and second-worst free-throw clip, while the Knicks have only won 25 percent of his games.
He has shot 35 percent this year from the field and 34 from beyond the arc. His bone-headedness on both ends of the floor—whether it's firing passes at teammates' feet or frustratingly shoving players to the floor on defense—has hurt the Knicks all year long. Mike Woodson's dedication to Smith has hurt even more.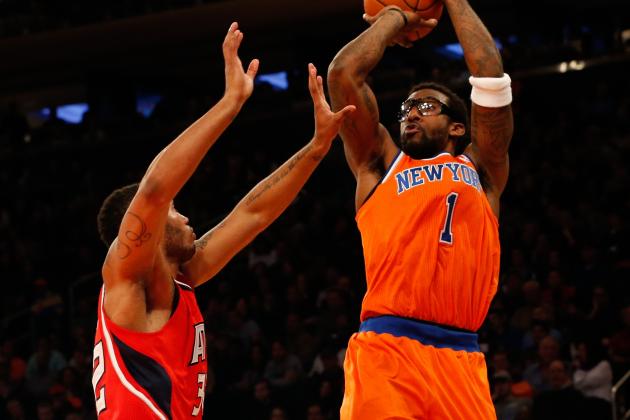 Anthony Gruppuso-USA TODAY Sports

Player Grade: C
Just a few days ago, there wasn't much to support the argument that Amar'e Stoudemire had any NBA future left. Now that he has shaken off some of the rust and his minutes restriction has been—at least temporarily—lifted, there's an outside chance that STAT could become the Knicks' No. 2 option after all.
After a spirited effort against the Chicago Bulls at MSG—including an extended effort on defense—Stoudemire has put himself in a position to fill a much-needed secondary scoring roll.
This comes after looking like nothing resembling an NBA rotation player—let alone difference maker—for the first month of the season. Through his first 11 games, he shot just 44 percent on five shots per game, scoring five on average over 15 minutes. Per NBA.com, he had the worst net rating of any Knick who'd played at least 20 minutes at that time, and it wasn't even close. He was at minus-23.7, while the next worst net player was Tim Hardaway Jr. at minus-14.
But things have started to turn for the 31-year-old forward whose career has crumbled due to injuries over the last two years. He's shooting 70 percent in the month of December, including performances where he's scored 11 points on six shots, 17 points on seven shots, 15 points on 10 shots and 14 points on 11 attempts. His net rating is positive over the five games, with both the offense and defense posting better efficiency with him on the floor.
Of course, the Knicks will need to monitor how STAT's knees hold up over the course of the season—particularly after he just logged 27 and 29 minutes on both ends of a back-to-back.
It's taken him awhile to kick it into gear, but if his health allows for it, Stoudemire could be a real part of a potential Knicks turnaround.
"The last couple of nights, Amar'e's been stepping up big time, giving us another option we can go to offensively," Carmelo Anthony said, according to Ohm Youngmisuk of ESPN New York. "Defensively, he's been stepping up, taking the challenge out there. And we've been having his back defensively. We just want him to continue getting better. We got to help him get better. We got to build together."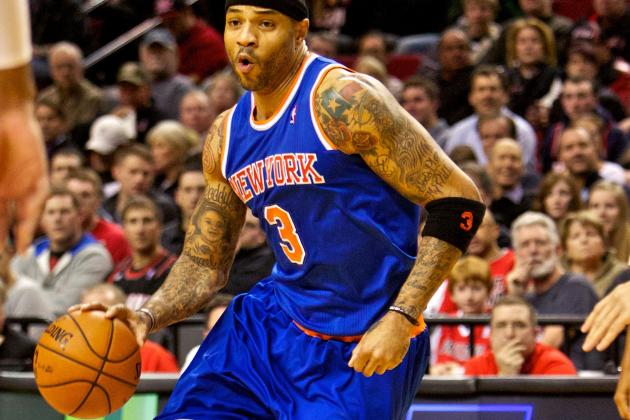 Craig Mitchelldyer-USA TODAY Spo

Player Grade: B
It remains to be seen how Kenyon Martin will hold up over a full season, but the 35-year-old is a viable reserve option on a supposed East playoff team.
He has represented the sole defensive force since Tyson Chandler's injury. He's made a few starts, averaged 18 minutes and posted seven points, eight boards and 1.5 blocks per 36 minutes.
His shooting marks have dropped from 60 percent last season to roughly 51 percent in 2013-14, but that shouldn't come as much of a surprise considering the overall offensive struggles that the Knicks have gone through.
Last season, primarily as a starter during more Chandler downtime, Martin thrived in the pick-and-roll and cleaning up on the glass. Without much direction, it's been harder for him to get touches in close.
He's under a medical-limitation umbrella similar to Amar'e Stoudemire, which is something to keep tabs on, but it appears to be getting the job done. Though it's still early, Martin hasn't showed any major signs of wear, even despite missing most of training camp with ankle issues.
The priority should be to preserve him for the latter part of the season, but of course Chandler's injury threw that plan slightly off track.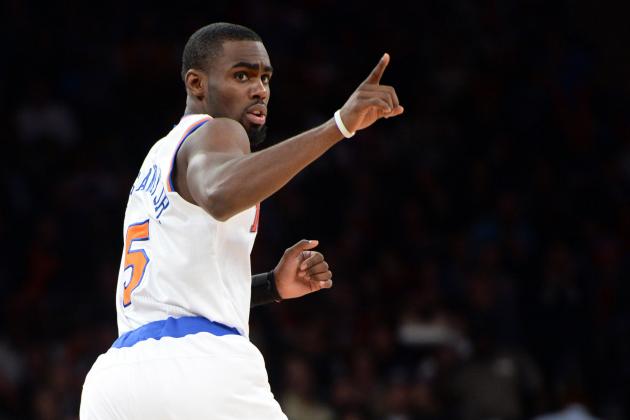 Joe Camporeale-USA TODAY Sports

Player Grade: B
It was a curious draft choice to say the least when New York decided to add yet another guard to an already crowded backcourt, but you could make the argument that Tim Hardaway Jr. has been the most consistent Knicks guard this season.
Over 20 games, he has shot more than 46 percent from the field, 42 percent from three-point range and 87.5 from the stripe. He's put up eight points per game while averaging under 17 minutes, and although wild at times, he has displayed the aggression and fire that's encouraging from a scoring guard. He leads all rookies in three-point shooting.
Thus far, the 21-year-old has done well to stay away from the inefficient mid-range, with just 28 of his 127 attempts coming from there. He's also done a solid job at finishing when driving to the rim, connecting on 63 percent of his shots within five feet, via NBA.com.
With the struggles of other Knicks backcourt-mates, the onus has occasionally fell on Hardaway to take on a scoring load. Though Hardaway has rarely disappointed, Woodson is short on patience in regard to the rookie, as he often is with players who aren't in or past their prime.
When he's been called upon, however, he's often thrived. Hardaway's defense will need to improve, but the Michigan product's skill set early on is encouraging.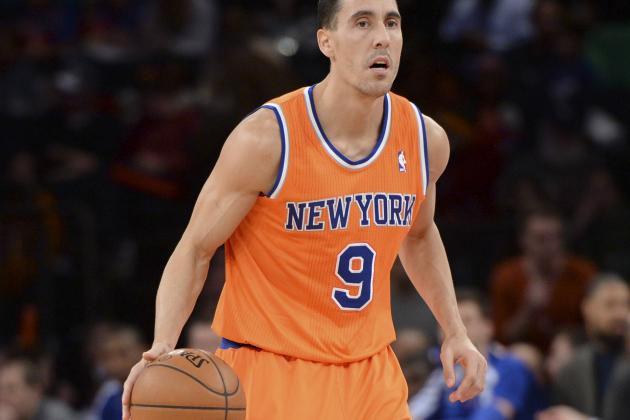 Joe Camporeale-USA TODAY Sports

Player Grade: B+
The 36-year-old reserve point man has brought about as much as one could ask at the point in his second NBA season. He's only been on the court for 17 minutes per game, though, so we'll give you a pass if you still aren't aware of the greatness that is Pablo Prigioni.
It's fairly obvious that the offense runs much more fluidly with Prigioni at the helm. Look no further than New York's embarrassing loss to the Boston Celtics at MSG last Sunday. Prigioni played 17 minutes and finished with an even plus-minus ratio...in a game that the Knicks lost by 41.
New York shot 64 percent with him on the floor in that game (including 80 percent from the arc) and 22 percent (including 18 percent from three) in 31 minutes with him off.
On defense, he is active but lacks the frame or stamina to keep up with shiftier points. Regardless, along with Tim Hardaway, Prigioni has probably been one of the Knicks' most consistent backcourt players through 20 games.
When Prigs does decide to pull the trigger, he's a very reliable shooter, currently boasting a line of .483/.457. He hasn't attempted a free throw this season.
Now that Felton will be sidelined until 2014, the starting point guard job is Prigioni's to lose. As long as he can shore up his shoddy defense and constant fouling—he's committing 4.5 fouls per 36 minutes—the Knicks shouldn't have much to worry about in the short term.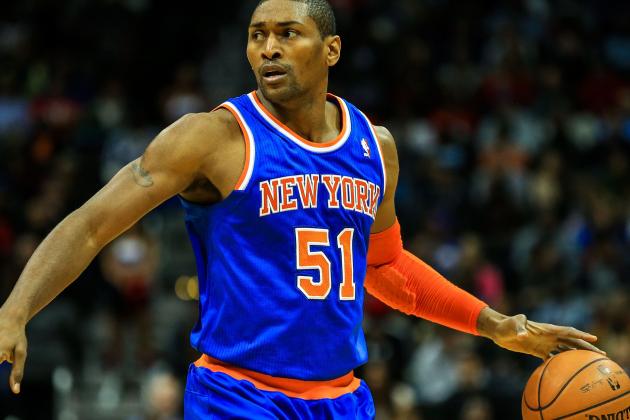 Daniel Shirey-USA TODAY Sports

Player Grade: C-
The Metta World Peace signing went very wrong, very quickly for the Knicks.
Over his first seven games of the year, MWP was averaging 10 points, three bounds, 1.6 steals and an assist over 25 minutes. He was shooting 46 percent from the field and 35 percent from three. More prominent than any stat, though? It looked like he gave a damn.
Since that opening hot streak, though, he's come crashing back down to earth and fallen out of Mike Woodson's nine-man rotation in games where Kenyon Martin and Amar'e Stoudemire are both active.
In just 12 minutes per contest since Nov. 14, he's shot just 30 percent from the floor and 30 percent from three and put up just four points on average. The Knicks' offensive efficiency with World Peace on the floor has dipped from 102 over those first seven games to a pathetic 79 over his most recent 10 contests, via Basketball Reference.
At 34 years of age and in his 14th NBA campaign, World Peace is one of the purported leaders on the floor, yet he's taken his fair share of foolish and poorly thought-out attempts this year. The Knicks brought in the former Los Angeles Laker for his defense, leading personality and three-point shooting off the bench. Lately, the Knicks have gotten none of that.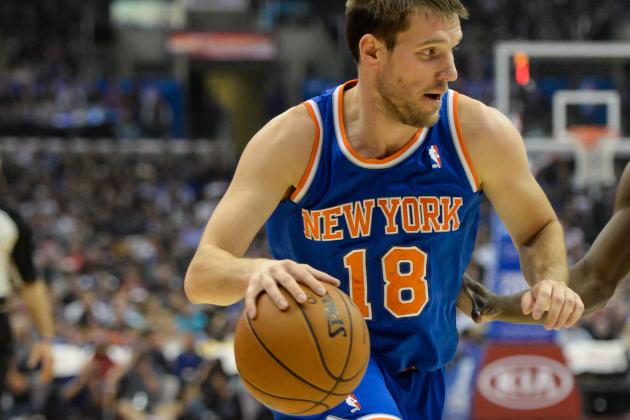 Richard Mackson-USA TODAY Sports

Player Grade: C+
Call me naïve, but I'm still under the impression that Beno Udrih can prove his worth as a Knick.
Plenty of New York's offensive success last season was predicated on two-point-guard lineups that advocated ball movement. The 31-year-old Udrih is essentially filling Jason Kidd's role, and although the since-retired Kidd's know-how and vocal presence go unmatched, Udrih is both younger and more capable with the ball in his hands.
During Raymond Felton's previous time away with injury, Udrih stepped in and struggled—which was predictable since he's not a starting-caliber NBA guard.
The duties that he signed on for—to be a part of the three-point rotation while splitting time both on and off the ball—is how the Slovenian vet would bring the most to the table for New York. He even talked about the potential last August with Knicks Now's Jonah Ballow:
I like that. You have two ball handlers, both can guard shooting guard positions, and on offense they can both run the point guard, so that's great. I think it's a good balance on the court like that. I like it and hopefully it's going to work for us this year as much as it did last year for them.
Hopefully it will, if Mike Woodson ever finds his way back to that strategy.
After opening night, Felton and Pablo Prigioni have played simultaneously in just five games for a total of 44 minutes. Udrih and Prigioni have played together in just two games for a whopping seven minutes combined.
Felton and Udrih? One game, three minutes paired with each other.
Put simply, Woodson has scrapped the attack that was the very reason for signing Udrih in the first place. Should the coach—or a potential replacement—gravitate toward what made the Knicks a vaunted opponent last season, Udrih would likely prove to be a viable rotation player.
But to this point, his near 2:1 assist-to-turnover ratio isn't cutting it.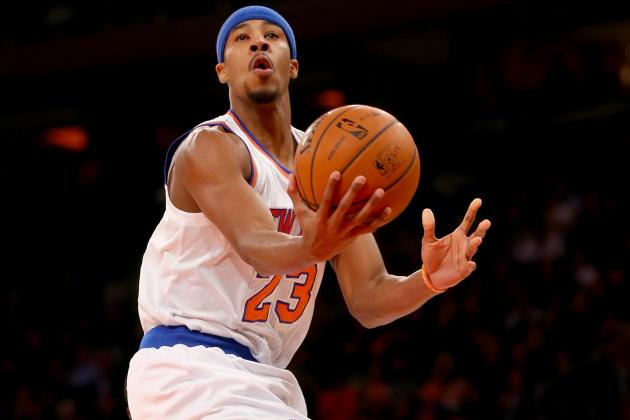 Elsa/Getty Images

Toure' Murry: B
Murry's skill set is intriguing in the backcourt, and he's put some of his abilities on display in various garbage times this season. He's shot 8-of-17 while grabbing four boards and dishing three assists.
It seems as if he wants to show off his skills as badly as Knicks fans want to see them. His usage rate of 33 leads the team, which is aided by his 17 field-goal attempts in just 32 minutes.
With Raymond Felton possibly missing time with a hip/hamstring issue, Murry could finally get a chance to prove his worth to Woodson and management. Looks like we'll find out in the coming days.
Cole Aldrich: C
Between Cole Aldrich, Ike Diogu and Josh Powell—the three big men who were pursuing the team's final roster slot in camp—it seemed like Aldrich did the least to deserve a look. He hasn't gotten much of a chance, but when Woodson has called his number, Aldrich has been nothing more than an empty, size XXXXL—hopefully not orange—jersey.
Diogu or Powell may have been a better choice, and the decision proved costly in short order when Tyson Chandler, right on cue, went down with a fractured leg in early November.