As much as the Dallas Cowboys have had some pivotal early-season matchups, none have come close to matching the importance of their Week 15 meeting with the Green Bay Packers. The direction of the Cowboys' season will undoubtedly be significantly altered after the contest is over.
Sitting at 7-6, the Cowboys are one game back of the Eagles in the NFC East. With the Cowboys hosting the Eagles in Week 17, the 'Boys will just need to be within one game of Philly to have a chance at the division. That's because they took down the Birds earlier in the year, so they will win an NFC East tiebreaker if they sweep Philly.
The problem for Dallas is that the Eagles face two relatively weak opponents in the Vikings and Bears over the next two weeks. If they win both of those games and the Cowboys lose a single contest, Dallas can't win the division in Week 17.
That's what's at stake this week in Dallas. Let's take a look at exactly how the Cowboys can beat down Green Bay.
Blitz. A lot.
Owner Jerry Jones wants the Cowboys to blitz more, according to The Dallas Morning News. Jones' opinion shouldn't necessarily be part of the game plan on a consistent basis, but I think he's on the right track with this idea.
For starters, the Cowboys' defense is obviously, well, awful. If you're going to give up touchdowns anyway, you might as well force the issue and blitz in an effort to generate some sacks and takeaways. The 'Boys absolutely need to find a way to get more defensive pressure. Take a look at the pressure rates for their top three pass-rushers this year.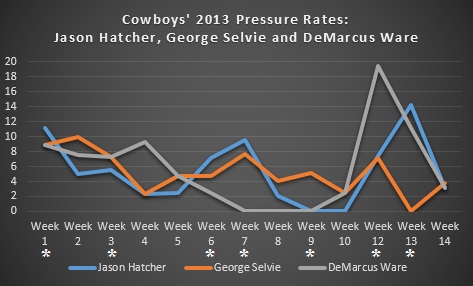 Jonathan Bales
When they get to the quarterback, the 'Boys often win (marked by an asterisk). When they don't, things aren't so pretty.
The second reason to blitz a lot is that it's looking as if Matt Flynn will start at quarterback for Green Bay.
MM: We're planning to play the game (at Dallas) with Matt. That's the way you have to go about it. Aaron has hurdles to get over.

— Rob Demovsky (@RobDemovsky) December 9, 2013
Flynn doesn't have a huge sample size of plays in the NFL, but he's struggled against the blitz at times. In 2010—the year in which Flynn had his second-most attempts (behind 2013)—he registered just a 48.1 passer rating versus the blitz, according to Pro Football Focus (subscription required). This year, it's a mediocre 82.2 with just a 55.6 percent completion rate.
Don't play the Packers to run on first down.
Green Bay has been a pass-first team with Rodgers at the helm; although it actually runs the ball on first down more than you might think.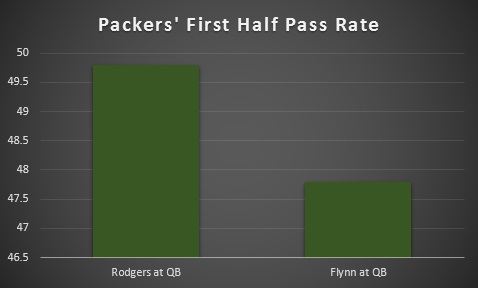 Jonathan Bales
In the first half—a time when games are "normal" in that they're still about point-maximization for both squads—the Packers have actually run the ball more on first down than they've thrown it. That's pretty surprising. It's not surprising that the first-down pass rate has decreased even more with Flynn at quarterback.
So why would I suggest that Dallas still play the pass? Risk and reward. The downside of playing the pass and getting gashed by the run might be 15 or 20 yards for running back Eddie Lacy. The downside of selling out against the run and having Flynn show play action could be a quick, deep strike for a touchdown.
Even with Lacy running well, I'd play aggressively against the pass and force the Packers to beat me with the run.
Attack the nickel cornerback.
The Packers have mixed their nickel cornerback strategy this year, rotating Davon House and Micah Hyde. Both have struggled. Below, I charted the yards per route allowed by the Packers' and Cowboys' cornerbacks.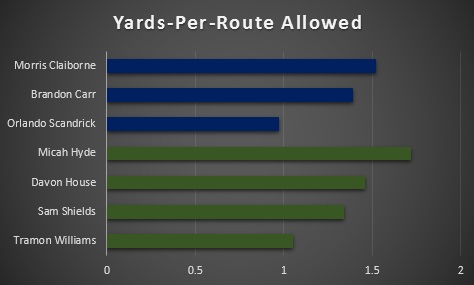 Jonathan Bales
I like to analyze yards per route because it rewards cornerbacks for quality coverage. When Darrelle Revis has such good coverage that he's not even targeted, he should benefit from that.
You can see that Hyde and House have both been poor—in the same range as Cowboys cornerback Morris Claiborne, who we know has struggled. Meanwhile, cornerback Tramon Williams—one of the more underrated cornerbacks in the league—has given up a yards-per-route figure in the same range as Orlando Scandrick, who has turned in a career year.
If I was game-planning for Green Bay, I'd do everything possible to exploit its weakness in the secondary. Since it typically moves cornerback Sam Shields into the slot in nickel situations, I'd leave wide receiver Dez Bryant out wide, using motion or whatever's necessary to get him matched up on Hyde or House.
Don't double-team outside linebacker Clay Matthews.
Matthews is Green Bay's most well-known pass-rusher, but he's not playing at an elite level right now. Below, I charted the pressure rate for Matthews and fellow Green Bay outside linebackers Nick Perry and Mike Neal, as well as for defensive ends George Selvie and DeMarcus Ware, as per PFF (subscription required).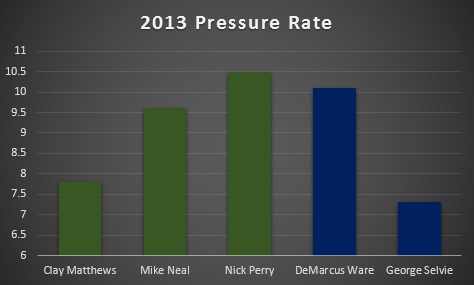 Jonathan Bales
You can see that Perry has been the best of the bunch, ahead of even Ware. Even Neal—a 6'3", 285-pound monster for an outside linebacker—has a higher pressure rate than Matthews. The Packers' star pass-rusher has pressured the quarterback at nearly the same rate as Selvie.
The Cowboys might be tempted to double-team Matthews just because of his big name, but I don't think that's a path they necessarily need to go down.