5 Fighters with More Bark Than Bite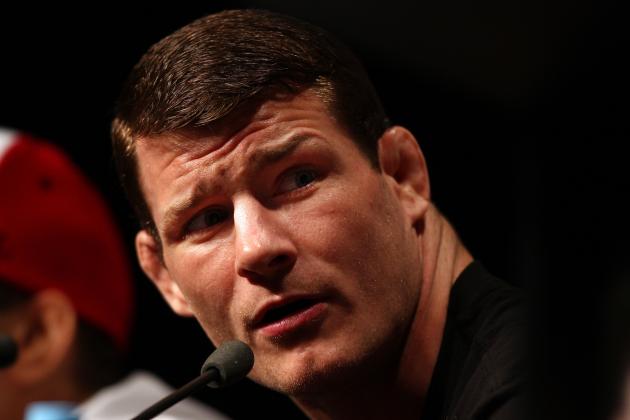 Ryan Pierse/Getty Images

Sometimes, physically harming another human being inside the Octagon is easier than speaking your mind in front of a microphone and subjective cameras.
Sometimes, fighters willingly launch pre-fight attacks on an opponent to help get into the mindset of competing later down the road.
It's called trash talking, and it's a verbal art form.
However, as witty and provocative the banter becomes, none of that matters when the cage door shuts and your mixed martial arts pedigree is the only thing that matters.
With that said, here are five fighters who possess more bark than bite.
Begin Slideshow

»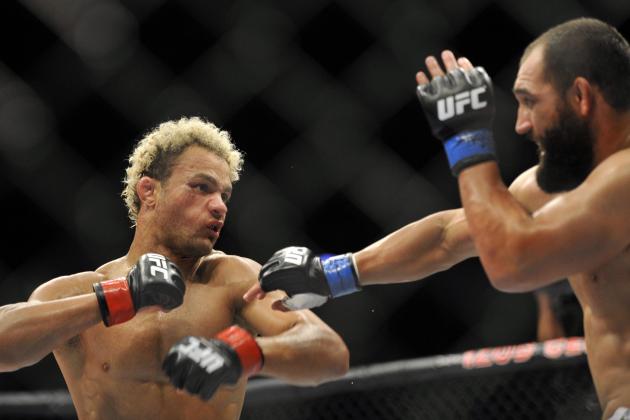 Joe Camporeale-USA TODAY Sports

Maybe it's partially due to the fact that he's an aging 36-year-old veteran, but Josh Koscheck is quickly losing most of his bite.
That's a big problem when you consider the former welterweight top contender still likes to bark with the best of them.
Unfortunately for "Kos," a guy who has grown accustomed to fighting the premier talent in the division, he has now lost three fights in a row. This includes devastating knockout defeats to Robbie Lawler and Tyron Woodley.
It's truly difficult to give up on the UFC mainstay just yet, but if his recent performances are any indication of his 2014 value, it may be time to put this old dog down.
Kyle Terada-USA TODAY Sports

Very similar to Josh Koscheck's situation at welterweight, Frank Mir is currently sinking at heavyweight.
No matter what way you look at it, the former UFC champion is in the twilight of an illustrious career.
Heartbreaking defeats to Daniel Cormier, Josh Barnett and Junior dos Santos fill the 34-year-old's resume from the past two years.
If he can't get past a desperate Alistair Overeem at UFC 169, who is another fighter who deserves to be on this list, then Mir's storied UFC career may be at an end.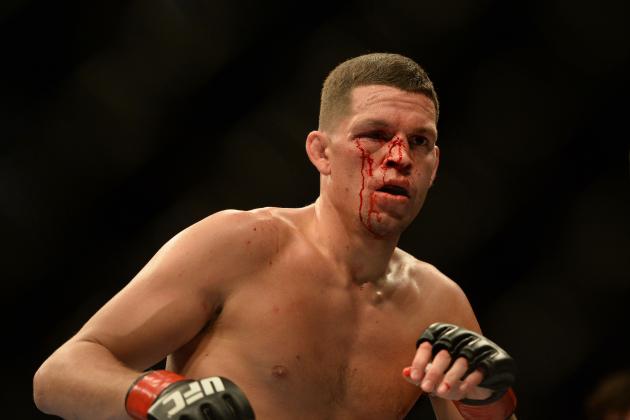 Kyle Terada-USA TODAY Sports

As probably the most consistent contender on this list, Nate Diaz still doesn't bite as hard as he barks.
Throughout the years, the California native has been at the forefront of trash talking in mixed martial arts. He has made a living out of promoting fights and making opponents feel uncomfortable inside and outside of the cage.
However, despite his elite boxing and a barbaric bravado unseen in the sport today, Diaz hasn't been able to win the big fight.
With recent losses to Benson Henderson and a brutal knockout defeat at the hands of Josh Thomson, the 28-year-old may be at a crucial crossroads in his professional career.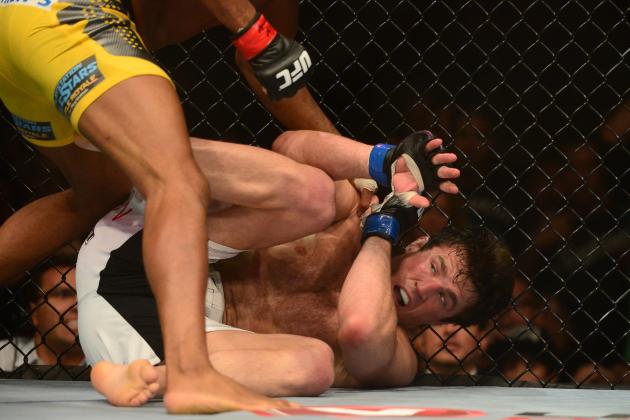 Mark J. Rebilas-USA TODAY Sports

Chael Sonnen is, well, Chael Sonnen.
We all know what he's capable of doing in front of a camera, behind a desk or inside the Octagon. So it shouldn't come as a surprise that he's much more deadly verbally than he is physically.
Sure, Sonnen still possesses some of the best wrestling in the game today, but he's been unable to utilize it at light heavyweight.
Until he regains his prominence at middleweight, people will continue to look at him as more of a trash talking pay-per-view draw than serious title contender.
Sherdog.com

Arguably the best middleweight in UFC history to never fight for a title, Michael Bisping continues to pressure opponents inside the cage.
He's been one of the most consistent contenders throughout the entire promotion and one that prides himself in backing up his big bark with an efficient bite.
However, when you take into consideration the fact that he hasn't fought for a title and has fallen apart when the stakes are highest, something has to be accredited to his inability to perform under pressure.
When you think about it, isn't that the ultimate non-bite scenario?
Either way, Bisping remains an entertaining fighter, who still needs to do a whole lot until his championship aspirations ring true.
For more UFC news and coverage, Follow @DHiergesell