There will be a lot of running at Lincoln Financial Field on Saturday, Dec. 14, at the annual Army-Navy football game.
I don't just mean in the general sense of the word either. Army and Navy have two of the best rushing attacks in the nation this season.
The Black Knights have a slight edge, but the two programs rank second and third, respectively, behind Auburn.
With a 7-4 record, Navy is nearly a two-touchdown favorite heading in. The Midshipmen will wind up their season in the Armed Forces Bowl against Middle Tennessee, but first they have some tradition to tend to this weekend. For Army, this is the closest thing that the 3-8 Black Knights will get to a bowl game. You can bank on Army playing with a sense of urgency.
If you're a patriotic, red-blooded American that enjoys, old-fashioned, smash-mouth football, this game should be circled on your calendar. In the event that it isn't, here's the information you need to catch the action.
When: Saturday, Dec. 14 at 3 p.m. ET
Where: Lincoln Financial Field in Philadelphia
TV: CBS
Spread: Navy -13, per Bovada.com
The Hype
This game is a big deal nationally because of the tradition involved. Army and Navy have played each other for 122 years, and because of the attention it gets throughout the country, the hype gets bigger every year.
The Uniforms
Alternate uniforms are all the rage in sports, so it seems only natural that the Army-Navy game produce special threads. Take a look at what the Black Knights and Midshipmen will be wearing on Saturday:
Ready to see Navy beat Army in TWO days!? RT and FAVORITE if you cannot wait for a Midshipmen victory! #ArmyNavy pic.twitter.com/Tfj6iVKFz5

— Army Navy Game (@Army_Navy_Game) December 12, 2013
Ready to see Army beat Navy in TWO days!? RT and FAVORITE if you cannot wait for a Black Knights victory! #ArmyNavy pic.twitter.com/MWnYnSmUrC

— Army Navy Game (@Army_Navy_Game) December 12, 2013
Both are awesome, so I can't give either side an edge. Too bad these rather clean uniforms will be muddied up by the middle of the first quarter. Take a good look at these uniforms now, because they won't look like this for long.
The Weather
Are you ready for this to get even more awesome? Per Weather.com, there is a 100 percent chance of snow for the game. The forecast high is 32 degrees and somebody is going to barbecue. Man, if this isn't pigskin heaven, I don't know what is.
The Hype Songs
If you listened to the hype songs leading into the game, you'd think Army was the team that has won the big game 11 years in a row. The Black Knights' song is an edgy take on Kanye West's Blood on the Leaves. Take a look and listen:
OK, it's pretty strong, right? Take a gander at the Midshipmen's very mild song, which is a take on Justin Timberlake's Suit and Tie. Don't you dare laugh:
In MC battles, the guy who writes his verse last always seems to have an edge. It is clear Navy had to spit its hot fire first. I'm just saying.
The Game
Key Players to Watch
Navy: Keenan Reynolds, QB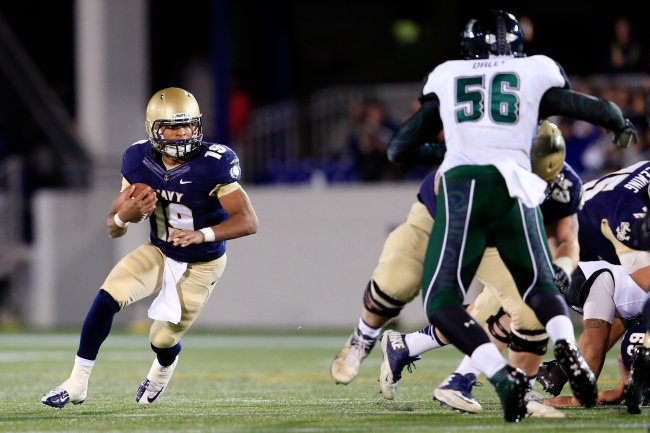 Rob Carr/Getty Images
The Midshipmen have about 247 running backs, (not really, but there are a lot) but just one ultra-dynamic signal-caller. The 5'11" sophomore quarterback is well on his way to becoming one of the best ever at Navy.
Reynolds has rushed for 1,124 yards and 26 touchdowns this season—one touchdown shy of tying the all-time single-season record for a quarterback at Navy. Whatever Navy does on offense will run through Reynolds.
Army: Terry Baggett, RB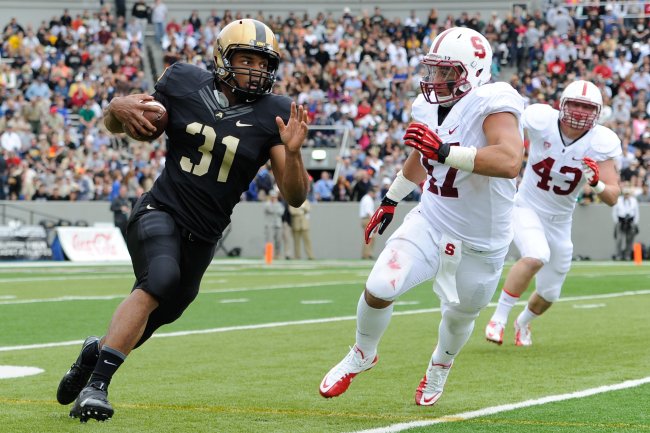 Ron Antonelli/Getty Images
On Oct. 12, Baggett ran into Army football's record books. The junior running back exploded for a school-record 304 rushing yards in the team's 50-25 win over Eastern Michigan. If the country hadn't paid attention to Baggett before then, it certainly did after that performance.
For the season, Baggett has 1,072 yards and he spearheads a balanced Black Knights' rushing attack.
Army: Robert Kough, DE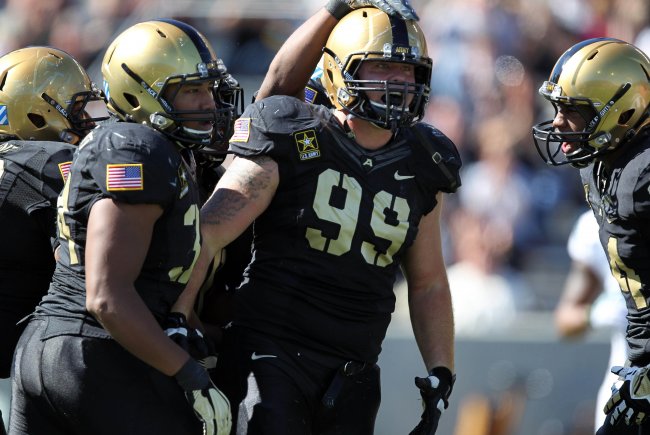 Danny Wild-USA TODAY Sports
We've talked a lot about offense, but both defenses will also make the trip to Lincoln Financial Field. Because of the stoutness of both team's running game, it is possible a standout performance on defense could dictate the game.
Kough is the best player in Army's front seven. He must lead Army in slowing Reynolds and the Midshipmen's running game.
The junior has three sacks and seven tackles for a loss this year. He'll need to add to those numbers to contain Navy.
Prediction
Army is going to have to settle for winning the battle of the songs. The Black Knights' issues with turnovers will be their undoing in this one. In a game that figures to be big on time of possession, takeaways will be key.
Army has turned over the ball 14 times this season, which is high considering how much it runs the ball. Factor in the expected sloppy conditions and Navy will run away with a decisive win heading into the Armed Forces Bowl.
JT trumps Kanye? Not really.