Full Predictions for John Cena Heading into WrestleMania XXX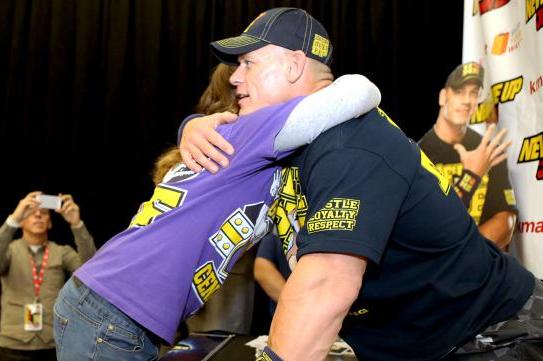 from WWE.com
John Cena hugs a fan at a recent PR event.
One thing is for sure: Going into next year's WrestleMania XXX, one of the biggest WWE events ever, John Cena has a hectic schedule ahead of him.
Indeed, as the face of the company, he's more valuable and integral to the storylines than ever before right now.
Of course, we don't know for sure what Cena will be doing in New Orleans on April 6, but we can still make several predictions about just what's in store for the wrestler in the next few months...
Begin Slideshow

»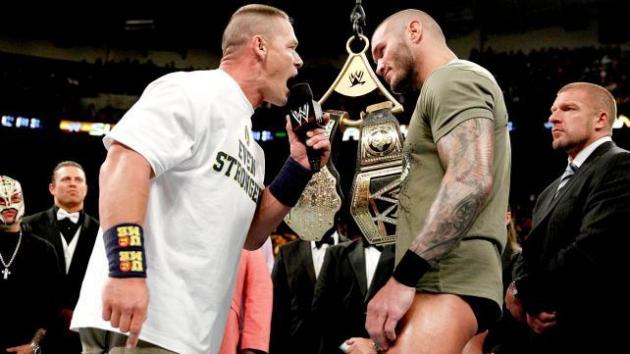 from WWE.com
Orton and Cena face off on Raw.
At the TLC pay-per-view this Sunday, expect Cena to lose to Orton in their heavily hyped title unification match.
Giving Cena both world titles just makes no sense right now. He certainly doesn't need the belts—he's one of the most over people in WWE.
A victory for Orton would also give him a much-needed boost, as the 33-year old finds himself playing second fiddle to Triple H in The Authority.
Besides, the real interest in wrestling has always been in seeing an underdog babyface going after the belt, not holding it. Cena may get the unified title eventually, but it won't be at TLC.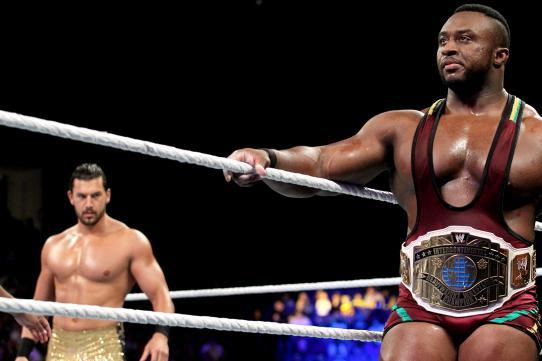 from WWE.com
Is Langston headed for a program with Cena?
Per recent reports, via Wrestlezone, John Cena has become a big fan of newcomer Big E Langston. In fact, some have linked Cena's political influence with Langston's increasingly high-profile rise up the WWE ladder in recent times (the star won the Intercontinental belt from Curtis Axel last month).
With this in mind, don't be too surprised if Cena engages in a short program with Langston in the next couple of months in a bid to help establish the former NXT champion as a top star. It'll pass time until WrestleMania XXX, if nothing else.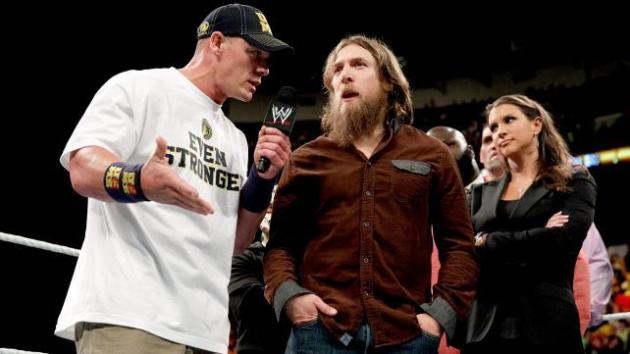 from WWE.com
Daniel and Cena on Raw.
Don't be too surprised if John Cena ends up feuding with Daniel Bryan at some point between now and WrestleMania XXX.
Following his astounding crowd reactions in recent weeks, WWE might be beginning to realize just what a mistake it made in demoting Bryan back to the midcard.
For his part, Cena strongly put over Bryan at the end of Monday's Raw and vowed to the fans he would give Bryan the first title shot if he won.
Of course, it's entirely possible Vince McMahon will stubbornly refuse to move Bryan up the card. But here's hoping Cena—and the crowd—can change his mind.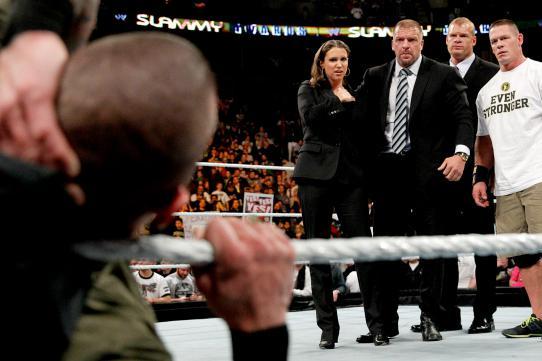 from WWE.com
Cena stands tall with The Authority.
Monday's Raw ended in a deeply compelling manner: We saw Cena, the company's undisputed babyface, stand tall with Kane, Triple H and Stephanie, as all four looked on in disgust at Randy Orton for accidentally hurting Stephanie. (Geez, cut the guy a break, people. He clearly didn't mean to do it.)
Was this the first tease of Cena potentially joining The Authority?
Of course, ultimately he won't—Cena is far too valuable to WWE business as a babyface to consider turning. But in the next few months, expect WWE to play up this angle and script Triple H and Stephanie to attempt to "recruit" the star to the cause, just to create some tension and drama.
In a recent interview with TMZ, Cena joked about Hulk Hogan being too old to wrestler, which is actually a very valid point (Hogan turned 60 earlier this year).
Per a recent report, from F4Wonline (via WrestlingInc), this was a totally planned remark and potentially the first indication of an epic Cena-Hogan clash at WrestleMania XXX.
Therefore, in the run-up to the event on April 6, expect the World Heavyweight champion to continue to drop more sly work/shoot remarks about the Hall of Fame legend as he attempts to build up their confrontation.