Scouting Report: Arsenal Target Transfer for Real Sociedad's Antoine Griezmann
Use your ← → (arrow) keys to browse more stories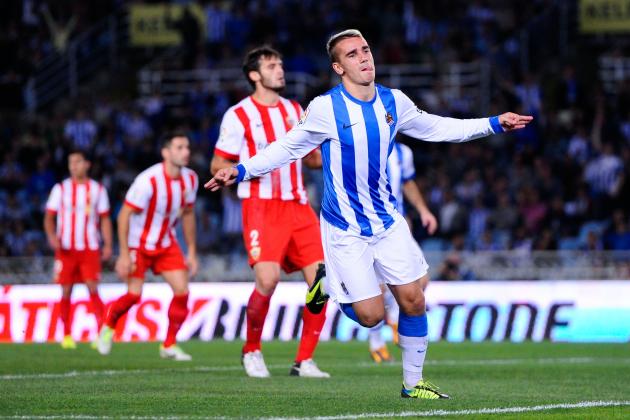 David Ramos/Getty Images

According to a report in The Metro, Arsenal are tracking Real Sociedad's £20 million rated wide-man Antoine Griezmann.
Signing a striker is most definitely a priority for Arsene Wenger in the January transfer window. The paper, however, claims that Le Prof has been running the rule over the 22-year-old winger-cum-forward for some time and will pounce in January.

Manuel Queimadelos Alonso/Getty Images
Griezmann has huge experience for a player so young. He has made over 170 top flight appearances and has become an important part of Sociedad's team over the last five seasons. His name may not drop off the tongue like many other starlets his age, but there is good reason for that.
Even though the youngster is a first team regular in La Liga, he has only featured 10 times for the French U-21's. He joined Sociedad when he was just 13 and playing in Spain at such a young age has kept him away from the scouting networks in France. As such he was only picked up by French underage teams in 2010.
In June 2010 he made Francis Smerecki's squad for the U-19 UEFA European Championships. He sparkled during the tournament as France topped Group A before beating Spain 2-1 in the final. His performances were of such high quality that UEFA.com claimed he was one of the best-kept secrets in football.
At the time Griezmann told UEFA.com:
It feels strange because nobody recognizes me here, while in Spain when I go to town all the people I meet ask for a picture or an autograph. But it is an advantage to be a little incognito.
His unique playing style, part French technical, part Spanish flair, made him a highly dangerous player at the Championships with his coach, Smerecki, hailing his performances.

Griezmann's international career stalled in November 2012 after two highly successful years at underage level. The 22-year-old is currently suspended from being a part of any French national team until December 31st 2013 because he broke curfew with four other players.

Before his suspension he had progressed rapidly and was on the verge of making his full international debut. His suspension combined with the pressures of the World Cup mean he is expected to miss out on the trip to Brazil.
The 22-year-old has featured 21 times for Sociedad this season and has scored a superb 11 goals.
He is primarily viewed as a left-sided player although he can play through the center or on the right. He has formed a highly dangerous and adventurous partnership with old Arsenal favorite Carlos Vela.

Griezmann likes to take on defenders and is as dangerous from a standing position as he is running onto the ball. As a wide man, he does not play like a conventional winger. He is not obsessed with getting to the back line to cross for his fellow forwards.
Instead, he likes to cut inside and use his pace to expose slower central players and drag the full-back out of position. In this general position he then has two options. As he moves inside the central striker will drift left and with great vision, speed of thought and passing ability he can pick them out with a laser-like pass. His rapier-like runs inside can cause havoc and if he is not closed down rapidly he will shoot on sight.

This season, WhoScored reports that he has created 15 clear goal scoring opportunities from 13 games in La Liga and averages an impressive 3.4 shots on goal per game. In total he has fired on goal 44 times in 13 matches and has scored nine goals.
Possession-wise he has completed 77.5 percent of his passes this term. This is actually quite low when compared to Arsenal's players. Olivier Giroud is the only first team regular in Wenger's team with a lower pass completion rate. For the record the centre-forward's rate is just 66.6.
However, one must temper Griezmann's passing statistics, particularly the stat of having made only 382 passes this term. These low rates give a cue to the direct style of football Sociedad play.
Defensively he works incredibly hard. He has developed a great understanding with Alberto De La Bella at left-back and the duo combine incredibly well. They close the opposition down in combination and it is little wonder that the young Frenchman has begun to garner a lot of attention.
Real Sociedad's main man has seven goals in ten appearances this season: http://t.co/5XqRBkeiDv #BUNCHOFSTATS

— ITV Football (@itvfootball) November 5, 2013
In 2011, Goal reported that Barcelona were tracking the forward as an alternative to Alexis Sanchez. By mid-November 2013, a whole host of teams were said to be monitoring the prodigious youth. The Daily Express has Manchester United, Arsenal's North London rivals Tottenham Hotspur and Juventus all watching the player of late.

Express Sport quotes Griezmann's acknowledgement of the Red Devils' interest.
I know that some English clubs are looking at me and Manchester United is on that list.

It's nice to hear that but it doesn't influence my work.
There is little doubt that Griezmann is going places. He has been a regular for Sociedad since he was 17 and has built up huge experience and a fearsome reputation. He is out of contract in 2016 and has a buyout clause of £25 million according to various reports.
That fee might put the likes of Spurs and Arsenal off. Spurs have invested heavily in Eric Lamela, having paid AS Roma £30 million for the young and out-of-sorts Argentine. Arsenal need a striker before they need another attacking midfielder and the fee is a lot for a player still unproven at the very highest levels of the game.
Manchester United, however, are in a situation where they need to gamble on an exciting young player and they need to back David Moyes in the transfer market given the difficult start to his reign.
Griezmann would be an almost perfect signing for Wenger if his centre-forward situation was resolved. He simply has no real backup for Olivier Giroud if he gets injured. Capturing Griezmann now, however, would give huge counter-attacking options because of his directness, pace and ability to play in numerous positions.
The race to sign Antoine Griezmann has well and truly started and whoever signs him will most definitely have a star of the future. Arsenal fans hope it's them.
Statistics courtesy of UEFA.com, WhoScored.com
You can find me on Twitter, @WillieGannon.