While Miesha Tate may be Ronda Rousey's rival at the moment, there is still another woman out there that poses a very real threat to Rousey's crown: Cristiane "Cyborg" Justino.
On September 20 of this year, Cyborg stepped out of the world of MMA and into the ring (at Lion Fight 11) for a Muay Thai bout with undefeated Jennifer Colomb, who boasted a perfect record of 10-0 with 10 knockouts.
And Cyborg mauled her with a mixed bag of clean punches, elbows, knees and hard kicks before finally stopping her with a storm of body punches that left her doubled over against the ropes. Colomb was in her element and Cyborg was fighting out of hers for the first time since 2006. Yet Cyborg took her apart with ease.
It was her third victory in 2013 and her third stoppage. While Rousey continues her life as the shining star of WMMA in the UFC, Cyborg continues to fight and win. In many ways, Cyborg is like a wolf prowling the lands outside the UFC kingdom, waiting for a chance to devour the queen.
But can she beat Rousey? That remains the final question waiting to be answered, and we do want to know the answer.
No matter what many think of Cyborg due to her history of failed drug tests and missing weight, she is still the wrecking machine of WMMA, and until Rousey faces her in competition, we won't know who is honestly the best.
And make no mistake about it, the combative sports are all about answering that question, above all else. The reasons why we still care and want to see it are simple and speak to the heart of the sport.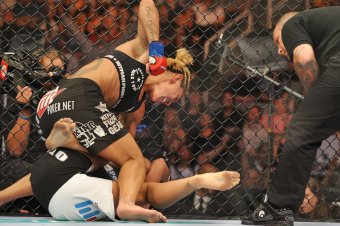 Jon Kopaloff/Getty Images
Does technique still matter above all else?
Many want to believe that technique trumps all and that Rousey could take Cyborg down and submit her just as she has done with everyone else.
It a time where TRT usage and drug-test failures are rampant, the possibility of Rousey submitting Cyborg speaks to the idea that the sport is not just about size and unfair advantages—that it is still about who is honestly better.
But then again, many were of the same mind when Michael Spinks fought a terribly young Mike Tyson, and Tyson destroyed Spinks in the first round.
Like a young Tyson, there is more to the technique of Cyborg than her detractors would care to admit. She has little defense, to be honest, but she has grown into a fighter who can attack with all eight points of contact with a polish that isn't normally seen unless a fighter has twice as many fights on their record.
If we are willing to accept that a fight between Rousey and Cyborg would happen in the Octagon and, further, that Cyborg can pass all drug tests (as she has done the majority of her career) and make weight, then we are forced to look at the skills both fighters bring to the table; we are forced to consider the fight itself.
We do so not because we are dismissing Cyborg's questionable past but because no matter what happens post-fight, inside the cage a very real fight is going to happen, and that is where the true story unfolds. Rousey may indeed have some legitimate concerns about the means by which Cyborg prepares for a fight, but they all become secondary concerns once the gate closes and the bout is about to begin.
Once that happens, her chief concern is proving that her grappling skill is so great that she can nullify the striking of Cyborg, take her down and submit her in short order, just like she has everyone else.
Right now, Rousey owns the most coveted belt in professional WMMA. Forget the notion that her professional record in the sport is small; she has earned her belt because she has stopped all competition in the first round, which speaks to her dominance.
But to automatically lump Cyborg into that list of the seven women Rousey has defeated would be presumptuous. Rousey is not the only fighter to claim a throne before finding their greatest adversary.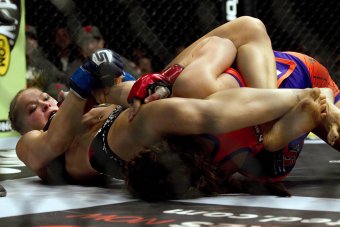 Greg Bartram-USA TODAY Sports
Evander Holyfield took the belt from Buster Douglas, who had basically been binge eating as a preparation for his first title defense. It wasn't until later in his career as champion that Holyfield began to run into his biggest threats.
Until we see them fight on a fair and level playing field, we honestly do not know if Rousey's mastery of grappling can overcome the violent design of Cyborg; but as long as both women are claiming to be the best, we want to find out.
Which style is best?
Perhaps nothing is more fundamental to combat sports than the clash of styles that is seen when two dominant fighters of different backgrounds finally meet in competition.
In the case of Rousey vs. Cyborg, it's incredibly simple: Rousey is the top grappler in WMMA, and Cyborg is arguably the top striker in WMMA.
While their conflicting personalities have proven to be "entertaining," especially when they are taking aim at each other, it is their fight itself that matters above all, and at the heart of that is a tried-and-true clash of styles.
And until they fight, we simply can never know which fighter implements her style best; and that is a question that should not go unanswered.
Is it hype or substance?
There is a saying in the fight game that goes: "Show me a fighter with a large undefeated record and I'll show you someone that hasn't been fighting the right people." While it might seem unduly dismissive, there is some truth to it.
More often than not, fighters with undefeated records simply have not been fighting among their true peers. Great fighters seek out these tests with passion, knowing their worth can only be found on the other side of such fights.
Muhammad Ali had bested Sonny Liston, but he longed for a bout with Joe Frazier for two reasons: 1) He knew Frazier had the ability to beat him, and 2) he knew he had the ability to beat Frazier. In the end, great fighters need to fight other great fighters to know the fullest measure of victory.
It is this quality that separates pretenders from legends. Had Ali never faced Frazier or Foreman or Norton, his legacy would not be nearly as large as it is now, because greatness isn't realized on paper—it's realized in the ring or, in the case of Rousey-Cyborg, the cage.
When looking at both Rousey and Cyborg, there is a question that surrounds them both that can only be answered through a victory over the other.
"Has it been nothing more than hype all along, or is it something deeper, something we can stand on?"
Both women have been shockingly successful at imposing their aggressive styles on their opponents but never against anyone as capable, violent and as confident as each other. By now, the reputations of both fighters come into play when facing opposition, and the only opponents I can think of who would be intimidated by such a moment are Rousey and Cyborg.
If these fighters never face each other, then odds are that their legacies will forever be questioned because their legacies never answered the question of most importance: Who was better, Ronda Rousey or Cyborg?
And if that is a question that cannot be answered because the parties responsible cannot come to an agreement, then no one—not Dana White, not Ronda Rousey, not Cyborg—has the right to claim anything with any certainty.
Except perhaps the critics of the sport, who would be right in pointing out that MMA is not so different than boxing, which has been harshly criticized for not pitting the best against the best.