Australia recovered from a precarious position against England on Day 1 of the third Ashes Test to leave the tourists facing a real battle to save the series at Perth.
Michael Clarke's men looked in danger of allowing England—who trail 2-0—back into the series when they fell to 143-5 in their first innings.
However, Steven Smith (103 not out) and Brad Haddin (55) led an Australian recovery as the hosts finished Friday's action on 326-6, leaving England on the back foot, as they have been throughout the series.
3rd Ashes Test: Australia vs. England at Perth

| | | | | |
| --- | --- | --- | --- | --- |
| | Australia 326-6 (87 overs) | | | |
| Batsman | Dismissal | Runs | Balls | |
| CJL Rogers | run out (Anderson) | 11 | 9 | |
| DA Warner | c Carberry b Swann | 60 | 77 | |
| SR Watson | c Swann b Broad | 18 | 29 | |
| MJ Clarke | c Cook b Swann | 24 | 44 | |
| SPD Smith | not out | 103 | 191 | |
| GJ Bailey | c Pietersen b Broad | 7 | 12 | |
| BJ Haddin | c Anderson b Stokes | 55 | 100 | |
| MG Johnson | not out | 39 | 60 | |
| Extras | (lb 5, w 3, nb 1) | 9 | | |
| Bowler | O | M | R | W |
| JM Anderson | 17 | 4 | 44 | 0 |
| SCJ Broad | 17 | 1 | 78 | 2 |
| TT Bresnan | 21 | 4 | 72 | 0 |
| BA Stokes | 14 | 2 | 52 | 1 |
| GP Swann | 17 | 0 | 71 | 2 |
| JE Root | 1 | 0 | 4 | 0 |
Cricinfo.com
There was intrigue prior to the first ball as England confirmed their replacement for Monty Panesar, opting for Tim Bresnan rather than more pacey options in the likes of Boyd Rankin or Chris Tremlett:
Bresnan comes in for Monty but Australia win the toss and will bat. This is it for England - nowt but a win will do http://t.co/0aszKoZk82

— MailOnline Sport (@MailSport) December 13, 2013
The selection was a head-scratcher. If ever there was a wicket on which to use their tallest, fastest seamers, it was surely at Perth. Given Mitchell Johnson's starring role in the series to date, England coughed up an opportunity to meet fire with fire, as noted by former batsman Mark Butcher:
good job we took 3 giant fast bowlers on tour. the lockers are very tall in the WACA dressing rooms. #ashes

— mark butcher (@markbutcher72) December 13, 2013
Whole point of a 5 man attack is extra variation, allowing a genuine quick to bowl short sharp spells - like Mitch. Nobody told Flower#ashes

— The Full Toss (@thefulltoss) December 13, 2013
They also lost the toss for a third straight Test, handing Clarke's men instant momentum, not that it lasted for very long.
Chris Rogers (11) departed with only 13 runs on the board thanks to a smart piece of work by James Anderson, which signalled England's intent to improve their fielding after several costly drops at Adelaide.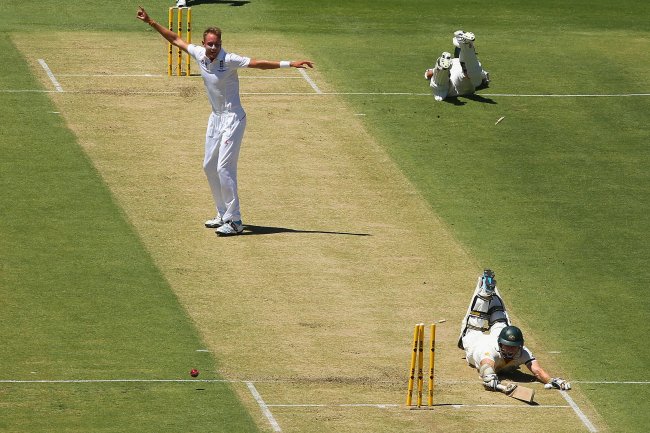 Quinn Rooney/Getty Images
WICKET! Brilliant fielding from Anderson, who swoops and throws down the stumps with Rogers out of his ground! Aus 13-1 #ashes

— Sky Sports Cricket (@SkyCricket) December 13, 2013
Fellow opener David Warner adopted his usual aggressive approach at the other end, but he was witness to two more wickets before lunch.
First Shane Watson (18), who has averaged below 20 in the series according to Cricinfo, played another loose shot to hand Stuart Broad his first wicket of the match. It was a misjudgment of length by Watson, but it still needed a sharp catch from Graeme Swann to complete the dismissal.
That brought captain Clarke to the crease, who initially made serene progress to 24 off 43 balls. Unlike Watson, the Aussie skipper averages over 60 in the series and appeared set to show why he was named ICC Cricketer of the Year:
Australia captain Michael Clarke named as ICC Cricketer of the Year and ICC Test Cricketer of the Year #Ashes

— BBC Sport (@BBCSport) December 13, 2013
However, when Alastair Cook introduced Swann to the attack, Clarke clearly made up his mind to impose himself on the spinner. The plan backfired. Advancing down the wicket to Swann's first delivery, Clarke misjudged the flight as he nicked to a diving Cook.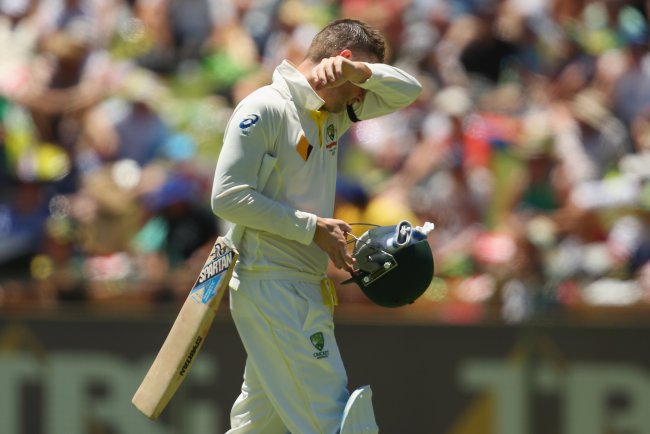 Mark Kolbe/Getty Images
WICKET! Swann gets Clarke in his first over! Chipped into the hands of Cook at short midwicket. Aus 106-3 #ashes

— Sky Sports Cricket (@SkyCricket) December 13, 2013
Lunch was greeted with much optimism for England, and that positive feeling grew larger when Warner departed directly upon resumption.
Again it was Swann who managed to find something in the pitch, encouraging a little extra bounce that lured Warner to find point. The opener was out for 60.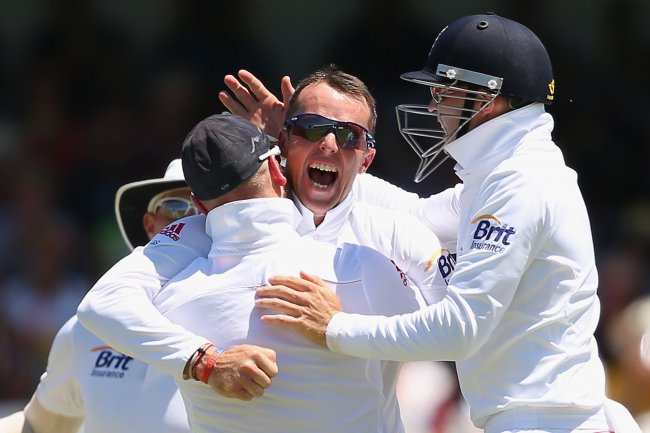 Quinn Rooney/Getty Images
At that stage Australia were 129-4, which soon became 143-5 thanks to some mindless batting from George Bailey. The hosts needed stability, yet he scored seven off 12 balls before losing control of an attempted pull to hand Broad another victim.
Game—and series—well and truly on.
Cue the in-form and fortunate figure of Haddin, who lifted his series average to 80 as he combined with Smith to wrest the match back Australia's way. Their partnership of 124 runs halted England's momentum, enough to sap some of the energy out of Cook's men heading toward tea:
Flat end to that session for England, Australia 220-5 at tea, Smith 58no, Haddin 35no. Join us for the final session http://t.co/7GuXQknEZu

— MailOnline Sport (@MailSport) December 13, 2013
Haddin was a great source of frustration for England's bowlers. They found the edge of his bat—or his gloves—with alarming frequency, yet the ball never found its way to receiving hands.
After tea, Haddin sent one skywards in the direction of Michael Carberry, yet the England man did not pick up the flight of the ball as the Australian duo both advanced their totals beyond 50.
Brad Haddin 50 in 76 balls. 4th wicketkeeper to reach successive 50's in tests . Gilchrist, Walcott + Andy Flower who got 7 in a row #Ashes

— BBC TMS (@bbctms) December 13, 2013
Haddin's luck eventually ran out when when Ben Stokes removed him for 55, although even then he was almost granted a reprieve when the third umpire was asked to check the landing of Stokes' foot, which was millimetres from no-ball territory.
Stokes almost had Smith too before the Australian could bring up his century. Playing forward to a fullish delivery outside off-stump, Smith nicked to slip but the ball did not carry.
Nevertheless, when he finally brought up his century—including 13 fours and 2 sixes off 173 balls—it was a deserved milestone for a batsman who applied himself more than any other on the day.
His contribution, which later brought up a 50-run partnership with Johnson, led Australia to a score they will be more than happy with, given context by the following tweet:
Average first innings score here at the WACA is 323 and England have only passed 300 once in the series so far #Ashes

— BBC TMS (@bbctms) December 13, 2013
Johnson, who has been the scourge of England all series, rattled Broad for a couple of late, lusty blows to further Australia's feel-good factor, on a day that they eventually edged.
England are not out of the Test match, but if they bat anything like they did in the first two matches, this series is four days from crowning its winner.