Everton are ready to tie Ross Barkley down with a deal they hope will ward off interest from the likes of Manchester City and Arsenal this winter, but manager Roberto Martinez reported no official development on Thursday.
The midfielder is currently enjoying his most prominent season to date, starting in all but three of the Toffees' Premier League games. He also made his senior England debut in September, earning a further two caps since.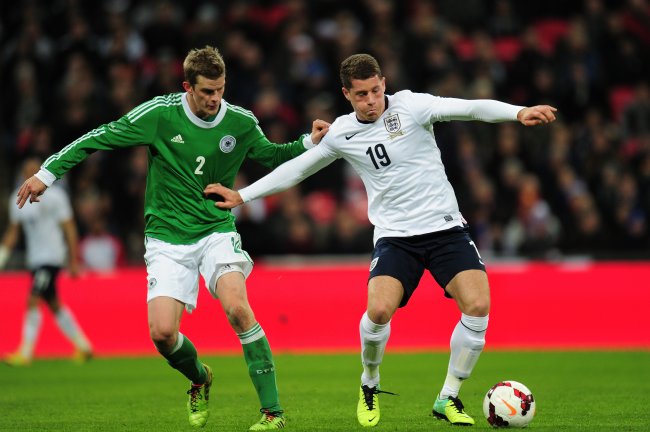 Shaun Botterill/Getty Images
According to the Telegraph's John Percy, the club will open talks with the player and his representatives in the new year, with "a significant wage increase" expected to be part of any extension.
Speaking ahead of this weekend's fixture against Fulham, Martinez commented on the situation. The Spaniard praised the 20-year-old for the quality he has produced thus far, per the club's official Twitter account:
RM: "Ross loves the game, loves performing and the scale of games don't affect him. He's emotionally level-headed." http://t.co/V1KosZbym0

— Everton (@Everton) December 12, 2013
RM: "We're always working hard behind the scenes to reward our youngsters, but we have nothing to announce." http://t.co/V1KosZbym0 #EFCFFC

— Everton (@Everton) December 12, 2013
Percy goes on to state that Manuel Pellegrini and Arsene Wenger's outfits are two of those growing increasingly interested in Barkley's services. He's a player Gary Rose of BBC Sport describes as "a beacon of hope for the future of English football."
Barkley wasn't the only young Toffees talent on the agenda this week, either.
After earning Everton a point with his equalising goal at Arsenal, the future of on-loan maestro Gerard Deulofeu was also discussed.
Martinez added that the Spaniard's loan spell from Barcelona could be extended past the end of the current campaign, but that it was something to be discussed in the future:
RM: "We will sit down with Barca at the end of the season [to discuss possible second year loan]. Not one for now." http://t.co/V1KosZbym0

— Everton (@Everton) December 12, 2013
Deulofeu has made just one Premier League start for Everton, but has now notched two goals and one assist in his last three outings for the club—amounting to just 124 minutes, according to Transfermarkt.
In the wake of his loan starlet's scoring display at the Emirates Stadium, Martinez revealed there is in fact a clause in Deulofeu's contract stating that a second year is an option should Barcelona wish to field him out, per the Independent's Jack De Menezes.
Per the report, the Spanish boss said:
We have an agreement to extend the loan for an extra year if Barcelona don't need Deulofeu. He has incredible pace and I've never seen a player so quick with the ball

You've got certain players with raw talent who can create from nothing with a special touch and he is one of them. I always thought he'd take until February to learn how to deal with the league but he's surprised me. He's very arrogant in the right way and today's finish is exactly what he deserves.
It's a good time to be a young talent at Goodison Park, with Barkley and Deulofeu the latest prodigies to benefit from the developmental process in which the club has proven to be so proficient.
If Barkley were to sign a new deal with the Merseyside outfit, the likes of City and Arsenal would be forced to fork out a bigger sum should they choose to carry on chasing the English youngster.
It wasn't so long ago that the Citizens completed the signature of former Toffee Jack Rodwell. Since then, Barkley has been picking up where his ex-teammate left off and is threatening to make an even bigger impact for his boyhood club.