In many ways, the Baltimore Ravens are already riding a hot streak—one that helped push them past the Minnesota Vikings in snowy conditions at home last Sunday.
If their late comeback in the fourth quarter against the Vikings carries any momentum into the final stretch of games for the Ravens, there won't be any way possible to keep the defending Super Bowl champions out of the playoffs.
For fans who left M&T Bank Stadium early to beat traffic last Sunday, they missed one of the wildest finishes in NFL history:
No NFL teams in at least 50 years have scored so many touchdowns so fast, so late as Ravens, Vikings http://t.co/LZAO4zc3wL

— ESPN Stats & Info (@ESPNStatsInfo) December 9, 2013
Fortunately for the Ravens, they came out ahead in the snowball-filled affair to maintain the sixth seed in the AFC playoff picture at 7-6.
Baltimore holds the tiebreaker edge over the Miami Dolphins and is just ahead of the San Diego Chargers and New York Jets, who are both sitting at 6-7.
In order for the Ravens to finish the season strong, they'll need to build on some of the positive results they have seen over the course of the season, but they also need to make corrections in areas that seem to provide an ongoing level of frustration for the team.
Let's first take a look at Baltimore's remaining schedule:
Baltimore Ravens Remaining Schedule

| | | | |
| --- | --- | --- | --- |
| Date | Time | Network | Opponent |
| Dec. 16 | 8:40 p.m. ET | ESPN | at Detroit Lions |
| Dec. 22 | 4:25 p.m. ET | CBS | vs New England Patriots |
| Dec. 29 | 1 p.m. ET | CBS | at Cincinnati Bengals |
BaltimoreRavens.com
With a three-game winning streak at home, the Ravens next head to Detroit to face a Lions squad also determined to reach postseason play.
While Baltimore has been nearly lights out at home with a 6-1 record, its struggles have been painfully apparent on the road.
The team has a 1-5 mark away from home, losing to the likes of the Buffalo Bills and Cleveland Browns, which have only won four games apiece this season.
The Ravens' main point of focus against the Lions will be in pass defense. Matthew Stafford has led Detroit to the third-best passing offense in the NFL, utilizing the talents of Calvin Johnson deep and Reggie Bush in short, but explosive, play calls.
The Ravens have been slightly ahead of the mean with the 14th-ranked pass defense this season, but have only recorded nine interceptions, tied for 24th in the league.
Baltimore's pass rush has helped fill in the turnover gap, as the Ravens have sacked the quarterback 37 times, tied for ninth in the NFL. Elvis Dumervil leads Baltimore with 9.5 sacks and Terrell Suggs is just behind him with nine.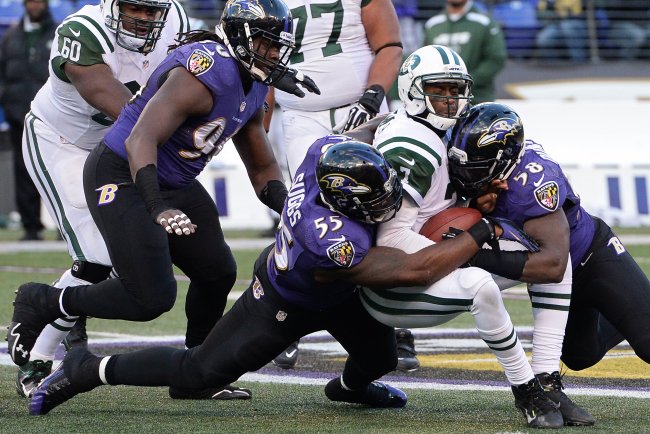 Patrick Smith/Getty Images
Detroit has struggled as of late, losing three of its last four games. If the Ravens defense can get to Stafford consistently and limit the deep threat of Megatron, they should keep their hot streak going and come away with a win on the road.
Looking ahead to Baltimore's following matchups against the New England Patriots and Cincinnati Bengals, there will be common themes of improvement needed on offense, which will also ring true against Detroit.
Although the Ravens edged the Vikings last week, Joe Flacco threw three more interceptions to add to his total that now sits at 17, tied with Carson Palmer for third-most in the NFL.
Only Eli Manning and Geno Smith have more interceptions with 20 each. Flacco must avoid that kind of company in the final three games of the regular season.
As far as the running game goes for Baltimore, it seems we've been harping on improvement in that area for weeks, but little seems to have changed in the way of the offensive line or play-calling.
While it would be easy to say that Ray Rice needs to help elevate this team in its rushing attack in order to help the Ravens win any of their final games, it doesn't seem likely at this stage of the season.
Baltimore ranks 29th in the NFL in rushing yards, with Rice averaging a career-worst three yards per carry. Bernard Pierce has not fared any better, gaining an average of 2.7 yards per rushing attempt.
The Ravens may simply have to win in spite of their struggling rushing game, relying instead on the efficiency of Flacco and a stout defense, which remains one of the team's greatest strengths this season.
The wild card in this whole equation is Jacoby Jones in the kick return game.
Evan Habeeb-USA TODAY Sports
After nearly taking a kickoff to the house against the Steelers before head coach Mike Tomlin famously interfered with him, Jones helped rally the Ravens to victory against the Vikings with a kickoff return for a touchdown.
Averaging 28.7 yards per kickoff return, Jones ranks fourth in the NFL among players with at least one kickoff return per game. He balances that by averaging 13.4 yards in punt returns.
The Ravens have a difficult stretch of games to close the season and likely need to win at least two of them to make the playoffs.
In the absence of a running game, Baltimore's defense needs to shoulder even more responsibility and Flacco has to cut down on interceptions. If the Ravens can manage to put these pieces together, they'll find their way back into the playoffs for a sixth consecutive time since 2008.
Should they make the postseason, the Ravens are apt to show once again—like last season—what a true hot streak looks like.
All statistics courtesy of ESPN.com unless otherwise noted.
Matthew Stensrud is a Featured Columnist for Bleacher Report. You can follow him on Twitter and Google+.