Arsenal's 2-0 defeat at Napoli on Wednesday night ensured that the North Londoners could only muster a second-place finish in their Champions League group, but their plight wasn't helped after several hundred travelling fans arrived at the game after kick-off.
As a result, the English club are launching an investigation into the matter with the view of finding out precisely why their supporters were delayed in their arrival.
As the Daily Mail's Sami Mokbel explains, the Gunners' supporters were shipped to the Stadio Sao Paulo by coaches scheduled to depart for the ground via a secret location.
This was organised in a bid to avoid the same sort of violence that occurred in the reverse North London fixture, Mokbel reporting once more.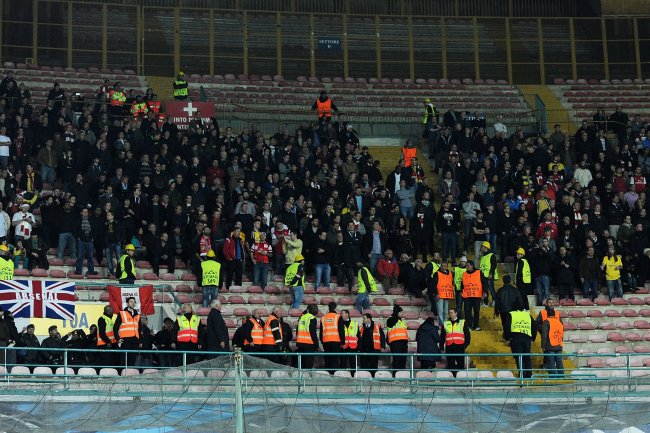 Giuseppe Bellini/Getty Images
Napoli's "Ultras," the most extreme collection of the club's fans, have gained a reputation for making things uncomfortable for their visiting opponents, Naples itself renowned for its gangster background.
Numerous Arsenal fans and figures relayed their views over Twitter, some of whom were in attendance at the game:
Complete farce on the way to the game @Arsenal @UEFAcom 99% Arsenal fans late to the game

— Rowe 6 (@Welsh_Gooner) December 12, 2013
Around 200 of us entering the stadium post ko, massive surge, police heavy handiness made everyone much more angry & the surge greater.

— Tim Stillman (@LittleDutchVA) December 11, 2013
@Welsh_Gooner We are disappointed that fans had a poor experience. This was beyond our control and we are investigating.

— Mark Gonnella (@MarkG_Arsenal) December 12, 2013
Arsenal released a statement on Thursday morning explaining their frustration that fans were late to the Champions League clash, per the club's official website:
We are aware of the problems our travelling supporters had on Wednesday night and in particular their late arrival at the game. We are very disappointed for our fans that they had a difficult evening but the circumstances were beyond our control. We have launched an investigation to work out precisely what happened.
The pill of defeat will be a particularly difficult one to swallow on this occasion, with nothing seemingly going in Arsenal's favour on Wednesday evening.
Even worse is the fact that while the Azzurri fail to qualify for the next round of the tournament at all, the Gunners only needed to draw in order to guarantee top spot and thus receive an easier draw in the round of 16.
As things stand, however, Arsene Wenger's side could now draw any of Barcelona, Real Madrid, Bayern Munich, Paris Saint-Germain or Atletico Madrid, none of which are easy ties.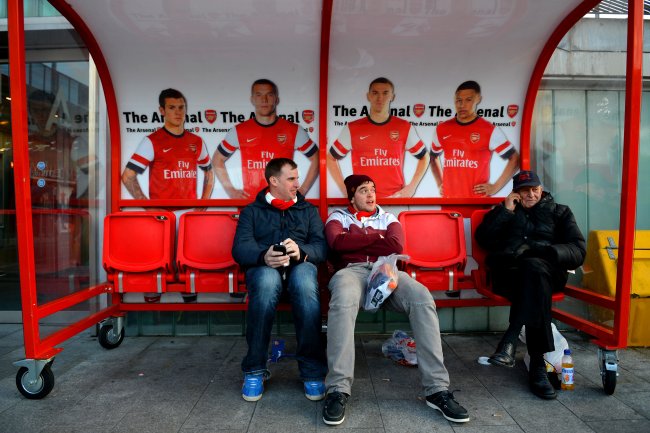 Michael Regan/Getty Images
Mokbel adds that the average cost for an away fan at last night's game totalled £500. It would seem safe to assume that more than a few of those who made the trip will feel slightly robbed, having failed to arrive in time for the full 90 minutes.
This is now the 14th year in a row that the Gunners have managed to make the round of 16, providing some prosperity to what was an otherwise dismal Italian expedition.