Predicting 2014 Freshman of the Year in Each Major NCAA Basketball Conference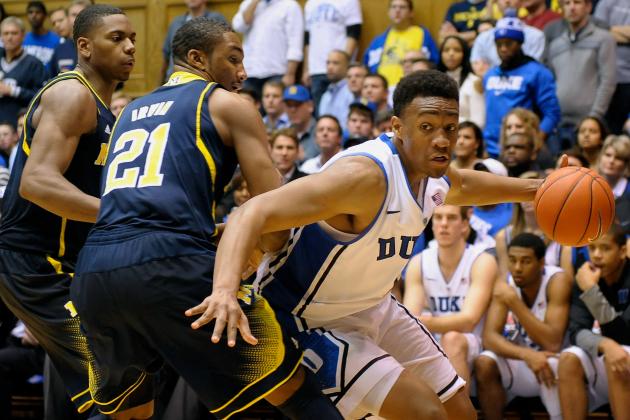 Grant Halverson/Getty Images

The only people more excited about this year's crop of talented freshmen who litter the college basketball world than the fans are those involved with the NBA teams that get the privilege of drafting them.
While there can only be one No. 1 pick in the NBA draft and one National Freshman of the Year (and perhaps National Player of the Year), each conference will give out some hardware to its top newcomer.
Read on to see who will take home Freshman of the Year honors in each of the six "power" conferences in 2013-14.
Begin Slideshow

»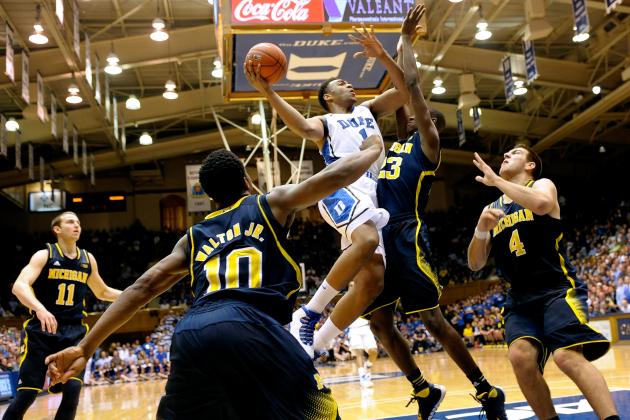 Grant Halverson/Getty Images

Jabari Parker
Andrew Wiggins received all of the preseason praise and accolades before the season started, but Jabari Parker may just be the better overall player.
Duke's go-to option is one of the best stat-sheet stuffers in the entire nation. He is averaging 22 points, eight rebounds, nearly two blocks and more than a steal a night while shooting 55 percent from the field and 47 percent from behind the three-point line. He is a matchup nightmare thanks to his length, versatility and athleticism and will give the rest of the ACC fits once conference play begins.
It helps Parker's cause for Freshman of the Year in the ACC that he plays for Duke and will be in the national spotlight all season, but he is clearly one of the most talented players in the country. Don't be surprised if his name is called before everyone else's on draft day.
Anthony Gruppuso-USA TODAY Sport

Rysheed Jordan
It says something about how far the Big East has fallen that in a year with so many talented freshmen, there aren't very many instant-impact recruits in this league.
Rysheed Jordan was expected to be an exception, though, and lead St. John's from the moment he stepped on campus. Instead, he was given a suspension for an early-season game and hasn't performed up to expectations in the young campaign.
Fortunately for St. John's and its fans, there is still plenty of time for Jordan to turn things around. He is currently averaging five points, three assists and a steal per game on only 25 percent shooting, but his overall talent, quickness and distributing abilities will begin to shine through when he receives more playing time.
Whether he is still in the doghouse or not for the suspension is up for debate, but assuming Jordan sees the court for more than 16 minutes a game in Big East play, he will be the conference's top freshman.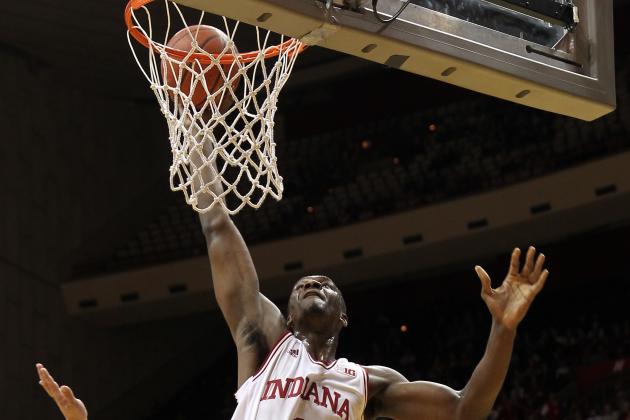 Pat Lovell-USA TODAY Sports

Noah Vonleh
Amid all of the Jabari Parker, Andrew Wiggins and Julius Randle hype, not enough people are paying attention to Noah Vonleh at Indiana.
The Hoosiers lost two early games and are still trying to find their way with no Victor Oladipo and Cody Zeller on the sidelines, but Vonleh has been a definitive bright spot. He is averaging 13 points, 10 rebounds, a block and better than a steal a game despite only seeing the floor for 23 minutes a night.
If his numbers were extrapolated to a full 40 minutes, Vonleh would be posting eye-popping stats on a regular basis.
Vonleh is a beast in the paint, which will be critical in physical Big Ten play, and will take home the league's top freshman honor over stiff competition.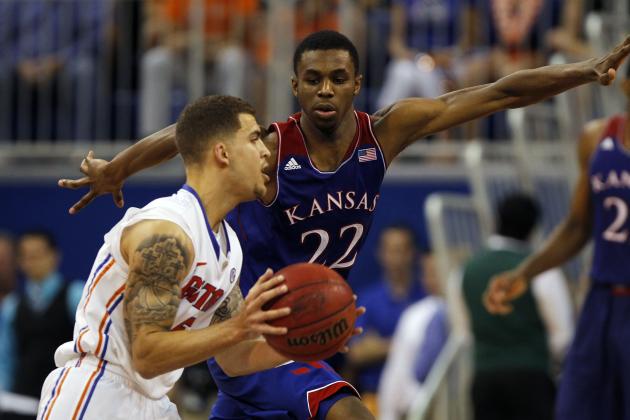 Kim Klement-USA TODAY Sports

Andrew Wiggins
Andrew Wiggins has received some criticism in the early going, but much of it is only because the bar was set so ridiculously high for him before the season started that perhaps only Michael Jordan himself could have exceeded expectations.
Kansas is struggling right now after losing to Villanova, Florida and Colorado, but Wiggins is still the most talented freshman in the Big 12 and will have no issues taking home the Freshman of the Year award. He is averaging a team-high 16 points, six rebounds and one steal a game behind better than 50 percent shooting from the field.
Those types of numbers would draw praise if they came from almost anywhere else. The hype may have been a bit premature and hyperbolic, but Wiggins is recognized across the country for a reason.
Look for Wiggins to challenge for National Freshman of the Year by season's end as he continues to develop and improve with more seasoning.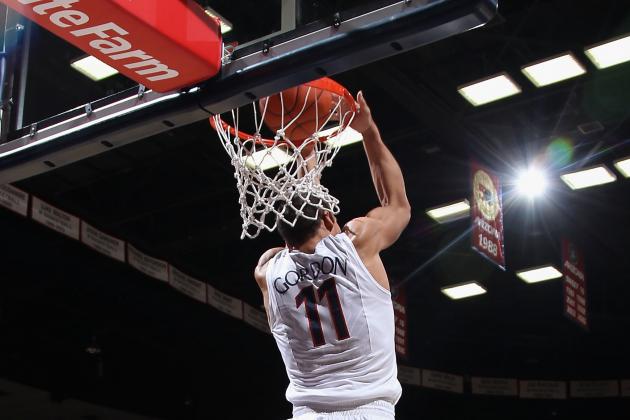 Christian Petersen/Getty Images

Aaron Gordon
Arizona is loaded across the board, which is a primary reason it is the No. 1 team in the country. Players like Nick Johnson and Brandon Ashley have been terrific, but by season's end, Aaron Gordon will be the one holding up the Pac-12 Freshman of the Year trophy.
Gordon is an athletic specimen along the lines of a Blake Griffin. He can jump out of the gym, rebound with almost anyone and score on the low post. He will continue to improve the more he plays, which is a scary proposition for opposing coaches.
Gordon is averaging 12 points and nine rebounds a night. Much like Griffin, he is a liability on the free-throw line, but that won't stop him from being the best newcomer in the Pac-12 considering his amount of talent and the opportunities he will have to shine against difficult competition.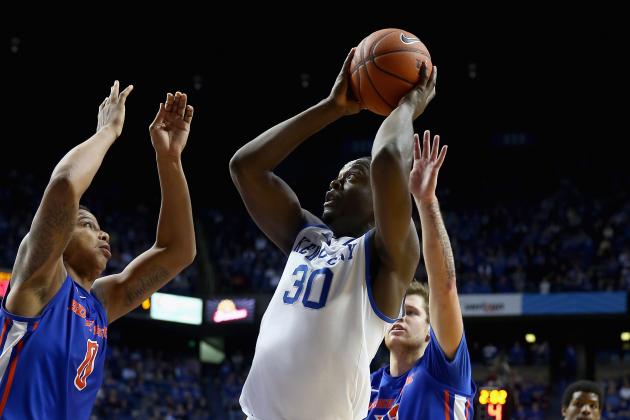 Andy Lyons/Getty Images

Julius Randle
The Champions Classic was marketed as a showdown between the nation's top-ranked teams (Kentucky and Michigan State) and the nation's top-ranked freshmen (Jabari Parker and Andrew Wiggins), but it was the Wildcats' Julius Randle that stole the show even in defeat.
Since posting 27 points and 13 rebounds against the Spartans' physically intimidating front line, Randle has continued to dominate almost everyone he has gone up against. He is averaging 18 points and 12 rebounds a night, shooting 54 percent from the field and is a solid free-throw shooter.
The SEC is once again weak outside of Kentucky and Florida, which means Randle could post even better numbers in conference play. There won't be a frontcourt he goes up against that is better than Michigan State's, and we saw what happened that day.
Follow and interact with Bleacher Report writer Scott Polacek on Twitter @ScottPolacek.