Thursday Night Football Schedule 2013: Viewing Info and Predictions for Week 15
Use your ← → (arrow) keys to browse more stories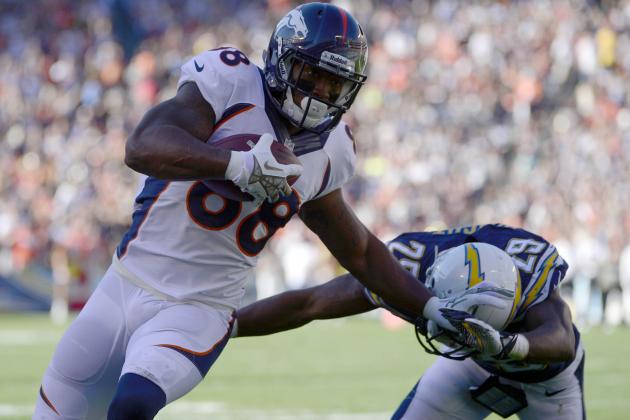 Donald Miralle/Getty Images
Demaryius Thomas had three receiving touchdowns in the Broncos' 28-20 win over the Chargers in Week 10.
The 2013 finale of Thursday Night Football will take place at Sports Authority Field at Mile High in a Week 15 AFC West battle between the Denver Broncos and the San Diego Chargers.
Denver (11-2) is fighting to maintain its status as the No. 1 playoff seed in the AFC, while San Diego (6-7) is attempting to stay relevant in the race for the conference's final wild-card spot.
Given the stakes, it should be an epic clash and a wonderful conclusion to the NFL's Thursday evening slate. Below is a look at viewing information for the game, along with some predictions as to how it will play out.
Video Credit: NFL Network
When: Thurs., Dec. 12, at 8:25 p.m. EDT
Where: Sports Authority Field at Mile High, Denver, Colo.
TV: NFL Network
*For live stream options, visit NFL.com.
Predictions
Broncos' Passing Game Won't Miss a Beat Without Wes Welker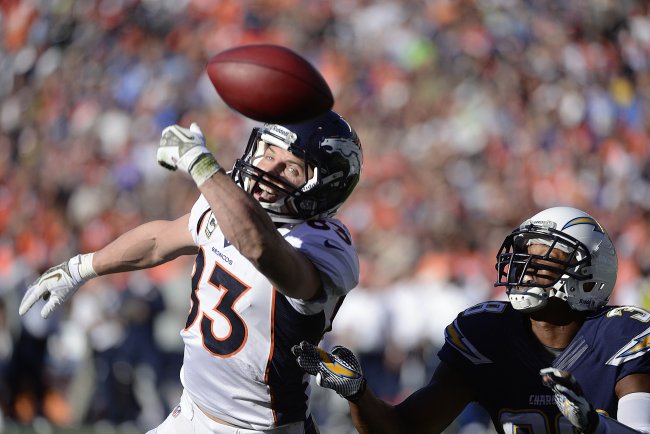 Donald Miralle/Getty Images
Dynamic slot receiver Wes Welker has been ruled out with a concussion, according to Gray Caldwell of DenverBroncos.com:
Let's try again. Wolfe, Welker out. Bailey questionable. Everyone else on injury report probable for THURSDAY.

— Gray Caldwell (@GrayCaldwell) December 11, 2013
However, legendary quarterback Peyton Manning will still have both Demaryius Thomas and Julius Thomas to throw to, along with another friendly wide receiver target in Eric Decker.
Running back Knowshon Moreno (48 receptions, 445 yards, two touchdowns) is also a threat for Manning to target out of the backfield.
The Chargers may have the No. 12 scoring defense in the league, but they give up 266.7 yards per contest through the air and are near the bottom third of the NFL in defending the run.
That's not a recipe for success against the likes of Manning, who threw for 330 yards—averaging 9.2 yards per attempt—and four touchdowns in a 28-20 victory at San Diego Week 10.
Philip Rivers Will Keep San Diego Within Striking Distance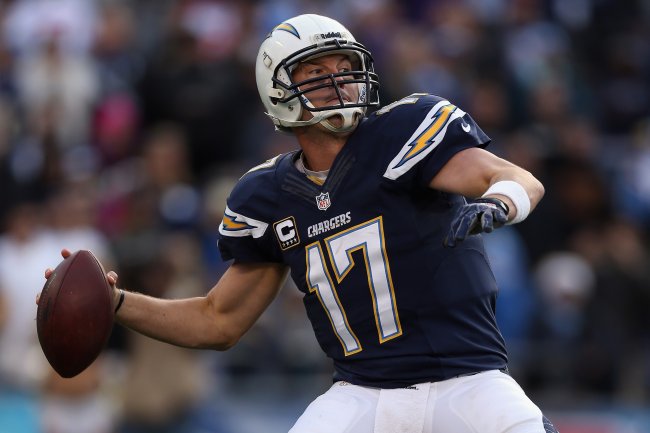 Jeff Gross/Getty Images
Which quarterback will account for more touchdowns on Thurday?
First-year Chargers head coach Mike McCoy does have some insider knowledge on Manning since he served as the Broncos offensive coordinator last season.
Offense is McCoy's area of expertise, though, and he will be in direct control of that, which is a good thing for Philip Rivers.
The four-time Pro Bowler had turned into a turnover machine his previous two seasons with 35 interceptions and 20 fumbles, per ESPN.com, but has regained his stellar form in his maiden campaign under McCoy.
Rivers also orchestrated two second-half touchdown drives in the first matchup with Denver, giving the Chargers a chance to win in the fourth quarter. He has also had immense success against the NFL's top teams in 2013, per ESPN.com's Mike Sando:
Philip Rivers 12 TD, 2 INT, 110.7 passer rating, 2nd-ranked 77.9 Total QBR and 4-2 W-L record vs teams currently w/winning records.

— Mike Sando, ESPN.com (@SandoESPN) December 10, 2013
The Broncos have a battered defense and the unit's inconsistent play has led to frequents shakeups in the lineup. As the Mike Klis of the Denver Post points out, linebacker Wesley Woodyard and safety Duke Ihenacho were benched a 51-28 win over Tennessee in Week 14.
Although Manning and Co. bailed the defense out of having to play at too high of a level against Tenneseee, Denver still allowed the Titans to keep things within 34-28 entering the final 15 minutes.
Rivers, therefore, should find plenty of success through the air Thursday night—and he has two dynamic backs in Ryan Matthews and Danny Woodhead to lean on and add tricky wrinkles to keep the Broncos off balance.
The Sheriff Wins a Shootout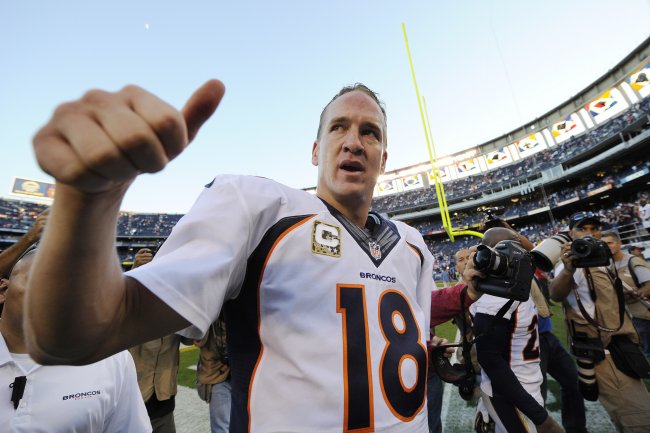 Kevork Djansezian/Getty Images
There should be no shortage of points in this one, but as is so often the case, Manning will be able to come up big late and drive his team to victory.
With the plethora of options he has to throw the ball to, it's no wonder that Manning is in the midst of what might be his best season ever with an NFL-high 45 passing touchdowns and only nine interceptions.
Thursday night's forecast is for a low of 29 degrees. Any assertion that Manning can't get it done in the cold, though, was dispelled last week when he threw for 399 yards and four touchdowns against the Titans' 11th-ranked pass defense in a game where the temperature was 18 degrees at kickoff and dropped from there.
As might be expected, Manning—ever the fierce competitor—had something to say to his detractors:
Video Credit: NFL Network
The window for Manning to win a second Super Bowl ring is closing, but he is playing at a level as high as he has ever been. These are not the types of games he loses.
That's especially true considering that San Diego has not been able to capitalize on its promise of recent years. Look for Rivers to give a valiant effort, but for Manning to again reign superior.
Let's face it, even Mile High ain't big enough for the both of 'em.
Final Score: Broncos 41, Chargers 31