Illinois Basketball: Fighting Illini's Best Situational Lineups in 2013-14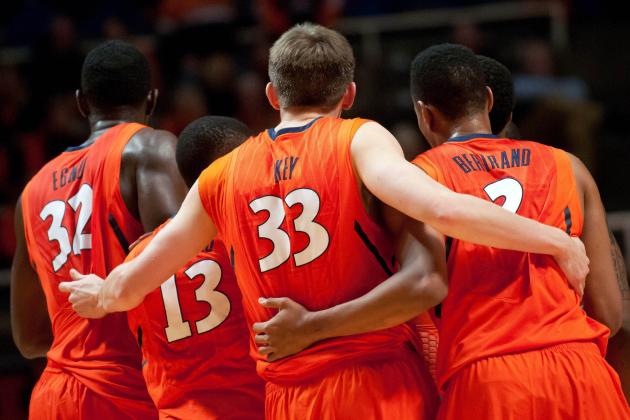 Bradley Leeb-USA TODAY Sports

John Groce's Fighting Illini only have 10 eligible scholarship players on this season's roster, as transfers Ahmad Starks, Darius Paul and Aaron Cosby all must sit out due to NCAA regulations. Five of those 10 players are freshmen, so needless to say, there were plenty of question marks prior to this season.
Some of those questions have been answered, though Illinois certainly lacks depth, despite all 10 players regularly seeing the floor. Their depth and freshmen playing time is more a matter of necessity than readiness from the youngsters. Still, Groce is determined to get the Illini back into the NCAA tournament. Listed below is each scholarship player, along with the number of situational lineups they are a part of.
Rayvonte Rice: 4
Jon Ekey: 4
Tracy Abrams: 3
Nnanna Egwu: 3
Joseph Bertrand: 3
Kendrick Nunn: 2
Jaylon Tate: 2
Malcolm Hill: 2
Maverick Morgan: 1
Austin Colbert: 1
Begin Slideshow

»
Daniel Shirey-USA TODAY Sports

PG: Tracy Abrams
SG: Rayvonte Rice
SF: Joseph Bertrand
PF: Jon Ekey
C: Nnanna Egwu
After experimenting with several starting fives in 2012-13, Groce has become set on a starting group in his second season at Illinois. This starting five contains two juniors, one redshirt junior and two redshirt seniors, the team's most experienced and talented group.
Abrams and Egwu started last season, while Bertrand was the team's sixth man behind Brandon Paul and D.J. Richardson on the wings. Rice and Ekey are both former Missouri Valley Conference standouts, as Rice transferred from Drake, while Ekey made the transition from nearby Illinois State.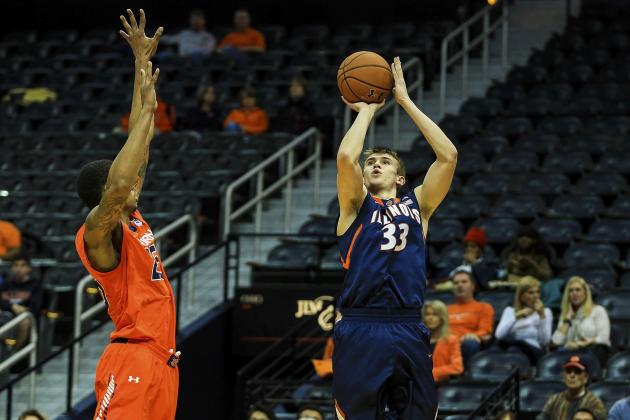 Daniel Shirey-USA TODAY Sports

PG: Kendrick Nunn
SG: Rayvonte Rice
SF: Joseph Bertrand
PF: Malcolm Hill
C: Jon Ekey
On the season, Illinois is converting on 34.2 percent of their three-point looks, up from last season's 32.1 percent mark. As a team, Illinois has made 68 three-pointers in 10 games, led by Ekey's 23 triples, but followed closely behind by Rice's 16 made three-pointers.
Bertrand has the best percentage shooting from long range, as he is 8-of-14 from three-point land, good for 57.1 percent. Instead of rounding out the three-point lineup with the team's two remaining starters in Abrams and Egwu, who are a combined 10-of-41 from three-point range, two freshmen enter this lineup. Nunn and Hill have only combined to shoot 7-of-25 from long range, but you'll see those numbers jump as the season progresses, and they become more confident shooting the ball.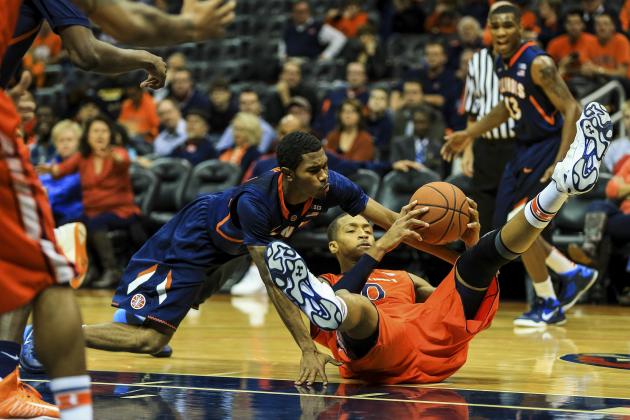 Daniel Shirey-USA TODAY Sports

PG: Jaylon Tate
SG: Tracy Abrams
SF: Rayvonte Rice
PF: Jon Ekey
C: Nnanna Egwu
Abrams and Rice lead the Fighting Illini with 1.3 steals per contest. Abrams is a terrific on-ball defender, while Rice's physicality allows him to guard taller opponents. Tate is third on the team in steals and is fearless as a player. This has allowed Tate to receive the most playing time of any freshman thus far.
Ekey has blocked 114 shots over the course of his career. Ekey is way more athletic than perceived and has no problem guarding opposing power forwards, despite checking in at 6'7" and 225 pounds. Egwu has swatted 23 of the team's 50 blocks on the year, good for a 2.3 block-per-game average. Egwu's defensive abilities hinder on his ability to stay out of foul trouble, which he has done a better job of so far this year.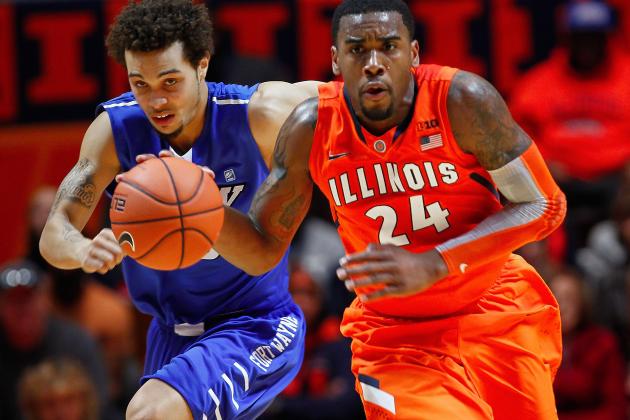 Michael Hickey/Getty Images

PG: Rayvonte Rice
SG: Malcolm Hill
SF: Jon Ekey
PF: Nnanna Egwu
C: Maverick Morgan
Of the team's seven tallest players, five enter into this lineup. The 6'4", 235-pound Rice causes matchup problems as the primary ball-handler, as he has the ability to use his size to get to the rim at will.
The 6'6" Hill is listed as a guard on the team's roster, though he has plenty of experience mostly in the stretch-4 role early on in his collegiate career. Hill can dribble, pass and shoot though, so playing shooting guard would be an easy transition.
Similar to Hill, Ekey has really only played power forward since arriving at U of I. Nonetheless, most of Ekey's shot attempts come from behind the arc. Up front, an Egwu-Morgan duo would be a load in the paint. The 6'11" Egwu and 6'10" Morgan each weigh in at 250 pounds. Egwu has a nice jump shot, so this would allow him to play at the elbow, while Morgan bangs away in the paint.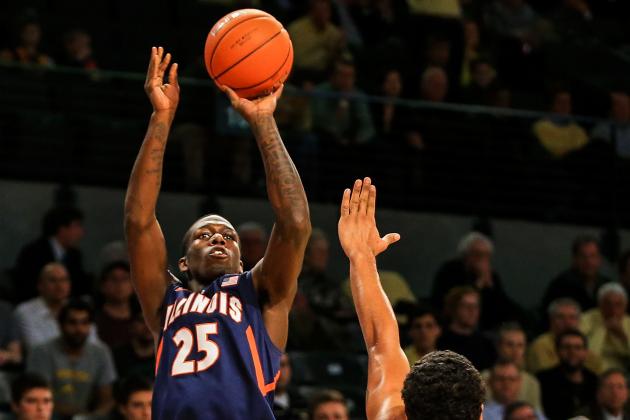 Daniel Shirey-USA TODAY Sports

PG: Jaylon Tate
SG: Tracy Abrams
SF: Kendrick Nunn
PF: Joseph Bertrand
C: Austin Colbert
Tate is the most natural point guard on Illinois' roster, as he leads the team in assists, despite playing only 17.8 minutes per game. This would allow the 6'2" Abrams to play off the ball and be more of a scorer than distributor. On the other wing would be Nunn, who like Tate stands 6'3" and came to Champaign from Simeon Career Academy in Chicago.
The 6'6" Bertrand fills the power forward role, where he saw plenty of minutes as a redshirt sophomore in Bruce Weber's last season at Illinois. Bertrand is athletic and has a long wingpsan, so guarding opposing power forwards wouldn't really be a stretch for him. At center is the 6'9", 210-pound freshman Colbert. Colbert needs to become more physical, as he is only outrebounding walk-on Mike LaTulip so far.