5 College Football Bowl Matchups We Wish Would Have Happened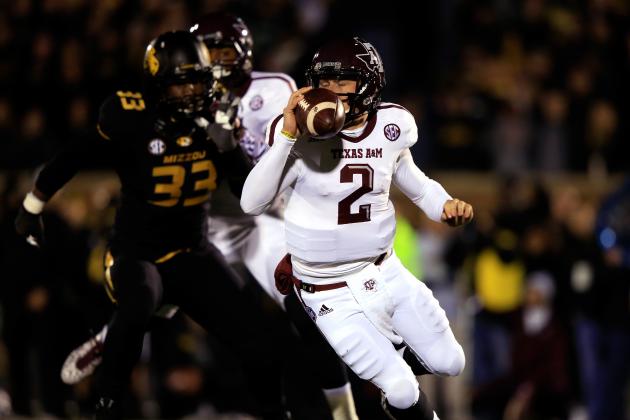 Jamie Squire/Getty Images
Texas A&M QB Johnny Manziel
Bowl season is upon us, and with it comes the annual grumblings of too many games, bad matchups and debates over which teams deserved a better destination.
To the first point, since when is more football a bad thing? As for the latter two, well, the bowl season is never going to look perfect on paper.
There is little argument over who should be in the national championship game, as Florida State has been dominant all season long and Auburn, riding a wave of momentum following its win over Alabama, captured an SEC title and had the strongest resume of any one-loss team.
Other matchups also have serious intrigue, such as the Rose Bowl featuring Michigan State and Stanford, and the Orange Bowl, where we'll see Ohio State square off against Clemson.
But it could always be better, and though we'll live with this year's slate of games and devour it with enthusiasm, certain games might just be nibbled at or left off the plate altogether.
For entertainment purposes only and without over-thinking the bowl tie-ins, we're taking a look at five bowl matchups that we wish were included in the postseason festivities.
All stats via ESPN
Begin Slideshow

»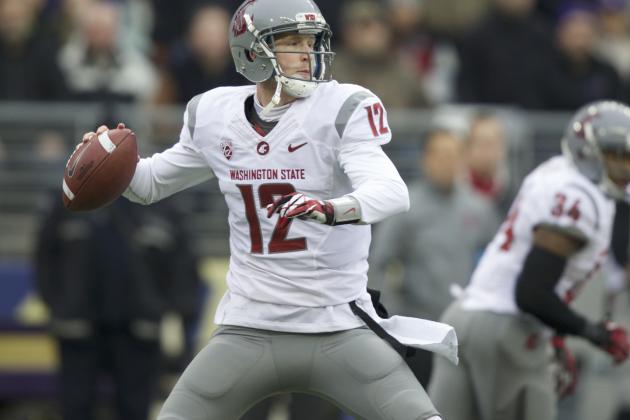 Stephen Brashear/Getty Images
Washington State QB Connor Halliday
Anytime you combine Mike Leach with bowl season, the odds are increased of viewers seeing something memorable.
But with apologies to Colorado State, Leach's Washington State Cougars would look a lot more interesting taking on the San Jose State Spartans, quarterbacked by David Fales.
If you saw San Jose State and Fresno State do battle on Nov. 29th, you saw a 62-52 game in which both starting signal-callers threw for six touchdowns. Defense was optional, and apparently that meant not showing up at all.
In order to win six games in the Pac-12 conference, you have to at least be competitive on both sides of the ball, so Fales and company probably wouldn't amass 60-plus against the Cougars. But it's a safe bet that out of the pre-Christmas games being played, this one would be the most watched, if only to guess the total number of passes thrown.
Save the defense for the big games.
Most college football fans aren't going to give more than a casual glance to the Gildan New Mexico Bowl. The Rams certainly earned their place, but there's a team that beat them in San Jose that will be sitting at home and watching from the couch. Or not watching at all.
If the Spartans were in it, we would all be watching.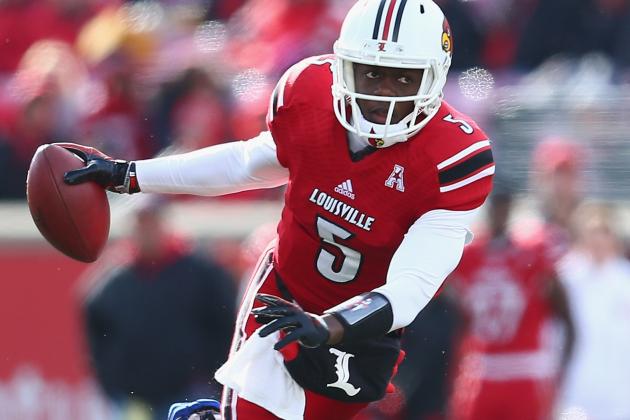 Andy Lyons/Getty Images
Louisville QB Teddy Bridgewater
When Louisville takes on Miami in the Russell Athletic Bowl, people will tune in to see how quarterback Teddy Bridgewater fares one year after taking bowl season by storm in a win over Florida.
The stakes are much lower this time around, although the Hurricanes may still be able to provide a stiff challenge to the Cardinals, who haven't looked dominant in some time. The matchup isn't necessarily a bad one, but it would be improved by replacing Miami with, you guessed it, Notre Dame.
Why? Let's start with its defense, which ranks 32nd in the country, a full 26 spots ahead of Miami. In the Fighting Irish's final game of the season, they took Rose Bowl-bound Stanford to the brink in a 27-20 loss.
We're not arguing that Brian Kelly's team deserves a better bowl placement, but for the sake of entertainment, seeing Bridgewater go up against a stout defense that has at times looked like its 2012 self would be thrilling to watch.
Miami is also right where it belongs, although before winning its final two regular-season games against Virginia and Pittsburgh, the Hurricanes were shredded by Florida State, Virginia Tech and Duke.
The counter-argument is that Notre Dame lost to Pittsburgh, but this isn't about who's better. This is about seeing a Louisville team that hasn't looked itself lately go against a Notre Dame team that should be out to prove it will be on the rise in 2014. Instead, they'll take on Rutgers in what might be a snooze-fest all the way through.
Perhaps both of these teams will thoroughly entertain in bowl season and nobody will be lamenting the fact that they weren't paired together. But right now, Notre Dame-Louisville looks like a pretty enticing matchup, and unfortunately, it's one we won't get to see.
Chris Graythen/Getty Images
LSU RB Jeremy Hill
The 2014 Outback Bowl pits together LSU and Iowa. And, while there was never any chance of LSU taking on a team outside the Big Ten due to the automatic bowl tie-ins, we can't help thinking that in a world without those limitations, better matchups would be available.
Like, say, Arizona State out of the Pac-12 conference.
The Sun Devils were beaten handily by the Stanford Cardinal, which doesn't help their case for a better bowl. However, last we saw LSU, the Tigers were just scraping by a terrible Arkansas team.
Both of these squads have talent and have showed it throughout the season. LSU owns victories over Auburn and Texas A&M, while Arizona State has wins against UCLA and Wisconsin. But instead of getting to face a quality opponent in the postseason, each will square off against an over-matched foe.
The Sun Devils reward for getting smashed in the conference title is a date with Texas Tech, which lost its final five games of the season, including a 41-16 defeat at Texas.
The loss of quarterback Zach Mettenberger to injury would only add to the intrigue of this game, as freshman Anthony Jennings would face his first major test against the athletic front seven of Arizona State.
If the Pac-12 and SEC really were the two best conferences during the 2013 season, it's a shame we don't get to see any of their respective teams do battle. Here's a guess that LSU-Arizona State would have been a classic.
Ronald Martinez/Getty Images
Baylor QB Bryce Petty
Baylor won the Big 12 conference and reached a BCS bowl game. Texas A&M lost four games and will play New Year's Eve in the Chick-Fil-A Bowl. There is nothing unfair about where either team is headed.
But that doesn't mean we can't dream of seeing the two teams do battle during bowl season.
The game itself wouldn't even need to dole out money for marketing, as most fans are aware of what the Bears and Aggies can do on offense.
Art Briles' team has been unstoppable for the majority of the season, and Texas A&M quarterback Johnny Manziel would be looking to follow up his effort in the Cotton Bowl last year, where he passed for 287 yards, rushed for 229 and accounted for four touchdowns.
However, instead of taking on a team that might be able to keep up offensively, the Aggies get to play Duke. There isn't enough respect in the world to give to David Cutcliffe and the Blue Devils, who have shed the program's reputation of futility and become more than competitive in the ACC.
But Duke was just throttled by Florida State, 45-7. It will put up a better fight against the Aggies, but it's hard to imagine a scenario where the Blue Devils score enough to match Manziel on offense.
Then there's Baylor, which gets to face UCF in the Fiesta Bowl. Again, what George O'Leary has done with the Knights is incredible, and maybe the game will be similar to Louisville-Florida from last season, where the underdog comes out ready to play and scores a huge victory.
That seems unlikely, and the odds of both games being watchable in the second half is small, much smaller than the odds of Baylor and Texas A&M producing a thriller.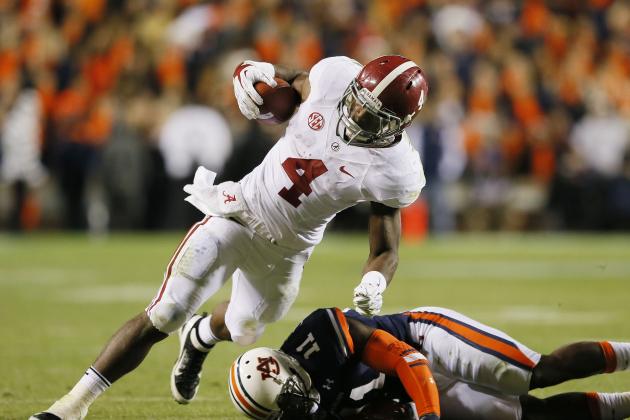 Kevin C. Cox/Getty Images
Alabama RB T.J. Yeldon
The Oregon Ducks have no one to blame but themselves for not being in a BCS bowl. With just two games remaining, all Mark Helfrich's team had to do was score wins over Arizona and Oregon State to reach the conference title game.
But the Ducks were blown out in Tuscon and when it came time for the BCS bowls to select their at-large participants, Oklahoma landed in the Allstate Sugar Bowl instead of Oregon. And with the way the Ducks played toward the end of the season, the Sooners might actually put up a better fight against the Alabama Crimson Tide than Marcus Mariota and company would have.
But we'll never know, and the dream matchup between Alabama and Oregon was delayed once again, perhaps for good. Even though both teams failed to reach the title game, every college football fan in the country would tune in to see if the Ducks' offense could do Alabama what Texas A&M did two seasons in a row.
Of course, SEC fans would be salivating over the thought of T.J. Yeldon mashing through Oregon's front seven. In the end, the debate would be settled. It might not be the way we envisioned before the season, but it would have played out nonetheless.
Again, we're not going to dive into which team was more deserving of a BCS spot between Oklahoma and Oregon, because you could argue for days about the relative merits of each squad.
But instead of one conference gaining actual bragging rights over the other, the SEC and Pac-12 are left to speculate over what might occur between two of the league's top teams, at least for another year.