After a wild, yet scoreless, draw over Ajax on Wednesday, AC Milan have advanced to the knockout stage of the Champions League.
The Serie A giants played over 68 minutes in this match with just 10 men and survived a massive 25 shots from Ajax (per WhoScored.com) to earn a 0-0 draw.
On the final day of group play, this was all they needed to advance to the knockout stage.
Italian pride: we are the only Italian team in @ChampionsLeague! #weareacmilan

— AC Milan (@acmilan) December 11, 2013
The Rossoneri entered this day sitting in second in Group H. They trailed leaders Barcelona by two points, and had a one-point lead on the Godenzonen for second. Celtic was dead last in the group and had no chance to move into second.
That meant that if Milan were to advance, they had to secure at least one point in their match with Ajax. Barcelona blew out Celtic, 6-1, on Wednesday, so there was no shot of Milan taking the top spot.
Playing in front of their home fans at San Siro Stadium, Milan's fate was not looking all that prosperous early. This was an intense match, with Ajax's Christian Poulsen and Milan's Riccardo Montolivo getting especially heated. Sure enough, that resulted in Montolivo seeing red and he was sent off in the 22nd minute.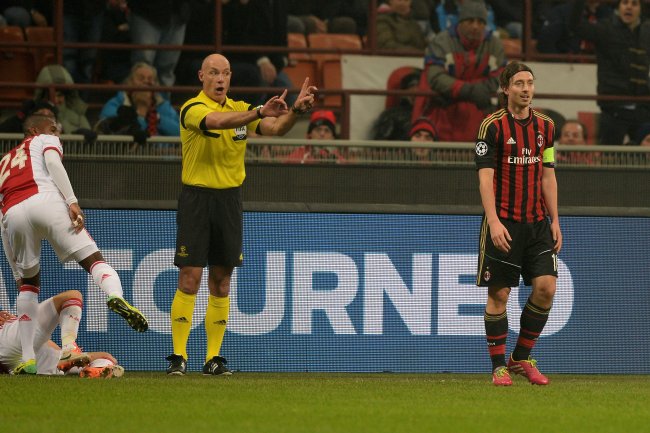 Claudio Villa/Getty Images
Milan goalkeeper Christian Abbiati had already survived two free kicks by this point, and Ajax was looking for shots at every opportunity. It seemed improbable that Milan would be able to survive without scoring at least one goal at that moment.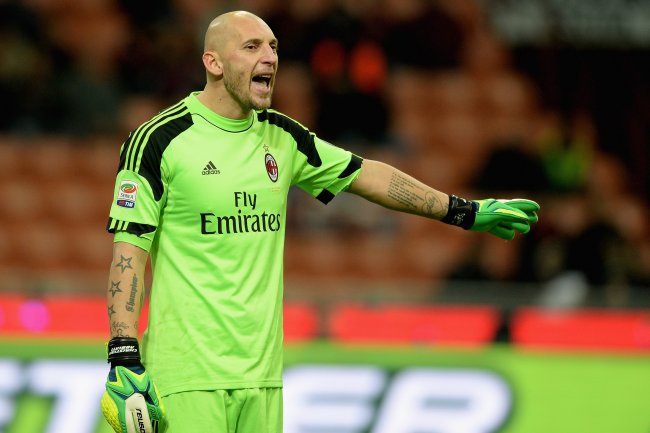 Claudio Villa/Getty Images
They wouldn't have, either, were it not for the excellent play of Abbiati in goal. The 36-year-old goalkeeper looked as spry as ever while making five saves (per WhoScored.com) and enjoying a brilliant day.
Christian Abbiati: MotM vs Ajax, Rating 7.8, Saves 5, Successful Cross Claims 3, Accurate Long Balls 5 http://t.co/0IEdmuQuID

— WhoScored.com (@WhoScored) December 11, 2013
These weren't easy saves, either. In the span of 10 minutes in the second half alone, Abbiati made two gorgeous saves of shots off the foot of Davy Klaasen.
As the second half wore on and Milan's defensive confidence soared thanks to their goalkeeper, it became clear that they were content to play for the draw. They mounted hardly any attacks after halftime.
For the match, the Rossoneri held just 29 percent of possession, per ESPNFC.com, while firing off just four shots (only one on target).
Playing most of the match a man down, this was an effective and smart strategy—a strategy that allows Milan to keep battling in UCL play.