Why There's No Easy Answer in LA Lakers' Pau Gasol Conundrum
Use your ← → (arrow) keys to browse more stories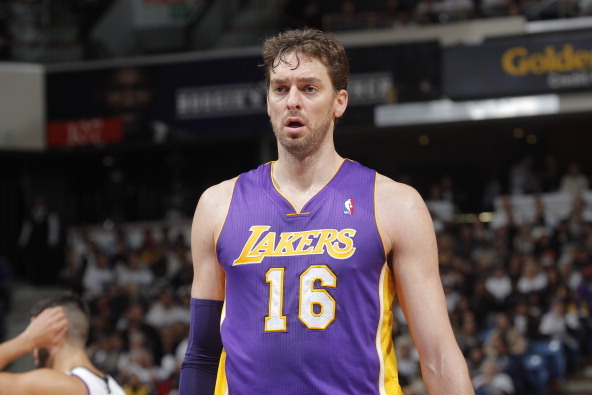 Rocky Widner/Getty Images

Answers are hard to come by for Pau Gasol and the Los Angeles Lakers.
Kobe Bryant's return, preceded by a new contract, paved the way for broader speculation to take shape. At the forefront of said conjecture is Gasol, who will become an unrestricted free agent this summer.
The plan has always been for the Lakers to chase stars over the offseason to re-tool after losing Dwight Howard to free agency. That hasn't changed. New faces, stars or not, are on the way.
Sprinkled in with those newbies will be Kobe and some other familiar faces. Will one of them be Gasol, who is playing through his sixth full season in Los Angeles?
Not even the Lakers know.
Why It's a Problem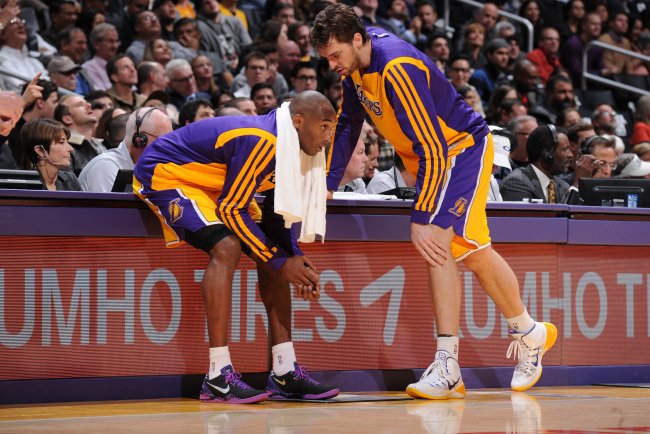 Andrew D. Bernstein/Getty Images
Kobe's extension provided answers to many pressing questions.
How much would the Lakers pay Mamba? How long would he sign for? How much money would the Lakers have available come summer? Would his extension have a death-stare bonus?
Save for the death-stare quandary, we're in the know. We know they paid Kobe $48.5 million through 2015-16, and we know how much cap space they'll have after this year. Which begs the equally important question: Who should they spend it on?
Making sense of the future—that's the new problem for Los Angeles.
Larry Coon, author of the CBA FAQ, provided some valuable financial context following Kobe's extension:
The salary cap next summer is projected to be $62.9 million. The Lakers will also have their own first round draft pick. Based on their current record, this pick would fall around #15, and would therefore count around $1.5 million against their cap.This would give them a total of about $37.66 million for six players. We need to add another six cap holds totaling $3.04 million, which brings the total to about $40.70 million.
When all is said and done, the Lakers could have upwards of $22 million in buying power this summer, enough to offer a max contract to, say, this guy named LeBron James.
Here's the catch: Gasol must go for that to happen. The Lakers must renounce their rights to him to open up that much room.
While doing so seems like a no-brainer, it's not that simple, hence the reason we're here.
If He Stays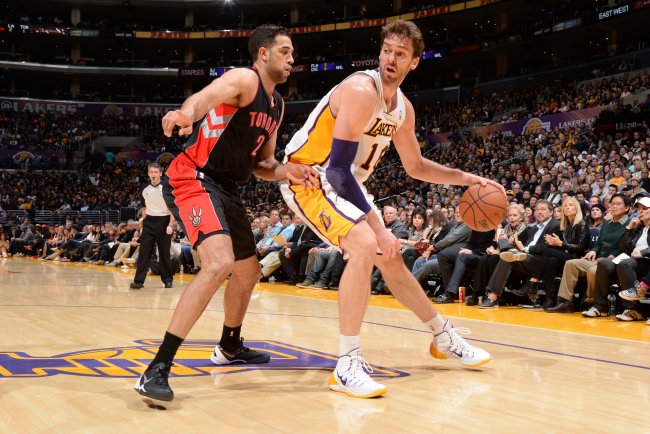 Andrew D. Bernstein/Getty Images
Talented 7-footers are scant. If they grew on trees or frequented Earth like Jersey Shore wannabes, Andris Biedrins' contract wouldn't exist.
Knowing Robert Sacre, aka Mr. Irrelevant 2012, would be their only big on the books for next season if they part ways with Gasol, the Lakers could keep him.
At his best, Gasol is a triple-double threat with the passing acumen of a point guard and scoring touch of a wing. Through four postseason games last season, without Kobe, Gasol averaged 14 points, 11.5 rebounds and 6.5 assists, reminding us all why the Lakers are paying him more than $19 million this season.
Retaining him will be a viable option for a Lakers team looking to remain relevant up front. They know what they have in him and, most importantly, know he works well with Kobe. He might even be willing to take a substantial pay cut, allowing the Lakers to rebuild around him and Kobe with moderately talented free agents.
Since Lakers have wallets open...are u next, Pau? "I try not to make that assumption." Acknowledged having to make financial sacrifice, tho.

— Mike Bresnahan (@Mike_Bresnahan) November 26, 2013
But while passing on a cheaper Gasol will be tough, Los Angeles may still do it.
Gasol has failed to play like he did during the playoffs. His 14.4 points per game are better than last year's 13.7, but he's shooting a career-worst 41.7 percent from the floor to go along with a career-low offensive rating (95) and PER (15.4). Injuries are clearly still affecting his mobility and overall value, an issue that doesn't figure to get better.
By the time Gasol signs his next deal, he'll be 34 with 13 years of NBA mileage on those battered legs of his. Throwing $10-plus million annually at an unhealthy tower, who doesn't ensure the most is made of Kobe's next (final?) two years, won't interest the Lakers.
Then again, he's tall. Tall guys are hard to find. Centers are shiny. Can the Lakers really just move on?
Decisions, decisions...
If He Goes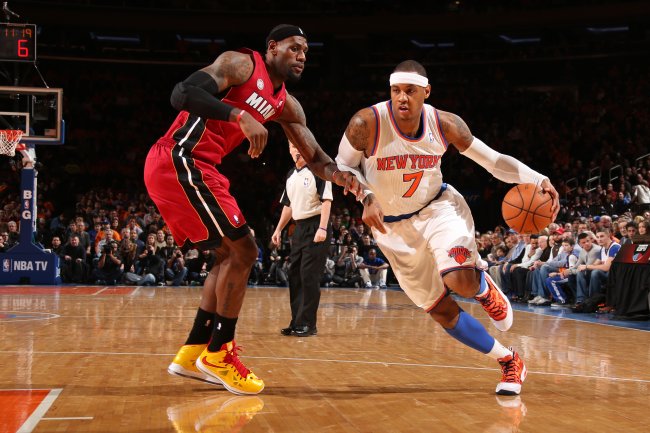 Nathaniel S. Butler/Getty Images
You're the Lakers. You want 'Bron or Carmelo Anthony or Will Barton Gordon Hayward. What do you do? You say "Later, Pau. Remember, all shiny warm-ups are not to leave the premises."
The Lakers have toyed with ditching Gasol before. From the botched Chris Paul trade to potentially amnestying him if Howard never left, his departure has been danced around many times already. Might as well get it over with, right? Chase LeBron, you know? Promise 'Melo he can attempt one shot for every two of Kobe's, you dig?
For a star-craved Lakers team, that's the likely course of action. Championships won't be won with Gasol and Kobe as the primary pillars. The Lakers need another superstar, and Gasol isn't a superstar. Case closed.
Then reopened.
Put general manager Mitch Kupchak's hat on again. Bidding farewell to Gasol gives the Lakers the means to sign a star.
It doesn't actually give them a star.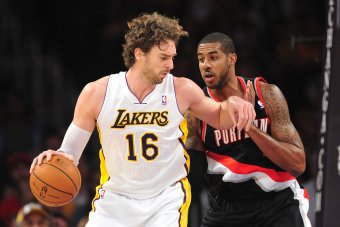 Gary A. Vasquez-USA TODAY Sports
Anthony, chained to the wall of New York Knicks owner James Dolan's dungeon, could opt to stay in New York. Not wanting to increase Kobe's ring totals, and fearing Vino won't entertain postgame-pillow fights like he, Dwyane Wade and Chris Bosh do, LeBron could stay where he is. Or he could do the dumb nostalgic thing and rejoin the Cleveland Cavaliers.
What then? What if the Lakers cannot land another actual star? They will have forfeited rights to Gasol for nothing, putting them in wait-and-see mode or, worse, convincing them to splurge on a prosaic supporting cast.
Avoiding another offseason letdown is exactly why the Lakers need another star and why they would send Gasol packing in the first place. But knowing such collateral damage doesn't guarantee offseason affluence complicates things.
What to Do, What to Do?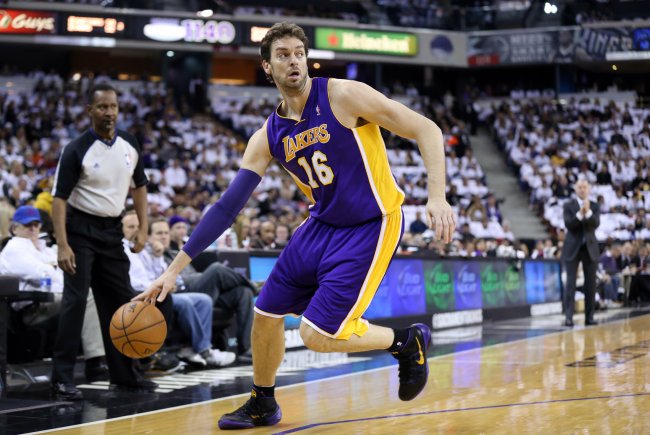 Kelley L Cox-USA TODAY Sports
Answers won't be found less than halfway through the season. The end won't necessarily clear anything up, either.
Clarity will only be found when a decision is made and the Lakers likely won't make their choice right away. Barring a trade—not impossible—they'll go into the offseason hoping to have a hold on the situation and some kind of insight into 'Melo and LeBron's plans.
How well Gasol finishes the season will also factor into Los Angeles' decision. So too does Steve Nash, who will be on an expiring contract after this season and could find himself traded in a salary dump or waived using the stretch provision. Parting ways with him creates additional financial flexibility, perhaps allowing the Lakers to chase their star while also keeping Gasol.
Bleacher Report's Kevin Ding prepares us for Gasol's departure, though, writing that his "chances of still being a Los Angeles Laker after this season are next to nothing." But are they really?
There is so much to consider, with a seemingly endless number of ways in which Gasol's future could play out.
Should the Lakers re-sign Pau Gasol after this season?
Moving forward requires the Lakers to say goodbye. Six-plus seasons, two championships and a smattering of bollixed expectations is enough. It's been a good run. Sometimes a great run. But the time to call it quits is near.
Bottom line, for Kobe to usher in a new era of Lakers basketball alongside a fresh star, Gasol has to go.
"I'm over, above and beyond that," Gasol said of Lakers fans booing him in Kobe's return, via NBC Los Angeles' Shahan Ahmed.
Beyond this season, the Lakers, with both eyes on the future, are over Gasol. They've just yet to discover if they're in a position to escape their past.
*All stats in this article were compiled from Basketball-Reference and are accurate as of Dec. 11, 2013 unless otherwise noted