In any game, on any stage, there are players who stand out and seemingly will their team to victory. For the five biggest bowl games of the year, those players can come from all different positions.
The BCS matchups this season pit 10 of the best teams against each other, and from Heisman finalists to conference players of the year, there will be difference-makers in every game looking to leave their mark.
With all five matchups coming up soon, here are the five biggest difference-makers to watch for during the BCS bowl games.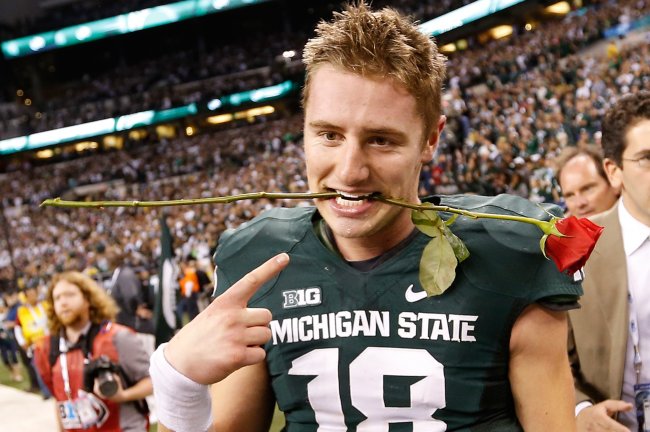 Gregory Shamus/Getty Images
Rose Bowl: Connor Cook, quarterback, Michigan State
There are plenty of great players for both sides, especially on the defensive side of the ball and in the running game, but Cook will likely be the biggest difference-maker in this game if he performs like he has been capable of late in the season.
In the Big Ten championship, Cook was brilliant, passing for 304 yards and three touchdowns with just one interception against Ohio State. But Cook, a sophomore, will be facing off with a defense in Stanford that halted teams like Oregon and Arizona State, two explosive offenses, in their tracks.
On the other side of Cook will be Kevin Hogan, a junior quarterback who has been equally as impressive behind center all season. But in order for Michigan State to pull off yet another huge win, Cook will have to be better than Hogan.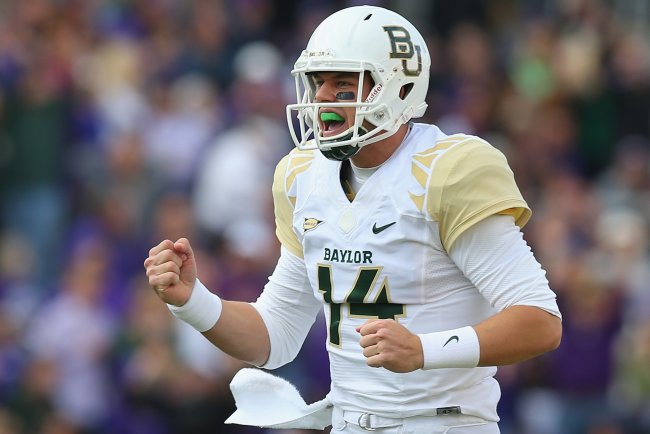 Ronald Martinez/Getty Images
Fiesta Bowl: Bryce Petty, quarterback, Baylor
The Big 12 Player of the Year is lethal through the air and on the ground. Bryce Petty, while not invited to the Heisman Trophy presentation, has been one of the best quarterbacks in the country all season.
John McClain of the Houston Chronicle certainly believes Petty deserved an invitation to New York for the presentation:
Baylor QB Bryce Petty deserved a trip to NY as a Heisman Trophy finalist. 30 TDs, 2 INTs, 11 TDs rushing for an 11-1, 6th-ranked team.

— John McClain (@McClain_on_NFL) December 10, 2013
The statistics speak for themselves: Petty has thrown for 3,844 yards, 30 touchdowns and two interceptions this season while rushing for 192 yards and 11 touchdowns on the ground. In comparison, Jameis Winston finished with 24 fewer passing yards, one more total touchdown and eight more interceptions.
Baylor will face a defense that only allows 19.6 points per game, so if it plans to pull out its first-ever BCS bowl victory, it will need another huge performance from Petty.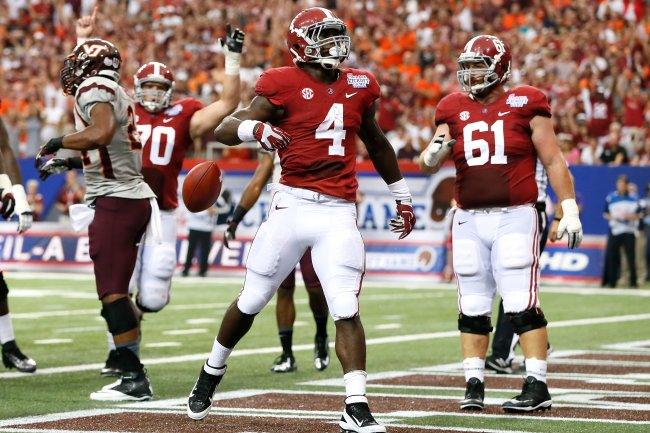 Kevin C. Cox/Getty Images
Sugar Bowl: T.J. Yeldon, running back, Alabama
The obvious choice for some here would likely be A.J. McCarron, a Heisman finalist who has led Alabama all season. But going against a team like Oklahoma, which holds its opponents to just 198 passing yards per game, T.J. Yeldon will need to get going before McCarron can take over.
The sophomore is already over 1,100 yards for the second straight season and has 13 touchdowns heading into the Sugar Bowl. With six games of 120 yards or more, Yeldon will once again be asked to be the workhorse for an Alabama team that likes to run the ball with power.
With both McCarron and Yeldon in the backfield, either could end up being the game-changer against Oklahoma. But in order for McCarron to find options down the field, he will need Yeldon to once again wear down the opposing defense.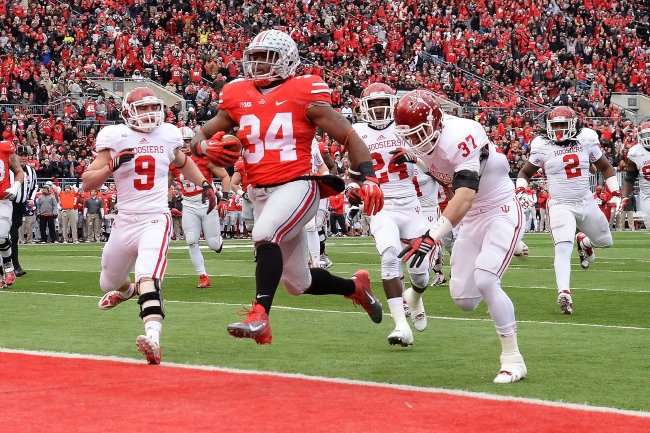 Jamie Sabau/Getty Images
Orange Bowl: Carlos Hyde, running back, Ohio State
Braxton Miller has been the star for this Buckeyes team all year, but his teammate in the backfield will be crucial for Ohio State to have success against Clemson.
Carlos Hyde, after being suspended the first three games of the season, has been on fire for the Buckeyes. After getting off to a slow start in his first two games back, Hyde has rushed for at least 110 yards in eight straight games, including two games with over 225 yards.
College Football 24/7 tweeted about what Eddie George, another former Ohio State running back who played nine seasons in the NFL, thought of Hyde as it pertains to the NFL level:
Eddie George: #OhioState RB Carlos Hyde "can be a monster" in the #NFL http://t.co/FB0ewmBgy9

— CollegeFootball 24/7 (@NFL_CFB) December 11, 2013
The senior also has 14 touchdowns on the year thanks to five multi-touchdown games. Against a defense that holds opponents to less than 200 yards, similar to the defense A.J. McCarron will be facing against Oklahoma, Hyde's success will be of the utmost importance for the Buckeyes.
With Miller also using his legs to extend plays and running for designed plays of his own, Hyde will still get plenty of touches and make his presence known throughout the Orange Bowl.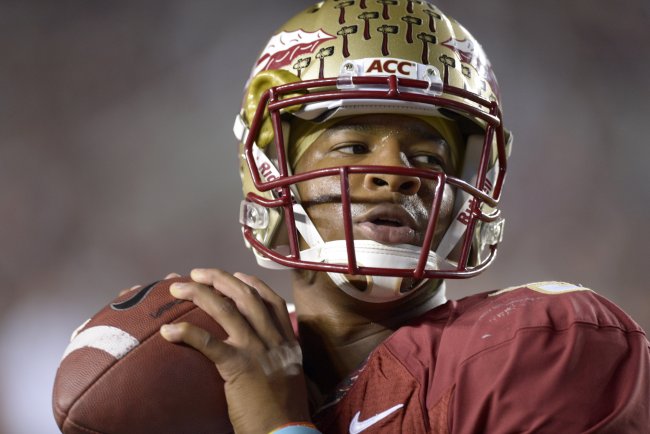 John David Mercer-USA TODAY Sports
BCS National Championship: Jameis Winston, quarterback, Florida State
If anyone else was chosen here, it would be blasphemy. For Auburn faithful, the hope is that Tre Mason and Nick Marshall can outperform Winston on the offensive side of the ball. But the truth is, Winston has proven himself time and time again to be the best player in the country this year and is considered the Heisman favorite for a reason.
Aside from the statistics, Winston is a freshman with both poise in the pocket, precision passing and an ability to run to both extend plays or pick up yards. And from a physical standpoint, Winston is taller than both Auburn linebackers and weighs just 12 pounds less than Jake Holland.
While the two teams match up offensively, with Auburn holding the edge in the running game and Florida State having the upper hand in the passing game, Winston will be facing a much more porous Tigers defense.
With three different receivers at over 900 yards on the season, Winston clearly has plenty of targets to spread the ball around to. And with the biggest prize on the line for the Seminoles, they will need Winston to come through yet again to remain as the No. 1 team in the country.