Michigan's receiving corps will take a big hit when Bo Schembechler MVP Award winner Jeremy Gallon graduates in May. Replacing a talent like Gallon, who's registered 1284 yards receiving on 80 catches this year, will have to be a collective effort from the route runners.
The Wolverines have been remarkably thin at the wide receiver position in 2013.
Part of this was due to Amara Darboh's season-ending foot injury that occurred in the preseason. Another component was that players like Drew Dileo, Jeremy Jackson and Joe Reynolds were unable to adequately increase their receiving output.
The Wolverine offense has been begging for a legitimate third receiving option to emerge this year, and while it happened sporadically (Jehu Chesson's 88 yards against Michigan State, for example), that consistent option never emerged.
So with Gallon accounting for 42 percent of the receiving yards in 2013, what's the future of Michigan's receiving corps?
The Wolverines are ripe with underclassmen receivers who have palpable buzz, jaw-dropping highlight tapes and all the potential in the world. What most of these receivers don't have is proven on-field success at the college level.
Aside from Devin Funchess' 727 receiving yards this year, who I'll refer to as a receiver in this column, Michigan's most accomplished receiver who'll be returning next year is Jehu Chesson, who has just 213 yards in his college career.
Let's take a closer look at Michigan's 2014 projected receiving corps.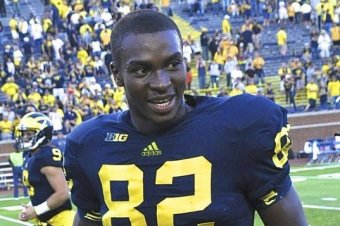 iphotoweb.com
WIDE RECEIVER 1
Michigan fans have plenty to be excited about in Amara Darboh's return to the field next year.
Darboh, who's season ended before it started with a devastating foot injury, had been projected to earn the starting job in 2013. At 6'2", 212 pounds, his large frame and ability to stretch the field will be a huge addition to the team in the future.
Darboh, whose story of escaping Sierra Leone as a war orphan will grow your affinity for him (if it hasn't already), will head into 2014 as a sophomore after being granted a medical redshirt.
He played sparingly in 2012, primarily contributing on special teams. Don't be surprised if Darboh claims the starting role and makes an immediate impact next year.
Backing up Darboh, look for will-be freshman Drake Harris to earn the responsibilities. Harris, a four-star recruit (per rivals.com) from Grand Rapids, Michigan, boasts a 4.4 40 yard dash and elite ball skills.
Looking closely at his highlight reel, he may remind you of Saints rookie wideout Kenny Stills, who Michigan lost to Oklahoma in a tight recruiting battle in 2009.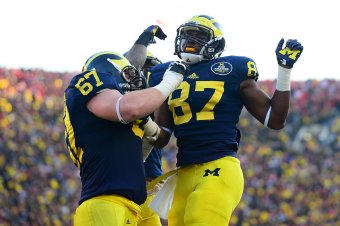 Andrew Weber-USA TODAY Sports
WIDE RECEIVER 2
While Funchess' blocking skills were slow to develop, head coach Brady Hoke knew that his receiving skills were too valuable to leave him on the sidelines.
So Hoke moved him to wide receiver prior to the Minnesota game, and the results were immediate. Funchess exploded for 151 yards on seven catches and scored a touchdown to lead the Wolverines to arguably their best Big Ten win of 2013.
"He's a bit of a mismatch problem," Hoke said, as reported by Chantel Jennings of ESPN.com. "He played out in space like that all through high school. He never was really an on the line tight end."
If Hoke decides to leave Funchess in the receiver position in 2014, which is the expectation given the strong play of freshman Jake Butt, Funchess will continue to be a force in the passing game.
Backing up Funchess in this spot will be either current freshman Csont'e York or would-be freshman Maurice Ways. Both are tall, in-state products who are fairly raw but could develop into reliable targets for quarterback Devin Gardner next year.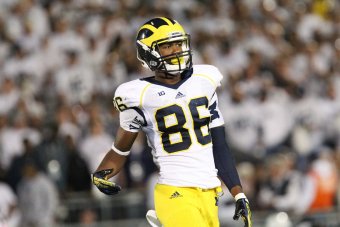 Matthew O'Haren-USA TODAY Sports
SLOT RECEIVER
At the slot receiver position, replacing senior Drew Dileo will be no easy task. Despite his downswing in production in 2013, his sure-handedness and impeccable route running made him a valuable part of the offense.
Chesson is the favorite to earn the slot duties next year, though he possesses a much different build than Dileo (6'3" and 5'10", respectively). Chesson, a former track star, has great straight-line speed but isn't particularly elusive after the catch, according to scout.com. He did show solid pass-catching ability when he was targeted this year, and he'll benefit from another offseason of work.
Behind Chesson in the slot position, we'll likely see current sophomore Dennis Norfleet take on an increased role. The diminutive Norfleet has primarily seen the field as Michigan's primary kick returner. He's shown great burst and already ranks third in program history in kick return yards, per mgoblue.com.
Current freshman Da'Mario Jones of Westland, Michigan will also compete for playing time as will would-be freshman Freddy Canteen.
There are plenty of lingering questions around next year's receiving corps, but we know one thing for sure: Plenty of underclassmen will have a chance to emerge as key contributors to the Michigan offense next year.