After a disappointing junior season in which he missed several games due to injury and saw his production wane significantly, USC wide receiver Marqise Lee has decided to forego his senior season and enter the NFL draft.
Lee announced the decision on Twitter:
To all Trojan fans, I have decided to forego my senior season at USC and declare for the 2014 NFL Draft. I want to thank my coaches ...

— Marqise Lee (@TeamLee1) January 4, 2014
... teammates, staff and the entire Trojan Family for all of the support over the last three seasons ...

— Marqise Lee (@TeamLee1) January 4, 2014
I am a proud Trojan and will remain a Trojan for life! #Fighton

— Marqise Lee (@TeamLee1) January 4, 2014
Lee finished the 2013 season with 57 receptions for 791 yards and four touchdowns, a far cry from the pristine numbers he posted in his freshman and sophomore campaigns. However, he made a strong statement in USC's 45-20 trouncing of Fresno State in the Las Vegas Bowl, ending his career on a high note with seven catches for 118 yards while finding the end zone twice.
In 2011, he caught 73 passes for 1,143 yards and 11 touchdowns. The 6'0", 195-pound wideout then exceeded those numbers with a whopping 118 catches for 1,721 yards and 14 scores in 2012.
He finished fourth in the 2012 Heisman Trophy balloting and seemed assured to be in the running for the award again this season. He also won the Fred Biletnikoff Award, which he was the heavy favorite to replicate in 2013. Unfortunately, he never quite got going in his junior year.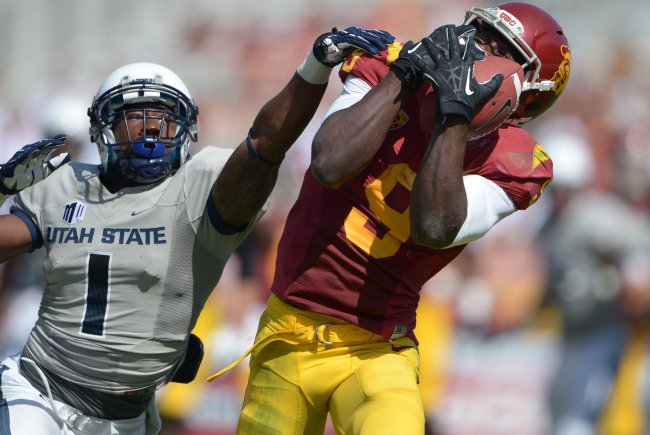 USA TODAY Sports
Still, it's no surprise that Lee is tossing his name into the NFL hat. He's a surefire first-rounder and likely will be off the board within the first 15 picks. Rich Hammond of the Orange County Register weighed in on Lee's decision:
Marqise Lee is considered a probable first-round pick. Had little to gain by coming back. Great young man.

— Rich Hammond (@RegisterUSC) January 4, 2014
It's doubtful most scouts or coaches will hold a lost season against him in which he battled through some injuries and was stuck on a Trojans team that underwent a midseason coaching change.
Is Marqise Lee making the right decision?
While Clemson's Sammy Watkins will likely be the first receiver off the board, either Lee or perhaps Mike Evans of Texas A&M will likely be the next one taken. And after aches and pains hampered him in his third season, Lee probably has decided that another year of college football isn't worth the risk with a big paycheck in his future.
In the NFL, his ability to separate from defenders, run crisp routes and make plays after the catch will make him a dangerous weapon for whichever team drafts him.
His junior season may have been a disappointment, but expect nothing but big things from Lee at the next level.