J.J. Redick was acquired by the Los Angeles Clippers to open up their half-court offense with his perimeter shooting. The Clippers could not have found a better fit, as Redick played just as well, if not better, than anyone could have expected. Prior to his injury on November 29, Redick was scoring a career-high 15.8 points per game, while shooting 46 percent from the floor.
Redick's presence allowed Blake Griffin and Chris Paul to play their best ball together since Paul came over from the New Orleans Hornets. Opposing defenses not only had to chase Redick off screens, but they also had to cover him off the dribble on spot-up situations.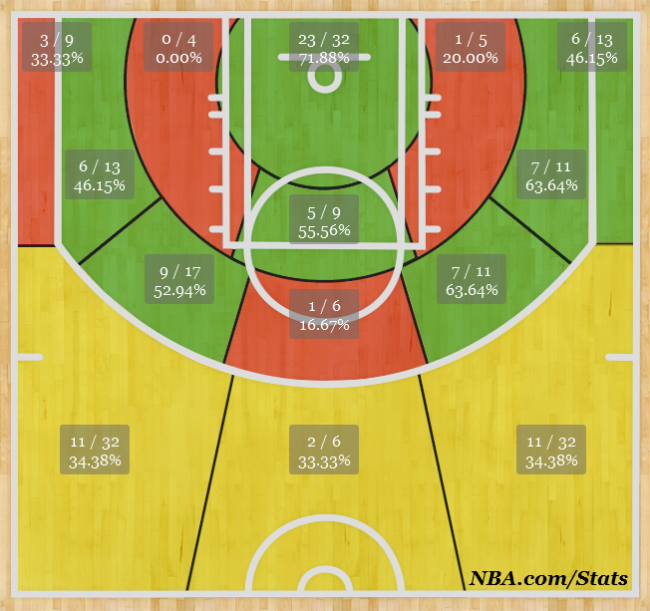 NBA.com/Stats
The Clippers were performing like one of the best offenses in the league with Redick healthy. According to NBA.com/Stats, the Clippers were scoring 107.9 points per 100 possessions, good for third in the league. Additionally, the team was plus-6.6 points with Redick on the floor. Now Doc Rivers must alter his rotation.
"We'll play all kind of combinations to make up for Redick's offense," Rivers said. "We just have to find another way."
Finding another way may not be as easy as it sounds. The team has struggled to maintain their offensive consistency without Redick on the floor. Since his injury, the Clippers are scoring 104.6 points per 100 possessions, ranking 17th in that time span. The degree of difficulty for opposing defenses has been reduced covering the likes of of Willie Green, Jared Dudley and Reggie Bullock.
To make matters worse, Jared Dudley does not look healthy, Matt Barnes is still out injured and Bullock hurt his ankle recently and will be sidelined for an unknown amount of time. The Clippers may have been able to overcome Redick's injury with a healthy rotation, but Doc Rivers is struggling to field a two-deep rotation at shooting guard and small forward.
"We would have to look somewhere," Clippers coach Doc Rivers said. "Let's hope not, but my guess is yes. I don't know where we're going to go. If you guys have any names, call me and let me know. I'll be on the phone tonight with Gary [Sacks] and Gerald [Madkins] and Dave Wohl [of the Clippers], and I'm praying they know somebody. We'll see. You never know."
The name that popped up is Stephen Jackson, whom the Clippers signed on December 9th, according to Brad Turner. Jackson provides another defender for Rivers to employ on the perimeter, with the hope that he can help resolve some of the team's shooting issues with Redick sidelined.
Doc Rivers say Clips agreed to deal with Stephen Jackson. Jackson will join team in Boston Tuesday

— Brad Turner (@BA_Turner) December 9, 2013
Jackson will see a good amount of minutes as soon as he suits up for the Clippers. Unfortunately, his addition does not fill the production on offense that is missing without Redick. Neither Jackson nor the rest of the perimeter players are capable of running off screens or attacking off the dribble like Redick. The offense should still be dynamic, considering how well Griffin and Paul are playing, but it will not be as explosive. Now, the onus lies on the defense.
To the team's credit, they are surrendering only 92.8 points per game in Redick's absence. It seems clear that Rivers has demanded his team pick up the slack on defense. Not only is defensive improvement important with Redick out and the offense not at full strength, but also for preparation for what lies ahead should the Clippers make the playoffs.
The Clippers struggled to defend with Redick in the rotation. Albeit he was hardly the main problem, teams were able to score far too easily from every area of the floor. The Clippers gave up 101.6 points per game, the seventh-worst mark in the league as of December 1. This negated some of the Clippers' offensive production and contributed to most of the team's five losses.
Will Signing Stephen Jackson Help the Clippers?
Redick is currently at least a month away from returning, and the Clippers will be tested, playing 15 of their next 25 games away from the friendly confines of the Staples Center. The good news is that reinforcements are on their way. Jackson will provide support on both sides of the ball, and Matt Barnes' energy and defense will be a welcome addition.
Although the team seems to be struggling to cope without Redick, there have been improvements defensively, and the depth issues seem to be solved for the time being. The defense has a ways to go before it will ever satisfy Rivers, but progress looks to be occurring. The Clippers are definitely not the same team without Redick, but they certainly could be in a more precarious position than leading the division by two games.
All statistics accurate as of December 9, 2013.