As the NFL regular season begins to wind down, it's making sure to keep fans interested with plenty of juicy clashes.
Despite there being three games left until the playoffs, only three teams have secured a place in the postseason, and just one of those teams has won its division. That means a lot of the remaining games have an added importance.
However, for the teams not vying for a postseason place, the end of the season can offer a time to look forward to next year. Maybe some players emerge, or the coach figures out a way to make everything click.
Here's a look at this week's schedule, followed by three games, for their own reasons, that should be must-see television.
NFL Week 15 Schedule

| | | | |
| --- | --- | --- | --- |
| Time (ET) | Home Team | Away Team | TV |
| Thu., Dec. 12 | | | |
| 8:25 p.m. | Denver Broncos | San Diego Chargers | NFL Network |
| Sun., Dec. 15 | | | |
| 1 p.m. | Atlanta Falcons | Washington Redskins | Fox |
| 1 p.m. | Tampa Bay Buccaneers | San Francisco 49ers | Fox |
| 1 p.m. | New York Giants | Seattle Seahawks | Fox |
| 1 p.m. | Minnesota Vikings | Philadelphia Eagles | Fox |
| 1 p.m. | Miami Dolphins | New England Patriots | CBS |
| 1 p.m. | Jacksonville Jaguars | Buffalo Bills | CBS |
| 1 p.m. | Indianapolis Colts | Houston Texans | CBS |
| 1 p.m. | Cleveland Browns | Chicago Bears | Fox |
| 4:05 p.m. | Oakland Raiders | Kansas City Chiefs | CBS |
| 4:05 p.m. | Carolina Panthers | New York Jets | CBS |
| 4:25 p.m. | Dallas Cowboys | Green Bay Packers | Fox |
| 4:25 p.m. | Tennessee Titans | Arizona Cardinals | Fox |
| 4:25 p.m. | St. Louis Rams | New Orleans Saints | Fox |
| 8:30 p.m. | Pittsburgh Steelers | Cincinnati Bengals | NBC |
| Mon., Dec. 16 | | | |
| 8:40 p.m. | Detroit Lions | Baltimore Ravens | ESPN |
NFL.com
San Diego Chargers vs. Denver Bronco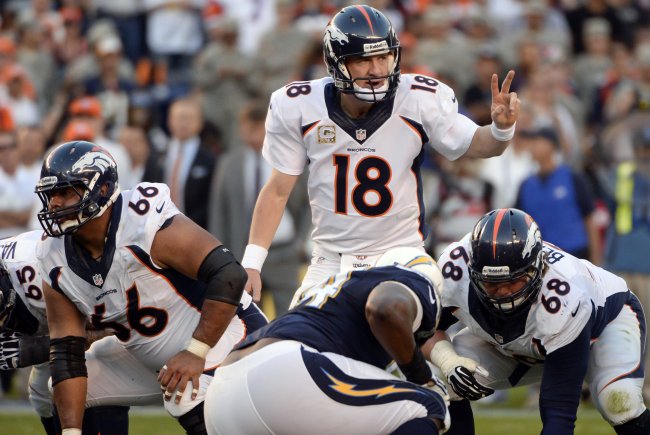 Robert Hanashiro-USA TODAY Sport
For the first time in what seems like forever, there's a great matchup on Thursday night that demands your attention, and not because you're a masochist.
The San Diego Chargers still have a terrible defense, while the Denver Broncos' remains average. Meanwhile, Football Outsiders ranks these teams as first and second in the league in offensive DVOA.
Suffice it to say that you should see a lot of points. With any luck, this game becomes a shootout, similar to Denver's 51-48 win over the Dallas Cowboys in Week 5. Peyton Manning and Philip Rivers go toe to toe with one another and could combine for 800 yards passing.
If you need any more reasons, the Chargers are looking for a win to try to get back into the AFC Wild Card, while the Broncos will hope to maintain their one-game division lead over the Kansas City Chiefs.
San Francisco 49ers vs. Tampa Bay Buccaneers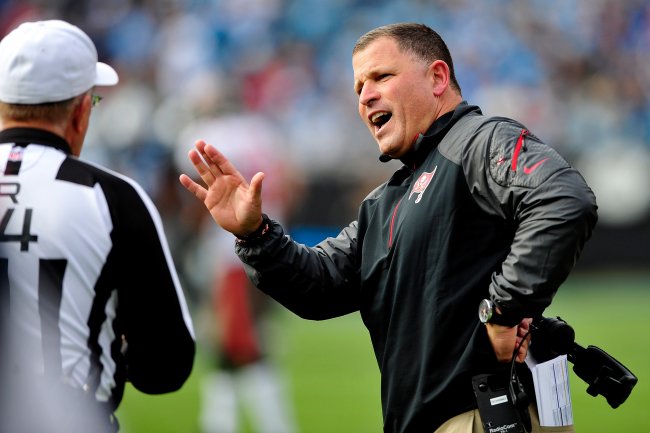 Grant Halverson/Getty Images
The Tampa Bay Buccaneers have played well recently. You can only wonder how many games the teams would've won this year if Greg Schiano wasn't Greg Schiano. There is the foundation for a successful franchise somewhere in Tampa.
The Bucs have a tough game with the San Francisco 49ers this week.
Should Greg Schiano coach the Buccaneers next season?
Neither team has a prolific offense, so this could be a defensive slugfest, much like you saw in San Francisco's win over the Seattle Seahawks. It wouldn't be pretty, but sometimes it's good to watch two teams trying to out-grit one another.
This game is also a great chance for either Colin Kaepernick or Mike Glennon to put on a show.
For Kaepernick, it's an opportunity to post the kind of huge numbers that have come few and far between this year. On the other side, Glennon can get a signature win, which will serve to build momentum going into next year.
Washington Redskins vs. Atlanta Falcons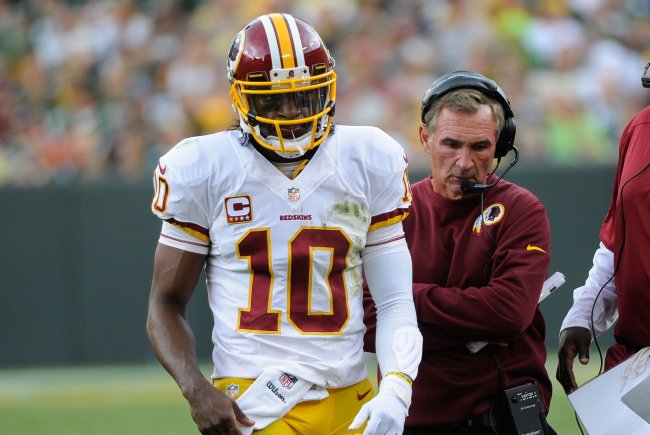 Benny Sieu-USA TODAY Sports
This game is mouthwatering for the wrong reasons, really. It's not so much about the actual game on the field, rather than the one that's going on behind the scenes.
Will Mike Shanahan see out the rest of the season?
The Washington Redskins are reportedly trying to find a way to fire Mike Shanahan without having to buy out his contract, while Shanahan is countering by possibly starting Kirk Cousins ahead of Robert Griffin III in order to make the team fire him without cause.
Who could've expected a team owned by Daniel Snyder would be dysfunctional?
Against the Atlanta Falcons, you'd think the Redskins would be able to get the victory. Then again, this off-field drama could spill over on the field. And what if Cousins starts and plays really well? How would that effect RG3's confidence?
There are so many questions, and none of the answers favor Washington.