The Carolina Panthers will look to bounce back against the New York Jets after a tough loss on the road. The Jets have been anything but consistent this season, and the Panthers will look to exploit their weaknesses in an effort to secure a playoff spot.
Several things will be key for Carolina as it tries to solidify itself in the NFC playoff race.
Heavy doses of Greg Olsen, Steve Smith
The Jets are ranked 24rd against the pass, meaning that the Panthers should focus on attacking their safeties early. Recent signee Ed Reed has struggled in his few games with the team, and a big-bodied, athletic receiver like Greg Olsen should be able to dominate the seam.
Olsen has had at least five catches in his past four games and will more than likely be a big part of Carolina's offense Sunday.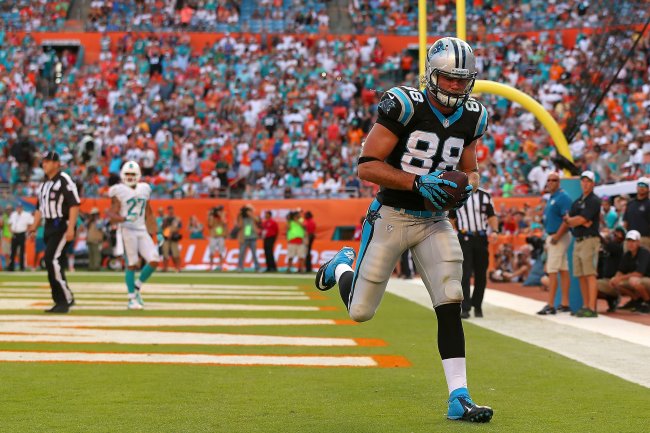 Mike Ehrmann/Getty Images
Steve Smith will also be key offensively as the Jets secondary has struggled against speedier receivers and will have to pick its poison Sunday when it faces Carolina.
If the secondary doubles Smith, that leaves openings for Olsen and vice versa, a dilemma that is sure to give the Jets defensive staff headaches. With Antonio Cromartie's status uncertain as he recovers from a concussion, Smith could have a field day if it's Kyle Wilson or Darrin Walls that ends up covering him.
Let Cam be Cam
Cam Newton has enjoyed his best year statistically so far and is looking like a different player. He's developed good poise in the pocket and has grown as a passer.
Huge win for the Carolina Panthers. Wow. Their defense can play with any1 and Cam Newton is truly Maturing as a NFL Elite quarterback. TRUTH

— DeionSanders (@DeionSanders) November 19, 2013
His maturation has been a huge part of Carolina's turnaround as a franchise, and his development as a passer is what's really opened doors for them offensively. Newton has settled into being a poised pocket passer with an athletic pair of legs, truly making him one of the best dual-threat quarterbacks in the league.
New York's pass defense leaves the door wide open for Newton to have a field day throwing the ball. Things have been clicking in the passing game for Carolina lately, and that should continue against the shaky secondary of the Jets.
War in the trenches
The trenches will be of tremendous importance as the Panthers' offensive line goes toe-to-toe with an all-star defensive line. If it can keep Newton upright, Carolina has a great chance of winning.
The biggest thing the Panthers have to do is stop the running game of the Jets. Carolina's proven to have the best front seven in the NFL, and if it can stop New York's rushing attack, it should be smooth sailing defensively.
Panthers defensive coordinator Sean McDermott: "We have to get that hunger back. Not that it ever should have left."

— Steve Reed (@SteveReedAP) December 9, 2013
New York was Pro Football Focus' sixth-worst offensive line, whereas the Panthers boast one of the fiercest defensive lines in the league. Given the size (over 1,000 pounds on its defensive line alone) and athletic ability of its guys up front, it should have no problem putting pressure on the quarterback.
Pick on the rookie
Rookie quarterback Geno Smith has been especially wobbly lately and will struggle against the league's second-ranked defense.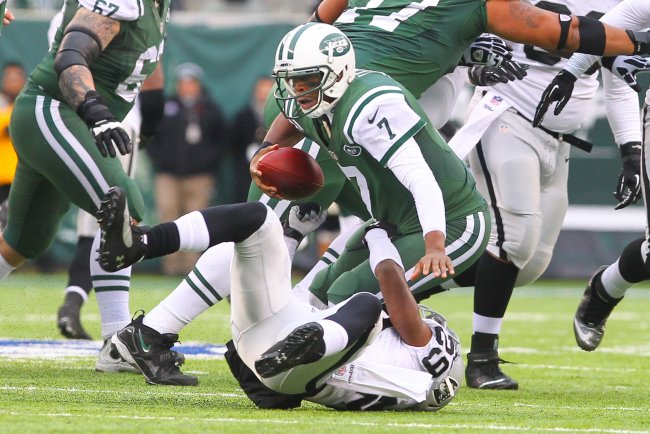 Ed Mulholland-USA TODAY Sports
Smith has turned the ball over more than any one player in the NFL and will have a tough outing against the Panthers who have 26 takeaways on the season. It's very likely that the Panthers defense will be able to hold New York below 10 points in this one-sided matchup.
As long as the Panthers can control the line of scrimmage and not turn the ball over, this should be an easy victory.
*All stats courtesy of NFL.com*