All eyes and tweets were on Kobe Bryant heading into the Los Angeles Lakers' showdown Tuesday night with the Phoenix Suns.
Bryant was coming off a season debut in which he admittedly struggled, scoring nine points on 2-of-9 shooting with eight rebounds, four assists and eight turnovers. Even though he was frustrated with his play, he was happy to be back.
My goodness it feels good to be back and playing! Easy to take it all for granted.. God I LOVE playing this game #blessed

— Kobe Bryant (@kobebryant) December 11, 2013
With the Suns in town, it was "Blackout" night at Staples Center on Tuesday, and every fan was given a black t-shirt to wear at the game. Although, as Serena Winters points out, not everyone felt the need to put them on.
So far, I've yet to spot a single fan w/ floor seats wearing the #Blackout t-shirts provided to all Lakers fans tonight. #WelcomeToLa

— Serena Winters (@SerenaWinters) December 11, 2013
For the second straight game, the Lakers got off to a slow start with Bryant in the starting lineup, falling behind 10-3 in the opening minutes. However, they quickly came back, with Jodie Meeks going on a mini 5-0 run before Kobe got into the post, spun around his defender and elevated for a one-handed dunk.
It was Bryant's first dunk of the year and got the crowd on its feet early on, but the Lakers still trailed 26-21 after the first quarter, struggling to slow down the Suns offense.
Vintage Mamba.

— chris palmer (@ChrisPalmerNBA) December 11, 2013
The final three quarters continued in a similar fashion. Los Angeles fought its way back but were helpless to stop the Suns offense in crucial possessions.
The closest the Lakers came to taking the lead was in the third quarter, when a Jordan Hill basket cut the score to 73-72 with just over a minute left. However, the Suns responded with a 6-2 run to close out the quarter, scoring twice on easy layups, one of which came at the buzzer.
My math may be slightly off, but I'm pretty sure the @Suns have 1,134 layups in this game, alone...give or take a couple.

— Jabari A. Davis (@JabariDavisNBA) December 11, 2013
The Lakers again made a run in the fourth, but again failed to make the critical defensive stops, allowing the Suns to hold on for an eventual 114-108 victory.
As a team, Phoenix shot 51.8 percent in the game, with its backcourt tandem of Eric Bledsoe and Goran Dragic combining for 49 points and 14 assists. The Morris twins, Markieff and Marcus also did well, combining for 37 points and 11 rebounds against a Lakers defense that may continue to be a problem as the season goes on.
Laker Nation: The @Lakers were 10 steps behind Toronto & the same thing happened tonight against the Suns. Lakers are too slow on defense!

— Earvin Magic Johnson (@MagicJohnson) December 11, 2013
In his second game back, Kobe Bryant played well, scoring 20 points on 6-of-11 shooting with three assists, two rebounds and three turnovers. However, he struggled at times on the defensive end along with the rest of the team, as noted by Bleacher Report's Kevin Ding.
Kobe's final numbers look nice: 20 points on 6/11 FG, 8/8 FT, 3 assists, 3 turnovers. But Lakers didn't defend.

— KEVIN DING (@KevinDing) December 11, 2013
Kobe, usually his own harshest critic, was happy with his performance in talking to Los Angeles Times reporter Mike Bresnahan after the game.
Kobe gave himself a "B" tonight, says he did a "much better job."

— Mike Bresnahan (@Mike_Bresnahan) December 11, 2013
With the victory, the Suns continue to play above their expectations and improved to 12-9 on the season, while the Lakers fell below .500 at 10-11.
Los Angeles will have a tall task in trying to end its two-game losing streak as they hit the road for four games in five nights, traveling to play the Oklahoma City Thunder, Charlotte Bobcats, Atlanta Hawks and the Memphis Grizzlies.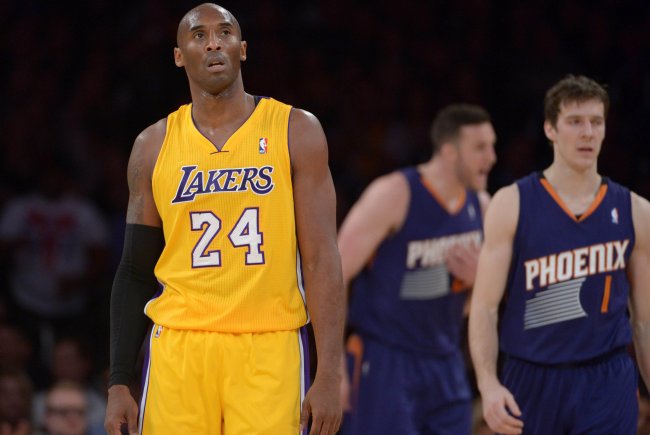 Kirby Lee-USA TODAY Sports
This is all while trying to get its superstar player back in the mix and getting the rest of the team used to playing alongside him. This is something they are struggling with now, as there continues to be a sharp contrast between the slow and methodical style Kobe is comfortable playing at this stage of his career, and the hectic, fast-paced, run-and-gun style the team had been playing without him.
Fortunately for the Lakers, Kobe came back early enough to give the team plenty of time to adjust, but, at the same time, they are also playing in a conference in which they can't afford to go on prolonged losing streaks.
Kobe is back and appears to be capable of getting back to the form we saw last year, but as Tuesday night showed, there is clearly going to be a serious adjustment period for both Kobe and his teammates as the season progresses.