Better Kobe Bryant, same result for the Los Angeles Lakers.
On Tuesday, the Black Mamba became the 10th different Laker to lead the team in scoring, with 20 points on just 11 shots (8-of-8 from the free-throw line) against the Phoenix Suns, including a driving baseline dunk in the first quarter.
But even Bryant's improved effort wasn't enough to stave off the feisty Suns in a 114-108 defeat for the Purple and Gold. The loss was L.A.'s third in a row at Staples Center—their longest such skid since January—and dropped the Lakers back under .500 on the still-young season.
At the very least, Bryant couldn't be considered one of the Lakers' main sources of agony on Tuesday. That's a big step up from Sunday, when he missed seven of his nine shots, turned the ball over eight times and generally looked sluggish during his season debut in a 106-94 loss to the newly Rudy Gay-less Toronto Raptors.
Truth be told, the Lakers' biggest flaws weren't really Kobe's to fix to begin with. Sure, it's great for L.A. to have a guy like Bryant to attract defenders like flypaper and bail them out with end-of-clock shots if/when need be.
But scoring in such situations isn't exactly among L.A.'s most pressing concerns at the moment. First and foremost on the Lakers' to-do list is a tightening-up of the defense. As Mike D'Antoni said after the loss to the Suns, via ESPNLosAngeles.com's Ramona Shelburne and Mike Bresnahan of the Los Angeles Times:
D'Antoni: "Points in the paint right now is killing us." Wants defense to "almost be like spitting blood out there."

— Mike Bresnahan (@Mike_Bresnahan) December 11, 2013
D'Antoni on Lakers poor D, "We've got to man up a little bit. Toughen up out there"

— Ramona Shelburne (@ramonashelburne) December 11, 2013
The box score backed up D'Antoni's assertions—and then some. The Lakers surrendered 21 fast-break points and 56 points in the paint to the Suns, who shot nearly 52 percent from the field.
Not that numbers like these are anything new to L.A. According to NBA.com, the Lakers have surrendered the second-most fast-break points per game and are tied with the Utah Jazz for the most points in the paint surrendered on average.
Part of L.A.'s problems in these regards stem from inconsistent effort. Good defense is largely a matter of effort and intensity. Sometimes, the Lakers have it; usually, they don't.
But unlike last season, when the roster was old and slow from top to bottom, the Lakers can't excuse their poor transition defense with a lack of youth and athleticism. That's what the additions of Wesley Johnson, Xavier Henry, Shawne Williams, Nick Young and Jordan Farmar—along with increased playing time for Jordan Hill and Jodie Meeks—were supposed to address, if not solve outright.
Granted, Farmar's absence on account of a hamstring injury suffered during L.A.'s loss to the Portland Trail Blazers on Dec. 1 has played a significant part in all of this. In Farmar, the Lakers finally had a point guard with the quickness, the length and the athleticism to keep up with the pesky floor generals who've given L.A. so much grief in recent years.
His absence was glaring against Toronto, which saw Kyle Lowry (23 points) propel a 62-paint-point effort for the Raptors, due in large part to Lowry's dribble penetration.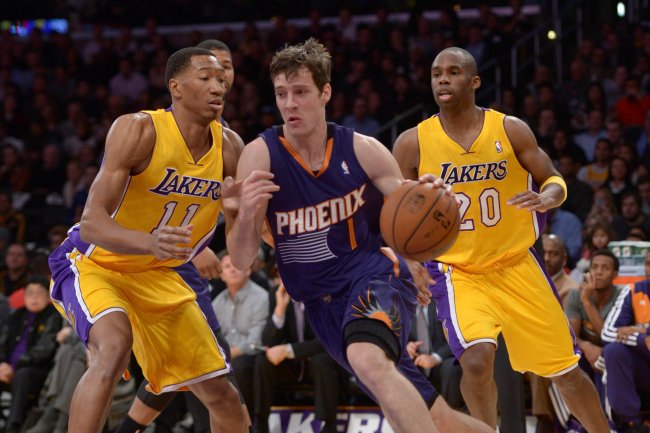 Kirby Lee-USA TODAY Sports
The same held true with Phoenix in the building. Eric Bledsoe and Goran Dragic combined for 49 points and 14 assists (against just four turnovers) on the night, with the Lakers struggling to contain either of them off the bounce. Bledsoe blew by his defender on numerous occasions, including a pair of drives that resulted in back-breaking baskets at the end of the third, while Dragic used his on-the-ball guile to befuddle L.A.'s struggling defense.
The collective trickery between Bledsoe and Dragic yielded a slew of open looks for the Morris twins, who totaled 37 points—18 in the fourth quarter alone—on 16-of-23 shooting.
The onus, though, doesn't fall solely on Farmar's absence. The Lakers' lack of rim protection—with Pau Gasol playing on a sprained ankle, Jordan Hill having his minutes shaved to conserve his energy and Chris Kaman out since mid-November with a bad back—has been a culprit, as well.
Kobe's not about to turn away shots in the lane. Nor can Bryant be expected to seal off the perimeter in any meaningful way. Frankly, the guy hasn't been a factor on that end of the floor for several years now—and isn't likely to be that guy again, with his 35-year-old frame and a torn Achilles barely in his rearview.
What Bryant can do, though, is spark the Lakers offense with more than just his scoring. The absences of Farmar and Steve Nash—the latter on account of nerve root irritation in his back—have left L.A. woefully thin at the point. Steve Blake has done an admirable job at that spot (10 assists against four turnovers on Tuesday), but beyond him, the Lakers have had to turn to natural wing scorers like Young and Henry to orchestrate the offense.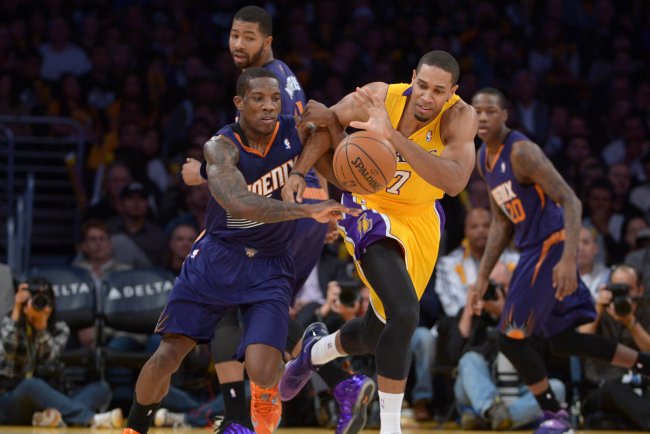 Kirby Lee-USA TODAY Sports
Kobe is anything but a natural point guard, though he's proven in the not-so-distant past that he can serve as a facilitator if need be. Say what you want about Bryant being a "ball hog," but there's no discounting the 32 occasions on which he tallied seven or more assists last season, including back-to-back 14-dime days in late January.
The Mamba tried to dish to his teammates against Toronto, only to see his passes deflected and/or intercepted more often than not. To be fair, his timing was off after nearly eight months away from the game, he was playing alongside a brand-new cast of characters, and, well, some of the windows into which he was attempting to fit a number of his passes were just too slim.
But Bryant is nothing if not adaptable. He grew up idolizing Magic Johnson and has been able to emulate his childhood hero and fellow Lakers icon when called upon to do so.
At this point, that may be L.A.'s best bet for staying afloat in the crowded Western Conference. If the Lakers can properly recalibrate their roles to afford Bryant more time on the ball, he might be better able to create open looks for their fleet of three-point shooters, with Blake rejoining their ranks.
Still, scoring isn't the Lakers' biggest problem right now. Just take it from Hill, who cobbled together 13 points and seven rebounds in 19 minutes off the bench against the Suns (via Mark G. Medina of the Los Angeles Daily News):
Jordan Hill: "We're going to score at will. Nobody's going to stop us from scoring. We have to focus on our defense more"

— Mark Medina (@MarkG_Medina) December 11, 2013
Bryant's more-than-occasional inattentiveness and lack of lateral quickness won't make things any easier for the Lakers on that end of the floor. On the whole, Kobe's mere presence only ups the ante for the Purple and Gold, who can no longer simply enjoy their wins as surprises and explain away their losses as "Well, we didn't have Kobe."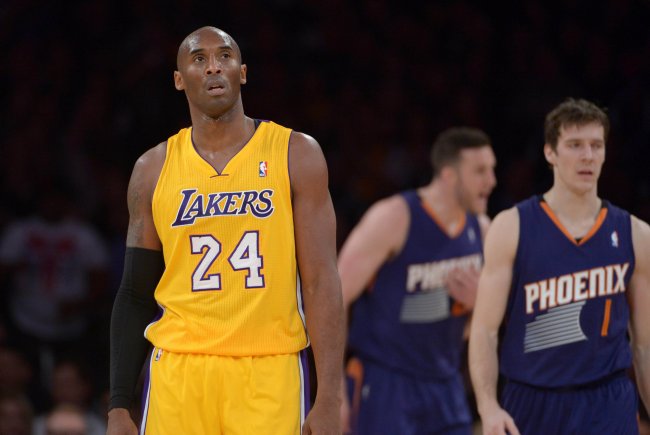 Kirby Lee-USA TODAY Sports
Kobe's return has shifted the team's expectations considerably. Now, the Lakers are supposed to beat teams like Toronto and Phoenix at home. They're supposed to win often enough to qualify for the postseason. Those are the expectations to which this team aspires and the standards to which this franchise holds itself, especially with Bryant back on the prowl.
Which problem is hurting the Lakers the most right now?
To that end, the Lakers had better get their act together quickly, lest they lose touch with the top eight in the West and sink squarely into lottery territory. They'll play seven of their next nine games on the road, where the Lakers are 4-5, with the lone home games in that stretch coming against the Minnesota Timberwolves on Dec. 20 and opposite the Miami Heat on Christmas Day.
By the end of the year, the Lakers could find themselves well back of the Suns, who currently occupy the eighth playoff spot out West, and needing to leapfrog the likes of the T-Wolves, the Memphis Grizzlies and the Golden State Warriors just to get back into the conversation.
It's all well and good that Kobe's getting better by the day and that he could look much more like his old self in the weeks and months to come. But if the Lakers are to make something of this strange season, they'll need to keep their fingers crossed that their contingent of injured contributors heals up in a hurry, and that those fit enough to play pick up the slack.
Which of the Lakers' current shortcomings is most glaring? Let me know on Twitter!