The bad news for the Minnesota Vikings didn't end as the final seconds ticked off the clock in Baltimore with their 29-26 loss to the Ravens, it continued with the injury updates as the week progressed.
This week, the Vikings host the Philadelphia Eagles with a depleted roster. They will be without running back Adrian Peterson, who suffered a foot sprain, and backup Toby Gerhart, who had 89 yards on 15 carries, is nursing a strained hamstring. That could mean that third-stringer Matt Asiata will get his first carry of the season.
#ESPN Peterson aims to practice Friday; Cassel QB http://t.co/EQosHK0jSr

— NFL x Kibow (@NFLKibow) December 11, 2013
Also out for the game is rookie cornerback Xavier Rhodes, who suffered a sprained ankle in the game. Rhodes has played very well since having the chance to start in Josh Robinson's place. He leads the Vikings with 10 passes defended this season.
After winning only three of their first eight games, the Eagles are on a five-game winning streak. They have a one-game lead over the Dallas Cowboys in the NFC East, and with a Week 17 match looming in Dallas, the Eagles are not in a position to overlook the Vikings.
Fortunately for Minnesota, all of the injuries have caught up with the poor performance, and now with nothing to play for, they have a built in excuse if the team does not do well on Sunday.
It's an interesting battle between head coaches. Chip Kelly has brought his fast-paced offense from the University of Oregon to Philadelphia in his first year as an NFL coach. Leslie Frazier brings a 19-31-1 record in his third full season as head coach of the Vikings—most likely his last.
According to Yahoo Sports, the Eagles are an early 4.5-point favorite. That seems kind considering the condition of the Vikings' running game.
When the Eagles Have the Ball
The Vikings defense is down to just three healthy cornerbacks, including Shaun Prater, who the Vikings claimed off waivers from the Eagles in October. According to Pro Football Focus (subscription required), Prater has only played one defensive snap this season for the Vikings.
On a positive note, safety Harrison Smith is expected to be activated and available to play on Sunday against the Eagles.
Safety Harrison Smith expected to be activated from IR, play Sunday #Vikings (via the 1500 ESPN SportsWire) http://t.co/GjBT4eCouK

— 1500 ESPN (@1500ESPN) December 11, 2013
According to Ben Goessling of ESPN, due to the fast pace that Philadelphia runs their offense, look for the Vikings to ease Smith slowly back into action.
The Philadelphia Eagles on Offense

| | | | | | |
| --- | --- | --- | --- | --- | --- |
| | Rushing Yds/Game | Rank | Pass Yds/Game | Rank | Scoring Avg |
| Eagles Offense | 157.7 | 1st | 251.7 | 13th | 25.7 pts |
| Vikings Defense | 118.9 | 23rd | 282.3 | 30th | 30.4 pts |
Stat Milk
Unfortunately for the Vikings, there may not be an advantage to playing in the Metrodome this week. Philadelphia is one of only four teams in the NFC with a winning record on the road. At 5-1, they are tied with Kansas City with the best road-record in the NFL.
Their only loss came in Denver, when Peyton Manning and the Broncos whipped the Eagles, 52-20.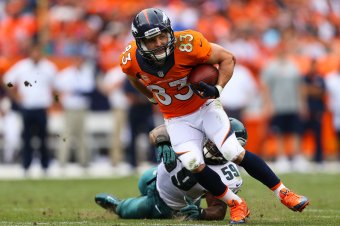 Justin Edmonds/Getty Images
The Eagles have averaged 25.7 points per game, but on the road, they average 32.7 points per game—a whole touchdown better. This does not bode well for a defense that allows an average of 30.4 points per game—ranked 31st in the league.
Philadelphia has the top-ranked rushing offense, with 157.7 yards per game. The Vikings defense has had mixed results when facing top running teams. In their five games against teams ranked seventh or higher this season, they are 1-3-1.
Minnesota Vikings Rushing Defense vs. Top Teams

| | | | | | |
| --- | --- | --- | --- | --- | --- |
| Opponent | Week | Rank | Yards/Game | vs. Vikings | Result |
| Carolina Panthers | 6 | 7th | 137.0 | 131 | Lost |
| Green Bay Packers | 8 | 6th | 134.7 | 182 | Lost |
| Washington Redskins | 10 | 5th | 146.3 | 191 | Win |
| Seattle Seahawks | 11 | 1st | 153.4 | 93 | Lost |
| Green Bay Packers | 12 | 6th | 134.3 | 196 | Tie |
Stat Milk /Pro Football Reference
There's no clear cut correlation between their only win, when they allowed the Redskins to rush for 191 yards, and their biggest loss, when Seattle rushed for only 93 yards.
The problem is if the Vikings shutdown the Eagles' running game, it plays right into the hands of the NFL's highest rated quarterback.
Howard Smith-USA TODAY Sports
Nick Foles leads the NFL with a 120 passer rating. He has thrown 20 touchdowns this season with only one interception. This doubly plays into Foles' hands considering the Vikings defense ranks last in the NFL with 29 touchdown passes. It gets even worse when you consider that they will be without Rhodes, who had emerged as their best defender against the pass over the past few weeks.
With the fast pace that the Eagles like to play, the Vikings will most likely start with an extra defensive back and one less linebacker. Therefore, it will be very important for Jared Allen and the defensive line to put pressure on Foles without having to blitz a linebacker or defensive back.
The Vikings will also need to come up with some turnovers like they did last week with three interceptions against quarterback Joe Flacco. Every possession the defense can come off the field without allowing any points will be a huge win for the Vikings.
One stat that may look to work on the Vikings' favor is time of possession. Minnesota's defense ranks 31st in the NFL in time of possession—only Philadelphia's defense has been on the field longer. That's not because Philadelphia's defense is so bad, but because the offense doesn't take long to score.
Against this team, the Vikings' best defense will be their offense.
When the Vikings Have the Ball.
Quarterback Matt Cassel will make his fourth start of the season, despite the fact that Christian Ponder passed his concussion protocol. Perhaps, it's because of his lack of pocket presence, as pointed out in a tweet by Brian Hall.
Christian Ponder's sack percentage is 10.2 percent this season. Cassel is at 3.6 percent

— Brian Hall (@MNBrianHall) December 11, 2013
Perhaps, Cassel can continue his proficient passing performance for one more week. Last week against the 20th-ranked Ravens pass defense and under some tough weather conditions, Cassel finished with 265 passing yards on 17-of-38 passing with two touchdowns and no interceptions.
When the Minnesota Vikings Have the Ball

| | | | | | |
| --- | --- | --- | --- | --- | --- |
| | Rushing Yds/Game | Rank | Pass Yds/Game | Rank | Scoring Avg |
| Vikings Offense | 131.3 | 7th | 214.8 | 22nd | 24.2 |
| Eagles Defense | 112.8 | 15th | 285.3 | 31st | 23.2 |
Stat Milk
Facing a statistically worse defense and under the temperature-controlled conditions of the Metrodome, Cassel should have a good game. With tight end John Carlson questionable with a concussion, that may force the Vikings to use three wide receivers more often and give rookie Cordarrelle Patterson the chance to continue to shine.
Against the Ravens, Patterson had five receptions for 141 yards, including a 79-yard touchdown on a screen pass that gave the Vikings a 26-22 lead with less than a minute left in the game.
In the previous game against the Bears, Patterson had his first rushing touchdown of the season on a 33-yard run when he lined up in the backfield. If the Vikings had used him more in the beginning of the season, perhaps they would be playing for the division title instead of a top draft pick.
Another first from the Ravens' game was wide receiver Jerome Simpson's first touchdown as a Viking. While with the Bengals, Simpson had seven touchdowns on 71 receptions—that was a touchdown for every 10.1 receptions. As a starter for the Vikings, he finally got his first after 69 receptions; he has a lot of catching up to do in order to be as effective as he was in Cincinnati.
The Vikings should have wide receivers Patterson, Simpson and Greg Jennings on the field as much as possible. Jennings leads the Vikings with 48 receptions and is tied with tight end Kyle Rudolph with three touchdowns—Rudolph has not played since Week 9 in Dallas.
If Gerhart is able to play on Sunday, the Vikings would be wise to incorporate him into the passing game as well. Gerhart has 13 receptions while only playing in 197 offensive snaps this season. He has averaged 6.8 yards per reception. Compare that to Peterson, who has 28 receptions, but he has been on the field for 658 offensive plays. His average per catch is 6.0 yards.
Gerhart has been an effective runner in place of Peterson. He is averaging 7.9 yards per carry. His 41-yard touchdown run gave the Vikings a 19-15 lead with under two minutes left in the game.
The problem is that emphasizing the passing game might just move the Vikings offense down the field a little too quickly—and as we saw in the final minute of last week's game, even a minute is too much time for the Vikings defense.
With the way the Eagles like to push the tempo on offense, in order to win, the Vikings offense will need to have the ball as time expires.