Get To Know Your 2009 Green Bay Packers Front Office and Coaching Staff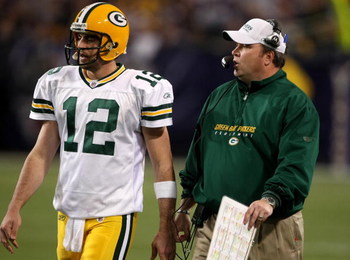 Meet the four most important and intriguing people that are already playing a huge role in preparing the 2009-10 Packers for the upcoming season. These are the people you will love if things go right and curse if the season is not so great.
Without further ado, your 2009-10 coaching staff and general manager!
Ted Thompson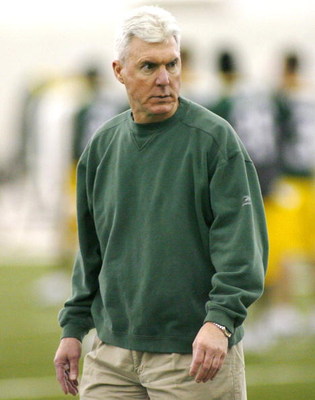 After being one of the major characters in the 2008 offseason, Ted Thompson has avoided the spotlight in 2009.
That is good news for Packers fans because this season is the most important of his five years as general manager.
Besides the emergence of Aaron Rodgers, everything else went horribly wrong in 2008. Thompson's style of building through the draft seemed to produce a young, undiciplined team. The blockbuster trade of Brett Favre only netted the team a third round draft pick, even though Favre's Jets outperformed the Packers.
A protege of famous Green Bay GM Ron Wolf, another poor season would be very disappointing for someone intrumental in the Packers' success in the 1990s. His work with the personell department during that period brought in fan favorites like Reggie White and Desmond Howard.
In 2000 he took a position in Mike Holmgren's Seattle Seahawks front office. As vice president of football operations he was one of the major decision makers that put together the Seattle team that appeared in Super Bowl XL.
With a track record of success, Thompson is at a crossroads. Another losing season and he will have some tough decisions to make about the future of his coaching staff.
He will also force Packers president Mike Murphy to evalutate his status with the team.
Of course a 2009 playoff run would go a long way towards repairing the public relations damage done during the 2008 Favre saga. It would also prove his strategy of building through the draft as effective.
It will be put to the extreme test this season with the switch to the 3-4 defense. Without any big name free agent signings, the pressure will be squarely on Thompson's draft picks (five of eight were defensive).
Will he succeed? It is unclear at this point but his track record definitely gives him a fighting chance.
Mike McCarthy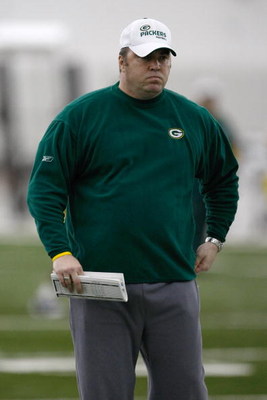 Many thought that McCarthy took a step back as a head coach in 2008. Under microscopic scrutiny, the team failed in close games and had its longest losing streak in 18 years (5 games).
The Packers also led the league in penalty yardage after coming in second in 2007.
On the bright side, McCarthy has proven his reputation as one of the bright offensive minds in the league. He called the plays for the fifth highest scoring offense in the league and was pivotal in the development of Aaron Rodgers.
He and offensive coordinator Joe Philbin should receive credit for maintaining a high-level offense after replacing a hall of fame quarterback with a first year starter.
McCarthy was a surprise decision when the Packers announced his hiring in 2006. Before becoming the Packers' head coach, McCarthy was known around the league as a West Coast offense savant with the knack for developing young quarterbacks.
With a previous stop in Green Bay, McCarthy also proved himself in Pittsburgh, New Orleans, and San Francisco.
Ironically, what will ultimately define McCarthy's tenure with the Packers will be his ability to fix a defense.
The hiring of new defensive coordinator Dom Capers should help, but if the Packers finish below .500 again look for McCarthy to land squarely on the hot seat.
Dom Capers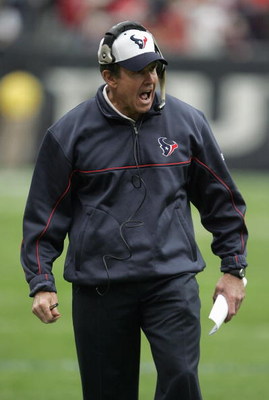 If there was a lifetime achievement award for NFL journeyman coaches, Dom Capers would be a recipient.
The new Packers defensive coordinator served on the coaching staffs of seven teams in his career, twice as a head coach.
Capers never experienced long term success as a head coach, and as a result returned to the assistant coaching ranks last year with the New England Patriots. He is known for a good defensive mind, especially his knowlege of the 3-4 defense.
McCarthy now turns to Capers to implement his vaunted scheme and turn around a defense that gave up the 20th most yards in 2008.
His task will be to rebuild a front seven that was hurt by injuries and just plain ineffective for most of the season.
How quickly he can get players like A.J. Hawk, Nick Barnett, and Aaron Kampman to buy into his system will play a major role in how far the Packers can go.
Having helmed two expansion teams in his career, look for Capers to go young early in the season. First round picks DT B.J. Raji and OLB Clay Matthew should get plenty of opportunites to show their talent in 2009.
Joe Philbin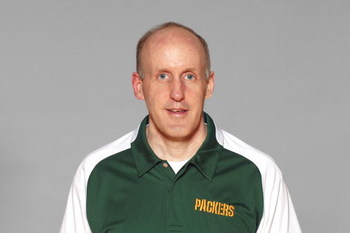 Casual fans may not recognize his name, but offensive coordinator Philbin has the longest tenure with the Packers of any of the top decision makers. He has been with Green Bay for seven years.
Also notable, he is easily the best on the staff at not changing facial expressions. Check his mug shots from the past three years.
More importantly, Philbin has been influential in developing the strong offensive foundation of the Packers. After being promoted by McCarthy in early 2007, he has preside over offenses that ranked second and fifth, respectively, in points scored.
While much of the credit and attention has gone to McCarthy, who calls most the plays, Philbin has been able to maintain production while going through a tumultous quarterback change.
Philbin's primary area of expertise is offensive line. This has meshed well with McCarthy's knowlege of passing, as Philbin can focus on the line and running game of the team.
The offensive line did take a step back last year, though. It allowed 34 sacks in 2008, the most during his time with the team.
He was originally hired by the packers as an assistant offensive line coach in 2003 and promoted to offensive line coach in 2006.
Before the Packers Philbin spent 19 years in the college ranks.
Keep Reading

Green Bay Packers: Like this team?