After eight agonizing months, Los Angeles Lakers fans finally got their wish as 15-time All-Star Kobe Bryant was back on the NBA hardwood Sunday.
Only, the return never really matched the pregame hype. Bryant looked like a 35-year-old that hadn't played an NBA game for nearly a year.
Because that's who he is. That's precisely what happened. And that's probably how he'll continue to look as he attempts to shake off eight months of rust and ward off the still-undefeated Father Time in his climb back up the NBA rankings.
Forget the superhuman efforts he's shown in the past; Bryant bleeds red just like the rest of us. His injury was serious. His road to recovery remains a steep uphill hike.
Those next-level efforts may still be in the cards. For now, though, there are smaller, more pressing challenges for the former MVP to overcome.
Finding a Rhythm
Count Bryant among the many who were less than impressed by his 2013-14 debut. Clearly, this wasn't the introduction he'd envisioned.
His Lakers suffered a 106-94 loss to the undermanned Toronto Raptors. Vino labored his way to nine points on 2-of-8 shooting. He looked to establish himself as a distributor, but that experiment quickly went awry (four assists against eight turnovers in 28 minutes).
Moments of brilliance weren't entirely absent, but they did come few and far between.
He held no punches in his self-assessment, stamping an "F" for his individual game grade, via ESPN L.A.'s Dave McMenamin. While every player returning from serious injury struggles to jump back in to game speed, Bryant's challenge was magnified by the number of new faces around him.
If anyone thought the need for patience stopped upon his return, it's time to think again.
"My rhythm is completely out of sync in terms of being able to read passing lanes and judge the timing of players in between those lanes and so forth," Bryant said, via McMenamin.
Bryant is being forced to learn the tendencies of his new teammates on the fly. He's discovering where shooters like to get their shots, which players can create off the dribble and which ones (cough, Nick Young, cough) should never have the opportunity to do so:
Nick Young predicts his failed 360 will appear on Shaqtin a Fool

— Mark Medina (@MarkG_Medina) December 9, 2013
Remember, this is about more than Bryant simply testing the new limits of his surgically repaired frame.
He's also undertaking this experiment with the pressures of stabilizing the point guard spot. With Steve Nash (back) and Jordan Farmar (hamstring) both removed from the rotation, Bryant's an 18-year veteran trying to learn new tracks along a new cast of characters.
That challenge is daunting, but one that he naturally takes in stride.
"The exciting part is you've got a challenge, and you've got some improvements to make," he said, via B/R's own Kevin Ding.
And, no, it wasn't the disaster that Bryant initially saw:
After a thorough video review of his debut, Kobe said today his timing was off but "it wasn't as bad as I thought it was."

— KEVIN DING (@KevinDing) December 9, 2013
He has since upgraded that assessment to a "D," via Mike Bresnahan and Melissa Rohlin of the Los Angeles Times, which still leaves him well short of the savior status he's typically held, but should silence any sirens a 28-minute performance could sound.
He needs to clean up his game, and he knows it. But you're talking about one of the league's all-time great scorers, who's now being asked to create for teammates that he doesn't even know yet. All while wiping of the dust left over from these past eight months, no less.
The transition period is sure to be rocky. But he's a smart enough player to correct these turnover woes, which is the first step in the Mamba's real return.
Becoming One of the Guys

Just as Bryant needs to adjust to his teammates, those players have their own challenge lying ahead.
The Lakers found mild success (a 10-9 start) by adopting a forum-blue-collar identity without their brightest star.
Jodie Meeks left his three-point-specialist days behind him—regardless what his 46.9 three-point percentage suggests—by relentlessly attacking the basket. Wesley Johnson and Xavier Henry played more like long-shot scrappers than former lottery picks and suddenly their numbers started to back up their draft spots (8.4 points, 44.6 three-point percentage and 9.3, 47.1, respectively).
Jordan Hill showed that bigs can be successful in Mike D'Antoni's offense (15.0 points and 14.2 rebounds per 36 minutes) without a semblance of an outside stroke.
Yet, that identity was lost when Bryant returned to the floor. And that had nothing to do with the Mamba trying to steal that spotlight or exorcise those preseason demons.
Frankly, it had nothing to do with him at all.
It was as if those blue-collar ballers forgot their lunch pails Sunday. Or they at least left them on the sidelines when Bryant was in the game.
His teammates played as if they were waiting for Bryant to make his move. Like the 35-year-old might actually bury the Raptors with another 81-point performance.
Some had feared this would happen. But too many tried to pin the blame on Bryant, that he might get a little shot-happy and not make the most of the weapons around him.
Obviously, Bryant's willing to take the blame for his missteps. But this was not his fault, as D'Antoni pointed out after the game, via ESPN L.A.'s Arash Markazi:
The biggest thing we have to guard against is standing around and watching him play. It's like sometimes when you go to an all-star game and you're with someone haven't played with and you sit there and watch them and you don't really get it into. We can't afford to have Nick Young take a step backwards and Wesley Johnson. They've got to take a step forward and bring their egos to the game. They're good players and they can't take a back seat to anybody.
Bryant's had some legendary feuds with teammates before. Those players (Shaquille O'Neal, Dwight Howard) were superstars; these Lakers are not.
It's only natural that this group would be walking on eggshells the first time it really ran with the Mamba. But that doesn't make it any more forgivable.
If Bryant can ever regain his form, he'll need his teammates to act like, well, teammates, and not just fans with a great view of the action.
Removing All Baggage
There are both literal and figurative senses to this step.
First off, Bryant's body looks far from game shape. He never really tested his explosiveness, so it's hard to pin that problem entirely on his Achilles.
Off the eye test alone, he appeared to missing a step. Or two or three.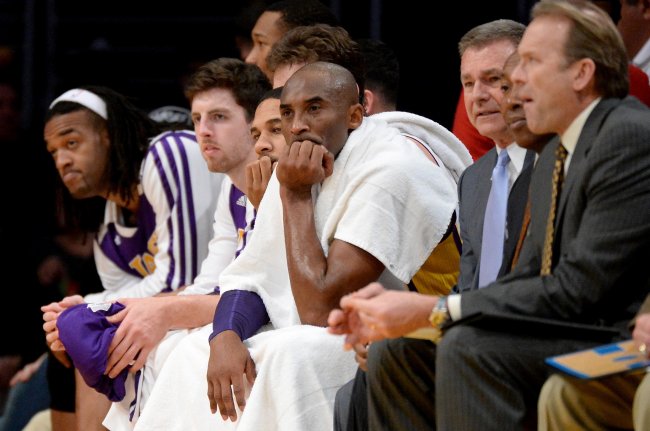 Harry How/Getty Images
Part of that battle is physical.
"I feel like after playing the game, I need to drop some more (weight)," he said, via Ding.
But there's a mental part of the process as well, finding a comfort with his body that just isn't there yet.
"The shot feels weird," he said, per Ding. "Running and cutting and being able to explode feel weird."
That confidence, that return to normalcy can be elusive. That was the one hurdle Derrick Rose never could clear in his return-that-wasn't last season.
This comfort zone can only be reached through time. Its arrival might not even be evident unless Bryant decides to tell us all that it's here.
The last layer of his short-term recovery, though, might prove to be the most challenging.
In order for him to successfully climb his way back up the superstar ladder, he'll have to forget about all of the critics that say he can't make it. That doesn't mean forgiveness—this is Kobe Bryant after all—but it does mean playing without something to prove for a while.
Even his most ardent supporters didn't expect to see the old Bryant on day one. OK, maybe some of them did:
But they shouldn't have made that mistake. No matter how long they've waited for that moment.
Just like Bryant shouldn't make the mistake of already trying to prove those detractors wrong. No matter how far under his skin they've already made it.
What number did you find most encouraging in Bryant's debut?
This might be the hardest part of his grind, worse even than the grueling rehab sessions that brought him this far. There's no time to start painting the big picture; he has plenty of baby steps to take first.
Cutting down his turnovers is clearly his first hurdle. Then, he can figure out how big of an offensive slice to leave himself. His teammates have to play their parts, not as moral supporters but as the ones converting the chances he creates and keeping opposing defenses honest.
It's still too early for even statistical measuring sticks. There is no countdown to his first 20-point performance.
Right now, he has to choose his battles wisely. And although it may work against every fiber of his being, that means avoiding the fight he's been waiting to make all summer.
He doesn't have to be the Black Mamba just yet. He doesn't need to post the box scores of seasons past.
The Lakers just need him to be Kobe Bryant—ruthless competitor, savvy player and fiery leader. The rest will eventually fall into place.
*Unless otherwise noted, statistics used courtesy of NBA.com.