Final 2013 Regular-Season College Football Conference Power Rankings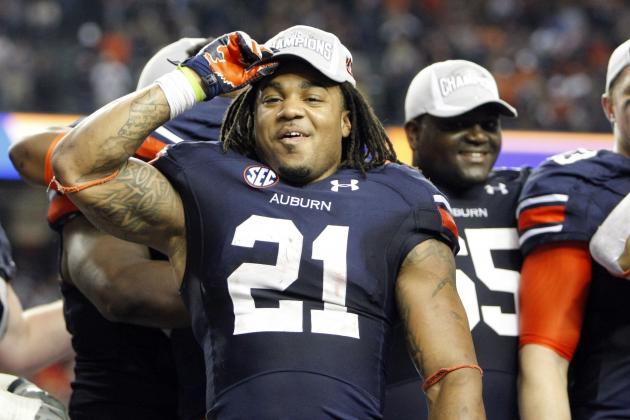 Brett Davis-USA TODAY Sports

The regular season is over—save one final game between Army and Navy this weekend—and the bowl schedule has officially been set. The stretch run for the 2013 college football campaign is in full go.
When grading the FBS conferences at this juncture, there are plenty of criteria to use. But some are quite misleading. The Pac-12, for example, has enjoyed a fabulous season, but it's the only power conference without multiple teams in a BCS bowl.
How heavily should that weigh?
These rankings comprise of a season-long body of work, which means they might not change dramatically after bowl season. There's only so much a postseason record can tell us when the Big Ten plays the SEC three times, but the Pac-12 avoids it entirely.
So yes, this situation is fluid; depending on what happens this postseason, every spot is up for debate and examination. But this end-of-regular-season edition of the rankings is pretty important in its own right too.
Begin Slideshow

»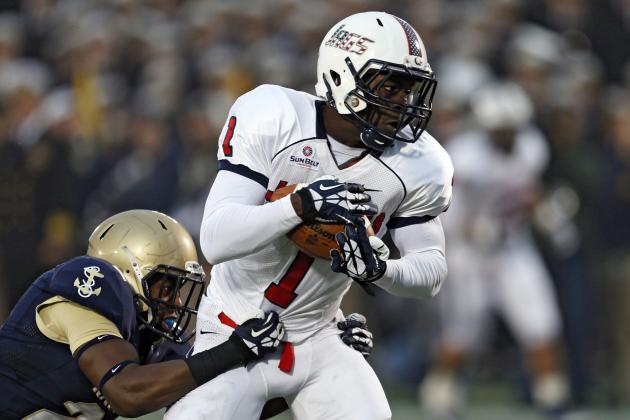 Mitch Stringer-USA TODAY Sports

Seven of eight Sun Belt teams qualified for the postseason this year, with every team besides woeful Georgia Southern winning at least six games. But only two of those teams are going bowling.
That says all you need to know about the quality of play in the Sun Belt. Parity was alive and well in America's worst conference, which is great, but nobody wants to pay to see these teams play.
The Sun Belt never recovered from the loss of North Texas and Middle Tennessee to conference re-alignment, though, young FBS squad South Alabama was a pleasant surprise in 2013.
Conference champion Louisiana-Lafayette will play Tulane in the New Orleans Bowl, and Arkansas State will play Ball State in the GoDaddy Bowl. Both Sun Belt bowl teams are favored to lose by roughly a touchdown.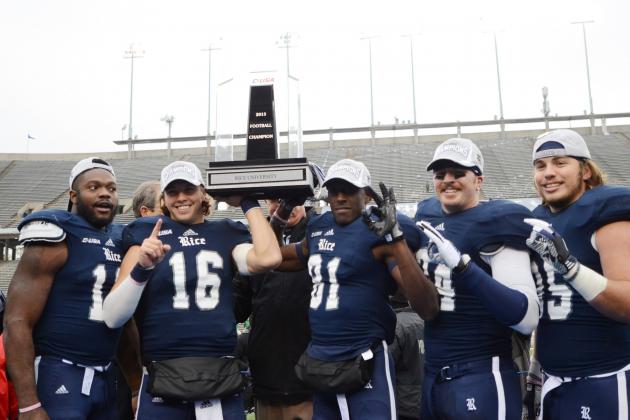 Brendan Maloney-USA TODAY Sports

Just like the Sun Belt, C-USA had seven teams qualify for the postseason this year (since 7-5 UTSA is in an FBS transition year). But in stark contrast to the one league it's ranked ahead of, C-USA had six of those teams accept bowl invites, with only Florida Atlantic left at home.
Rice won the conference championship over Marshall on Saturday, advancing to the Liberty Bowl for a shot to unseat an SEC team in Mississippi State. The Thundering Herd head to the Military Bowl for a chance to beat their third ACC team of the season in Maryland, while East Carolina, Tulane, North Texas and Middle Tennessee all face beatable opponents this postseason.
These next few weeks will be of utmost importance to C-USA's reputation, especially in a year the conference believes was a turning point in its development. Should those teams perform well, this league could easily move up a few spots in the final 2013 rankings.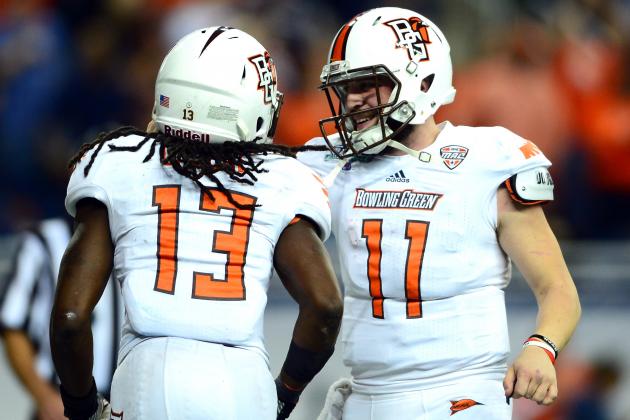 Andrew Weber-USA TODAY Sports

Bowling Green sabotaged the conference by beating Northern Illinois in the championship game, preventing the Huskies from representing MAC football in a BCS bowl for the second consecutive season.
But in truth, the Falcons might have done their league a favor. As good as Jordan Lynch might be, NIU is nowhere near a BCS-caliber team—no MAC fan needs to see it get embarrassed on a national stage. That would only hurt the conference.
Also hurting the conference might be the exclusion of Toledo from postseason play. The Rockets have wins over Navy, Bowling Green and Buffalo this season, but a late-season loss to Akron made Ohio a more attractive option for the Beef O'Brady's Bowl St. Petersburg.
The Bobcats have been blown out on numerous occasions this year, and East Carolina has the firepower to add to that number. That would not reflect well on MAC football.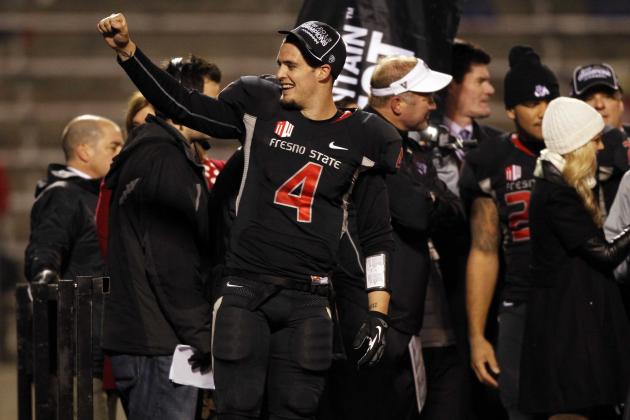 Cary Edmondson-USA TODAY Sports

Fresno State came crashing down to Earth against San Jose State a couple of weeks ago—a team that lost to Nevada by 22 points. Clearly, this league did not have any true BCS contenders.
All in all, 2013 was a rough one for the traditionally proud Mountain West Conference. Utah State was a nice addition, but the Aggies season was indelibly marred by the injury to Chuckie Keeton. If not for his absence, the MWC might have had the best trio of quarterbacks—Keeton along with Derek Carr and David Fales—in the country.
That includes the SEC and Pac-12.
Still, the fate of the Mountain West this past decade has always been defined by Boise State, and that program hit unforeseen lows this season. In addition to losing fewer than nine games for the first time since 2001, Chris Petersen bolted the state of Idaho and accepted a job at Washington—the team that blew out the Broncos in Week 1 of the season.
Sell your MWC stock quickly.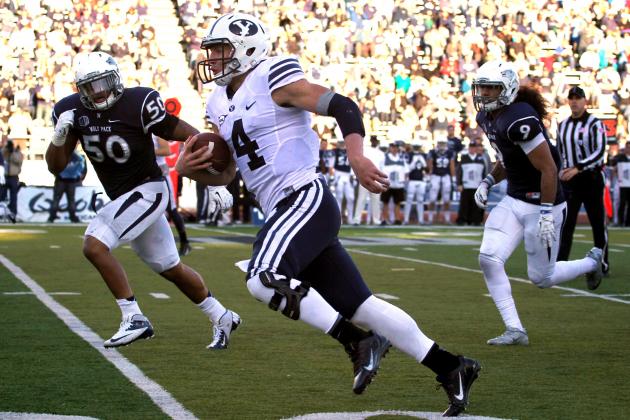 Lance Iversen/USA TODAY Sports

The Independents were weighed down by a couple of Western Athletic Conference cast-offs this year, taking on the burden of Idaho and New Mexico State, which combined to go 3-21. The non-league also took on FBS newcomer Old Dominion, which went 8-4 against mostly FCS schools but also embarrassed the Independents by getting mercy-ruled at North Carolina.
Still, the three teams atop the Independent "conference" have held steady all season, despite some slight regression from Notre Dame. The Irish have beaten Michigan State, Arizona State and USC this season; BYU rushed for a billion yards at Texas and reached eight wins; and Navy continues to be one of the pluckiest programs in America—a team you never want to see on the schedule.
That trio makes up such a massive proportion of the Independents, giving it the edge of leagues like the MWC and MAC, which are anchored by too much mediocrity toward the bottom.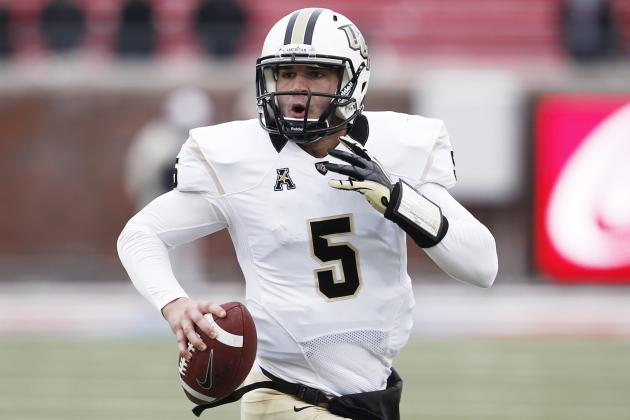 Jim Cowsert-USA TODAY Sports

The AAC has been pushed around and criticized this season, and much of it has been on its own accord. With teams like USF, UMass and Connecticut in the fold, it's hard to defend yourself as an automatic-qualifier to the BCS.
But the first-year conference has a chance to make a statement this postseason. Its four best teams—UCF, Louisville, Houston and Cincinnati—are all playing winnable games against respected competition from true power conferences. Going 3-1 (or better) in those games would make a very big statement.
Especially for the Golden Knights, who play Baylor in the Fiesta Bowl, this postseason presents an opportunity to put AAC football on the map. Louisville is bolting for the ACC next season, so as nice as its win over Miami would be, that has little to do with the American's future.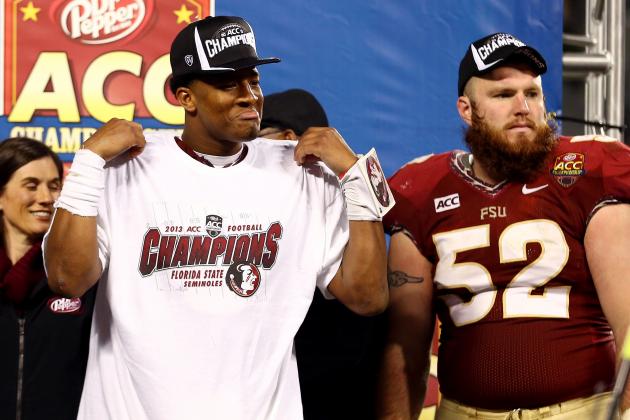 Streeter Lecka/Getty Images

Florida State is good, really good—maybe even historically good. There's no shame in a conference that allows them to blow out every opponent; after the Seminoles play Auburn, there's a chance they go down as one of the best college teams ever.
There is some shame, however, in Duke winning one of your divisions. The Blue Devils are a heartwarming story and they certainly aren't a bad team—they just aren't a team that should stand between an opponent and the national title game during conference championship week. That's not how elite leagues function.
Still, the ACC has a few interesting bowl matchups that could help restore some respect. Florida State, obviously, is favored to win the national championship, while Clemson has a chance to (finally) earn a quality win over Ohio State.
Duke-Texas A&M and Miami-Louisville pit struggling ACC defenses against the presumed No. 1 quarterback in the NFL Draft (Teddy Bridgewater) and last year's Heisman Trophy winner (Johnny Manziel). If the Blue Devils and Hurricanes can somehow keep those guys in check, it would go a long way in preserving this league's integrity.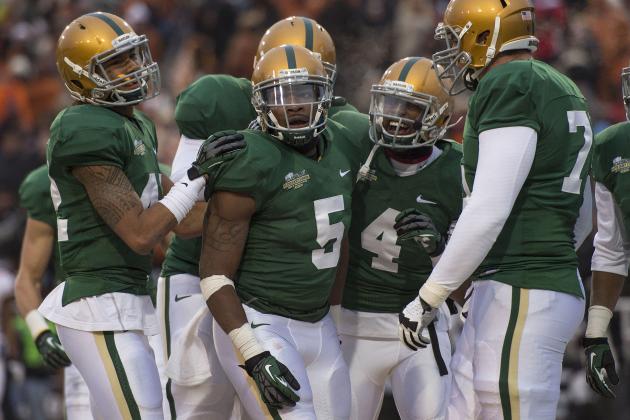 Jerome Miron-USA TODAY Sports

Because Oklahoma was able to snag the final at-large berth in the BCS, its upset win over Oklahoma State in Bedlam was actually a very good thing for the conference.
Why? It didn't cost the Big 12 a second team in a BCS bowl, which some feared might be the case, and it established the Sooners as a third legitimately good team in the conference, which some argued didn't exist for most of the season.
Still, bowl season presents some problems for this proud league. If the Big 12 finishes 3-3 this postseason, it would have to be considered a relative success.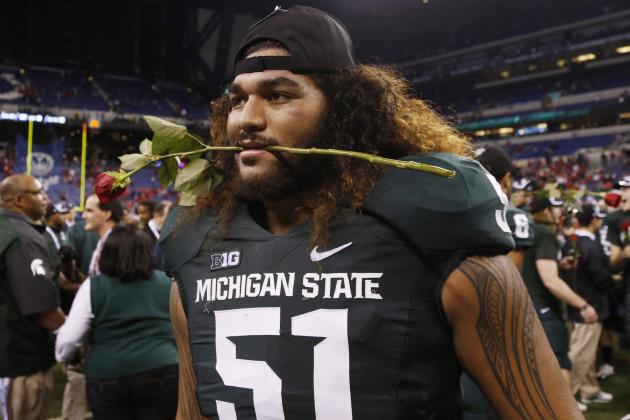 Brian Spurlock-USA TODAY Sports

Big Ten Commissioner Jim Delaney couldn't have been pleased with Michigan State's win over Ohio State. Whether he admits it or not, he had to have been secretly rooting for the Buckeyes, who would have made the BCS National Championship Game with a win.
But despite what Big Ten trolls might argue, Ohio State's loss in Indianapolis didn't showcase the weakness of this conference. Quite the contrary. Michigan State proved itself to be a legitimately great team, giving the Big Ten two of the eight best squads in America.
Bowl season will be tough (as always) for this league, which has more tie-ins against the SEC than any other conference in America. The Big Ten is constantly mocked for its shoddy bowl record, but that's often the product of playing the hardest games.
So is the case again this season, when Big Ten teams will play against Stanford, Clemson, South Carolina, LSU, Georgia, Kansas State and Syracuse. A winning record against that slate (4-3 or better) would be a nice cap to the year.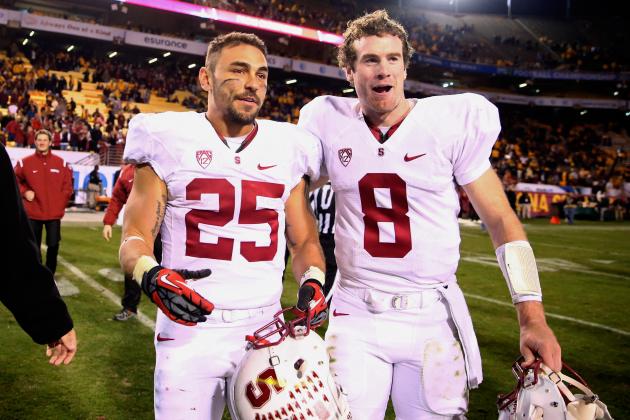 Mark J. Rebilas-USA TODAY Sports

It's hard to make peace with the top of the Pac-12 this season.
Arizona State ran roughshod over every opponent it played besides Stanford, but the Cardinal stomped it both times they played. They did the same thing to Oregon, which also got blown out by Arizona and barely beat Oregon State.
But Stanford also lost at Utah—which isn't even eligible to play in a bowl game—and USC, which is why the Pac-12 is so infuriating to judge. Are the conference's best teams overrated and flawed? Or is this league just historically deep?
It might be a little bit of both. Unfortunately, as always, the postseason won't tell us much about the Pac-12's ability, since the conference has such easy bowl tie-ins and doesn't play against the SEC.
There likely won't be any good way to settle the score between those two leagues, which have competed to be America's No. 1 conference all season. Unless the Pac-12 basically sweeps every bowl game while the SEC struggles, it's impossible to tell which is truly better.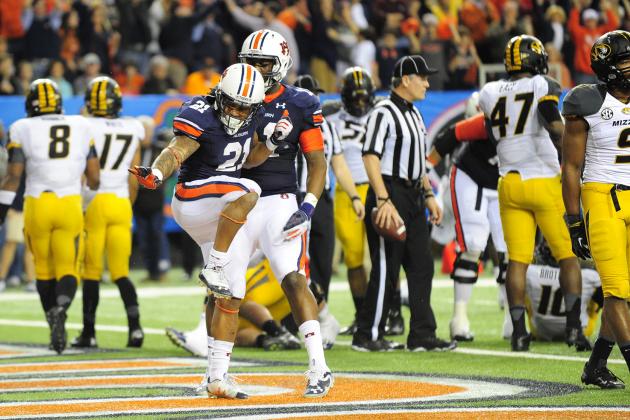 Kevin Liles-USA TODAY Sports

The SEC was not the undisputed No. 1 conference this regular season, as it had been so many consecutive regular seasons before this. But that has little to do with its own performance and much more to do with the strength of the Pac-12.
Still, bowl season has a chance to get ugly for America's most famous conference, and that would not sit well with folks in the Southeast. Starting with Auburn, there are plenty of spots for the SEC to fail during this next month.
A lot of that, though, has to do with injuries, so it would be hard to impugn the conference for not performing up to its normal standard. Who could lambaste LSU for losing without Zach Mettenberger or Georgia for losing without Aaron Murray—even against middling teams from the Big Ten, those are impossible late-season losses to cope with.
The SEC is still the SEC, which is to say that it's the best conference in America. Just do some research before picking all its teams for your bowl pool.