Todd Gurley just might be the best running back in college football. The Program thinks so.
Gurley was also recently compared to Georgia star Herschel Walker by a former Bulldog, per NFL.com.
Needless to say, Nebraska's young front seven has a lot to prepare for before the Gator Bowl on Jan. 1. The young Blackshirts have a chance to set the tone for 2014, too.
But Gurley is the only thing standing in their way.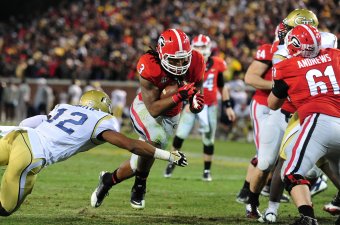 Scott Cunningham/Getty Images
In 2012, Gurley rushed for 1,385 yards as a true freshman. In 2013, despite missing October with an ankle injury, he is still poised to reach the 1,000-yard mark. He is currently 97 yards away.
That's where Nebraska's front seven comes in.
The group is young. There is no denying that. However, as 2013 progressed, the group grew stronger and stronger.
This improvement has happened without many upperclassmen to assist. In fact, the only seniors that have gotten regular work on Nebraska's front seven are defensive tackle Thad Randle and defensive end Jason Ankrah.
Randle has been dealing with injuries most of the season, which has forced the Huskers to go with two freshman, Vincent Valentine and Maliek Collins, and one sophomore, Aaron Curry, in the defensive tackle rotation.
From there, sophomores Randy Gregory and Avery Moss have stepped up at defensive end.
To highlight just how young this group is, the entire linebacker rotation will return for 2014. That list includes Zaire Anderson, Michael Rose, David Santos, Josh Banderas, Nathan Gerry and Jared Afalava.
That means the front seven has every reason to want to set the right tone for next season.
Stopping Gurley is the first step.
Will Nebraska's young front seven be able to stop Todd Gurley?
It won't be easy, either.
Gurley averages 138.6 yards per game, with 100.3 of those yards coming on the ground. In 2013, he has scored a total of 15 touchdowns, with 10 rushing and five receiving.
He will require a lot of attention from the Blackshirts. But if any group can do it, it's this one.
Throughout 2013, the defense had to step up. While the first half of the season was rough, the second half was filled with promise.
More often than not, the Blackshirts made up for the injured Nebraska offense, as reported by The Daily Nebraskan.
Specific players will be vital in preventing Gurley from running all over the Huskers.
Gregory is one of those players. With 9.5 sacks on the season for 62 yards, Gregory has shown he can stop any player if given the chance. He will have to be as efficient as ever against Gurley.
It can't just be Gregory, though. The entire front seven will have to step up.
If the group can, it will get Nebraska's offseason kicked off right.
Head coach Bo Pelini is confident about the future of the front seven, too.
"The front seven has a chance to be really special. You add those safeties coming back and the talent we have at the cornerback spot, I like where it is," Pelini said during the Gator Bowl teleconference, as reported by the Lincoln Journal Star.
The future begins at the Gator Bowl on Jan. 1. How Nebraska's young front seven handles Georgia's Gurley will say a lot about the potential of the unit.
It could also set the tone for 2014.