Randy Orton's Tension with The Authority Creates Intrigue Heading into TLC
Use your ← → (arrow) keys to browse more stories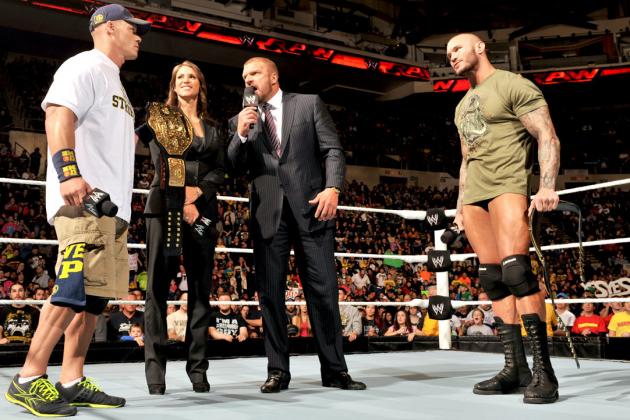 WWE.com

The Authority's shadow stretching over Randy Orton as he battles John Cena at WWE Tables, Ladders & Chairs 2013 makes that bout one that's swirling with uncertainty and intrigue.
This will be not the predictable fare that was Cena vs. Alberto Del Rio at Survivor Series. The upcoming TLC match is boosted by Monday's Raw, aided by added suspense.
Monday's Raw confirmed that this won't just be a war between two men surrounded by ladders and tables. Stephanie McMahon and Triple H will help write the final chapter of the Unified Championship match.
After the Slammys ended, after the midcarders had their shot to impress, a collection of former champions gathered in the ring for what was dubbed the Championship Ascension Ceremony. Cena and Orton hung their respective championships on a hook, the title belts to be hung ceremonially above the ring.
McMahon and Triple H once again made sure to remind us how great of a champ Triple H was.
Both Orton and Cena threw verbal jabs. The real ones followed.
In a brawl that involved Shawn Michaels, CM Punk, Triple H, Orton and Cena, McMahon ended up on her back. Orton had inadvertently bowled over the COO's wife in the chaos. He looked horrified once he realized what happened.
Triple H responded by driving Orton's head to the mat with a Pedigree.
The growing tension between them had finally escalated from simmering coals to a singeing fire.
The Authority has been Orton's greatest weapon over the last few months.
Triple H knocked out Daniel Bryan to allow Orton to first claim the WWE title from him. The Game stripped Bryan of the championship after beating Orton at Night of Champions. Triple H's regime has sent Big Show and The Shield to protect Orton.
That is no longer something The Viper can rely on. As much as Triple H and McMahon have pushed for Orton's success, the altercation that ended Monday's Raw shreds that mutually beneficial relationship.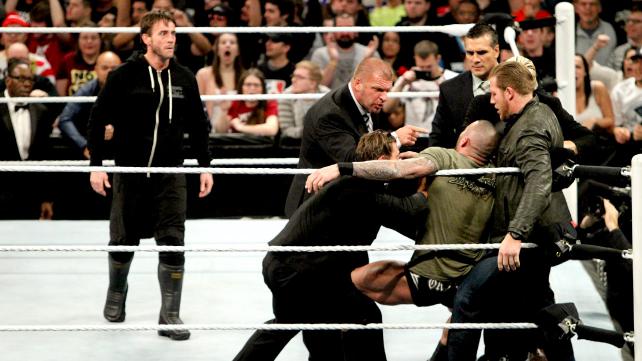 WWE.com
A lack of corporate backup potentially leaves Orton vulnerable. Otherwise, it will provide him an opportunity to prove that he doesn't need them to stay champion.
The segment succeeded because it generated a number of compelling questions going into TLC.
Will The Authority still look to assist Orton? Will that group turn on the WWE titleholder? Will Cena join Triple H and company?
The image of Cena standing side by side with The Authority while Orton looked up dazed from the mat hints at the possibility of that last scenario coming to pass.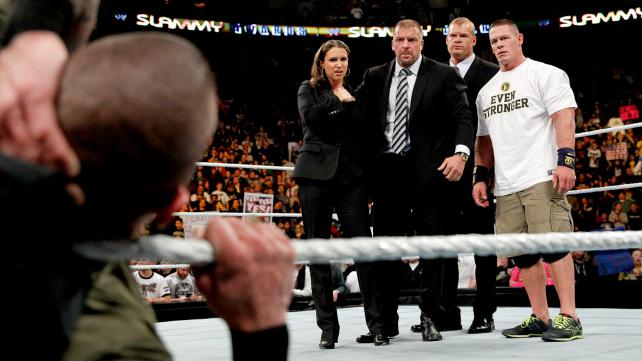 WWE.com
One could certainly argue that Bryan would have been a better fit for this huge match. The fans in Seattle, Wash., made it clear they felt that way by drowning out Orton's promo with chants of "Daniel Bryan!" It's too late to tell that story, though.
Orton and Cena are the two Superstars in line to become the unified champ. Their past animosity and the prestige of unifying the titles add plenty to the match, but the rift between Orton and The Authority elevates it.
It's harder to call how this all ends.
One theory is that WWE is playing the old misdirection card.
Cena teasing Bryan rematch + standing with authority = orton probably wins sunday with help of authority

— Seth Mates (@SethMates) December 10, 2013
Another is that Triple H will somehow walk away with both the World Heavyweight Championship and WWE Championship. After all, if he doesn't believe Orton capable of being the face of the company anymore, he may choose to play that role himself.
Don't be surprised when Triple H is WWE unified champ sooner, not later. You watch.

— Mark Madden (@MarkMaddenX) December 10, 2013
Some believe that Cena will turn heel and join forces with The Authority.
And Cena standing with The Authority :O Possible heel turn?

— Wolfe_B!+CH (@Wolfe_BOO) December 10, 2013
As unlikely as that is, just getting folks to raise those questions is a success.
The segment worked because it left fans composing scenarios like these in their heads. This is not going to be a simple case of either Wrestler A or Wrestler B winning. The climax has myriad possibilities.
There are some fans who would have ordered the pay-per-view with or without this segment, but the temptation for the rest of us has increased. The appeal of the unknown has turned up the interesting knob on TLC's biggest match.
Whether WWE comes up with a satisfying ending to this story, it has done well to build doubt going into TLC. The buzz on the Internet after Monday's Raw ended, the tingling sensation in the audience's gut, speaks to the increase of anticipation for TLC's main event.