Jose Mourinho has taken a lighthearted stab at Chelsea's defensive fortunes, suggesting his troubled back four would concede goals against training dummies in the build-up to the Blues' Champions League tie with Steaua Bucharest, as tweeted by Miguel Delaney of ESPN:
Mourinho: "At the moment, if we do defensive training against the dummies, I think the dummies will score!"

— Miguel Delaney (@MiguelDelaney) December 10, 2013
The returning boss watched on as his side fell 3-2 to Stoke in their last outing, a result that leaves Chelsea five points behind Arsenal in the Premier League.
This was the second time in three days the Chelsea defence conceded a trio of goals against inferior opposition, although the London club managed to overcome Sunderland with a 4-3 win in the previous match.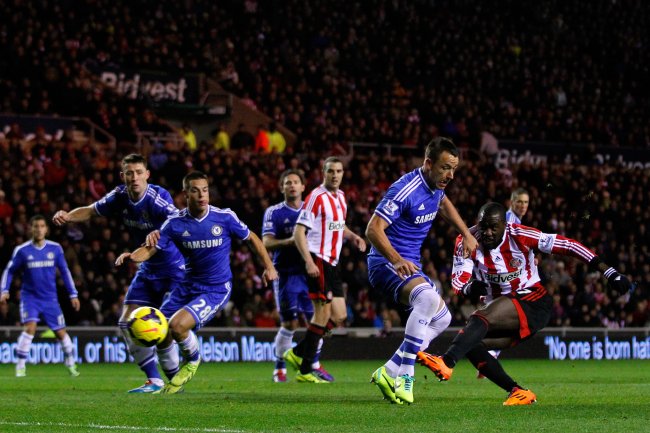 Paul Thomas/Getty Images
It was in reference to the Stadium of Light showdown that Mourinho made his quip, a match that saw Chelsea concede twice from set pieces. With Phil Bardsley's own goal counting against the Black Cats, the Europa League champions were perhaps lucky to escape Wearside with three points.
Mourinho was suggesting that luck is against Chelsea right now, and that every loose ball inside their area is finding its way to an opposition player to convert. He clarified that he did not blame his defenders.
The Portuguese was less jovial when discussing Chelsea's hopes of replicating their Champions League victory of 2011-12, citing Bayern Munich, Barcelona and Real Madrid as favourites, per Lyall Thomas of West London Sport:
Mourinho "#ChelseaFC not considered one of the favourites for #ChampionsLeague" ... Says favs are #Bayern #Barca and #RealMadrid #cfc

— Lyall Thomas (@LyallThomas) December 10, 2013
Mourinho was keen to highlight the resources of those three sides, insisting it would be wrong to compare Chelsea's European chances to the three giants of the competition.
Chelsea head into their final Champions League Group E fixture having already progressed to the round of 16.
A win would see Mourinho's men top the pile, while a late collapse—similar to those experienced in both games against Basel—wouldn't hold too many repercussions for the English side.
Either way, Mourinho will want to see an immediate defensive improvement from his side or at least an upturn in luck.