Borussia Dortmund Injury Crisis: Poor Planning or Bad Luck?
Use your ← → (arrow) keys to browse more stories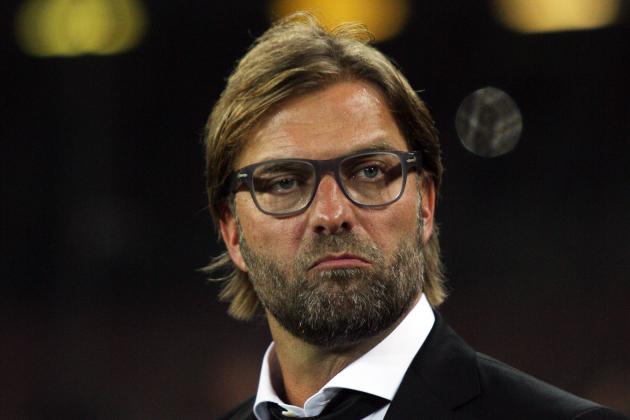 Paolo Bruno/Getty Images
Klopp has had little joy this season.
With all things considered, Borussia Dortmund are headed for the winter break in good standing. Regardless of the results of their final two games of the fall campaign they are all but assured a top-four standing in the Bundesliga at the half-way mark. They are alive and well in the DFB-Pokal and, despite some drama in Marseille, not only advanced from, but won their Champions League group ahead of Arsenal and Napoli.
Yet with just a few slight changes—a few more minutes without a goal in Marseille or away to 1860 Munich, for example—BVB could be out of the running in three competitions and in full crisis. The problem for Dortmund isn't a lack of quality in their squad, but a lack of, well, a squad. Jurgen Klopp has been unable to use his best line-up all season long as injuries have forced him to blood youngsters and field senior players out of their natural positions.
The casualty list at Dortmund is staggering: Lukasz Piszczek, Mats Hummels, Neven Subotic, Marian Sarr, Marcel Schmelzer, Sven Bender, Ilkay Gundogan, Sebastian Kehl and Henrikh Mkhitaryan have all missed a month or more due to injuries.
Beyond the injuries, Dortmund's crisis extends to overall fitness. Piszczek, Kehl and Manuel Friedrich are technically "match fit," but all three have barely played since September or earlier. They have neither the fitness nor the sharpness of form that would come with having played regularly for a month or more. The same, albeit to a lesser extent, applies to Schmelzer and Bender—both have sustained multiple injuries that have seen them each miss over a month of action.
Dortmund's chances looked bleak ahead of the Marseille match.
Others have simply played too many minutes. Nuri Sahin had played 2012 of a possible 2190 minutes this season before turning his ankle last Saturday. The German-born Turk was in fine form a month ago, but his sharpness declined as his legs grew weary. Finally given a rest in a recent match against Mainz, an injury to Sven Bender forced him to come on as a substitute after just 33 minutes. He played that match through a calf injury that sidelined him in BVB's next match.
A week after the Mainz fixture, Sahin leaped into a challenge typical of a weary player, turning his ankle in an awkward landing. He played a brilliant game against Marseille four days later, but Klopp later admitted the player was in pain.
Marco Reus has similarly suffered from a sharp dip of form. The 24-year-old has featured in all but one game for BVB and appears to be suffering from the burden of being his club's only world-class goal creator. Last season he had Mario Goetze to share the responsibility of breaking down the toughest defenses, but with Henrikh Mkhitaryan and Jakub Blaszczykowski playing only secondary roles, Reus has in 2013-14 been called upon again and again to deliver.
Kevin Grosskreutz, despite playing every minute of every game but for a 25-minute respite against Saarbruecken 10 days ago, somehow continues to play at full throttle on a regular basis. Yet his physical limit cannot be far away.
The fact that only one first-choice player among the back six outfielders was able to start on Wednesday—and he (Sahin) had to play through the pain barrier—is alarming. And it prompts the question: Have Dortmund just been unlucky, or could they have foreseen their injury crisis?
To an extent, the injury crisis Dortmund currently face was foreseeable. BVB are known for Klopp's high-energy gegenpressing system, which places tremendous physical demands on the players. Other teams like Gladbach and Freiburg have similar requirements, but do not have the extra burden of expectation in the Champions League. After their 52-game 2012/13 season, perhaps the summer break was not enough time for Dortmund to fully regenerate.
Despite having more depth in attack than last season, BVB entered the current campaign with no more options at the back than before. Fewer, in fact, considering Klopp was fully ready to do without Piszczek for the first half of the season. Depth in the full-back positions has been extraordinarily lacking in recent seasons, with Regionalliga signing Chris Loewe failing to convince as a potential deputy on the left and Oliver Kirch—signed from 2. Bundesliga-bound Kaiserslautern—not trusted as backup on the right.
Grosskreutz and Erik Durm, who was a striker at Mainz before being converted to a defender at BVB, have exceeded all expectations in backup roles but the fact that Klopp has preferred them over natural full-backs is evidence that the club aimed too low in their transfer targets.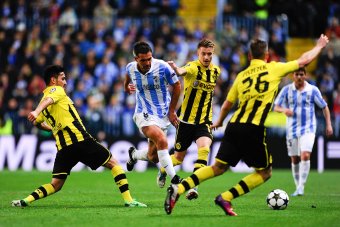 David Ramos/Getty Images
Dortmund still haven't learned their lesson, it seems, having recently signed Manuel Friedrich as emergency cover in the centre-back position. The 34-year-old looked a man half a year into his retirement in his debut against Bayern and was not selected to start in either of BVB's final two Champions League group stage fixtures. Considering that Klopp has experimented with Grosskreutz in central defense during training, one can only wonder what was the purpose of bringing in Friedrich.
There is a delicate line between success and failure and BVB have taken a bold and risky position. Rather than bringing in expensive, established players as depth and committing three or more years to their contracts, they've kept a small squad with room for promising talents like Jonas Hofmann, Marian Sarr, Koray Gunter, Marvin Ducksch and Jeremy Dudziak to fill in. It's a less expensive option that gambles on the youngsters rapidly developing to a reliable level.
To their credit, Dortmund's conservative activity in the transfer market played a major part in the club erasing its debt. The trouble is, aside from Hofmann, none of the aforementioned youngsters has been trusted to represent the club on a regular basis. The last burgeoning talent to make his way from the academy or reserves to the first team was Goetze.
BVB seem resigned to keeping their squad unchanged over the winter break, with Klopp admitting he expects no new signings in January. Selection is limited and prices are typically inflated in the mid-season market, but big clubs have in the past added depth where necessary to reach their goals.
Bayern Munich, for example, signed Luiz Gustavo in early 2011 for what at the time was an inflated value of €17 million. Although expensive, the player was reliable in three positions and proved invaluable.
Should they decline to bring in reinforcements this January, BVB will have to hope for a healthier spring. The whole squad, Neven Subotic aside, should be fit and ready to resume training in January. But if Dortmund are struck again with a blight of injuries, what once happened as a tragedy will repeat itself as a farce.