David Moyes: At What Point Will We Feel Sorry for the Manchester United Manager?
Use your ← → (arrow) keys to browse more stories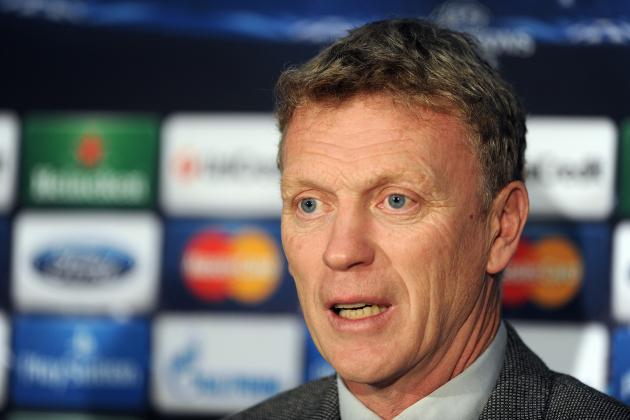 Chris Brunskill/Getty Images

It's difficult to feel sorry for a football manager. They are after all well-paid men, doing a job that many would relish, but more importantly they have chosen to do this job. The current generation of young managers played at a time when, as long as they haven't been complete idiots with money, can survive without another high-pressure job. They can do a bit of media here and there, maybe invest in something and spend the rest of the time sipping mojitos.
David Moyes doesn't quite fall into that category, but it's safe to say that on a personal level, he doesn't need the Manchester United job. On a professional level, that might be different. If nothing else, think of the boost to your ego if the best manager in British football history thinks you are good enough and worthy of being his successor. That alone would have been enough to convince Moyes that he was of the required standard to manage United.
At the moment though, he isn't showing he is anywhere near good enough. United's defeat to Newcastle leaves them ninth in the league, having dropped 23 of the 45 points available to them so far this season. Had Arsenal beaten Everton on Sunday, they would have been closer, points wise, to the bottom of the table than the top.
Richard Heathcote/Getty Images
So should we feel any sympathy for Moyes? Certainly, he makes it slightly difficult with some of his recent public comments. Take this, as quoted by The Daily Mirror, after he didn't substitute a clearly unfit Robin van Persie during the defeat to Newcastle:
"I was due to take Van Persie off after 60 minutes, but if I had, people would have said, 'What are you doing?' We were chasing the game and needed a goal back."
It's one thing to leave a patently struggling player on the pitch out of desperation, but it's another to actually admit it. It all gives the impression of a man who is cowed, and for whom the pressure is clouding his judgement.
Moyes is obviously still learning, but if howls of derision from fans are preventing him from making a substitution that would be for the benefit of the team, then something is wrong.
Stu Forster/Getty Images
Then there was his press conference on Monday, ostensibly a preview of their Champions League game (a game which is basically a non-event because of United's excellent form in the competition so far, perhaps evidence that Moyes does know what he's doing to an extent) against Shakhtar Donetsk, but one that of course touched on the Newcastle defeat and United's struggles in general.
Moyes said, as quoted by Sky Sports, about which areas United need to improve in:
"We'd like to generally play better, we'd like to pass better, create more chances, and defend better when those moments arise."
So, football, then.
Clearly Moyes is not helping himself, but at what point do we start to feel sorry for him? Is this even his fault? Of course the players should take some of the blame for United's poor start to the season, but Ferguson should too. He left Moyes an unbalanced squad with too many inadequate players that arguably only a manager as good as Ferguson could succeed with.
Do you feel sorry for David Moyes?
Moyes can occasionally look like a lost child on the touchline when things are starting to go wrong, a look on his face that suggests he simply does not know what to do next. This is concerning for United obviously, but is it his fault that he isn't quite good enough? Perhaps he should not have taken the job, but it would have been nigh on impossible to turn it down when offered by Sir Alex Fergsuon.
At present, Moyes looks like a man promoted above his abilities. Sooner or later, while he will not want it, he will be deserving of sympathy.