Separating NBA Contenders from Pretenders Near the Quarter-Season Mark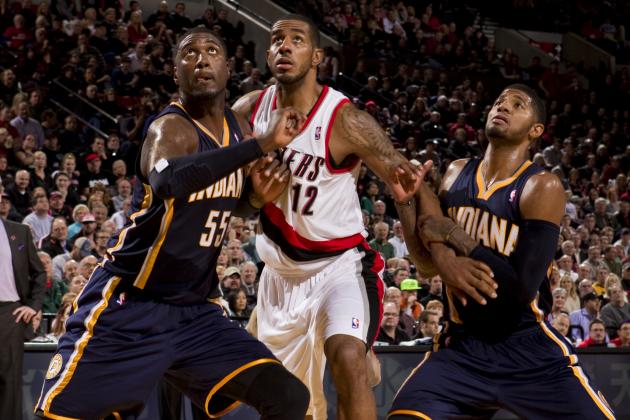 Cameron Browne/Getty Images
The Indiana Pacers and Portland Trail Blazers are leading their respective conferences nearing the quarter-season mark. But are they both contenders?
In today's day and age of superstar-laden NBA franchises, parity can be tough to find. Contraction has been a heated topic in recent years, but as Bleacher Report's own Grant Hughes alludes to, smart spending just might be what it takes to genuinely level the playing field.
If you predicted that the Indiana Pacers would be near the top of the league, raise your hand. If you had the Portland Trail Blazers in the same breath, now that's more impressive.
Both of these teams are leading their respective conferences, but the question is: are both ready to compete as contenders for a championship?
For the purpose of this assignment, we'll analyze the chances of the top four seeds in each conference. We'll also look at a few honorable mentions outside the top four and a few not-so-honorable mentions as well.
The season is still in its infancy, but a quarter of the way through, we have a good idea of who can sustain their success and who is on a crash course to disappointment.
*Top four seeds were determined by record as of Dec. 10.
Begin Slideshow

»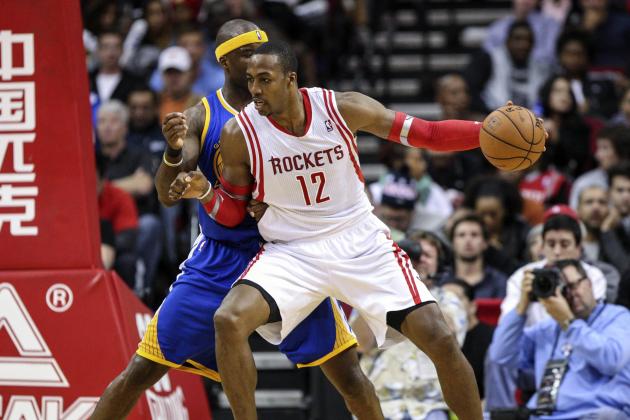 Troy Taormina-USA TODAY Sports

Houston Rockets
Through 22 games, the Houston Rockets find themselves outside of the top four out West, but that's only because they are stuck behind the San Antonio Spurs in the Southwest Division.
At 15-7, the Rockets have the fourth-best record in the Western Conference. They play at the fourth-fastest pace in the NBA, according to ESPN's Hollinger Stats, and as a result, they are No. 1 in both points and rebounds this season.
We don't quite know what to make of this team until the long-term status of Omer Asik is decided, but we do know that Dwight Howard and his new team are looking better than anticipated.
Golden State Warriors
This entire assignment is reserved for teams that have looked good early. That said, I'm going to break that theme right out of the gate, making room for a Golden State Warriors squad that has been inconsistent, yet promising.
Without sounding excessively sorry for this group, the early loss of Andre Iguodala hurts. Pile that on top of players like Toney Douglas and Festus Ezeli going down, and you've got a team that is far from full strength.
The Warriors have also had a tough schedule during the first quarter of the year. When health and the schedule both turn around in Golden State's favor, this will be a different team that is ready to push for the postseason.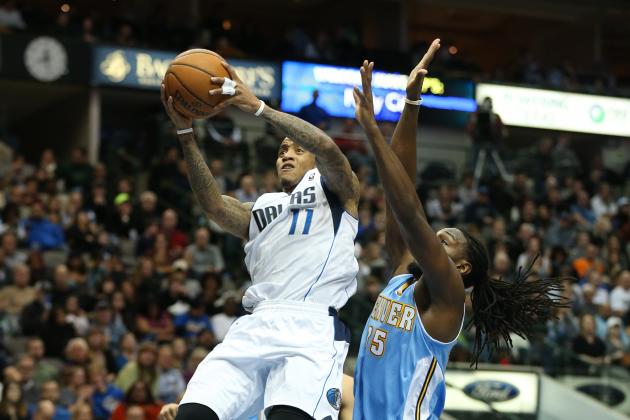 Matthew Emmons-USA TODAY Sports

Denver Nuggets
The 2013-14 season may be young, but the Denver Nuggets have already had their share of ups and downs.
After beginning the year 1-4, the team began a winning streak on Nov. 21 that lasted seven games. Now they're 13-8, and they've managed to sneak back into the playoff picture, capturing the sixth seed.
The problem with this picture is that Danilo Gallinari is the piece that is supposed to get them over the hump when he finally makes his return. The 25-year-old is an excellent young player who will score and spread the floor, but chances are, he's not the guy who earns them home-court advantage—something they desperately need to make a run in the playoffs.
Dallas Mavericks
The Dallas Mavericks have been one of the surprises of the NBA season through the first month and a half. It appears as if the myriad of new faces are coming together, but a lack of defensive production makes this a hard team to bet on down the road.
Right now, the Mavs are living off of their offense. That's not the first time we've uttered those words, but it is the first time Monta Ellis has been involved.
The guard has done wonders for this team early, but we need to see long-term consistency before we can assume his offensive prowess compensates for the defensive deficiencies.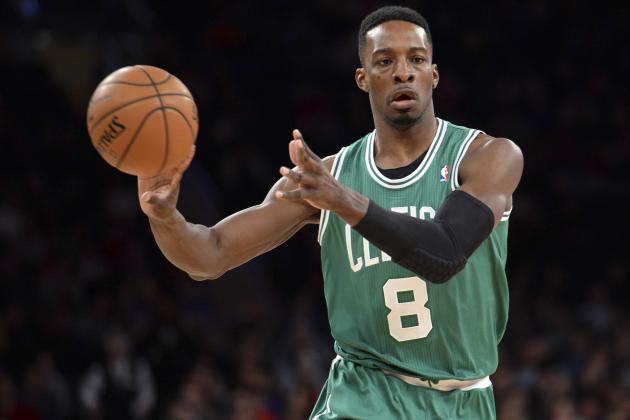 Joe Camporeale-USA TODAY Sports

Eastern Conference: No. 4 Seed
Hasn't anybody told the Boston Celtics that they're supposed to be tanking?
After trading away Kevin Garnett, Paul Pierce, Jason Terry and Doc Rivers this past summer, all of the focus was on the future. Nobody gave them a shot to contend in 2013-14, yet here they are as the No. 4 team in the Eastern Conference.
Unfortunately for fans in Beantown, their seeding is an indictment to how bad the East has been—not a testament to their own play. Their 10-12 record would only be good enough for 12th out West, and that's assuming they played the same schedule despite being in a different conference.
If Boston can make an appearance in the postseason, the fanbase should be thrilled about what Brad Stevens was able to accomplish in his first year. Unfortunately for anyone looking beyond the first round, this squad just has too little experience, and there's no use getting your hopes up at this point in the process.
Pretenders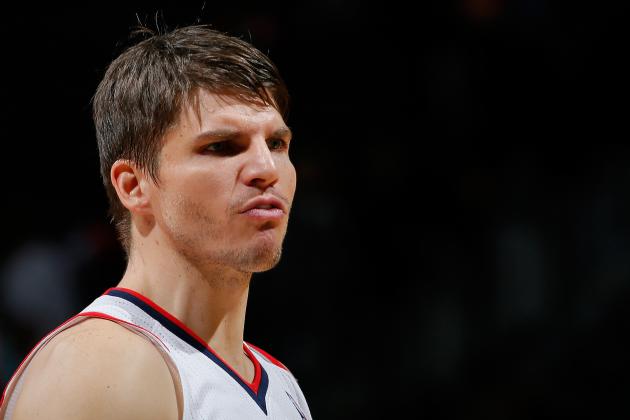 Kevin C. Cox/Getty Images

Eastern Conference: No. 3 Seed
The Atlanta Hawks have plenty of reason for optimism. First and foremost, Jeff Teague has been fantastic on the year. He's posting career highs in points, assists and free-throw attempts, and he's looking like one of the best point guards in a conference missing Rajon Rondo, Derrick Rose and a consistent Deron Williams.
Don't forget, either, about the emergence of Al Horford as the team's top scorer, rebounder and shot blocker; not to mention the presence of Paul Millsap and Kyle Korver throughout the rotation.
This team has looked strong throughout the early part of the year, but once again, it all comes down to the level of competition.
In the regular season, this team will hang around. The teams below it will make sure of that, but the teams ahead will have no mercy.
Come playoff time, the Miami Heat and Indiana Pacers will have their way with the rest of the conference—Atlanta included.
Pretenders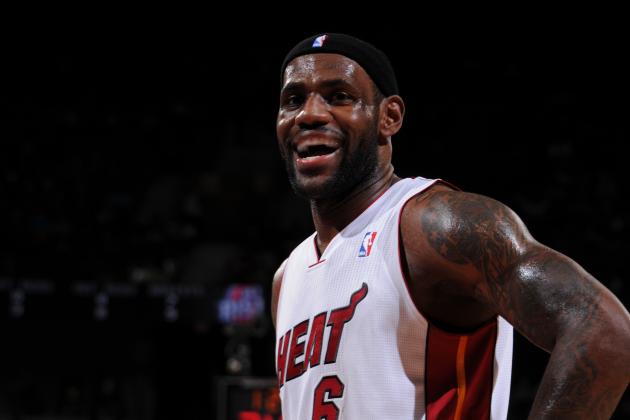 Allen Einstein/Getty Images

Eastern Conference: No. 2 Seed
See that face LeBron James is making up above? Someone just told him that the Atlanta Hawks and Boston Celtics are on his tail for the No. 2 seed out East.
Okay, okay. No more Eastern Conference jokes. I promise.
But in all seriousness, look at how far ahead the Heat are from the next place in the conference. They're five games on top of Atlanta for the second spot, and the Indiana Pacers are truly the only team that can contend with them at this stage in the season.
The only knock on Miami is that it's not first place in the East. That's the bar that this group has set for itself, and as a result, anything else looks subpar.
This Heat aren't worried about the regular season, and if you're pulling for this group, you shouldn't be either.
Contenders
Steve Dykes-USA TODAY Sports

Eastern Conference: No. 1 Seed
Those who critique what the Indiana Pacers have done point to two areas where improvement is needed: offensive production and strength of schedule.
However, those same people have forgotten one tiny concept.
Defense wins championships.
Through their first 21 games, it's true that the Pacers barely crack the top 20 in points per contest. It's also true that their schedule has been relatively painless, or it least it was before facing the Portland Trail Blazers, San Antonio Spurs and Oklahoma City Thunder.
But why ignore the fact that the team is first in points allowed, giving up just 89.5 points per game?
The Pacers aren't the flashiest team, but that's what detractors said about the San Antonio Spurs while they were racking up titles. With Paul George leading the way, all questions should be cast aside, and all disparaging remarks should disappear sooner rather than later.
Contenders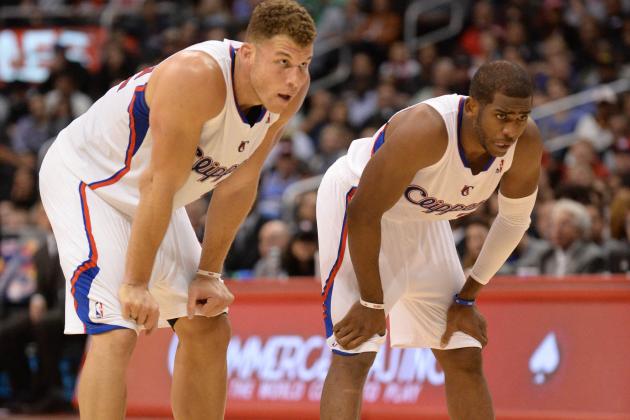 Noah Graham/Getty Images

Western Conference: No. 4 Seed
Ever since Chris Paul arrived in L.A., the Los Angeles Clippers have been considered a dangerous dark horse for contention out West. The question is whether or not they've taken the next step to becoming great, and at this juncture, the answer has to be no.
As good as Paul is on both ends of the floor, he can only do so much on his own. He's a pesky perimeter defender, but with Blake Griffin and De'Andre Jordan holding down shop in the paint, there's no guarantee this team shows up defensively when it counts.
L.A.'s saving grace is that its offense is good enough to continue chasing home-court advantage. The team is scoring the fifth-most points in the entire NBA, and according to ESPN's Hollinger Stats, its offensive efficiency ranks fourth.
Unfortunately for this group, it is just 26th in allowing points in the paint, per TeamRankings.com, which is a shame considering Doc Rivers' track record for defensive-minded coaching.
Pretenders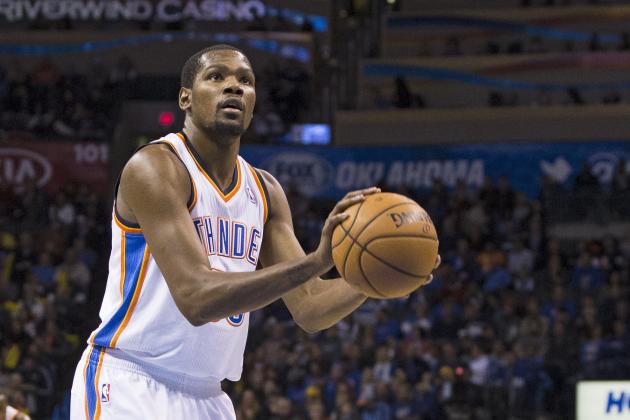 NBA Photos/Getty Images

Western Conference: No. 3 Seed
When you have Kevin Durant and Russell Westbrook on your side, there are very few things you can't do.
That's what the Oklahoma City Thunder are hanging their hats on early in the year, especially considering the two offensive juggernauts aren't even at the top of their games.
Through 19 contests, Oklahoma City is 15-4. That said, both Durant and Westbrook are shooting their lowest percentages in at least three years, yet they're still making up for not having a true third option in the backcourt.
What's keeping this team so successful is its defensive competence. According to ESPN's Hollinger Stats, OKC is posting the sixth-highest defensive efficiency rating of any squad across the league.
It's that kind of balance that makes the Thunder great, and it's the hope of improved offense that makes them a true challenger out West.
Contenders
D. Clarke Evans/Getty Images

Western Conference: No. 2 Seed
The San Antonio Spurs are too old and their championship window is officially closed.
Right?
Guess again.
San Antonio continues to do what San Antonio does. The team is second in the NBA in defensive efficiency, per ESPN's Hollnger Stats, yet it's also a near-top-10 team when it comes to points per contest.
Tim Duncan hasn't looked like he found the fountain of youth this season, but that didn't stop him from becoming the oldest player in history to have a 20-point, 20-rebound outing (hitting a game-winner in the process).
The only thing that could get in this team's way would be the injury bug. A significant ailment could be season-altering if it happened to the right guy, but even so, there's no coach in the league better than Gregg Popovich at getting the most out of his role players.
Contenders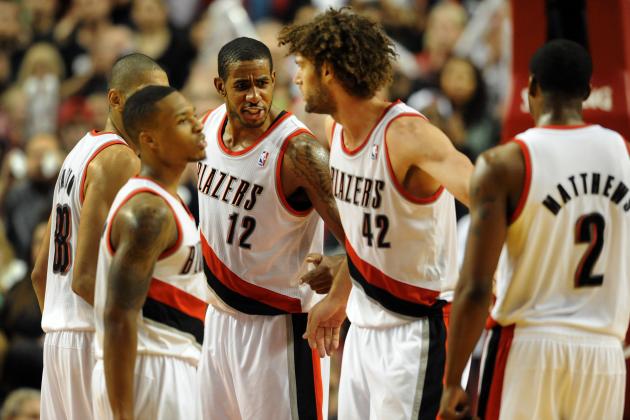 Steve Dykes-USA TODAY Sports

Western Conference: No. 1 Seed
Can the Portland Trail Blazers sustain the success they've found this season? That depends on how you define success.

If you're asking the Blazers to win 82 percent of their games the rest of the way, the answer is: absolutely not. They're not going to threaten double-digit winnings streaks all season, and they're certainly not going to win better than 67 games (their current pace).
All that said, this team has defeated quality opponents—the San Antonio Spurs, Chicago Bulls (with Derrick Rose), Golden State Warriors, Indiana Pacers and Oklahoma City Thunder included—and it has two things it didn't have in 2012-13: a competent bench and an attention to defense.
Most critics are inclined to say that the Blazers have grown up too quickly, but the fact is that it's just not true. Nobody saw this kind of success coming, but LaMarcus Aldridge, Nicolas Batum and Wesley Matthews have been at this a while.
As it turned out, Damian Lillard and Robin Lopez were the perfect additions to this quirky roster, and Rip City has escaped mediocrity and turned into a contender before our eyes.
Contenders