2009 Chicago Bears Position Battles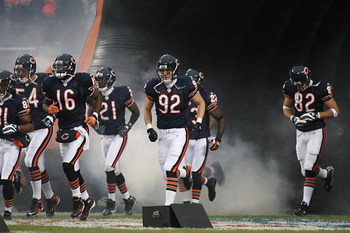 All the offseason talk around the Chicago Bears has centered around one man: Jay Cutler. But if the Bears are to go anywhere this season, even with Cutler, they first need to sort out key positions that are still up in the air.
Training camp is still two months away, but with the draft over and many top free agents already signed, few changes will be made. So, the team should be set with the players they have already signed. Let's take a look at the key position battles.
Disclaimer: Under Lovie Smith, positions that were supposed to be an open competition often have not been open competitions at all.
No. 2 Wide Reciever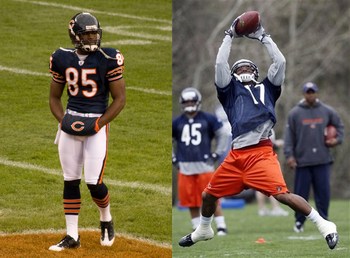 Earl Bennett v. Juaquin Iglesias
Devin Hester is set at the No. 1 WR position, and the merits of that is another article in itself. The Bears dropped the ball in failing to obtain a veteran WR to go alongside Hester, who could have at least helped him learn the position. Thus a key position, the No. 2 WR, will be open for two players who don't have an NFL game under their belt.
Rashied Davis is technically also in on the running, but he is only 5'9" and I'm sure the Bears would rather run out a taller option across from the undersized Hester. The good news for Bears fans is that Cutler was able to garner solid production from WR Eddie Royal in Denver, who was only a rookie last year.
Breakdown:
Earl Bennett: No. 85 H: 6"0 W: 203 Experience: 2 years
There are high hopes for the Vanderbilt product who didn't even make it to the field last year because of his inability to pick up the offense. But the all-time SEC leader in receptions was probably over the moon when he learned that the Bears had traded for his college QB Jay Cutler. Cutler and Bennett formed a successful tandem in college and the Bears are hoping that it will translate to the NFL.
Juaquin Iglesias: No. 17 H: 6-0 W: 210 Experience: Rookie
The No. 2 reciever in Oklahoma history in receptions and receiving yards will be looking to prove himself to all those teams that passed him by in this year's draft. Iglesias—the 16th WR taken in this years draft—was Oklahoma's leading receiver the last two years. He has the size and speed to be a successful WR, but he is still a rookie and will face some growing pains.
Free Safety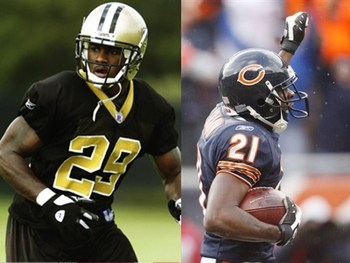 Josh Bullocks v. Corey Graham
The Bears have a big hole to fill after letting team leader Mike Brown leave due to his constant spate of injuries. Brown was an experienced leader, and this comes into play especially because SS Kevin Payne is inexperienced as a second year player. Graham, who started nine games last year at CB, is new to the role. To compete with him they brought in experienced free-agent Josh Bullocks from New Orleans.
For the 30th-ranked pass defense last year, this is a vital position and improvement must be seen. The Bears pass rush was horrendous last year allowing opposing QB's time to pick apart the secondary. If the pass rush can improve, the secondary should also improve.
Breakdown:
Josh Bullocks: H: 6-1 W: 207 Experience: 5 years
2008 Stats: G:16 Tackles: 41 Solo: 34 Pass Defended: 6 INT:1
Bullocks was a four-year starter in New Orleans, but he regressed last year with the lowest amount of tackles in his NFL career. Apparently his play was bad enough to inspire a youtube video titled "How Can a Safety Be This Bad?" Maybe a change of scenery will allow him to restart his career.
Corey Graham: H: 6-0 W: 193 Experience: 3 years.
2008 Stats G: 16 Tackles: 82 Solo: 17 INT: 1

Graham excelled last year at the cornerback position filling in for Nathan Vasher. But that doesn't mean it will translate to the safety position. That's why it is somewhat surprising that the Bears would move him to safety and let Vasher have his job back. But under Lovie Smith, veterans have always been given preference, even though they might not deserve it. But pairing two inexperienced safeties (Payne and Graham) might not be the ideal combination for the Bears.
Strong Side LB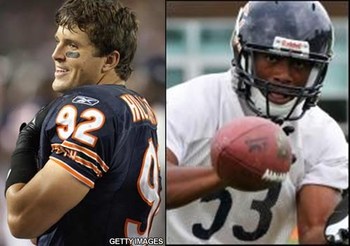 Hunter Hillenmeyer v. Nick Roach
This position is often overlooked in the scheme the Bears run, where the other two linebackers have more responsibilities. It is even more overlooked when you have two studs like Brian Urlacher and Lance Briggs in the other positions.
But it is still a vital position, since this LB will have to take advantage of all the attention placed on Urlacher and Briggs. It is also important in generating pass rush in addition to the defensive line.
Even though Roach took the starting position away from Hillenmeyer in the middle of the season last year, the position is up for grabs going into this year's training camp. However, both guys might lose out if the Bears sign Pisa Tinoisamoa, the leading tackler on the St. Louis Rams last year.
Breakdown:
Hunter Hillenmeyer: No. 92 H: 6-4 W: 238 Experience: 7 years
2008 Stats: G: 13 Tackles: 17 Solo: 13 Assists: 4 Sacks:1
He lost his starting spot after an abysmal performance against Adrian Peterson and the Minnesota Vikings. To be fair, none of the Bears could tackle Peterson that day. Until last year, Hillenmeyer had been a solid four-year starter on the team, who was often overshadowed by Urlacher and Briggs. Hillenmeyer has an advantage in his size and experience in the system, but seems to have lost his coaches' confidence.
Nick Roach: No. 53 H: 6-1 W: 234 Experience: 3 years
2008 Stats: G: 14 Tackles: 33 Solo: 24 Assists: 9
Roach took Hillenmeyer's starting spot after the bye week in Week 8 last year and never gave it up. Although his stats are not too impressive, there must be something that the Bears coaches liked about him to keep him in the starting lineup over Hillenmeyer. That's a huge leap for an undrafted free agent who was on the Chargers practice squad before the Bears picked him up. Another year in the Bears system should help him get familiar with positioning.
Jay Cutler v. the Ghosts of QB's Past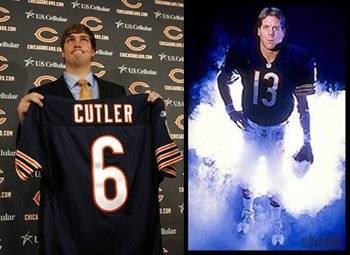 The comparisons to Rick Mirer—a previous hot-shot QB brought in by the Chicago Bears—have started flying around in Chicago. Cutler is much more talented than Mirer, but he does face an enormous amount of expectations, especially as the Bears haven't had a Pro-Bowl QB since Sid Luckman. Plus, he will have to prove himself after demanding a trade out of Denver last year because he felt disrespected.
Cutler will be facing an uphill battle with a lack of WR talent, especially when compared to the corps he had in Denver. Also, he is coming from a system where Mike Shanahan completely believed in him to a place where Lovie Smith's job is on the line if expectations aren't met. Thus, Cutler will probably have less free rein as he did in Denver. It remains to be seen if he can be as successful if his natural instincts are curbed.
Keep Reading

Chicago Bears: Like this team?