Leo Santa Cruz vs. Cesar Seda: Preview and Prediction for Title Fight
Harry How/Getty Images
Leo Santa Cruz defends his super bantamweight championship against Cesar Seda on Saturday night.
Leo Santa Cruz vs. Cesar Seda will take place on Saturday night's Adrien Broner vs. Marcos Maidana undercard, and the WBC Super Bantamweight Championship will be on the line.
Santa Cruz captured that belt earlier this year—his second world title in as many weight classes—with a Tasmanian devil-esque third-round knockout of Victor Terrazas. The 25-year-old Mexican is one of the most exciting young fighters in boxing, and he'll be looking to continue down the path toward superstardom.
Seda has challenged for a world championship once before—a failed attempt against Omar Narvaez in 2011—but has done very little of significance since then. It's interesting that he's found his way into a world title challenge, given his unspectacular recent opposition, and he'll have a hell of a time wresting the belt from the champion.
Within, you'll find all you need to know about this Saturday's big world championship contest. This is your complete preview and prediction for Santa Cruz vs. Seda!
Begin Slideshow

»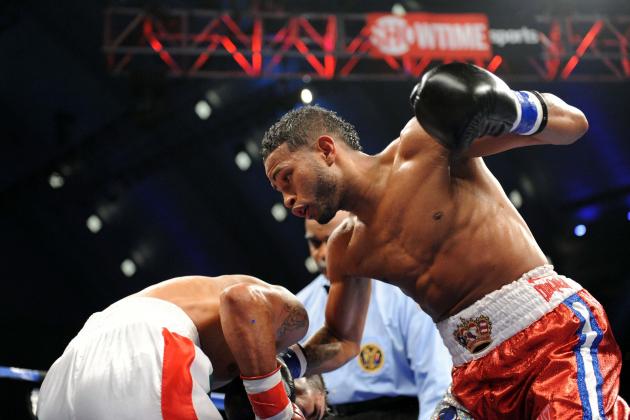 Joe Camporeale-USA TODAY Sports
Cesar Seda has fought unspectacular opposition since his last world title challenge.
On paper, we appear to have two pretty evenly matched fighters here. But that's why we dig deeper.
Leo Santa Cruz is clearly the fighter to watch here, and even with similar records, ages, heights and experience, he is clearly the superior and more dangerous fighter.
Santa Cruz's knockout percentage of under 60 percent may not seem that impressive, but he's stopped four of his last five opponents and has faced a better class of opponent.
Seda's southpaw stance could provide a certain level of intrigue. It's been five consecutive fights—and all since he's become something of a household name—since Santa Cruz has faced a lefty, and it could present him with a few different wrinkles.
Record

Leo Santa Cruz

25-0-1, 15 KO

Cesar Seda

25-1, 17 KO

Age
25
27
Height
5'7"
5'6"
Weight
121.75 (Last Fight)
117.5 (Last Fight)
Reach
69"
Not Listed
Stance
Orthodox
Southpaw
Hometown

Huetamo, Michoacan de Ocampo, Mexico

Ponce, Puerto Rico

Rounds Boxed
131
118
Last Fight
KO 3 Victor Terrazas (8/24/13)
UD 8 Miguel Tamayo (5/18/13)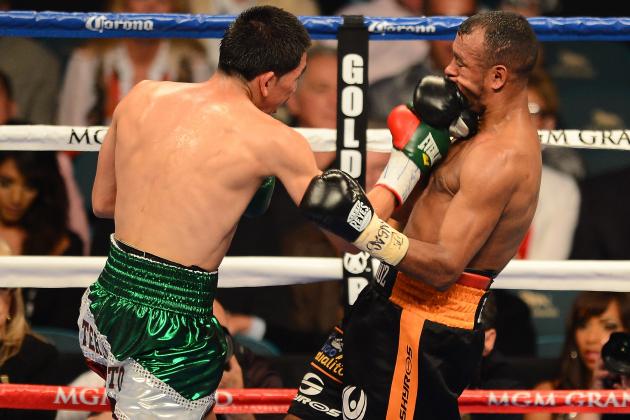 Ethan Miller/Getty Images
Santa Cruz's style has put him on the verge of becoming a big star.
Leo Santa Cruz has the type of exciting, fan-friendly style that could potentially make him into a major star if he's matched up right. Luckily for him, there are plenty of attractive fights available both in and around his weight class.
The 25-year-old Mexican champion is a dynamo once he steps into the ring. He attacks and pressures an opponent like few others can. That makes him pretty much the complete opposite of the man who is often mentioned as the best of a deep crop of 122-pound fighters—Guillermo Rigondeaux.
And that's the reason he's so marketable. So long as he continues fighting with the same level of passion and blitzing through quality opponents, he has all the makings of a huge star.
Cesar Seda is coming up in weight to make his second challenge for a world championship. He lost a lopsided decision to super flyweight champion Omar Narvaez in 2011 and hasn't really been heard of since.
He's fought a series of low-level opponents since, and he really has very little business challenging for a world title given his recent opposition. And there's also the fact that he's fought at 122 pounds a couple of times in his career. All that adds up to a very questionable world title challenge.
All that said, stranger things have happened in boxing, and Seda is a talented boxer who will be looking to score a massive upset. And if he does, he'll become—amazingly—the only Puerto Rico-born world champion in the sport today.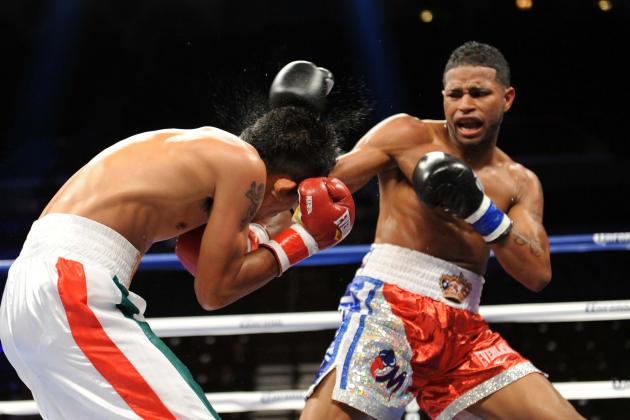 Joe Camporeale-USA TODAY Sports
Seda is a very talented boxer.
Leo Santa Cruz is a whirlwind. There's really no other way to put it. He's been favorably compared, at least stylistically, to his compatriot Antonio Margarito, and that comparison really seems spot on. The amount of pressure he brings on an opponent and the ferocity of his attack are simply overwhelming.
He's built as the prototypical Mexican fighter, and he attacks to the body with mean intentions.
Santa Cruz is relentless and never seems to tire. He keeps a frantic pace and doesn't give his opponent a second to breathe. He doesn't have tremendous one-punch knockout power, but he systematically breaks down his foes—both physically and mentally—and doesn't let up until they wilt.
Cesar Seda is a solid fighter, and he has good natural boxing ability. Whether or not he has the type of stuff to blunt Santa Cruz's offensive attack remains to be seen, but if he stays within himself, he could have some success.
The 27-year-old Puerto Rican has demonstrated a solid chin throughout his career. He's only been down once—against the unheralded Luis May in 2012—but he hasn't faced anything close to this type of opponent before.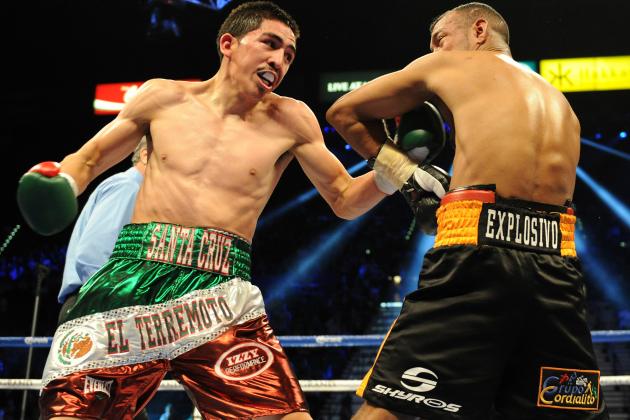 Jayne Kamin-Oncea-USA TODAY Spor
Santa Cruz hits a lot, but he's also open to be hit.
Leo Santa Cruz fights with a level of abandon that doesn't quite qualify as reckless, but definitely leaves him open to return fire. That hasn't proven to be a problem thus far, and when he's been hit clean, he's taken it well, but that doesn't mean he should make it a habit when his opposition level rises.
We haven't really seen Santa Cruz in there with a slick boxer capable of keeping him on the outside and blunting his offensive force. He's been moved along relatively slowly, and while Victor Terrazas is a tough opponent, this fight just looks like a step backward.
Cesar Seda has boxed well against low-level opposition, but it would seem that he'll be completely out of his depth on Saturday night. He hasn't seen a fighter anywhere near this level before, and he really hasn't done anything to earn this bite at the apple.
His last five opponents—since the loss to Omar Narvaez—have been a who's who of boxers, and it just doesn't appear he's up to this task. It's hard to see what he'll bring to the fight that will be able to keep Santa Cruz off of him.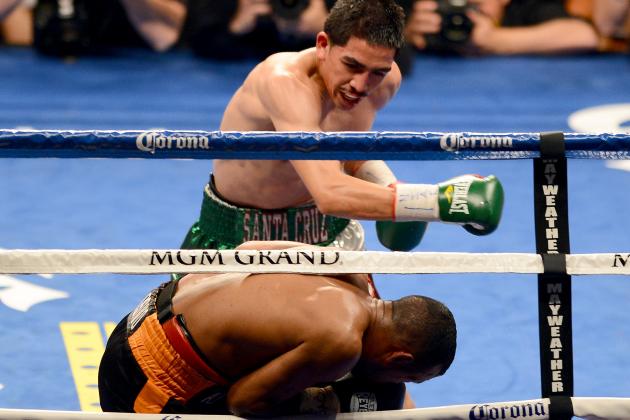 Ethan Miller/Getty Images
Santa Cruz needs to just be himself.
This definitely won't be the most analytical thing you'll read all day, but Leo Santa Cruz will win this fight as long as he's Leo Santa Cruz.
Well, there you have it.
Santa Cruz is a force in the ring. He places relentless physical and mental pressure on his opponent, attacks with ferocity to the body and breaks you down. That's exactly what he'll need to do in order to defeat Cesar Seda.
Seda is a good boxer, and he's stopped 17 foes in his 25 wins, but he doesn't seem to have the goods to either outbox Santa Cruz or land something big enough to make him reluctant to attack.
Look for Santa Cruz to do what he does, attack with abandon, throw tons of punches in every round and force his opponent on the defensive. A concerted attack to the body is what he does best, and it's led him to four stoppages in his last five fights.
If he's able to get to the body and throw punches in bunches—like he always seems to do—he will win this fight.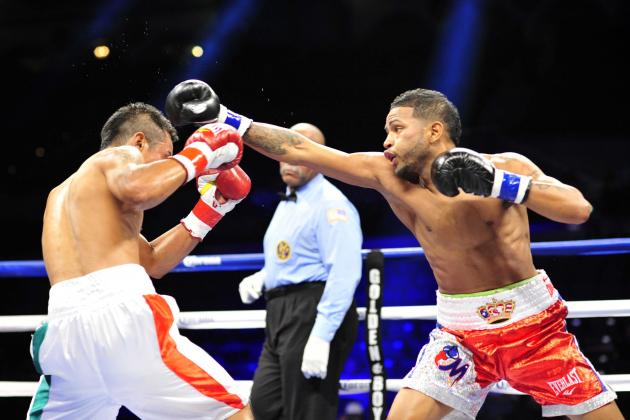 Joe Camporeale-USA TODAY Sports
Seda needs to box effectively and land with enough force to keep Santa Cruz honest.
Cesar Seda is a massive underdog—with good reason—and he has only one real path to possible victory in this fight. He'll need to box the fight of his life, stay on the outside and land at least a few punches with enough force to keep Leo Santa Cruz honest.
Otherwise, he's going to get blitzed like Victor Terrazas and Alexander Munoz before him.
While that's definitely the most likely scenario, Seda does have skill. It's not completely inconceivable that he could frustrate Santa Cruz with movement and tactical boxing early in the fight, but it's just not very likely that he will be able to sustain it.
If he can, he has a chance at the upset. If he can't, well, at least he'll have a great view of the Leo Santa Cruz show.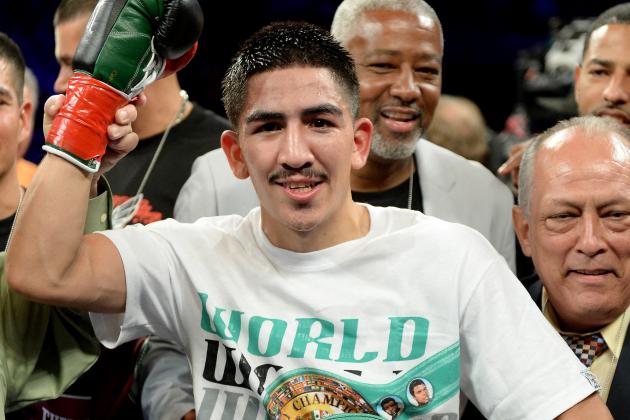 Harry How/Getty Images
Santa Cruz will score another brutal stoppage.
It's almost inconceivable that Leo Santa Cruz will not win this fight. Sure, anything is possible, but this bout seems to be set up specifically to give him yet another showcase against a foe with little chance at victory.
Santa Cruz will do what he does best—attack—and there will be nothing Cesar Seda can do to stop him. He's a good boxer, but not good or powerful enough to stop the whirlwind in front of him, and he'll quickly find out that he's running into the boxing equivalent of a chainsaw.
We will see Santa Cruz deliver intense pressure, a withering assault to the body and give his opponent a good old-fashioned beatdown.
Body shots will be the thing that expedites the end, and it will come none too soon for Seda.
Santa Cruz will win this fight by knockout, and he'll do it on a body shot early in the fight.
Prediction: Leo Santa Cruz KO 5 Cesar Seda