Arsenal remain in full control of the EPL table and the top of the power rankings. The Gunners have some tough matches ahead, but they've clearly showed enough to be considered a power this season.
In fact, 15 matches into this season, every team has shown enough for power rankings to be done with a certain amount of confidence.
Although there is plenty of time for teams to start to jell or fall apart, there is a big enough sample size for us to have a solid feel for the capabilities of each team.
Here is how those teams stack up.
1. Arsenal
Points: 35
Analysis: Arsenal are coming off of a home draw with Everton but still enjoy a five-point lead in the table. With Manchester City and Chelsea up next on the schedule for the Gunners, that lead could quickly vanish.
This stretch will go a long way toward telling us if Arsenal have the fortitude to stick at the top of the table. There have been some cracks in this team lately. Of the four combined losses and draws for Arsenal in the EPL this season, two of them have come in their last five league matches.
2. Chelsea
Points: 30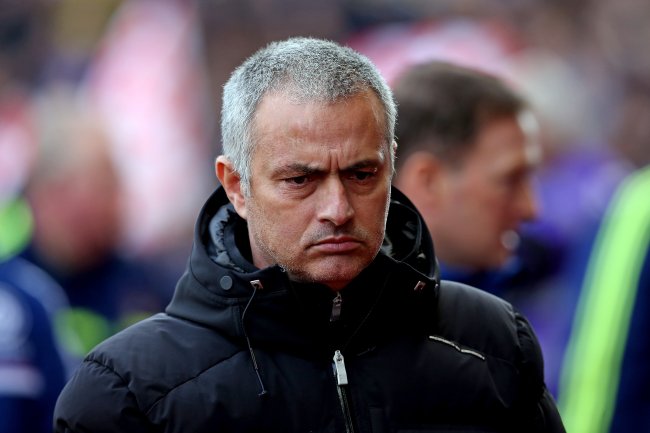 Scott Heavey/Getty Images
Analysis: Chelsea have been playing excellent on the back end this season. They have shown some vulnerability as of late, however.
The Blues have allowed six goals in their last two EPL matches. That is almost half of the 13 goals they've allowed for the season. They gave up those goals to Sunderland and Stoke City, who aren't exactly two of the most feared attacks in the EPL.
3. Manchester City
Points: 29
Analysis: Manchester City continue to look unbeatable at home and vulnerable on the road. At Etihad Stadium, the Citizens are 7-0-0. Away from their friendly confines, they are just 2-2-4.
Their last time on the pitch, they earned a solid 1-1 draw as the away team against Southampton. If it can improve its road performances, this team will make a charge to the top of the table.
4. Liverpool
Points: 30
Analysis: Liverpool were dealt a big blow with the injury to Steven Gerrard:
Steven Gerrard will be out for up to six weeks with hamstring injury http://t.co/muuzJaw4iM #LFC

— James Pearce (@JamesPearceEcho) December 9, 2013
It is hard to see how the Reds will be able to make a run for the top spot without their talented playmaker in the fold for the next six weeks.
5. Everton
Points: 28
Analysis: Look out for Everton. Over their past six EPL matches, Everton have played the likes of Tottenham, Liverpool, Manchester United and Arsenal, and they haven't suffered a loss.
Their past two matches, they've earned an away win against Manchester United and an away draw with Arsenal.
6. Newcastle
Points: 26
Analysis: Newcastle rebounded from an embarrassing 3-0 loss to Swansea City by earning three points at Old Trafford and snapping a lengthy winless streak as the away team against Manchester United.
Quickly, the effort against Swansea is looking like a blip on the radar. Not counting that match, Newcastle have allowed just a combined two goals in their last five EPL contests.
7. Tottenham
Points: 27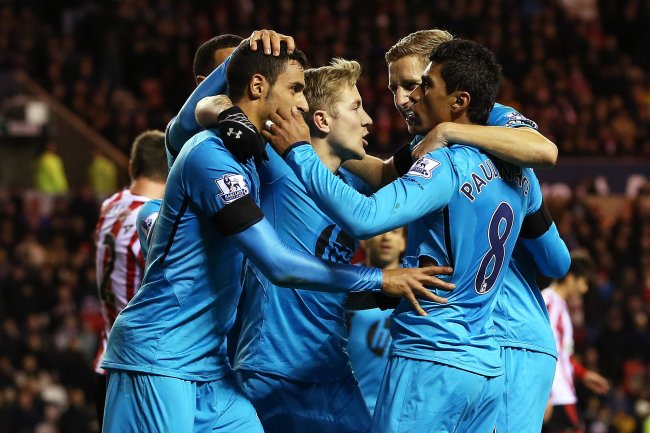 Jan Kruger/Getty Images
Analysis: Since getting humiliated 6-0 by Manchester City, the Hotspur haven't loss in their last three matches. Just as importantly as the results is the fact that Tottenham have scored two goals in each of those three contests.
This team's attack has suffered while dealing with the absence of Gareth Bale. The recent results are a welcome trend.
8. Manchester United
Points: 22
Analysis: I keep expecting Manchester United to flip the switch and run off a long string of wins. For every step forward they take, however, there are about 18 steps back.
The Red Devils just dropped back-to-back matches at Old Trafford to Everton and Newcastle. They mustered a combined zero goals in those two games.
Sure, they struggled with some key absences, but the pathetic home stand does not bode well for the future of David Moyes.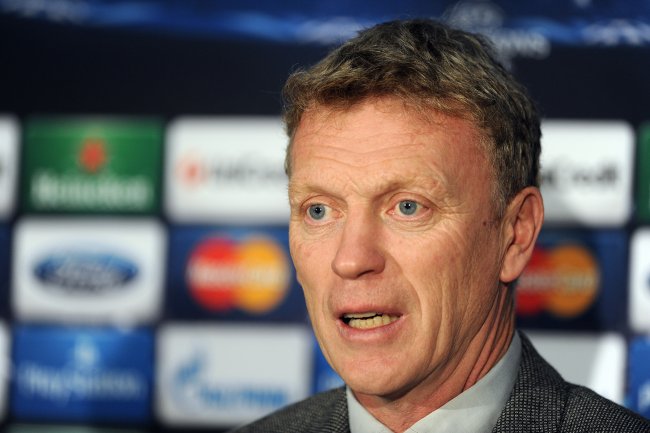 Chris Brunskill/Getty Images
9. Swansea City
Points: 19
Analysis: Swansea City are battling to stay in the top half of the table. After getting drubbed at Etihad 0-3 to Manchester City, the Swans turned around and took a 3-0 victory of their own over Newcastle.
Of course, they couldn't parlay that momentum into anything more than a 1-1 home draw with Hull City.
With Everton and Chelsea scheduled before the end of the calendar year, this team must find some consistency if it wants to stay in the top half.
10. Southampton
Points: 23
Analysis: Southampton's strong start to the season is all unraveling. This team, which was so stingy to start the year, is giving up goals in bunches now.
In their last four EPL matches, Southampton have allowed nine goals. This has come against some quality competition, but it shows that this team is not quite ready to stick at the top of the table.
11. Aston Villa
Points: 19
Analysis: What a disheartening display Aston Villa's effort in a 0-2 loss to Fulham their last time on the pitch was.
Fulham had lost six straight league matches heading into that game, and Aston Villa couldn't even get within a goal. Villa were without Ron Vlaar and Antonio Luna for that match, but that is hardly an excuse for such a weak effort.
Coach Paul Lambert's choices to replace them are also drawing some ire:
Paul Lambert's odd choice of defenders was questionable in #AVFC 's defeat at Fulham, writes @KevHughesie http://t.co/649Qku91fg

— ESPN FC (@ESPNFC) December 8, 2013
Lambert better hope this team quickly gets back on track, or things could get ugly.
12. Hull City
Points: 18
Analysis: Hull City have mended their wounds since dropping a home match to Crystal Palace. They've gone 1-1-1 in their last three league matches.
Although that mark isn't the most impressive streak, it did come against Liverpool, Arsenal and Swansea City.
This team's season could've come off the rails after the loss to Crystal Palace, and Hull City have done a solid job holding it together.
13. West Brom
Points: 15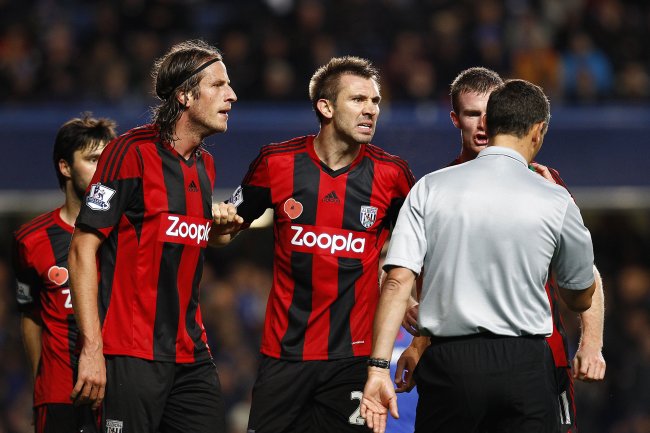 Charlie Crowhurst/Getty Images
Analysis: West Brom are still looking for their first league win since Nov. 2. On top of that, this team has lost each of its past three league matches, with the last two coming at home and the last being an especially disheartening 0-2 loss to Norwich City.
There is no reason to think West Brom's free fall will come to an end.
14. Stoke City
Points: 17
Analysis: Stoke City are making a steady climb. They have only dropped one EPL match since Oct. 26, and they are coming off of an impressive 3-2 win over Chelsea.
We will find out quickly if this team can sustain that momentum and turn into a real threat. Before the end of the calendar year, Stoke are scheduled to take on the likes of Manchester United, Aston Villa, Newcastle and Tottenham.
15. Cardiff City
Points: 14
Analysis: Cardiff City haven't picked up a league win since Nov. 3. That stretch of five games includes a solid draw against Manchester United, but in all, Cardiff have been outscored by the combined score of 9-2.
The 2-2 draw with the Red Devils is the only match in that span where they've scored a goal.
16. Norwich City
Points: 17
Analysis: Norwich have already allowed 28 goals this Premier League season. Only Sunderland have allowed more. It is not good to be connected to Sunderland in any stat.
There is hope for Norwich, however. They've posted clean sheets in two of their last three league matches. Sure, they came against West Brom and Crystal Palace, but let's not pick apart good news for a team that needs some.
17. Crystal Palace
Points: 13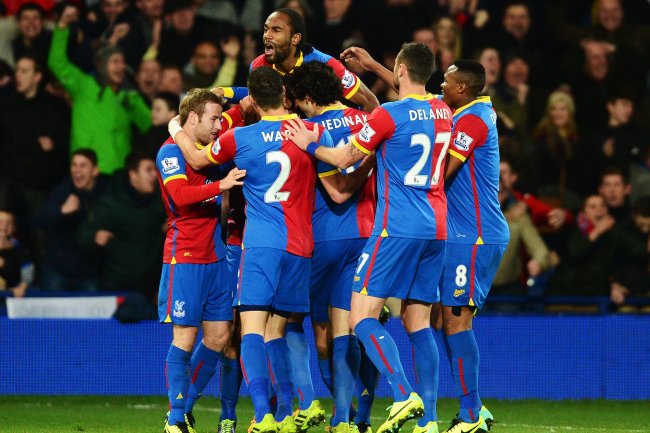 Jamie McDonald/Getty Images
Analysis: After an abysmal start to the season, Crystal Palace are showing some semblance of being an actual Premier League team.
They've won two straight, and in their last five league matches, Palace are 3-1-1.
18. West Ham
Points: 13
Analysis: West Ham beat Fulham 3-0 on Nov. 30 to help them currently sit just above Fulham out of the relegation zone.
Other than that, nothing has been going right for this team. Excluding that match, West Ham have lost their past four league matches by the combined score of 11-2.
19. Fulham
Points: 13
Analysis: Fulham got a badly needed win their last time on the pitch with a 2-0 home triumph over Aston Villa. With Everton and Manchester City looming as their next two league matches, Fulham are likely going to start another losing streak.
20. Sunderland
Points: 8
Analysis: Sunderland have played decent, losing by just a goal to Chelsea and Tottenham in their last two matches.
Although moral victories are often useless in sports, for a team like Sunderland that is minus-18 in goal differential, any kind of victory is welcome.