NFL Power Rankings: Knee-Jerk Reactions After Week 14 Action
Use your ← → (arrow) keys to browse more stories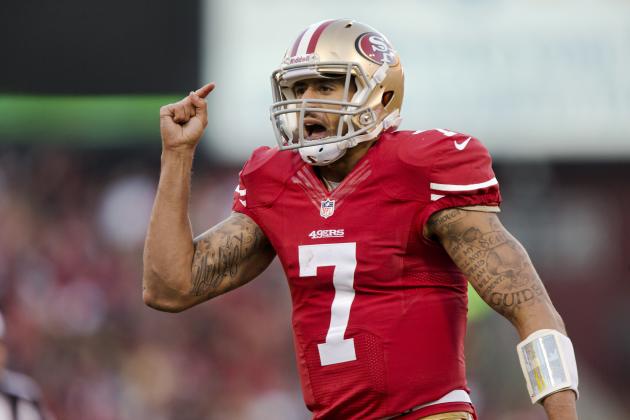 Brian Bahr/Getty Images

Week 14 in the NFL was rare.
Simply put, there was no "Oh wow!" outcome, whether it be a major upset or blowout worthy of attention.
The week's two marquee games were expected to swing either way. The 11-2 Seattle Seahawks were stunned 19-17 by the 9-4 San Francisco 49ers, but it was in no way a shocking result from Candlestick Park.
The same goes for the Sunday Night Football bout from the Mercedes-Benz Superdome. The 10-3 New Orleans Saints beat the 9-4 Carolina Panthers, 31-13. Given New Orleans' track record at home, the outcome was somewhat expected.
Expect a little shuffling here and there throughout the rankings after Week 14, but nothing catastrophic.
1. Denver Broncos (11-2)
Peyton Manning and the Denver Broncos regain the top spot in the NFL for a few reasons, but chief among them because they destroyed the Tennessee Titans last week, 51-28.
Manning threw for four more scores, giving him 45 on the year.
It is somewhat impressive that Manning was able so easily move the ball on a top pass defense, but on the other hand, it is what we have all come to expect from him this season.
2. Seattle Seahawks (11-2)

It was almost easy to see a loss coming for the Seattle Seahawks in Week 14.
Almost.
After all, the Seahawks got an emotional 34-7 win over New Orleans on Monday Night Football and then had to turn around on a short week and travel to San Francisco.
A 19-17 loss hardly impacts the rankings for one of the NFL's most dominant teams.
3. New Orleans Saints (10-3)

What a turnaround for the New Orleans Saints.
After a 34-7 loss in Seattle two weeks ago, the Saints returned home last week and took out division foe Carolina in convincing fashion, overcoming the Panthers, 31-13.
The only problem here has been known all season—the Saints are about unbeatable at home, meaning the playoffs could be an issue if they must travel.
4. New England Patriots (10-3)

How much should the New England Patriots be knocked for almost losing to the Cleveland Browns in Week 14?
Not much. The good teams win these games, and that is exactly what the Patriots did via a 16-point fourth quarter.
Besides, New England may begin a steady nosedive in the rankings the rest of the way with tight end Rob Gronkowski lost for the remainder of the season, per NFL Network's Ian Rapoport:
Tests confirmed this morning that #Patriots TE Rob Gronkowski has torn his ACL and MCL, per source. His season is over, long road ahead

— Ian Rapoport (@RapSheet) December 9, 2013
5. Carolina Panthers (9-4)

Carolina's streak of eight wins came to a screeching halt last week after a trip to New Orleans where Drew Brees and the Saints did the Panthers dirty, 31-13.
While a bad loss, Cam Newton and the Panthers can take solace in the fact that not many go to New Orleans and play well.
Week 15 is a nice rebound game against the struggling New York Jets—before a date with the Saints again.
6. San Francisco 49ers (9-4)

San Francisco needed a critical win in Week 14 against NFC West foe Seattle. San Francisco got it via a late Phil Dawson field goal to move past the Seahawks, 19-17.
That means the 49ers have won three in a row, and more importantly, they captured a win over a credible opponent for seemingly the first time this season.
San Francisco is firing on all cylinders at just the right time.
7. Cincinnati Bengals (9-4)

The Cincinnati Bengals remain one of the NFL's top teams thanks to a defense that ranks in the top 10 against the run and pass.
In Week 14, the Bengals moved past another playoff contender in Indianapolis via a 42-28 victory.
Cincinnati is on a roll, having won three straight, and a recently discovered offensive balance (155 rushing yards to 275 passing yards vs. Indy) makes the Bengals a formidable team with playoffs on the horizon.
8. Kansas City Chiefs (10-3)

Kansas City finally got back to its winning ways in Week 14 after being exposed by Denver twice, mixed in with a little exploitation by San Diego in the past three weeks.
As good as it is the Chiefs got back in the thick of things playoff-wise, it is hard to find anything of merit in a 45-10 win over lowly Washington.
The Chiefs still have a lot of ground to make up in the credibility department.
9. Philadelphia Eagles (8-5)

The Philadelphia Eagles did much to further distance themselves from the pack in the NFC East courtesy of a 34-20 victory over Detroit in the snow Sunday.
Running back LeSean McCoy was the star of the show with his 217 yards and two touchdowns.
Coach Chip Kelly's offense continues to roll despite various factors thrown in its way. Philadelphia has the makings of a team that may make some noise once the postseason begins.
10. Arizona Cardinals (8-5)

It was a bittersweet victory for the Arizona Cardinals in Week 14, a team that is red hot and has won five of its last six.
In the process of the 30-10 bullying of St. Louis, the elite Cardinals defense lost starting rookie safety Tyrann Mathieu to torn knee ligaments, per ESPN's Adam Schefter:
Cardinals DB Tyrann Mathieu did tear his ACL, a league source confirmed, as Arizona feared.

— Adam Schefter (@AdamSchefter) December 9, 2013
That is a major blow for one of the NFL's best units. Time will tell if Arizona can recover.
11. Dallas Cowboys (7-5)
The Dallas Cowboys are one of two teams to partake in the Week 14 finale on Monday Night Football.
Dallas has won two straight and must now find a way to overcome the Chicago Bears at Soldier Field. A win means keeping pace with Philadelphia. A loss means payoff hopes begin to dwindle.
12. Baltimore Ravens (7-6)

The Baltimore Ravens saved their season last week with a 22-point fourth quarter to come back and beat the 3-9-1 Minnesota Vikings.
That is both good and bad. There is no excuse for the defending champs to come seconds away from dropping a game to a team like Minnesota.
Baltimore as a whole has some soul searching to do. Two of its last three games are on the road, where the Ravens hold a 1-5 record this year.
13. Detroit Lions (7-6)

The Detroit Lions had a major advantage over the Philadelphia Eagles in Week 14 because they wore white jerseys in a blizzard (I'm kidding), but the NFC North leaders still lost, 34-20.
The game was certainly an anomaly for a usually potent offense. Quarterback Matthew Stafford went just 10-of-25 for 148 yards, and receiver Calvin Johnson caught just three passes for 49 yards.
Detroit is fine, but it would be wise to avoid inclement weather.
14. Indianapolis Colts (8-5)

The Indianapolis Colts remain in first place in the AFC South despite a Week 14 loss to Cincinnati.
The usual problems persist for the Colts. A woeful defense can do little to get stops, and quarterback Andrew Luck has no running game to speak of behind him.
The silver lining? Youngster receivers Da'Rick Rogers (107 yards, two touchdowns vs. Cincinnati) and LaVon Brazill (53 and two) had breakout games in the loss. That may be a problem solved with Reggie Wayne out of the picture.
15. Chicago Bears (6-6)

It is hard to quantify just how badly the Chicago Bears need to win on Monday Night Football in Week 14.
Chicago has lost two straight, sits at .500 and may find it difficult to keep pace with Detroit in the division, especially after being swept by the Lions this year.
The Bears must find a way to move past the Dallas Cowboys on Monday night.
16. San Diego Chargers (6-7)

The San Diego Chargers have won two of three, including an impressive 41-38 takedown of Kansas City in Week 12. Last week was a 37-14 triumph against the New York Giants.
Philip Rivers continues to be efficient in coach Mike McCoy's offense. On Sunday, the veteran quarterback passed for 249 yards and three touchdowns.
That type of performance will keep San Diego in games the rest of the way.
17. St. Louis Rams (5-8)

The St. Louis Rams cannot figure out if they want to be competitive or not. At this point in the season, it does not matter.
St. Louis is .500 in its last four. After scoring 80 total points in the first two, the Rams have turned around and posted just 23 total in consecutive losses.
18. Tennessee Titans (5-8)

It is never easy to lose, but giving up 51 is especially tough. It is even more difficult to have an opponent slice through a strength like a hot knife through butter.
Well, that is exactly what happened to the Tennessee Titans last week in a 51-28 loss to Denver. The usually elite pass defense allowed Peyton Manning to go off for 397 yards and four touchdowns.
Tennessee has now lost two in a row.
19. Green Bay Packers (6-6-1)

Green Bay has life!
Despite the absence of quarterback Aaron Rodgers once again, the Packers got a much-needed win last week against the Atlanta Falcons.
A 22-21 victory over 3-10 Atlanta is nothing to brag about, but it keeps Green Bay in the playoff hunt.
20. Miami Dolphins (7-6)
The Miami Dolphins continue to remain tough and are back in the playoff hunt after a 34-28 victory over Pittsburgh last week.
That means the Dolphins have won two straight, both on the road. Quarterback Ryan Tannehill was solid with 200 yards and three touchdowns.
Miami desperately needs this momentum to carry over to a home encounter with New England in Week 15.
21. Pittsburgh Steelers (5-8)

Believe it or not, the Pittsburgh Steelers probably should have defeated the Miami Dolphins in Week 14, but receiver Antonio Brown was ruled out of bounds on a touchdown that would have won the game.
The Steelers have now lost two in a row and must quickly get over the defeat, as the AFC North-leading Cincinnati Bengals await on Sunday Night Football in Week 15.
Pittsburgh has already lost once to Cincinnati this year via a Week 2, 20-10 outcome.
22. New York Jets (6-7)

New York Jets rookie quarterback Geno Smith did little to save his job in Week 14 despite a 37-27 win over Oakland.
The West Virginia product threw for 219 yards with a touchdown and interception. Smith will need to do the same against a competent opponent to convince everyone he should be a starter.
He will get that chance in Week 15 with a date in Carolina.
23. Tampa Bay Buccaneers (4-9)

The job is complete—Tampa Bay has now won four of its last five. This means head coach Greg Schiano has surely saved his job despite conducting a train wreck through the first half of the season.
It was great the Buccaneers picked up a 27-6 win in Week 14, but a victory over a Buffalo team with a matching record will not move Tampa Bay in the rankings.
24. Cleveland Browns (4-9)
Credit goes to the Cleveland Browns for showing a lot of fight in a one-point loss to New England on Sunday.
Still, the Browns have lost four straight. It was great to see Jason Campbell back under center. The savvy vet threw for 391 yards and three scores, showing that the Browns will remain competitive the rest of the way.
25. New York Giants (5-8)
It was a fun run for the New York Giants while it lasted.
The Giants gave fans some semblance of hope for a magical playoff run in the middle of the season by beating up on mediocre teams, but that run has since ceased.
New York has lost two of three, including a Week 14, 37-14 embarrassment at the hands of San Diego.
26. Jacksonville Jaguars (4-9)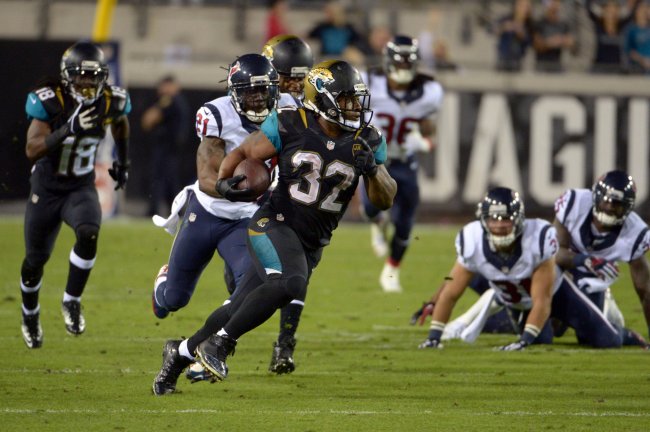 Kirby Lee-USA TODAY Sports
Jacksonville simply does not know when to quit.
By quit, I mean stop winning, of course. The Jaguars have now won three in a row and have firmly taken themselves out of the conversation for the top pick in the 2014 NFL draft.
The latest victory came in a 27-20 win over Houston. Maurice Jones-Drew once again put on a show with 14 carries for 103 yards. As of now, the Jaguars look like they will be competitive the rest of the way.
27. Minnesota Vikings (3-9-1)

The best possible compliment to throw in Minnesota's direction is that it is staying competitive despite the mediocre season.
Oh, I can also say running back Adrian Peterson is fine after a recent injury scare, per ESPN:
NFL INSIDERS ALERT: Adrian Peterson says MRI on foot reveals no torn ligaments, no Lisfranc injury. He expects to play SUN vs PHI

— NFL on ESPN (@ESPNNFL) December 9, 2013
So there is that. Minnesota is 1-1-1 in its last three.
28. Buffalo Bills (4-9)
The Buffalo Bills have hit rock bottom.
Buffalo has now lost two in a row, but last week's 27-6 loss at the hands of Tampa Bay saw rookie quarterback EJ Manuel completely lose control of the contest. The Florida State product threw four interceptions in the messy affair.
There was a point where I could classify Buffalo as a scrappy, competitive team. It has since passed.
29. Atlanta Falcons (3-10)

Last week the Atlanta Falcons almost pulled off a road win.
One problem—almost does not get it done in the NFL.
The Falcons have now lost six of their last seven. Receiver Roddy White continued his hot streak with eight catches for 74 yards in the loss, but that is about all Atlanta has going for it at the moment.
30. Oakland Raiders (4-9)

Oakland continued its descent into the bowels of the NFL in Week 14 via a 37-27 loss to the New York Jets—a team that had scored a total of six points in its prior two games.
That is truly all that needs said.
31. Washington Redskins (3-10)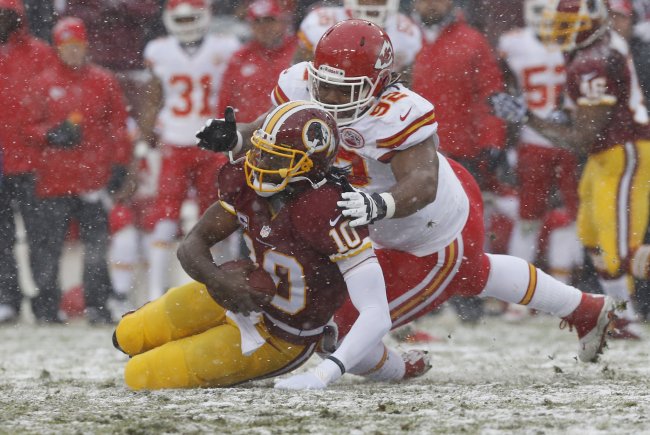 Geoff Burke-USA TODAY Sports
There is not much more to be said about the Washington Redskins. Were it not for an epic losing streak by the No. 32 team, Robert Griffin III and Co. would sit in dead last.
The Redskins have lost five in a row, with the most recent being a 45-10 thrashing at the hands of Kansas City.
Only time will tell who remains with the team after the season, because changes are surely coming.
32. Houston Texans (2-11)

Somebody in Houston really wants the top pick in next year's draft.
I do not blame him or her, but it is getting pathetic. The Texans have now lost 11 straight and twice to Jacksonville in the past three weeks.