Dolphins vs. Steelers: Full Roster Report Card Grades for Pittsburgh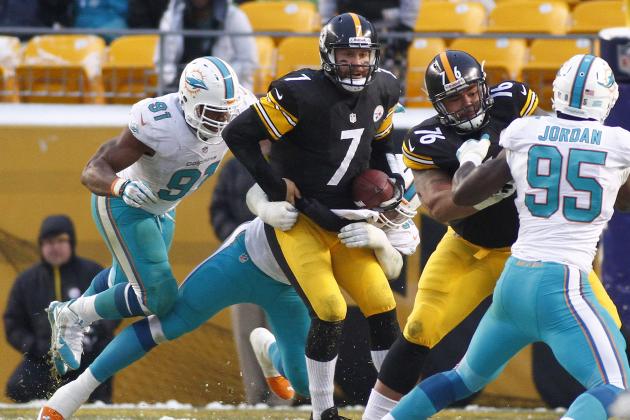 Justin K. Aller/Getty Images

Sunday's game against the Miami Dolphins was tailor-made for the Pittsburgh Steelers. Home-field advantage and bad weather should mean success for the Steelers. This wasn't the case, however, as the Steelers fell to the Dolphins, 34-28, effectively ending their playoff run.
Individually, this team was led by quarterback Ben Roethlisberger on offense. On a day when the Steelers should have been working hard to run the football, they instead chose to put the game in Big Ben's hands and have him throw their way to victory.
So with that, it is time to hand out some grades in this tough loss.
All stats provided by ESPN.com.
Begin Slideshow

»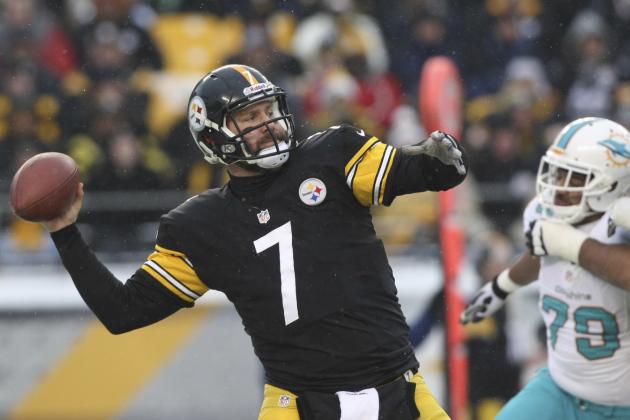 Jason Bridge-USA TODAY Sports

Once again, quarterback Ben Roethlisberger was in charge of the Steelers offense and ran it with precision. On a day when the weather was the biggest challenge Roethlisberger was going to face, all he did was throw for 349 yards and three touchdowns. As a bonus, Roethlisberger threw no interceptions and did everything in his power to win this game.

In case anyone hadn't noticed, Roethlisberger is having a career year and is on pace for around 4,580 yards and nearly 30 touchdowns. On Sunday, Roethlisberger overcame the elements and some drops by his wide receivers to have another dominant performance.

Grade: A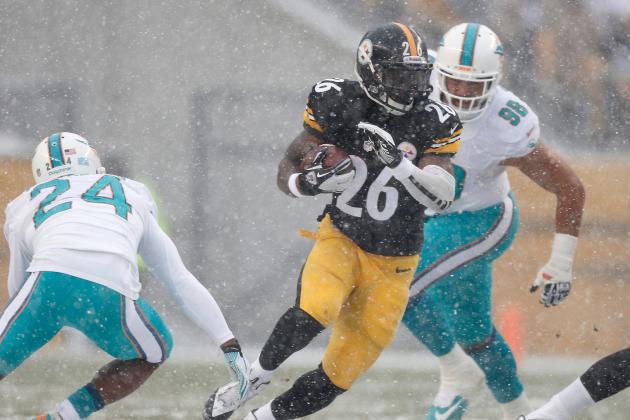 Gregory Shamus/Getty Images

Rookie running back Le'Veon Bell returned from a nasty shot to the head the week before and, on Sunday, did his very best with a limited game plan and some unforgiving weather. It was clear the Steelers were going to take advantage of the weather with the pass game and not the run. Bell finished the game with only 15 carries but 61 yards, which works out to a very respectable 4.1 yards per carry.

Bell also chipped in with five receptions for 28 more yards, giving him 89 more total yards of offense on the game. The game plan was to give Bell the football on draws and delays, taking advantage of the upfield momentum of the Dolphin defensive line. Bell showed nice vision, made quick decisions and displayed excellent acceleration and burst.

Grade: B+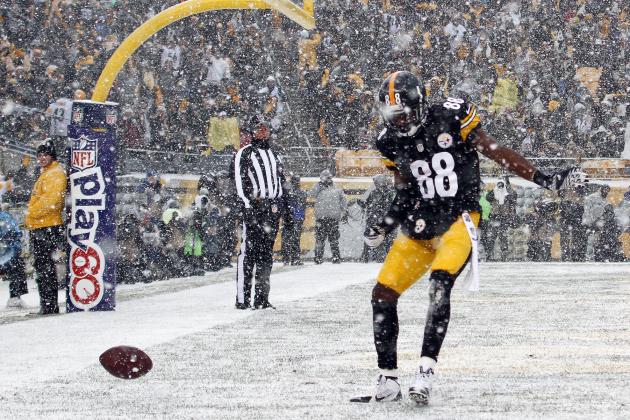 Justin K. Aller/Getty Images

Steelers wide receivers had their work cut out for them in Sunday's snow and windy weather. It makes sense that in times like these, a few more drops are par for the course. So the fact that Steelers wideouts and tight ends were targeted 29 times and only had 17 catches isn't automatically a negative.

Overall, there was much more to like than not about how the Steelers wideouts and tight ends played. They dealt with a physical Miami defense and some rough playing conditions to have some very solid performances.
And before anyone asks, yes it was tragic that wide receiver Antonio Brown stepped out of bounds on that last play. Brown got the corner on a slick field and missed his cut by an inch. It should have never come down to one fluke play to win that game, so Brown doesn't take a big hit from me.

Antonio Brown, Wide Receiver: B+

Emmanuel Sanders, Wide Receiver: B+

Jerricho Cotchery, Wide Receiver: B

Heath Miller, Tight End: B+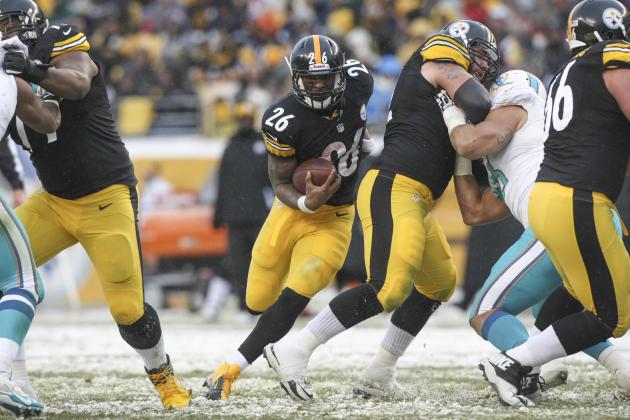 Jason Bridge-USA TODAY Sports

There might be no task more unenviable than trying to block on a slick football field. On Sunday, the Steelers offensive line did a solid job against a physical and aggressive Dolphins defensive line. Allowing three sacks was regrettable, but when you consider Roethlisberger dropped back 39 times and the Steelers line had inserted new starters again this week, it's hard to get too down on them.

Mike Adams: B

Ramon Foster: B

Cody Wallace: C

David DeCastro: B-

Marcus Gilbert: B-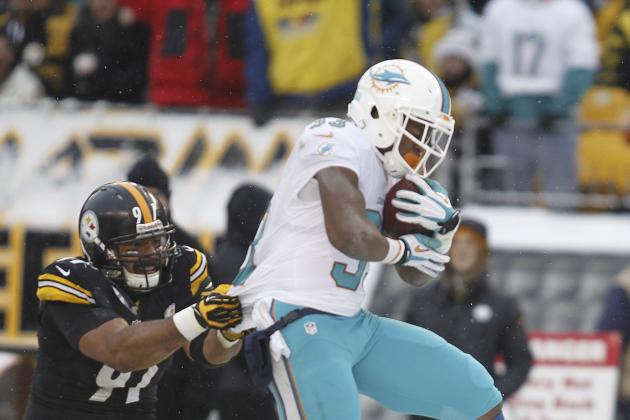 Charles LeClaire-USA TODAY Sport

The Steelers defensive line had a very clear focus in this game. It was obvious the Dolphins were going to try to run the football, so its job was to engage the Dolphins offensive line and command its attention. This would allow the linebackers and defensive backs to come up and fill, making the tackle. Overall, the Steelers line did a nice job running the game plan for the most part.

However, as the game wore on, you could see the front getting a little gassed, mainly because it is so thin. However, even with that, defensive end Cameron Heyward carried this group. His play continues to be one of the bright spots on this team the second half of the season. Aside from Heyward, no player on the line really stood out, and overall its performance was quite average.

Cameron Heyward, Defensive End: A

Ziggy Hood, Defensive End: C

Steve McLendon: C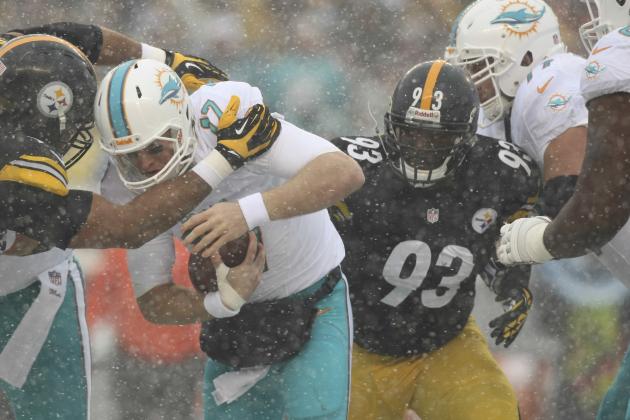 Jason Bridge-USA TODAY Sports

Even with the return of linebacker LaMarr Woodley, his running mate on the outside, Jason Worilds, again stole the show. Worilds finished with eight total tackles and tacked on two more sacks to his season total. Aside from Worilds, the play of the linebackers was fairly average.

They did a decent job of flowing to the football and making stops, and while they struggled some to tackle in the open field, some of that can be attributed to poor footing. The biggest problem was other than Worilds, there was a significant lack of big plays.

Jason Worilds: A

LaMarr Woodley: C

Lawrence Timmons: B-

Vince Williams: C-

Jarvis Jones: C-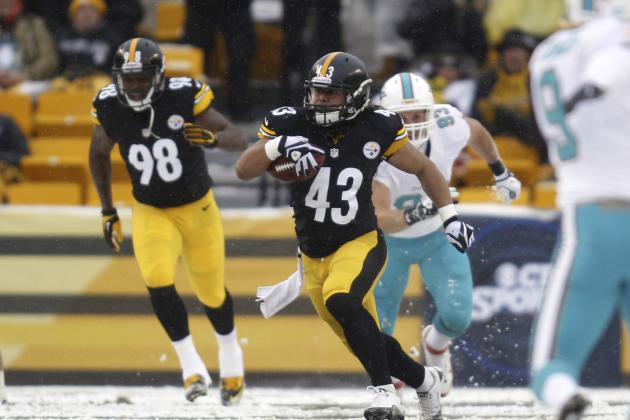 Charles LeClaire-USA TODAY Sport

The Steelers secondary had a very up-and-down game. Only allowing 200 passing yards to Tannehill is a positive. However, giving up three touchdowns passing, two of which were to tight end Charles Clay, was a huge negative.

Coverage wasn't poor across the board, and in particular, cornerback Cortez Allen did a very nice job in man coverage most of the day. The predicament in grading comes with safety Troy Polamalu. His overall performance wasn't great. He wasn't really involved in the run game at all, but the interception he returned for a touchdown was a huge swing in momentum for the Steelers.

On the flip side of that coin, Polamalu dropped another sure pick-six and whiffed on the tackle that gave Clay his second touchdown and sealed the fate of the Steelers on Sunday.

Cortez Allen: B

Ike Taylor: C+

Troy Polamalu: D+

William Gay: B

Ryan Clark: C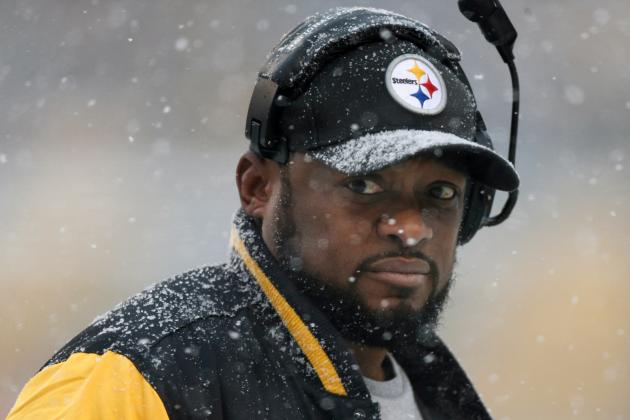 Gregory Shamus/Getty Images

It is a thankless job being a punter or kicker in the type of weather the Steelers had to contend with on Sunday. It is hard to grade anyone too low when footing is such a concern for a punter or kicker. Both punter Mat McBriar and kicker Shaun Suisham did an admirable job on Sunday of contending with the weather, and neither contributed to the team's loss.

Shaun Suisham, Kicker: B+

Mat McBriar, Punter: B