UFC on Fox 9: Preliminary Card Predictions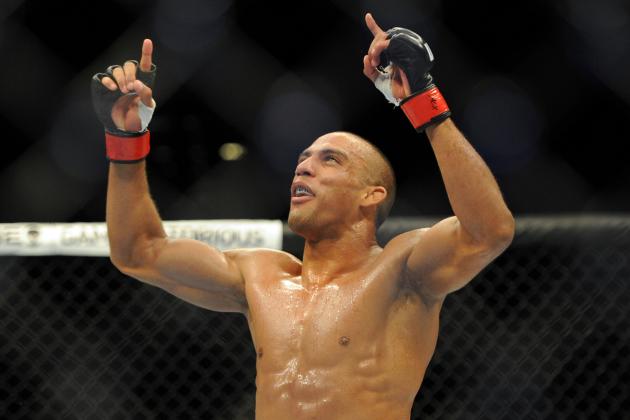 Jayne Kamin-Oncea-USA TODAY Spor

The ninth edition of UFC on Fox comes to you live from Sacramento, Calif., this Saturday, headlined by flyweight champion Demetrious Johnson and top contender Joseph Benavidez.
The card has been hampered by injuries, but it is still a fantastic card on paper. It is star studded, hosting names such as Urijah Faber, Chad Mendes, Pat Healy, Benavidez and Johnson.
Before the main card on Fox airs, the prelims will take place on both Fox Sports 1 and Facebook. Here are the predictions for those bouts.
Begin Slideshow

»
Kyle Terada-USA TODAY Sports

The first bout of the night takes place in the flyweight division, as two-division UFC vet Darren Uyenoyama takes on debutant Alp Ozkilic. Ozkilic got the nod to fight after John Moraga went down with an injury.
Ozkilic is a teammate of another recent UFC debutant in Josh Sampo and brings in a similar style. Ozkilic has a collegiate wrestling background that goes with some solid striking, though he is likely more powerful than Sampo.
His last two wins come over flyweight journeyman Josh Robinson and UFC vet Antonio Banuelos. He has shown that he is ready for the big time and has the skills to be a contender at 125 pounds.
Uyenoyama is a grappler that started his UFC journey with a bantamweight win over Norifumi "Kid" Yamamoto. He then dropped to flyweight where he is 1-1, choking out Phil Harris before getting knocked out by Joseph Benavidez.
Uyenoyama's best bet is to get this fight down, but Ozkilic has good counterwrestling. From there, he will outstrike Uyenoyama and possibly score with takedowns to get the decision.
Prediction: Ozkilic defeats Uyenoyama via decision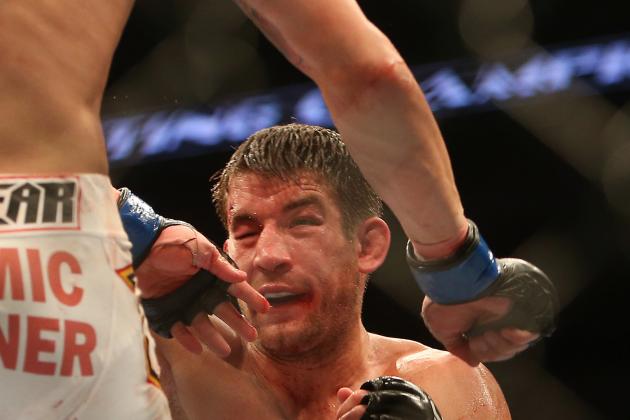 Tom Szczerbowski-USA TODAY Sport

A couple of post-fight bonus machines are set to meet in the lightweight division, as Canadian striker Sam Stout takes on American guillotine artist Cody McKenzie.
Stout is an iron-chinned kickboxer who hasn't strung together back-to-back wins since 2011. He has been with the company since 2006, nabbing six Fight of the Night awards, as well as a Knockout of the Night.
McKenzie moves back up to lightweight after a stint at featherweight to fight Stout. His striking is still green, but his top game on the ground is hard to deal with, as is his modified guillotine choke, with which he has taken out 11 opponents.
McKenzie will look for the shot early, but Stout is tough to get down. He is quick and technical on his feet and should be able to outpoint McKenzie with his hands and feet.
Prediction: Stout defeats McKenzie via decision
Pat Lovell-USA TODAY Sports

A rematch is afoot after a controversial ending to their first fight, as lightweight counterparts Abel Trujillo and Roger Bowling will fight again.
The first fight these guys had was an exciting bout that went back and forth up to the end. The bout then ended when Trujillo appeared to land an illegal knee that rendered Bowling unable to continue.
Both men are good strikers, but the big difference is that Trujillo has a good wrestling base. I went with him before and I will go with him again, as Trujillo takes the win over the Strikeforce vet.
Prediction: Trujillo defeats Bowling via TKO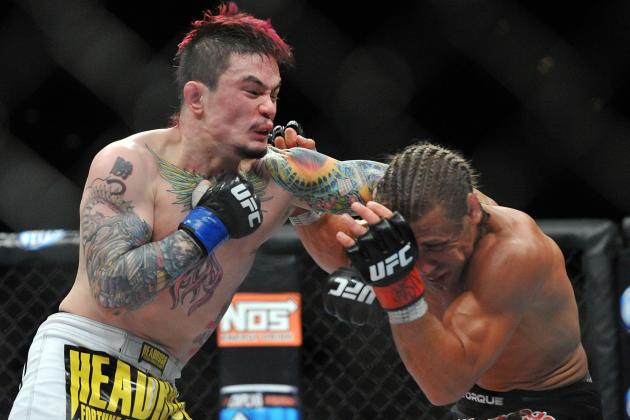 Gary A. Vasquez-USA TODAY Sports

The flyweights are in the next bout of the evening, as former WEC title challenger Scott Jorgensen makes the drop to 125 pounds against former Bellator champ Zach Makovsky. Makovsky fills in for two men—Ian McCall and John Dodson—who were injured before he got the call.
Jorgensen is an iron-chinned wrestler with some good, developed striking. He dropped to 125 pounds after going 1-3 in his last four fights, including losses to Urijah Faber, Eddie Wineland and Renan Barao.
Makovsky will get his entrance to the UFC after a 2-0 run in the regionals following a release from Bellator. In that time, he beat Claudio Ledesma and Matt Manzanares, the latter of whom he fought in Resurrection Fighting Alliance, or RFA, which is a feeder system to the UFC.
Both men are wrestlers, but Jorgensen is more well rounded. Plus, he's had a full training camp, while Makovsky got this bout on late notice, so he will likely ruin the debut.
Prediction: Jorgensen defeats Makovsky via decision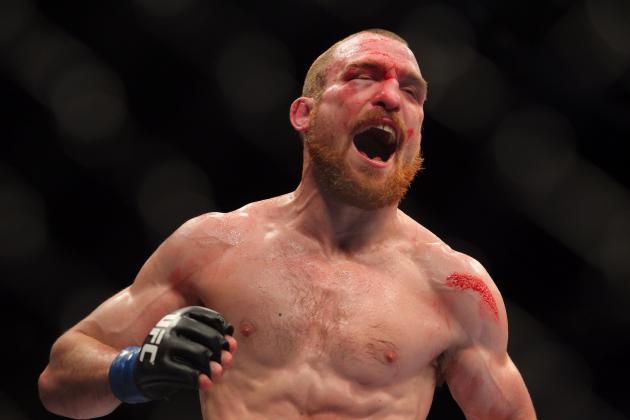 Brad Penner-USA TODAY Sports

Next up are the lightweights, as Strikeforce vets Pat Healy and Bobby Green are set to do battle. Green will fill in for the injured Jamie Varner after winning a fight last month.
Green is a well-rounded fighter with good striking and an underrated ground game. After going 4-1 in Strikeforce, "King" came to the UFC and has gone 2-0 over the likes of Jacob Volkmann and James Krause. The latter of the UFC fights saw Green win with a controversial body kick that may or may not have hit Krause in the groin.
Green will take on a grinding wrestler in Healy, who has shown some resurgence in his UFC run. He entered the UFC on a six-fight win streak and continued it with the submission of Jim Miller; however, that was overturned after he tested positive for marijuana.
He lost his most recent fight against Khabib Nurmagomedov, a fight in which he was out-hustled. That is something that rarely happens to "Bam Bam."
Healy's wrestling and aggression are going to be tough for Green to handle, especially on short notice. Healy will ground and wear Green, subbing him late.
Prediction: Healy defeats Green via submission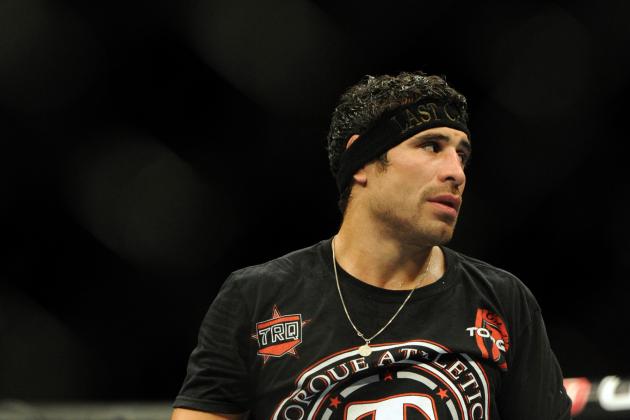 Jayne Kamin-Oncea-USA TODAY Spor

We stick in the lightweight division for the next one, as Team Alpha Male rep Danny Castillo takes on striking master Edson Barboza.
Barboza has been one of the best, most consistent lightweight prospects since entering the UFC. He is 6-1 with the company, which includes knockout wins over the likes of Terry Etim, Lucas Martins and Rafaello Oliveira.
Castillo represents the opposite game of Barboza, as he is a power wrestler with a grinding style. He is 6-2 in the UFC, grinding out opponents such as Joe Stevenson, Anthony Njokuani, Paul Sass and Tim Means.
This is stylistically a good matchup for Castillo. He needs to watch out for the leg kicks, though, as they may stunt his takedown attempts down the road.
This will be my upset pick of the night.
Prediction: Castillo defeats Barboza via decision
Pat Lovell-USA TODAY Sports

The main feature of the prelims will take place in the welterweight division, as The Ultimate Fighter 11 winner Court McGee welcomes late-notice replacement Ryan LaFlare. LaFlare fills in for TUF 17 winner Kelvin Gastelum, who went down with an injury a couple weeks ago.
LaFlare is 2-0 in the UFC, including a one-sided decision win last month over Santiago Ponzinibbio. He has shown to be a well-rounded fighter with good submission wrestling and solid striking.
McGee is a grinder who uses his stand-up to force the clinch and secure takedowns. He is on a two-fight surge, with wins over Josh Neer and Robert Whittaker, both of which came after dropping from 185 pounds.
McGee will have a hard time getting LaFlare down, as he is a good wrestler himself and can use his striking to create distance. This may be another upset call, but LaFlare should move to 3-0.
Prediction: LaFlare defeats McGee via decision