The New England Patriots sent their fans on the ride of a lifetime on Sunday, with highs, lows and everything in between during a 27-26 comeback victory over the Cleveland Browns.
It was another lackluster first-half effort for the Patriots, who trailed 6-0 at halftime, with Tom Brady completing just 7-of-19 passes for 95 yards after the first two quarters:
Patriots still playing like they thought today was a bye week

— David Canter (@davidcanter) December 8, 2013
As NFL.com's Albert Breer pointed out, it continued a recent troubling trend for a New England team that has started slowly out of the gates in each of the past four weeks:
The Patriots trailed at the half for the fourth straight week ... And now, they face a double-digit deficit for the fourth straight week.

— Albert Breer (@AlbertBreer) December 8, 2013
When Browns quarterback Jason Campbell found Gary Barnidge for a 40-yard touchdown early in the third quarter, Cleveland took a 12-0 lead and an upset appeared to be realistic:
UPSET ALERT: Jason Campbell to Gary Barnidge 40 yards for the score. Browns lead Patriots 12-0 in New England.

— NFL on ESPN (@ESPNNFL) December 8, 2013
Just when it seemed like things couldn't get any worse for the Patriots, disaster struck. Midway through the third quarter, Tom Brady fired a pass to tight end Rob Gronkowski who was running up the seam near the sidelines. Browns safety T.J. Ward came in to break up the play and launched directly into Gronkowski's right knee, sending him to the ground in pain: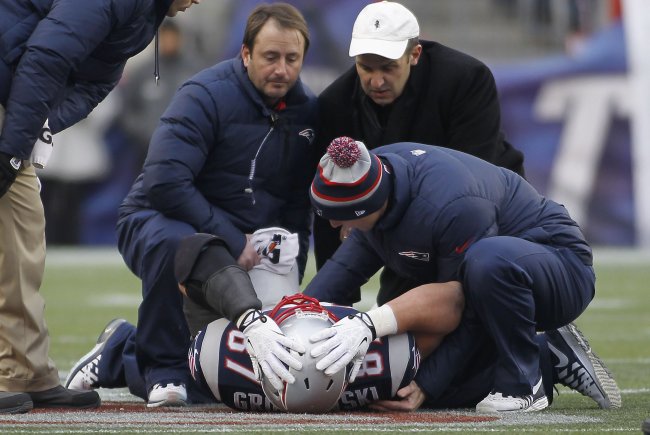 Stew Milne-USA TODAY Sports
The two-time Pro Bowl tight end was carted off the field and the Patriots were left to come back despite missing their top offensive weapon.
Shortly after, the Browns would add insult to injury, with Josh Gordon hauling in an 80-yard touchdown pass to give Cleveland an unlikely 19-3 lead with just over a minute left in the third quarter:
Trying to confirm the Browns are currently beating the Patriots. Can't confirm.

— SportsNation (@SportsNation) December 8, 2013
The Patriots would eventually chip away at the lead and trailed just 26-21 with a minute remaining after a Julian Edelman touchdown catch.
The game would come down to an onside kick, and when Stephen Gostkowski's kick bounced off a Browns player and Kyle Arrington jumped on it at midfield, New England had life.
.@Patriots recover the onside kick. IT JUST GOT REAL. #CLEvsNE

— NFLonCBS (@NFLonCBS) December 8, 2013
As the Patriots always seem to do, they took advantage of their opportunities. Brady led his team right down the field, benefiting from a questionable pass interference call, before finding Danny Amendola in the endzone to give the Patriots their first lead of the game. The comeback kids of New England did it again:
.@Patriots are 1st team since 2000 KC to win 3 in a row by overcoming 10+ point deficit in each game

— Randall Liu (@RLiuNFL) December 8, 2013
It was an improbable comeback win but as ESPN Boston's Mike Reiss points out, there was still that elephant in the room after the game:
Unusual locker room vibe: A mix of heartfelt emotion from Patriots teammates for injured Rob Gronkowski & elation from improbable comeback.

— Mike Reiss (@MikeReiss) December 8, 2013
The Patriots worst fears regarding Gronkowski would soon come to fruition, as it was reported early Monday morning by ESPN's Adam Schefter, that their star tight end would be out for the season with a torn ACL and MCL.
It's a monumental loss for a New England team that has won its last three games and five of its last six. The Patriots' offense has been on a roll with Gronk back in the lineup and has been significantly better than the unit that struggled without him, via ESPN Stats & Info.
With Rob Gronkowski in the lineup, the Patriots averaged over 11 more PPG than they did in the 1st 6 games of the season without him

— ESPN Stats & Info (@ESPNStatsInfo) December 9, 2013
As Week 14 continued to show, the Patriots have proven to have the ability to come back from any deficit. However, with a Week 15 divisional matchup looming against the Miami Dolphins, New England has a new challenge as to how they will move forward without the offense's top weapon.
On Sunday, Shane Vereen showed that he is capable of being Brady's top target, catching 12 passes for 153 yards and Danny Amendola and Julian Edelman also provided some clutch late-game touchdowns.
It remains to be seen if this offensive production can continue without Gronkowski, or if the Patriots are doomed for another quick playoff exit without their franchise tight end.
Andrew Tornetta is a contributor for Bleacher Report. You can find his B/R archive and follow him on Twitter @AndrewTornetta.