As Manchester City make the tricky trip to Bavaria this week to face current European champions Bayern Munich in the final Champions League match of their Group D campaign, the showdown between both sides will undoubtedly come down to the two formidable central defenders that define each side.
For Manchester City, the true symbol of their champion form is the unquestionable loyalty and bravery of Vincent Kompany, while Bayern Munich's own style, substance and overall grit to succeed at anything couldn't be more evident in their Samba tackler Dante.
Yet, for the purpose of debate, and the incessant desire from football fans to compare one player to the next at every possible avenue, let us now take a look at both defenders and decide which one is best.
Who is the better defender?
An overall look at the defensive records that both sides held in the previous season would initially seem like a vague and somewhat inaccurate portrayal of either defender's ability, but when we consider that both Dante and Kompany are very much the leaders of their back lines, a good goal-difference score is always relevant.
In what was ultimately a rather disappointing season for Manchester City last year, Kompany and Co. did well to keep up their end of the deal with a defensive record of 34 goals conceded in 38 games, which ultimately saw them finish as the best defense in the league that season.
Yet such a record doesn't come close to Bayern's, as they romped to another Bundesliga title, as one of three trophies that season, and a defensive record of just 18 goals conceded in 34 league games—a German record and all-round almighty achievement.
Now, of course, such stats have to be taken into account and, as we all know, the Bundesliga's strength in depth isn't quite as good as the English Premier League's, meaning Kompany's side did, on average, come up against better players week in and week out. However, when we look at each side's Champions League form, of which City conceded 11 goals compared to Bayern's seven, it underlines the point further.
Taking everything into account, Bayern did have a better defence last season, and that was largely due to Dante.
In terms of international significance between either defender, Kompany walks to the finish line with an outstanding 56 caps despite only being 27 years old, compared to Dante's dismissive 10 caps at 30 years of age.
This is obviously due to two main factors; the first being that Brazil, despite Belgium's rise up the FIFA charts, is a much harder national team to break in to compared to the European minnows and, of course, the fact that Dante is very much considered a late bloomer to his career, with his true talent not coming to light until his move to Gladbach at the age of 26.
Yet Kompany has always been a key member of the Belgian side, to which he now captains, since his early days at Anderlecht and, as such, is very much considered an international star in his own right besides his successes at Manchester City. Something Dante will unfortunately look back on with regret when he finally hangs up his boots.
When it comes to the defenders themselves, based on their individual abilities and stats whilst playing for their respective clubs last season, things become a little trickier to decipher.
The first port of call to distinguish one central defender from the next is of course their ability to head the ball in and out of the box from any number of set pieces and just general play.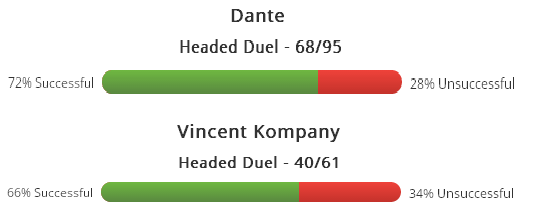 Image courtesy of Squawka.com
Now, both Dante and Kompany are big players, and they both equally tower above most others in their distinctive squads, yet when it comes to the stats based on how many headers each player wins, there seems to be a clear winner.
Looking at the percentage of headed duels both players won over the course of their respective league campaigns last season, the stats provided by Squawka suggest that Dante won 72 percent of his headers compared to Kompany's rather-dismissive 66 percent.
Thus suggesting, if we can make the assumption that players in the Bundesliga are of an equal physical and technical ability as their English Premier League equivalents to header the ball, that the Bayern defender is better in the air than his Manchester City counterpart.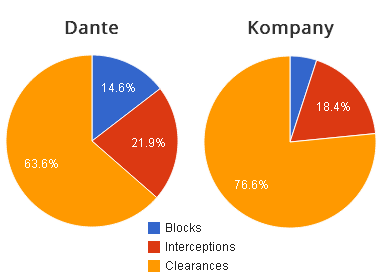 Image courtesy of Squawka.com
When we then look at a breakdown of their defensive actions throughout games last season, in which Kompany made nine per game on average compared to Dante's five, it shows that Kompany made far fewer shot-blocks than the Bayern player but many more clearances. Equally, Dante seemed much more astute off the ball with over a fifth of all his actions being interceptions compared to Kompany's, which obviously fall just below a fifth.
These stats on their own may be more representative of how both sides tend to play in regards to their defences, with Bayern tending to close down much quicker and much higher up the park than Manchester City would perhaps usually do. This means that Dante would be more likely to get closer to any potential attacker and either intercept or block a pass or shot.
Yet one stat that stands out in the Squawka analysis of last season is the blatant red herring in Dante's four defensive errors—defined as mistakes that lead to the opponent scoring—over the course of the Bundesliga season: Four more than Kompany amassed over the Premier League campaign last year.
As such, while both are outstanding defenders who compliment their sides perfectly, it would seem unfair to suggest that Kompany is anything but the marginally better defender based in his overall play. Dante strikes one as a better aerial threat, and the main factor behind a much better defence, but on their day the Manchester City defender simply seems like the more complete player.